Course Highlights and Why Swift Developer Course in Kochi at FITA Academy?

The swift development course in Kochi at FITA Academy will impart an understanding of the benefits and purpose of swift.

The trainees will gain delineated knowledge of swift data types and standard libraries.

The professional faculty of FITA Academy will ensure proper learning and proper use of optional.

The trainees will be able to successfully implement a variety of user-defined types in swift.

The course will provide a series of demonstrations about error handling and techniques in swift.

The swift developer course will enable the trainees to understand how to write swift code that can be exchanged with existing code written in C and Objective C.

Our students will effectively manifest the problem solving skills by developing and implementing algorithms to solve problems using operators.

Thorough learning of the course will render knowledge of testing and debugging apps in Mac using a simulator from XCode.

The practical training will enable students to create programs that contain clear and concise program.

Pupils will be able to create visual inferences using interface builder from XCode.
Upcoming Batches
11-12-2023
Weekdays
Monday (Monday - Friday)
14-12-2023
Weekdays
Thursday (Monday - Friday)
16-12-2023
Weekend
Saturday (Saturday - Sunday)
23-12-2023
Weekend
Saturday (Saturday - Sunday)

Classroom Training
Get trained by Industry Experts via Classroom Training at any of the at FITA Academy branches near you
Why Wait? Jump Start your Career by taking Swift Developer Course in Kochi!
Instructor-Led Live Online Training
Take-up Instructor-led Live Online Training. Get the Recorded Videos of each session.
Travelling is a Constraint? Jump Start your Career by taking the Swift Developer Online Course!
Trainer Profile
The professional instructors of FITA Academy hold experience of a decade as a swift developer in a wide range of prominent IT industries.
The top notch experts provide individual guidance to all learners to assist them through successful completion of the course.
Our mentors possess specialisation in distinct crucial aspects of swift development.
The faculty of FITA Academy conducts a separate session to familiarise students with placement procedure and prepare them for future interviews.
Our trainees are updated with current trends in technology and further modify the course module accordingly.
Learn at FITA Academy & Get Your
Dream IT Job in 60 Days
like these Successful Students!

Features of Swift Developer Course in Kochi at FITA Academy
Real-Time Experts as Trainers
At FITA Academy, You will Learn from the Experts from industry who are Passionate in sharing their Knowledge with Learners. Get Personally Mentored by the Experts.
LIVE Project
Get an Opportunity to work in Real-time Projects that will give you a Deep Experience. Showcase your Project Experience & Increase your chance of getting Hired!
Certification
Get Certified by FITA Academy. Also, get Equipped to Clear Global Certifications. 72% FITA Academy Students appear for Global Certifications and 100% of them Clear it.
Affordable Fees
At FITA Academy, Course Fee is not only Affordable, but you have the option to pay it in Installments. Quality Training at an Affordable Price is our Motto.
Flexibility
At FITA Academy, you get Ultimate Flexibility. Classroom or Online Training? Early morning or Late evenings? Weekdays or Weekends? Regular Pace or Fast Track? - Pick whatever suits you the Best.
Placement Support
Tie-up & MOU with more than 1500+ Small & Medium Companies to Support you with Opportunities to Kick-Start & Step-up your Career.
Why Learn Swift Developer Course in Kochi at FITA Academy?
Live Capstone Projects
Real time Industry Experts as Trainers
Placement Support till you get your Dream Job offer!
Free Interview Clearing Workshops
Free Resume Preparation & Aptitude Workshops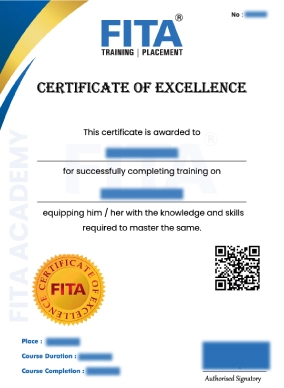 Swift Developer Certification Training in Kochi
Upon successful completion of the swift development course, the students will be granted certification by the institute. The certificate will stand out as a testimony of the comprehensive knowledge and practical skills procured during the study of the course. The certificate will highlight the performance of the students in the practical training and scores obtained in theoretical examinations of the course. The certificate will provide professional recognition of the proficiency in knowledge and skills the trainees hold. The swift developer course in Kochi at FITA Academy holds immense value and is highly recognized by national as well as international universities and companies across the globe. Learning the Swift developer course will render a huge advantage to our students. The addition of this certification to your previously acquired educational qualifications will tremendously boost up the merit of your resume. Our students will be transformed into professional swift developers and will become highly eligible to show up in numerous job interviews in a broad range of industries where certification will provide a testimony of your proficiency to the employees. The swift developer course in Cochin at FITA Academy holds a remarkable value for its rigorous practice, holistic approach to teaching, and usage of advanced technology. Thorough completion of this course will enable the students to be able to develop effective and functional iOS software applications.
The learner-centered classes of the course will help the students to strengthen their capabilities and enhance the instinctive skills to gain a competitive edge to outshine the professional competence of the market. The inclusion of this certification will enhance the expert profile of the trainees thereby expanding the career opportunities in this field. The salary package in this field varies according to the workplace, job role, and job responsibilities. A person holding certification in swift development with work experience of one to two years can expect to get a salary package of Rs. 4,45,000 per annum to Rs. 5,45,000 per annum. On the other hand, a certified swift developer holding proficiency in knowledge and skills of swift along with work experience of three to six years can expect to get a remuneration of Rs. 6,60,000 per annum to Rs. 7,50,000 per annum.
Have Queries? Talk to our Career Counselor for more Guidance on picking the
right Career for you!
Placement Session & Job Opportunities after completing Swift Developer Course in Kochi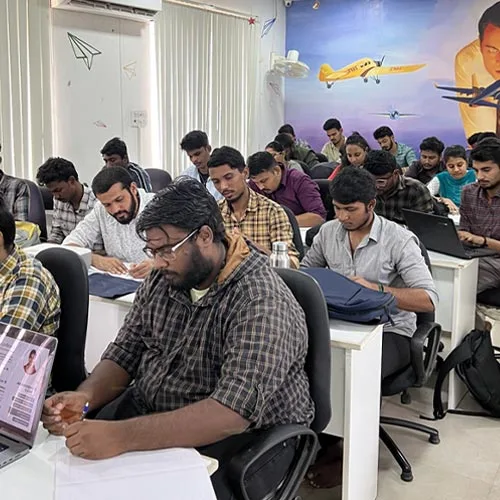 Popularity and prevalence of Apple devices like iPhone, iPad, and tablet has increased the demand of iOS developers. Both entry level professionals and experienced professionals play an important role in the world of iOS development as there are numerous career opportunities that render an excellent package and continuous professional growth. The field of swift development encompasses a wide range of job positions that hold an important position in every IT company. Such positions are – developer, IT project manager who holds the responsibilities of delineating the necessities of the project, builds the project team, lays out a blueprint for the whole project, and communicates the goals of the project to other members. Another prominent job position in this field is an iOS developer who abides by the professional duties of designing and building an application for numerous iOS platforms, ensuring the functionality, authenticity, and responsiveness of the application, identification, and eradication of bugs. Numerous IT companies both at the national and international level like Google, Microsoft, Amazon, and other profoundly famous organizations like IBM, Infosys, Facebook, JB Morgan, and Verizon demand skilled iOS developers to help maintain the code quality of the applications of the company.
Every iOS company seeks skilled professionals who can monitor each and every phase of the development process making sure that its design is met with the previously set standards. Such responsibility is undertaken by a software quality assurance engineer, who performs the tasks of documenting test cases, conducting a document risk analysis, creating test plans and code automated tests, and establishing standards to assess the quality of the product. Other renowned job positions are project architect, computer programmer, designer computer system, engineer which our students can strive to achieve.
Success Story of Swift Developer Course in Kochi
The swift developer course in Cochin at FITA Academy provides a self-paced learning session giving students an in-depth knowledge of each crucial concept. I highly recommend this course to people who aspire to create a strong career path in the field of swift development.
The professional faculty of FITA Academy explicitly delineated the most complex concepts of swift development like the implementation of prototypes. They were highly supportive and patiently solved every query of the students.
I am currently working as a swift developer in Infosys and I completed a swift developer course in Cochin at FITA Academy through offline mode. The classes were extremely interactive and instructive. I highly appreciate the efforts and guidance of the placement cell who assisted me during my job interviews.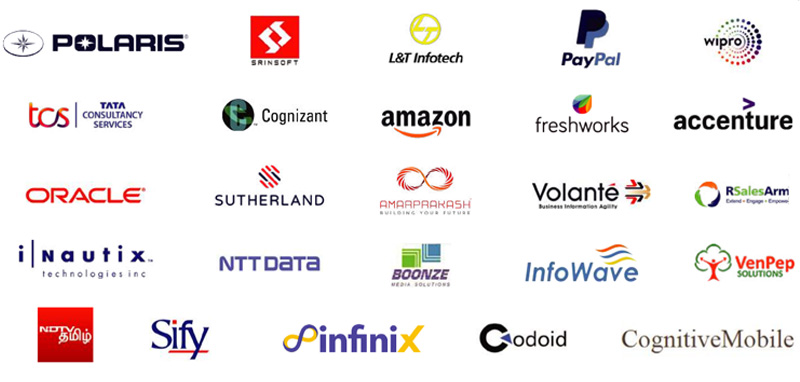 Frequently Asked Question (FAQ) about Swift Developer Course in Kochi
Additional Information of Swift Developer Course in Kochi
The swift developer course in Cochin at FITA Academy will assist our trainees to venture into their career as iOS or Swift developers. The integrated course incorporates distinct modules covering every crucial aspect of swift development. The first module focuses on giving a fundamental introduction to swift which will familiarise the students with the syntax used in swift programming languages like functions, classes, variable types, properties, closures, protocols, subscripts, memory management, and generic programming. Moreover, students will be given the knowledge of numerous design patterns used in swifts like extensions, MVC, MVVM, singleton, and protocol-oriented programming. The second module will put emphasis on the study of XCode and UI design which will provide knowledge of app lifecycle incorporating the study of app architecture, app life cycle, view lifecycle, and development of new applications. Study of UI design will help the trainees to plan and create advanced user interface layouts like single and multi-device UI, training on creating multi-screen applications entails features of view controllers, tab bars, and navigation. The third module encompasses the study of persistent storage and network communication. A thorough study of this module will enable the trainees to save data even when the application stops running by having in-depth learning of core data and learning to read, write, update, delete data and entity relationships. Grasping the knowledge of network communication will make the pupils proficient in communicating with services over the network using both SOAP and RestFul services including the study of Parsing JASON and Parsing XML. The last module of the course is about language programming where the professional experts will familiarise the students with the procedure of mixing code with other languages like creating a framework, mixing swift and objective C. After a meticulous study of the modules, the students will conduct an application project.