Course Highlights and Why PHP Training in Kochi at FITA Academy?

The PHP training in Kochi at FITA Academy will provide a proper understanding of how server side programming works on the web.

With rigorous practice, students will be able to successfully read and process data in a MySQL database.

The professional faculty of FITA Academy will impart the knowledge of how to receive and process from submission data.

The persistent practical training will render proficiency in storing data in arrays.

The students will be able to use the PHP built-in functions efficiently.

The PHP training in Cochin at FITA Academy will render the training of creating a database in phpmyadmin.

Students will be given proper guidance in the procedure of reading and writing codes.

The students will be able to understand the POST and GET in form submission.

The students will be able to create conditional structures independently.

The faculty will help our students to analyse and solve common web applications tasks by writing PHP programs.
Upcoming Batches
09-12-2023
Weekend
Saturday (Saturday - Sunday)
11-12-2023
Weekdays
Monday (Monday - Friday)
14-12-2023
Weekdays
Thursday (Monday - Friday)
16-12-2023
Weekend
Saturday (Saturday - Sunday)

Classroom Training
Get trained by Industry Experts via Classroom Training at any of the at FITA Academy branches near you
Why Wait? Jump Start your Career by taking PHP Training in Kochi!
Instructor-Led Live Online Training
Take-up Instructor-led Live Online Training. Get the Recorded Videos of each session.
Travelling is a Constraint? Jump Start your Career by taking the PHP Online Training!
Trainer Profile
The professional faculty of FITA Academy holds certified experience of more than 10 years in the field of PHP in numerous software companies.
Our mentors possess immense knowledge and proficiency in skills in the field of PHP.
The top-notch experts of FITA Academy are updated with advanced technology and have conducted multiple project and case studies.
Our experts aim to impart both theoretical understanding and practical training of PHP.
Our facilitators have conducted over 2000 workshops and sessions to over 3000 students of distinct age groups.
Learn at FITA Academy & Get Your
Dream IT Job in 60 Days
like these Successful Students!

Features of PHP Training in Kochi at FITA Academy
Real-Time Experts as Trainers
At FITA Academy, You will Learn from the Experts from industry who are Passionate in sharing their Knowledge with Learners. Get Personally Mentored by the Experts.
LIVE Project
Get an Opportunity to work in Real-time Projects that will give you a Deep Experience. Showcase your Project Experience & Increase your chance of getting Hired!
Certification
Get Certified by FITA Academy. Also, get Equipped to Clear Global Certifications. 72% FITA Academy Students appear for Global Certifications and 100% of them Clear it.
Affordable Fees
At FITA Academy, Course Fee is not only Affordable, but you have the option to pay it in Installments. Quality Training at an Affordable Price is our Motto.
Flexibility
At FITA Academy, you get Ultimate Flexibility. Classroom or Online Training? Early morning or Late evenings? Weekdays or Weekends? Regular Pace or Fast Track? - Pick whatever suits you the Best.
Placement Support
Tie-up & MOU with more than 1500+ Small & Medium Companies to Support you with Opportunities to Kick-Start & Step-up your Career.
Why Learn PHP Training in Kochi at FITA Academy?
Live Capstone Projects
Real time Industry Experts as Trainers
Placement Support till you get your Dream Job offer!
Free Interview Clearing Workshops
Free Resume Preparation & Aptitude Workshops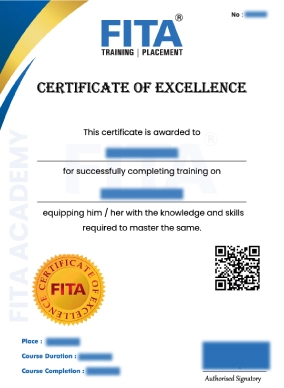 PHP Certification Training Institute in Kochi
Upon successful completion of PHP training in Kochi at FITA Academy, the students will be granted a certification from the institute. The certification will stand out as a permanent testimony of the comprehensive knowledge and industry-based practical training procured during the course of PHP training. The certificate granted will levy the students a professional recognition of the skills practiced and theories learned. The PHP training institute in Kochi at FITA Academy detains a noteworthy position and value in the market. Moreover, the certificate of FITA Academy is highly recognized by national as well as international companies and universities across the world. Including this certification in your previously acquired educational qualifications will tremendously boost up the merit of your resume as well as enhance your professional value. Along with enhancing your professional value, the certificate will immensely boost up the prospect of your career opportunities. The PHP training in Kochi at FITA Academy is profoundly recognized for its professional faculty, the holistic approach of teaching, learner-centered classes, labs equipped with advanced technology, and modified concepts of PHP. Furthermore, upon successful completion of the PHP course, the students will become highly proficient in reading and processing data in MySQL database, efficiently use PHP built-in functions, and will create conditional structures independently.
Showing proficiency in the skills, and thoroughness in knowledge, these students will increase their worth in the market and students will become highly eligible to sit for numerous job interviews in a broad range of industries. The integrated course will enable the students to strengthen their capabilities and enhance their instinctive skills. The addition of this certification will improvise your expert profile ensuring the expansion of your professional career opportunities. The salary package in this field varies according to the workplace, job role, and job responsibilities. A certified PHP developer holding the knowledge of technical skills along with work experience of one to two years can expect to get a salary package of Rs. 4,55,000 per annum to Rs. 5,55,000 per annum. On the other hand, a certified PHP specialist holding proficiency in technical skills along with work experience of three to six years can expect to get a salary package of Rs. 6,50,000 per annum to Rs. 8,50,000 per annum. With the procurement of extensive experience and proficiency in skills, the salary package can extend up to Rs. 10,00,000 per annum.
Have Queries? Talk to our Career Counselor for more Guidance on picking the
right Career for you!
Placement Session & Job Opportunities after completing PHP Training in Kochi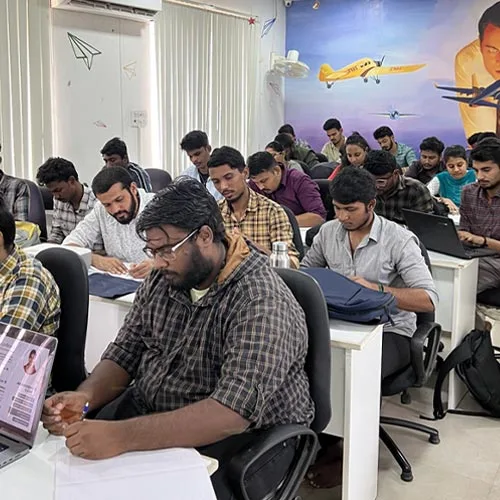 PHP is the most used programming language in the world and is prevalent in numerous online platforms like Facebook, Yahoo, Wikipedia, WordPress, and Tumblr. Gaining proficiency in this general scripting language can turn out as extremely beneficial for freshers. There are numerous organizations and businesses, both on startups and mid-size scale which do not have big budgets and hence use PHP. The numerous career opportunities after the procurement of this certification are – PHP developer, a professional in this position holds the responsibility of creating server-side web applications where they effectively develop back end components, connecting the applications with other web services and supporting the front end developer by amalgamating the work with their applications. Along with the above stated most demanding job position, the other prevalent career paths our students can strive for are – demand line scripting which follows the function of parsing on a web server so that the user browser gets the accurate HTML.
Next application area of PHP is command-line scripting which is used to run PHP script without any requirement of the server program and is considered as a simple and effective approach to PHP language. Another demanding and prominent career opportunity in this field is desktop application development. The language of PHP is also utilized to work on client-side applications like desktop applications. After procuring the knowledge of PHP, the student can opt for open-source scripting language and cross platforms. With the procurement of demanding as well as trending industry-based skills, along with extensive knowledge of the field, our students will become suitably qualified for innumerable job positions in a vast range of software industries. The precisely designed course facilitates the knowledge crucial to design as well as develop robust database-driven web pages using PHP which runs numerous websites.
Success Story of PHP Training in Kochi
The PHP training in Kochi at FITA Academy delivered thorough and interesting lectures. The classes were very stimulating and encouraged students to research more than just getting dependent on course content. I highly appreciate the dedication and professionalism of the faculty.
The PHP training in Cochin at FITA Academy is an excellent program to start building your applications. The significant concepts of the course are explicitly explained in simple language. I highly recommend this course to people who aspire to create a robust career path in the field of PHP.

I am currently working as a PHP developer in a Microsoft company. I completed my PHP training course in Kochi at FITA Academy and learning from this institute has turned out to be worthy of my time and money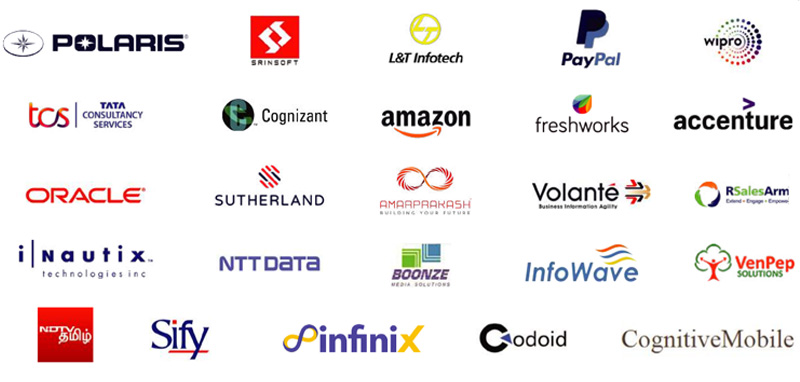 Frequently Asked Question (FAQ) about PHP Training in Kochi
Additional Information of PHP Training in Kochi
Numerous subject matter experts in possession of specialization in distinct aspects of PHP have designed this course will utmost precision. The first module of the course is about the introduction of PHP which would incorporate the study of PHP tools and set up, creating a basic PHP script, the study of self-referring forms, creating user input, use PHP to generate HTTP headers. The second module is about variables and expressions in PHP which would incorporate the study of topics like identifiers, data types, type juggling, variable assignments, variable scope, namespaces, user-defined constants, HTTP environment variables, string constants, variable scope as well as the study of magic constants. The third module of the course focuses on imparting the knowledge of PHP operators where students will be given a proper understanding of the concepts like arithmetic operators, logical operators, relational operators, bitwise operators, execution, and assignments operators along with the study of operator precedence and associativity. The subject matter experts of FITA Academy have constructed the course of PHP considering the importance of practical implementation on industry-based case projects. Hence, the fourth module puts emphasis on handling databases with PHP. The topics students will be learning under this module are- PHP database APIs, error handling strategies, escaping strings in SQL statements, including common access functions, and doing simple SQL queries via PHP.