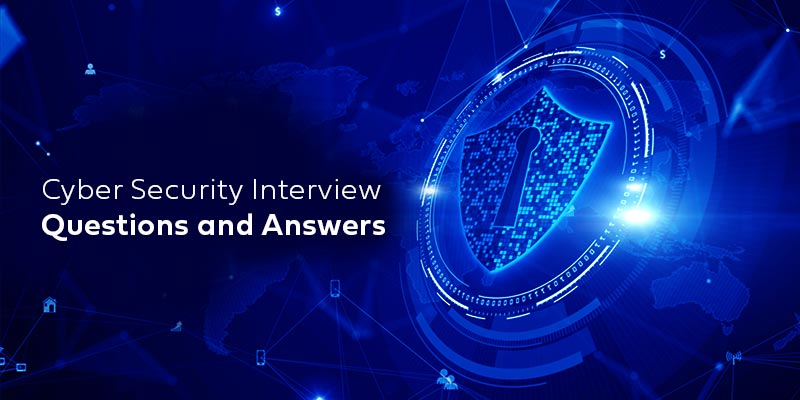 Today, Cyber Security has become a major factor that is needed to be implemented on every application and software we run, out there. In this competitive world, the more you know about this ruling technology, the more the chances of you getting recruited. As we know that knowledge upon Cyber Security increases the weightage to your resume, here we are presenting the compilation of 101 Important Cyber Security Interview Questions and answers that help the freshers to ace the Interview. Ready?
Cyber Security technology has made its place into almost every sector we see, be it military, Health, Business, everything that data deals in, security and with computers and other devices. The more the technologies are showing up, the more the volume of the threats of data theft and increasing is happening. As the exposure of data to the black and gray hat hackers will lead to negative consequences, various types of cyber securities are developed and being developed. Finding loopholes and clearing them before the attacks happen is the policy leaving no room for hacking.
So, we know that it is a bit tough to crack interviews, although you have a good knowledge of this particular skill. To boost up the confidence levels in you, we strongly suggest you go through our predicted and reliable compilation of 101 Cyber Security Interview Questions and answers which helps in polishing the basic knowledge much stronger.
We have covered the beginner topics of 'Cyber Security' with the motto of preparing you to face the Interview Questions on this 'Cyber Security' subject, strongly. However, these 101 questions are the most popular and are predicted to be asked in the interview, by our team. We think that these lists of Interview Questions will help you. Hope you will ace the interview questions asked on 'Cyber Security' taking with your informative answers. Good luck! Apart from these Interview Questions, stepping into a professional institute for Cyber Security Course aids you in securing the job at ease. Cyber Security Training in Chennai at FITA Academy provides professional training of the Cyber Security platform under the guidance of experts from the Cyber Security field.