Course Highlights and Why Swift Developer Training in Bangalore at FITA Academy?

The Swift Developer Training in Bangalore is a certification-specific program that shares its syllabus with professional and relevant certifications.

FITA Academy training programs provide flexible learning options for the learners. They can choose to attend offline classes, live online, or recorded classes.

The Swift Developer Course in Bangalore offers regular pace and fast track options for the students.

This course adopts hands-on classes and live projects because practice makes perfect.

The Swift Training in Bangalore covers relevant sections from scratch. It is appropriate for all types of individuals who are new or experienced in the subject.

Revision exercises and mock tests exist for self-evaluation after the conclusion of every topic.

The Swift Developer Training in Bangalore has a placement support system with a distinct network of 1000+ small and large-scale companies.

Lifetime support to the training resources or references is accessible post-completion.

Describe the prerequisite concepts to get started in iOS Development.

Install and configure the system requirements for practice and development.

Navigate through the fundamental concepts of Objective-C.

Explore arrays, control structures, data structures, and object-oriented programming with Swift.

Discover relevant APIs, SDK, libraries, packages, frameworks, tools, etc.

Apply
Machine learning
, Game Development, and Augmented reality with frameworks like Core ML, SpriteKit, ARKit, etc.

Explore Firebase and web services.

Understand Xcode basics, interface builder, and MVC architecture.

Learn networking, security, testing, software design, and much more.

Build and publish real-time applications to generate passive revenue.

Discuss the career opportunities for professionals with Swift Development skills.
Upcoming Batches
11-12-2023
Weekdays
Monday (Monday - Friday)
14-12-2023
Weekdays
Thursday (Monday - Friday)
16-12-2023
Weekend
Saturday (Saturday - Sunday)
23-12-2023
Weekend
Saturday (Saturday - Sunday)

Classroom Training
Get trained by Industry Experts via Classroom Training at any of the FITA Academy branches near you
Why Wait? Jump Start your Career by taking the Swift Developer Training in Bangalore!
Instructor-Led Live Online Training
Take-up Instructor-led Live Online Training. Get the Recorded Videos of each session.
Travelling is a Constraint? Jump Start your Career by taking the Swift Developer Online Training!
Trainer Profile
Our Swift Programming mentors are certified experts in the topic.
The trainers at the Swift Developer Course in Bangalore share employment experience of 6+ years.
Mentors in this program have delivered iOS projects and student success stories with their Swift programming expertise.
Our trainers are responsible for the theoretical and practical development of learners in the top Swift practices.
Mentors in the Swift Training in Bangalore have taught almost 30 batches every year.
Our trainers deploy up-to-date features, techniques, and tools in the course syllabus to keep up with the changing times.
FITA Academy mentors adopt hands-on classes and live projects to ensure practical exposure to real-time work.
All learners can avail advice for career prospects and placement assistance.
Mentors in the Swift Developer Training in Bangalore have encouraged more than 72% of learners to attempt global credentials. The success rate in passing or earning desired scores is 100%.
Learn at FITA Academy & Get Your
Dream IT Job in 60 Days
like these Successful Students!

Features of Swift Developer Training in Bangalore at FITA Academy
Real-Time Experts as Trainers
At FITA Academy, You will Learn from the Experts from industry who are Passionate in sharing their Knowledge with Learners. Get Personally Mentored by the Experts.
LIVE Project
Get an Opportunity to work in Real-time Projects that will give you a Deep Experience. Showcase your Project Experience & Increase your chance of getting Hired!
Certification
Get Certified by FITA Academy. Also, get Equipped to Clear Global Certifications. 72% FITA Academy Students appear for Global Certifications and 100% of them Clear it.
Affordable Fees
At FITA Academy, Course Fee is not only Affordable, but you have the option to pay it in Installments. Quality Training at an Affordable Price is our Motto.
Flexibility
At FITA Academy, you get Ultimate Flexibility. Classroom or Online Training? Early morning or Late evenings? Weekdays or Weekends? Regular Pace or Fast Track? - Pick whatever suits you the Best.
Placement Support
Tie-up & MOU with more than 1500+ Small & Medium Companies to Support you with Opportunities to Kick-Start & Step-up your Career.
Why Learn Swift Developer Training in Bangalore at FITA Academy?
Live Capstone Projects
Real time Industry Experts as Trainers
Placement Support till you get your Dream Job offer!
Free Interview Clearing Workshops
Free Resume Preparation & Aptitude Workshops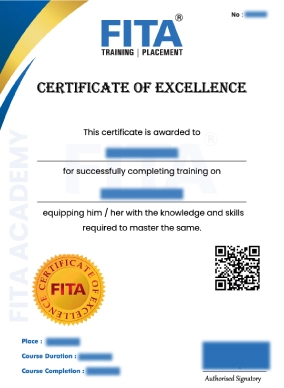 Swift Certification Training in Bangalore
At the successful finishing of the Swift Training in Bangalore, FITA Academy awards the candidate with a course completion certificate. Most companies recognize this certificate as confirmation of the effort invested in this subject. This certificate provides credibility to the skills and concepts you acquired in the duration of enrollment. It acts as verification for passing all the assignments, assessments, and projects to become a successful Swift Programming expert.
The Swift Developer course certificate at FITA Academy is fit to confirm your proficiency in this field. However, mentors at FITA Academy motivate learners to test this expertise beyond the course, with relevant credentials.
The most well-known credential to add to your achievements is App Development with Swift Certification Level 1 by Apple.
Some popular questions about this certification are below:
How to enroll in this certification exam?
You can take up these exams at a Pearson VUE testing center or online at your preferred location.
2. Who can qualify for this certification?
There are no specific eligibility criteria for the Swift certification exam. However, a minimum few years of experience is best before attempting it.
3. What are the relevant exam details?
The exam details cover 45 multiple-choice questions.
4. How long does it take to earn this certification?
The exam completion time is around 50 minutes.
5. What is the minimum score to earn this credential?
The minimum passing score for this credential is confidential. However, students can access it on their account or mark-sheet.
6. After how many years does this certification expire?
This certification never expires. Therefore, a professional should consider renewing it to stay credible to the industry.
7. What is the total cost for earning this certification?
The total price for this certification is present at pearsonvue.com during the transaction.
For more information, feel free to consult with the trainer or support team from the official page.
10 Benefits of learning Swift Certification Training in Bangalore at FITA Academy
Career growth- as a developer with the swift language, there are lots more opportunities to work on projects that use swift language. You can get hired by bigger companies and do cool stuff like develop apps for iOS, Android, and other platforms. This Growth will lead to better job opportunities swift is one of the fastest evolving programming languages, and it is highly demanded by both iOS, Android, and website developers, who are working on Swift projects.
Learn new technologies- The swift language is built using modern concepts like OOP, Design patterns, etc. So it teaches how to develop well-structured applications which are easy to maintain and extend. All this knowledge will give you a competitive edge. The basic idea behind swift is that you need to separate the programming code from its user interface code, and this will help in the design and maintenance of the application as well as a faster development cycle. Swift is not just an Apple technology- The language is supported by several other leading players like Microsoft, IBM, etc and this will give you more opportunities.
Gain expertise- After completing swift certification from FITA Academy, one can call themselves an expert because they will know how to handle almost all aspects of swift programming. This will be an asset to them in your professional life. If you're looking to take your programming skills to the next level, then learning swift might be a good idea. Not only is it a popular language, but it's also becoming more and more important in the world of mobile development. If you want to stand out from the crowd, then getting swift training in Bangalore is a great way to excel. Not only will you learn everything you need to know about this powerful language, but you'll also get some valuable experience working with iOS and Android apps. This certification training is perfect for anyone who wants to develop their programming skills quickly and efficiently. So why wait? Register today and start learning what makes swift so special.
Increase revenue- As we know, every company wants to increase their revenue, so they hire developers who know about the latest technologies. Swift Training in Bangalore offers many benefits for businesses. The most obvious benefit is that employees who have completed the training can create software more quickly and efficiently. They will also be able to work on more complex projects since they will be better equipped to understand the code and how it works. Additionally, businesses are recruiting employees in swift, which will see an increase in revenue as their employees are able to create more complex and advanced applications.
Learn Advance technology- if you want to make your career in a specific area, then going through a swift certification course would help you. You'll be able to understand advanced techniques like unit testing and deployment. Swift is a powerful programming language that is rapidly becoming the de facto standard for developing mobile apps. A swift developer course in Bangalore can help you learn this powerful technology and improve your career prospects. The course offers comprehensive coverage of the Swift language, including syntax, programming concepts, and advanced features. After completing the training, you will be able to create sophisticated iOS and Android apps.
Prepare for job interviews- A good interview always depends upon how confident you are about yourself. Having knowledge about swift development tools makes you look professional and smart. The certification will give you an edge when applying for jobs as a Swift developer. The program will also help you improve your skills and understanding of the language. It will prepare you for coding challenges that may be encountered while working on projects. In the long run, the certification could lead to a career in Swift development.
Self-confidence- It's obvious that everyone hates when someone says 'i don't know anything' or 'how come I am not getting this interview?' You can build up your confidence after completing swift certification. If you want to become a more confident Swift developer, FITA Academy's swift developer course in Bangalore will help you do just that. Our instructor-led training will give you a solid foundation in Swift development, so you can start creating real applications using this powerful language.
Save money- For those who cannot pay huge costs of swift courses, our swift certification training in Bangalore comes as a boon. It gives the best value for money, and it is affordable.
Network- If you are working as a developer, it becomes very difficult to find new challenges every day. But when you complete swift training in Bangalore at FITA Academy, you'll be connected to various professionals who are also interested in the same skillset as yours. As a certified Swift developer, you'll have access to many resources and networking opportunities that are otherwise unavailable to a beginner or intermediate developers. This is because certified developers are experts in their field and can offer valuable guidance and advice to other newcomers to the field.
Job security- This might seem a little weird, but there are times when jobs become unstable. In such cases, if your employer knows that you possess swift certification, then you'll definitely get a better package than others.
Have Queries? Talk to our Career Counselor for more Guidance on picking the
right Career for you!
Placement Session & Job Opportunities after completing Swift Developer Training in Bangalore

Swift Development is an in-demand career for iOS professionals or enthusiasts. It is for individuals interested and working in job roles revolving around Programming, Engineering, System Designing, System Architecture, Web and Application Development, Brand Development, Testing, Product Management, etc. This subject is best for professionals motivated to explore a career in iOS or related platforms. As of now, naukri.com delivers around 9807 full-time and part-time job openings for Swift Development and related careers in India. Some examples are Application Developer, iOS Platform Developer, Swift Developer, Objective C Developer, Senior iOS Developer, Software Developer, iOS Lead, Mobile Application Architect, Android Developer, Senior Analyst, Senior Native Mobile Developer, Senior Hybrid Mobile Web Developer, Senior Flutter Developer, iOS RTC Developer, Software Engineer, etc. Some enterprises hiring Swift programming experts are Accenture, IBM India, Sapient Consulting, Capgemini, Infosys Limited, etc. After 2021, the average annual earnings for a Swift programming expert are approximately $102K globally. In India, it amounts to around Rs 4.7 lakhs.
Nonetheless, these figures vary exponentially with time, experience, location, proficiency level, enterprise, and position in the industry you hold. With the Swift Developer Training in Bangalore, you can be at peace about your career goals or ambitions.
Here are some Job Opportunities After Completing Swift Training in Bangalore at FITA Academy:
Application Developer- You can start to work as an application developer after successfully completing Swift Developer Training in Bangalore and get real-life experience of working as an application developer and learn how to design and build enterprise-level applications in iOS, Android and Swift. Here are all you need to know about the role of an application developer:
1. What does an application developer do?
An application developer creates software programs. They work with programmers and designers to develop complex software systems. They use computer languages (such as C++) along with different tools to translate business logic into code. Their main goal is to test, debug, maintain, enhance and support these applications.
So basically, they handle the technical end of things and keep the system running. An application developer requires high levels of attention to detail and analytical capabilities. They have expertise in designing database schemas and implementing data structures. As they develops software, they may encounter bugs related to coding errors or performance issues. As an experienced application developer, you should be able to diagnose these issues and fix them quickly and effectively.
iOS Platform Developer after Completing If you wish to make a career switch from Windows to Android, then you must opt for an Android platform developer. The good thing about choosing this career option is that you can change your mobile operating system without any problem. So if the Apple iPhone is not suitable for you, then you can move over to something else. This means your chances of finding a great job increase dramatically. This Swift Developer Training in Bangalore gives you a complete understanding of Android/iOS Platform. This means your chances of finding a great job increase dramatically. Here's what you need to know about becoming an iOS platform developer.
2. What exactly is iOS platform developing?
iOS platform developing deals with the apps developed on the iOS platform. With this kind of programming, you can easily manage an app's user interface and view its content. Many big companies prefer Swift developer who specializes in iOS platform development as they can design and build an efficient app quickly.
Swift Developer after Completing- Swift Developer is one of the hottest careers available right now. It is easy to learn, and it offers a lot of opportunities. You can choose to work with big firms which provide excellent benefits with packages. If you wish to make a shift from another field of development to the field of programming, then swift developer will help you achieve the same. By gaining knowledge from the best Swift Developer Training in Bangalore, you can master the art of programming and start working with top firms. Here's everything you need to know about working as a swift developer.
3. What is a swift developer?
A swift developer is someone who specializes in writing code using the Swift language. There are many kinds of developers out there like Java developers,web developers, .net developers etc., but only those who specialize in the swift language are called swift developers. This language was first invented by Apple Inc. back in 2009. Today it is used in more than 100 countries across the world.
Objective C Developer- By completing Swift Developer Training In Bangalore you will learn advanced areas of programming with concurrent and object-oriented programming. Objective C is a compiled language that works on iOS and Mac OS X and this Objective C is another popular programming language among coders today. If you have some basic knowledge of objective C and some other programming skills, then you can become an objective c developer. If you wish to gain expertise in object-oriented programming, then you should opt for OOP. Here's what you need to know if you want to become an Objective C developer:
4. What do I need to get started as an Objective C developer?
You require some experience with object-oriented programming. Whether you have done some OOP classes in college or you just took up some courses, you should already have a good grasp of the concept. You need to have some knowledge of how to structure code using objects. You also need to understand the basics of data types.
Success Story of Swift Developer Training in Bangalore
The Swift Developer Course in Bangalore has been an enriching domain to explore. I was always curious about how iOS works, and this course efficiently teaches it. My expectations from the mentors got fulfilled very well. I look up to the opportunities that will come my way now. FITA Academy courses are worth your attention.
I had a pleasant time at FITA Academy. Their Swift Training in Bangalore has been a lifesaver in many ways. I have achieved the confidence and proficiency to apply the concepts on my own. It has been possible because of the several hands-on experiments we performed in the practical sessions. I am happy with my investment and expect the same opinion from my classmates.
FITA Academy has helped me overcome my hesitancy and fear surrounding codes. The various projects and lab assignments we submitted are bound to provide expertise to students. This training is suitable for amateurs like me too. The trainers and support team take care of all your psychological and technical needs.
FITA Academy is worthy of its reputation. No matter how many courses I learn here, it never gets repetitive. They also update their program to keep up with the industry. The Swift Developer Training follows the same pattern. My enrollment in this training is a success. I am excited about the career prospects post this program.
This course has helped me discover my love for iOS development. Though I started as a Web Developer in my career, I feel confident to make a switch now. I will suggest this course to my juniors too. It has been my favorite offline learning experience so far.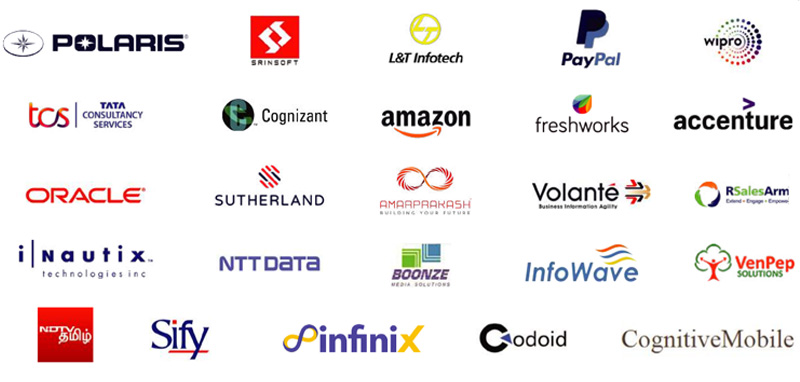 Frequently Asked Question (FAQ) about Swift Developer Training in Bangalore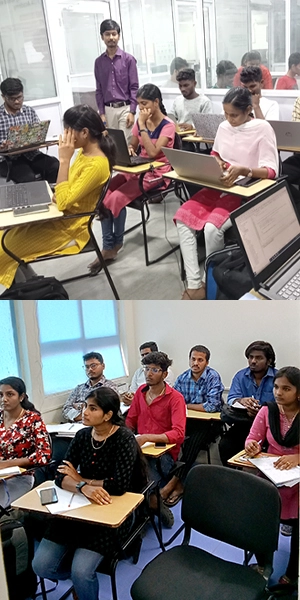 iOS is an in-demand and in-hype technology in the market today. As an operating system, it shares high compatibility with Swift programming. Hence, development enthusiasts need to be proficient in this language. This skill is a successor to Objective C and also holds close similarity with English. With responsible implementation, professionals can rest easy about their career in iOS development.
FITA Academy houses the best Swift Developer Course in Bangalore. It explores the necessary features for the compatibility between iOS and Swift. This course also deals with some of the top concepts to ensure your absolute proficiency. They include Objective C, Xcode basics, Variables, Arrays, Tables, Loops, Firebase, Core ML and Cocoa Touch frameworks, interface builder, MVC Architecture, Augmented Reality, JSON, etc.
The course syllabus is up-to-date with the overall enterprise and user expectations. The exercises, mock tests, hands-on sessions, and projects revise all the topics relevant for Swift Development expertise or related industry benefits. With this course, you can attain career perks for iOS development and various other fields.
Trainers in this course are certified experts in the topic. They ensure technical and soft skill proficiency for interviews relevant to most professions. Students from computer science and engineering backgrounds are most eligible for enrolling in this course. You can choose to study the Swift Developer Training in Bangalore or through online methods. At FITA Academy, our programs ensure that your existing potential gets recognized in the industry.