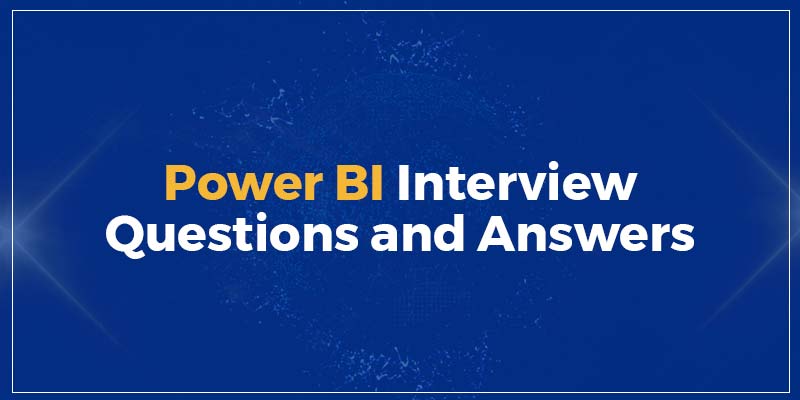 Power BI is an essential tool used across all the business sectors to visualize their collected Data. Due to its simple user interface, it has been recognized by early-career data researchers and experts. Therefore, freshers who are in the stage of the interview preparation process and looking for Power BI Interview Questions can read out this blog for complete preparation guides.
Various online resources provide excellent  Interview Tips for successful preparation, but none of them will provide you with accurate content to ensure your placement success. Therefore, in order to improve your chances of getting recruited, we have compiled the Best Power BI Interview Questions and Answers for you. These questions have been gathered from the candidates who have participated in the interview round. In addition, the solutions have been verified and validated by our experts at FITA Academy.
Further, we have categorized the interview questions and answers for beginners, intermediates, and experienced professionals. So, anyone can refer to these questions to get interviewed and selected by any IT company. Let's overview some basic interview questions for beginners from the next section.
Power BI Interview Questions for Freshers
Power BI Interview Questions and Answers for Intermediates
In the last section, we have provided important Power BI Interview questions and answers for freshers. So, if you are looking for open positions without any relevant experience, you can refer to the first top 20 questions. Further, for intermediate candidates, we will present the following top 30 questions you can expect during the interview rounds. Let's have a look at those questions.
Acquiring skills beforehand is a practical approach before applying for jobs or attending interviews. Joining and experiencing the practical interview sessions would always add merit to your learning skills. Therefore, we recommend pursuing Power BI Online Course to gain more hands-on experience in practical courses and skills in Power BI. In addition this course will teach you fundamentals of Power BI Mobile applications, Windows, and other relevant functions.
Power BI Interview Questions and Answers for Experienced Professionals
So far, we have discussed the best Power BI Interview Questions and Answers for both freshers and intermediates; from this section, we are going to provide you with the Top 50 Power BI Questions and Answers for Experts and Advanced Professionals. If you are attempting to attend all three kinds of interviews, you can refer to these advanced questions. Let's begin our Power BI interview questions and answers for experts.
Looking into the demand for Microsoft Power BI Consultants, and several related job positions, we have compiled the finest Power BI Interview Questions and Answers. These resources were gathered from mentors, Power BI Interviewers, reliable books, and Interview participants. If you have gone through these questionnaires, we assure that you can clear any complex stages of the interview process.
Besides, apart from these interview Questions and Answers preparation, we also suggest reading out the Best Interview Tips. This resource will provide you with the most specific guidelines for interview preparation along with what are the most common mistakes to avoid during the interview process. Furthermore, we recommend you to build your confidence, way of communication approach, and answering method because the interviewer not only observes your skills, but also observes your effective communication and interdisciplinary skills. Finally, with providing all the necessary tips and Questions and Answers, we exceptionally suggest you take part in Power BI Training In Chennai to make yourself a master in all the Power BI concepts along with job and salary demands for Power BI Developer Salary For Freshers.
Supplementary Resources
In our current technological world, there are several job demands for Android Developers, Artificial Intelligence & Machine Learning Engineers, Java & Python Developers, and Ethical Hackers. So, if you are looking for any of the jobs related to these domains, we have reliable resources for you, check out our Freshers Salary Blog for recent updates on job vacancies and their salary structures. In addition to these, Machine learning, Artificial Intelligence, and Data Science are some of the emerging sectors in the IT Industry. Hence, if you want to know more about Ethical Hacking, then you can refer to Ethical Hacking Interview Questions and Answers. Furthermore, if you are seeking for various job roles related to Power BI, you can refer to Power BI Consultant Salary For Freshers.