Course Highlights and Why UI UX Design Course in Kochi at FITA Academy?

Acquire skills in UI UX Design, including Wireframing, Mockups, Interaction Prototypes, and Usability testing.

Understand the different types of user interfaces and their applications across mobile devices, desktops, the web, and more.

Gain expertise in User Interface (UI) and User Experience (UX) fundamentals.

Our experienced instructors meticulously designed the Course, incorporating real-world projects and modules that align with international standards.

We offer personalised and flexible classes, catering to weekday and weekend schedules and online sessions.

Provides comprehensive training encompassing theoretical and conceptual aspects.

With a track record of collaborating with over 1,500 companies, FITA Academy ensures a 100% placement guarantee to kickstart your career.

Explore diverse design approaches to crafting user-friendly web interfaces through the UI UX Design Course in Kochi.
Upcoming Batches
09-12-2023
Weekend
Saturday (Saturday - Sunday)
11-12-2023
Weekdays
Monday (Monday - Friday)
14-12-2023
Weekdays
Thursday (Monday - Friday)
16-12-2023
Weekend
Saturday (Saturday - Sunday)

Classroom Training
Get trained by Industry Experts via Classroom Training at any of the FITA Academy branches near you
Why Wait? Jump Start your Career by taking the UI UX Design Training in Kochi
Instructor-Led Live Online Training
Take-up Instructor-led Live Online Training. Get the Recorded Videos of each session.
Travelling is a Constraint? Jump Start your Career by taking the UI UX Design Course Online!
Trainer Profile
The UI UX Course trainers at FITA Academy offer a well-rounded blend of practical and theoretical sessions.
The Trainers are real- time web developers with a decade of experience.
The Instructors keep students up-to-date with industry best practices.
Offer flexibility in class scheduling, accommodating students with weekday, weekend, and online session options.
Students can benefit from one-on-one mentorship since we offer only limited seats to each batch.
The trainers offer valuable advice on interview tactics and strategies.
Deliver engaging assignments, practical case studies, and real-world projects.
The Trainers of UI UX Course in Kochi course equips students with practical skills, ensuring they are job-ready in UI/UX design.
Learn at FITA Academy & Get Your
Dream IT Job in 60 Days
like these Successful Students!

Features of UI UX Design Course in Kochi at FITA Academy
Real-Time Experts as Trainers
At FITA Academy, You will Learn from the Experts from industry who are Passionate in sharing their Knowledge with Learners. Get Personally Mentored by the Experts.
LIVE Project
Get an Opportunity to work in Real-time Projects that will give you a Deep Experience. Showcase your Project Experience & Increase your chance of getting Hired!
Certification
Get Certified by FITA Academy. Also, get Equipped to Clear Global Certifications. 72% FITA Academy Students appear for Global Certifications and 100% of them Clear it.
Affordable Fees
At FITA Academy, Course Fee is not only Affordable, but you have the option to pay it in Installments. Quality Training at an Affordable Price is our Motto.
Flexibility
At FITA Academy, you get Ultimate Flexibility. Classroom or Online Training? Early morning or Late evenings? Weekdays or Weekends? Regular Pace or Fast Track? - Pick whatever suits you the Best.
Placement Support
Tie-up & MOU with more than 1500+ Small & Medium Companies to Support you with Opportunities to Kick-Start & Step-up your Career.
Why Learn UI UX Design Course in Kochi at FITA Academy?
Live Capstone Projects
Real time Industry Experts as Trainers
Placement Support till you get your Dream Job offer!
Free Interview Clearing Workshops
Free Resume Preparation & Aptitude Workshops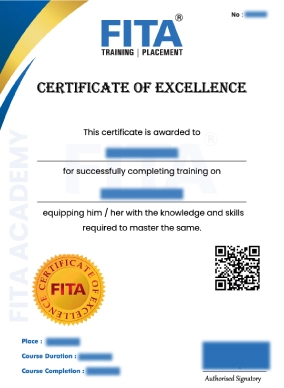 UI UX Certification Course in Kochi
In the dynamic landscape of digital technology and user-centric interfaces, a career in UI/UX is both exciting and promising. At FITA Academy, we provide a comprehensive UI UX Design Certification Course to empower the students to excel in the rapidly evolving field.
The UI UX Designer Course in Kochi comprises User Interface and User Experience. This program covers all the concepts from Visual Design to User Interface, Usability to Information Architecture, Functionality to Content, and Interaction Design. Whether you're a design enthusiast or a budding professional, this Course is your gateway to a world of design.
In today's competitive job market, standing out is crucial. Our certification program equips you with the expertise and practical skills necessary to distinguish yourself in the UI/UX industry.
At FITA Academy, we believe that passion and dedication are the only prerequisites for success in the UI/UX field. You don't need prior knowledge or skills to enrol in our UI UX Course in Kochi. Our seasoned design experts are committed to imparting comprehensive knowledge, from the basics to advanced and core concepts.
Take advantage of the opportunity to embark on a rewarding design journey. Join FITA Academy's UI/UX Design Certification Course, where innovation meets opportunity and design transforms the digital world.
Have Queries? Talk to our Career Counselor for more Guidance on picking the
right Career for you!
Placement Session & Job Opportunities after completing UI UX Design Course in Kochi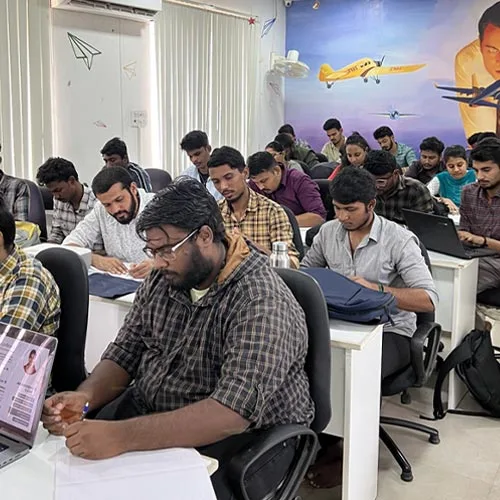 In today's digitally-driven world, User Interface (UI) and User Experience (UX) have emerged as essential components in designing and developing websites, applications, and digital interfaces. Pursuing a UI UX course in Kochi at FITA Academy equips you with valuable skills. It opens doors to exciting career opportunities such as UI Designer, UX Designer, UX Researcher, Product Designer, Information Architect, Interaction Designer, Visual Designer, UX Writer, and UX Engineer.
The UI/UX field is characterised by consistent demand, ensuring a long and stable career. As businesses prioritise user-centric design, the need for skilled UI/UX professionals remains high.
Completing a course is your gateway to a dynamic and rewarding career. Whether you're passionate about design or eager to create exceptional user experiences, the skills you gain will open doors to a world of job opportunities.
Seize the moment, embark on your UI/UX journey, and unlock the potential for an exciting and fulfilling career. Your dream job awaits! The UI/UX Developer Salary For Freshers isapproximately Rs.3 Lakhs Per Annum, with mid-level practitioners earning an annual income of about Rs.7 Lakhs Per Annum. At the same time, seasoned professionals in this field can command an impressive Rs. 9 Lakhs Per Annum. Similarly, UX Designers can earn around Rs. 4 Lakhs Per Annum at the entry-level, with mid-level experts securing an annual income of approximately Rs. 5 Lakhs Per Annum. Experienced professionals in UX Design can reach a substantial annual salary of approximately Rs.10 Lakhs Per Annum.
For the Best UI UX Design Course, look no further than FITA Academy. Renowned experts meticulously craft our course curriculum at FITA Academy and possess extensive knowledge and expertise in both domains.
Success Story of UI UX Design Course in Kochi
It was an excellent experience with the UI UX Designer Course in Kochi at FITA Academy. Experts in the IT industry designed the courseware and integrated it with real-time projects. The trainers were very interactive during the sessions and assisted us in building a resume. With a placement cell, they provide placement support to the students. Thanks to FITA Academy.
I enrolled in a UI UX Course, which gave me in-depth design knowledge. The expert trainers handled every session very interactive and cleared the doubts immediately. They also conducted assessments to check the student's progress. Overall, joining a design course at FITA Academy was a worthwhile decision.
I completed a certification course in UI UX design at FITA Academy. Before joining the Course, I had no idea about design. After I joined the Course, my trainer started the class with the fundamentals. I started developing my skills from the basics, thus enabling me to learn the upcoming concepts without confusion.
I have worked with Photoshop and wanted to update myself in design. So, I enrolled in the UI UX Design Course Kochi at FITA Academy. The Course curriculum starts with basic design principles and Photoshop and then to UI UX. Though I already worked with Photoshop, I learnt many tools and techniques only after joining this Course. It enabled me to learn the concepts thoroughly.
The UI UX Design Course at FITA Academy is an extensive program which made me proficient in UI UX Designing. Thanks to the trainers who guided us in real-time projects and supported us during job interviews after completing the Course.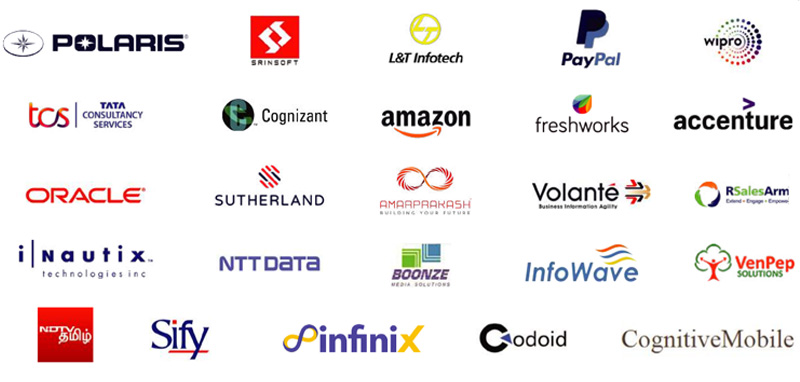 Frequently Asked Question (FAQ) about UI UX Design Course in Kochi
Additional Information of UI UX Design Course in Kochi
There are various pathways to engage with user experience (UX) design, each offering unique opportunities. One option involves beginning as an intern and progressing to a full-time role, often with valuable benefits. Exploring UX further may lead you to delve into user research, which involves observing real users interacting with different products and services. The insights from such research empower companies to craft superior products and services by understanding customer needs and desires.
Another avenue is to enrol in a UI UX designer course in Kochi at FITA Academy, where you can acquire invaluable knowledge in user experience design, usability testing, and various facets of digital product development.
You'll have numerous career prospects upon completing your UI UX design course. Whether you opt for self-employment or join a larger company, opportunities abound.
For those eager to deepen their understanding of user experience design, there are excellent resources for beginners. These resources cover fundamental aspects such as identifying user requirements, creating wireframes, testing prototypes, and applying psychological principles in website or mobile application development.
What is a User Interface?
UI is an acronym for user interface, serving as the vital connection between individuals and computers. It encompasses everything that users engage with during their interaction with a system. Elements such as screens, sounds, overall design aesthetics, and responsiveness are among the essential aspects to be mindful of in UI. A user interface typically comprises the following four key components. To explore all the critical components of UI Design, enrol in the UI Developer Course in Kochi at FITA Academy.
What is a User Experience?
User experience (UX) design refers to the methodology and application employed to create and execute a product that delivers favourable and meaningful engagements with its users. Alternatively, UX design, user-centric or user-centred design, encompasses all facets of product development and design.
Creating UI Designs in Photoshop
Prototyping software is often the go-to choice in web platform and application design. However, if you aspire to elevate the visual appeal of your user interface designs, Photoshop can be a powerful tool. Photoshop's UI design capabilities offer a range of fantastic features to craft distinctive and intricate designs. Learn more about Photoshop by enrolling in the UI Design Course in Kochi at FITA Academy.
In Photoshop, layers serve as the fundamental building blocks of design. Each layer represents a collection of specific edits and adjustments that contribute to creating a robust user interface design. Select the appropriate screen size for your target device and create your initial layer. For desktop platforms, opt for a landscape-oriented layer; for mobile devices, choose a portrait-oriented one. You can then add images to this layer or create additional layers to incorporate your input. The layer panel provides the means to edit and manage these layers.
Utilise the Horizontal Type () and Vertical Type () tools for text creation and editing. When you input new text, it is automatically placed into a fresh text layer. You have the flexibility to generate either single-line text or paragraph text. In the case of single-line text, each line you input remains distinct—its length adjusts as you make edits, but it does not automatically wrap to the following line. To introduce a new line of text, simply press Enter. Paragraph text, on the other hand, conforms to the paragraph boundaries you define, allowing for automatic text wrapping.
Within Photoshop Elements, you can access two distinct colour models for colour manipulation. One model is derived from how the human eye perceives colour, consisting of hue, saturation, and brightness (HSB). The second model is rooted in how computer monitors render colour, quantifying it in terms of red, green, and blue (RGB) components.
Design Consistency 
Consistency in UX design encompasses various layers. Firstly, maintaining uniformity in your designs' visual and functional aspects across all pages/screens and products within the same brand or product family.
Simultaneously, consistency extends to meeting the user's expectations regarding the type of product you're designing. For instance, if you're developing a flight booking app, users will arrive with certain preconceptions about how the app should operate based on their prior experiences with similar apps on the market. While you don't need to mimic your competitors, you don't have to reinvent the wheel.
By aligning with user expectations, you can create a user-friendly product with the help of the UI UX Design Course in Kochi at FITA Academy, which offers a minimal learning curve and provides a pivotal aspect of ensuring a seamless user experience.
Wireframe
A wireframe serves as a tool for delineating and strategising the information hierarchy within a webpage or screen. It addresses questions about how page elements should be structured, the allocation of space, and the placement of content items such as navigation bars, images, videos, and more. Wireframing focuses on visually representing various components' arrangement, including buttons, menus, images, videos, and headings.
Wireframing involves determining the primary data that users should encounter initially and the data that can be relegated to a secondary page, encouraging user interaction by prompting them to click for additional information.
Agile Methodologies
The UI UX Design Course in Kochi allows the students to learn Agile methodologies, including Sprint, Scrum, and Owner, to increase flexibility and reduce the risks of a design.
A Design Sprint is an exceptional five-day methodology for validating concepts and addressing significant challenges by creating prototypes and subjecting ideas to customer testing.
Scrum is a collaborative framework that aids agile teams in achieving their objectives. It empowers team members to deliver and maintain intricate products efficiently. This framework fosters a learning culture through hands-on experience and encourages self-organisation while addressing challenges. In essence, Scrum is the systematic approach to consistently delivering customer value.
The owner plays a pivotal role in project success. Their primary responsibility is overseeing and enhancing the product backlog, maximising its value. Scrum, as an Agile framework, promotes effective team communication and self-organisation.
Within the Scrum team, the Product Owner assumes a critical position. Their essential duties include defining user stories and crafting the product backlog. Acting as the primary liaison between the customer and the development team, the Product Owner identifies the product requirements on behalf of the customer.
What is Design Thinking?
Design Thinking is an iterative and non-linear approach employed by teams to gain insights into user needs, question assumptions, reframe challenges, and develop creative solutions that are then prototyped and tested.
Phases of Design Thinking
Empathise
Define
Ideate
Prototype
Test
HTML and CSS
HTML defines a webpage in its structure and content. In contrast, CSS format and arrange the page's visual presentation.
The UI UX Design Course in Kochi uses web designing languages such as HTML, HTML5, CSS and CSS3 in website development are HTML and CSS.
Why should UI/UX designers acquire knowledge in HTML and CSS?
While UI/UX designers need not become HTML and CSS experts, a foundational grasp of these languages offers several advantages. Here are some compelling reasons:
Enhanced Collaboration: Familiarity with HTML and CSS enables UI/UX designers to collaborate more effectively with developers, fostering improved communication and synergy.
Streamlined Design: Proficiency in HTML and CSS empowers UI/UX designers to craft more practical and feasible designs for developers to implement.
Enhanced Prototyping: UI/UX designers can leverage HTML and CSS to create more authentic prototypes that closely mirror the final product, leading to better design validation.
Why learn the UI UX Course in Kochi at FITA Academy?
Learn from Seasoned UI UX Designers
Experienced UI UX Designers craft our training program. This expertise dramatically enhances the effectiveness of the Course, allowing you to acquire valuable insights into Designing.
Hands-On Training with Real-World Projects
Our UI UX Course is designed to immerse you in the design process. We offer real-life industry projects as part of this Course to provide practical experience. Our instructors will guide you in turning your creativity into unique designs.
Comprehensive Course Materials
Course materials are provided in digital format for easy reference during the training.
Receive a UI UX Course Completion Certificate
Upon completing our UI UX Course, you will receive a prestigious certificate in Designing.
Ongoing Career Support
Feel free to reach out with any doubts about UI UX Designer Interview Questions and Answersafter completing the training. Our experts in the UI UX Design Course in Kochi are here to guide you on your journey to success in UI UX Design.