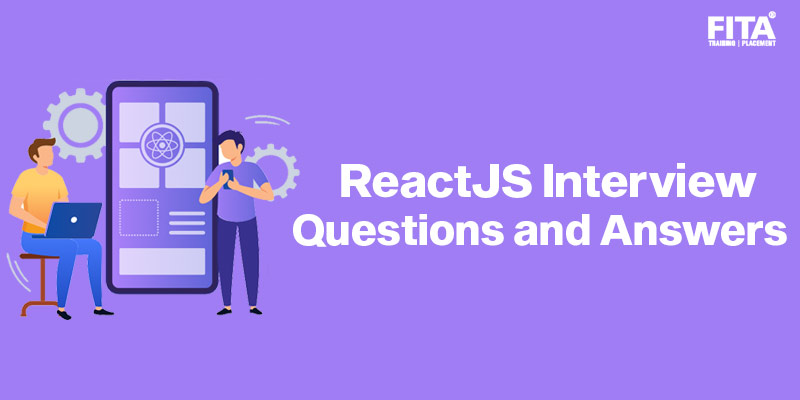 ReactJs is a library of JavaScript code used to make user interfaces. In the past few years, ReactJs has become more and more popular, and for good reason: it is a powerful tool that makes making user interfaces fast and easy. ReactJs is based on React, a library for building platforms that were made by engineers at Facebook. 
ReactJs Interview Questions and Answers from FITA Academy can give the best resources for ReactJs interview preparation. If you have completed your ReactJs Training In Chennai then you can get many job opportunities in front of you. We have given the top questions and answers which will help you to become a successful ReactJs Developer.
In this article, we'll provide an introduction to ReactJS, including interview questions and answers that you might encounter when preparing for a job interview with ReactJs.
Form the above reactjs interview questions and answers we have prepared for you. At FITA Acdemy we provide you the best React Js Online Course which is created by React Js experts who are expert in web development. This is the best way to learn any new technology from the experts through online courses. It will help you to learn all of the concepts
End Summary
To help your career as a ReactJS Developer. ReactJS Interview Questions and Answers are important as they will give you an idea of the type of questions that might be asked during an interview. This will help you prepare better for the interview. This information will equip you with the tools necessary for success in the ReactJS Developer Field. Use this information to solidify your understanding of ReactJs and boost your confidence when interviewing with ReactJs experts. So, if you're ready to take your development skills to the next level, be sure to check out FITA Academy's ReactJs course.
Supplementary resources
Java is a powerful programming language that can be used in combination with ReactJS to create sophisticated user interfaces. You can find the best Supplementary resources for learning ReactJS and working with Java, including Java Tutorials, tools, and code samples.
If you are new to ReactJS, we recommend starting with our Training program. Once you have some experience working with React, check out our tutorial on creating basic user interfaces with React and Java. Alternatively, if you want to learn more about the specific features of ReactJS, or salary packages, consider reading our blogs on Freshers Salary.
Finally, if you're looking to build something more our Java interview questions and answers offers a variety of questions related to Java. React js can be used in the frontend and backend of a web application. The React library is an open-source JavaScript library for building user interfaces.