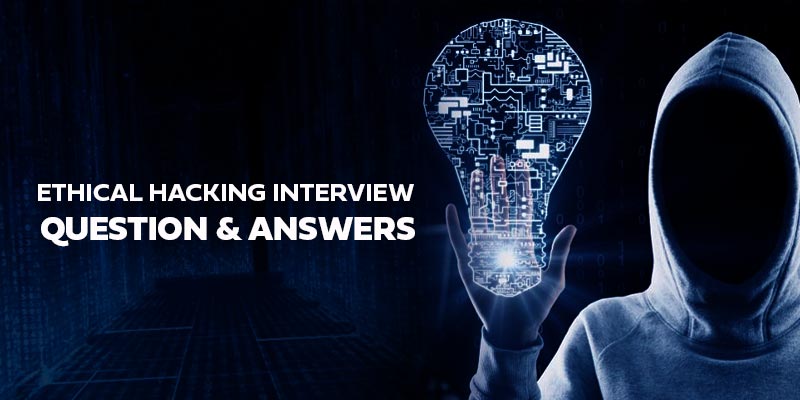 To prepare yourself for these job positions you must be aware of the Commonly asked Ethical Hacking Interview Questions and Answers. Here in this blog, we have compiled a set of 101 Important Ethical Hacking Questions and these questions have been compiled in the perspectiveto give equal emphasis for both fresher and experienced candidates
Ethical Hacking is one of the most in-demand skills across industries which uses computers and the internet to store and manage their data. According to a research conducted by the IT giant IBM, there is going to be a huge bounce in the requirement of professional cyber security experts and experts with Ethical hacking skills in the near future. And the reason behind this requirement is the increase in the amount of sensitive and valuable data that is available digitally, all thanks to the internet. These data are targeted by hackers, who try to use and misuse others' data without any authorization, by using various digital loopholes. To protect these digital assets from hackers, there is a huge increase in the number of vacancies for Ethical Hackers, who prevent hacking by protecting digital assets using various techniques.
And as everyone is aware that to land onto a good job position in the field of Ethical Hacking, you will have to face a technical interview. And no one can predict what the interviewer might ask there at any instant. Be it a fresher or any experienced professional, a strong understanding of the basic concepts are the foundation of getting an edge in the interview round.
To be helpful for your career ambitions, we have curated a list of 101 questions and answers that consists of the most common as well as most unique questions that can be asked at an Ethical Hacking Interview. Go through all of them to prepare yourself for the most important interview of your life that can ensure you a good place in your dream company and you could be working on what you love. So let's get started:
So here we have listed a unique questionnaire that contains the most common questions that are asked in an Ethical Hacking Interview questions. If you have gone through all the questions and answers, we are pretty sure that you will be confident enough to face any interview that is up for a Ethical Hacker's job position.
Most importantly, do remember that even after having enough knowledge about the domain, confidence is the most important key to ace any interview. The interviewer not only assesses you for the required knowledge for the position, but also looks for an overall good personality to hire for their company. So be confident in your skills, and confidently ace that interview and get your hands on your dream job!
The above are the commonly asked Ethical Hacking Interview Questions and Answers in an Interview for Freshers and Experienced candidates. In the coming days, we will also add more Interview Questions and Answers to this blog that are prevalent in the Industry.We provide the best-in-class Ethical Hacking course in Chennai or Ethical Hacking Training in Bangalore under expert guidance with certification.