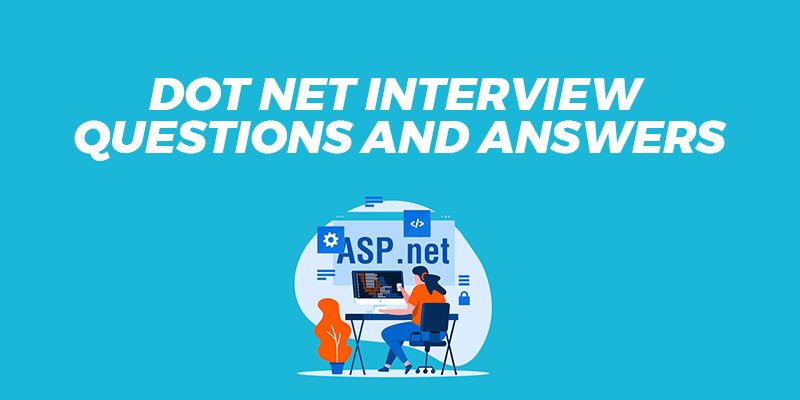 When preparing for a job interview, you will want to be sure that you know the questions that will be asked. While some questions may be common to most positions, others may be specific to the company you are interviewing with. In today's competitive job market, finding the right position and getting through the interview process is important. In order to stand out and be considered for the position, you need to know how to answer common dot net interview questions.
There are always changes in technology, and as you are about to step into the next level in your career for Dot Net Jobs in Chennai, it is crucial that you be prepared for any questions asked. This article is about important dot net interview questions and answers from FITA Academy has 100 questions from many popular interviewers. This article helps provide a base of what might be asked during your interview process so that you are not caught off-guard. If You have certified from our Dot Net Training in Chennai, then this article is for you to use those questions when preparing.
You should know a few things about Microsoft Dot Net before your interview. First of all, it is an important part of Microsoft's business strategy – nearly one-third of Microsoft's revenue comes from selling software products and services that use Microsoft Dot Net technology. So it's not surprising that many of the questions you'll be asked during your interview relate to this topic. Learning this dot net Interview questions and answers can be an achievable task for anyone looking to land the perfect job. The key to succeeding in any interview is preparation, and that includes familiarizing yourself with the company's culture and interviewing processes.
These questions will help you get an idea of what type of person the company is looking to hire and give you a sense of their abilities. These questions will help you decide if this company is right for you, and if it is a good fit for you.
As a software developer, you might have had to take an in-person interview or even a job interview that involved Dot NET Training. You might have come across one of the many Dot Net Training in Bangalore or Marathahalli, and if you did, here are some of the dot net interview questions and answers for freshers and experienced that you might have faced during your training with them.
Are you looking for a way to improve your dot net interviewing skills? If so, check out FITA Academy's Dot Net Online Training. The course covers all the basics of dot net interview questions and answers. You'll learn how to prepare for the interview, what to do when asked a question, and how to answer it. The biggest benefit of taking this course is that you'll be able to confidently answer any dot net interview question that comes your way.
Do you want to learn more about dot net? Do you want to know how to pass your dot net interview? If so, FITA Academy is the place for you! Our experienced and certified professionals will teach you everything you need to know about dot net. In this Dot Net Training in Coimbatore, we cover topics such as dot net interview questions and answers, developing web applications with Dot Net, and more. So don't wait any longer, sign up now and get started on your successful career in dot net.
The above are some important dot net interview questions and answers to help prepare you for your next interview. Be sure to practice these questions and answers ahead of time so that you can confidently answer any questions asked. Remember that the key to a successful dot net interview is to be prepared and confident.
What experience do you have with dot net? This is a very common question and one that should be easy to answer. If you have worked with dot net before, then you definitely have an advantage over someone who has not. Being able to demonstrate your proficiency in this language will show potential employers that you're willing and capable of learning more complex programs quickly.
When you go for an interview for a job in the world of technology, it is important to be well-versed in the basics of the programming language used in that field: dot net. But what are some key questions you may be asked during a dot net interview? We've compiled some of the most common ones and provided answers above.
Supplementary Resources
If you're looking to improve your chances of landing a Dot NET job interview, it's important to have a strong foundation in both PHP and MySQL. That's where FITA Academy comes in. Our experts have created a variety of resources that will help you learn the ins and outs of both languages. In addition, our DevOps Interview Questions and Answers will help you demonstrate your skills in this key area of technology. So whether you're preparing for an on-site interview or just want to up your game, we've got what you need.
Learning FITA Academy's PHP And MySQL Interview Questions and Answers can be a great help in your upcoming Dot NET interview. These questions cover all the important topics that are covered in the Dot NET interview, such as programming paradigms, data structures, algorithms, etc. By studying these dot net core interview questions, you will be able to equip yourself with the necessary knowledge for your Dot NET interview.
To improve your chances of landing a dot net job interview, then you'll want to check out the Freshers Salary page at FITA Academy. This page has a wealth of information on all things salary-related, from what to expect in terms of pay rates and benefits.