Course Highlights & Why PHP Training in Coimbatore at FITA Academy?
Introduction to PHP - Evaluation of PHP, Basic Syntax, PHP Data Variable, Defining variable and constant, Operator and expression.
Learning of Handling HTML form with PHP - Capturing form data, Dealing with Multi-value field, Generating File Uploaded form, Redirecting a form after submission.
Understanding Decisions and Loop - Making Decisions, Doing repetitive tasks with looping, Mixing Decisions, and looping with HTML.
Comprehending Function in PHP - What is a Function?, Define Function, Call by value, call by reference, and recursive function.
Knowledge of String - Creating and accessing string, searching and replacing the string, Formatting string, String related library function.
Gaining skills in Array - Anatomy of an array, creating index-based and Associate Array, Accessing Array Element, Looping with an index-based array, Looping with the associate array using each() and foreach(), some useful Library function.
Working with files and directories - Understanding file and directory, Opening and closing a file, copying, renaming, and deleting a file, working with directories, Building a text editor, File Uploading, and Downloading.
Getting familiarised with Database connectivity with MySQL - Introduction to RDBMS, connection with MySQL Database, Performing basic database operation(DML) (Insert, Delete, Update, Select), Setting query parameter, Executing query, Join (Cross joins, Inner joins, outer joins, self joins).
Introduction to Web designing concepts through HTML, CSS, JavaScript, JQuery, and AJAX.
Proficiency in Web Designing Using PHP - Installation of XAMPP, Importance of Apache Server, Configuring PHP and Setting up the environment, working with editors.
Understanding Controller - Request and Response Parameter, Controller Action, Request Life Cycle Callbacks, Controller method, Riderction, Working with Component.
Apprehending Model in PHP - creating Model for a database table, Retrieving Data Using Model, Method for all basic CURD (Create, Update, Read, Delete), Create Own Model Method, Making Custom SQL Queries, Data Validation.
Getting Acquainted with ORM (Object Relational Management) - Working with the simple association, one to one, one to many, many to many.
Knowledge on View - Working with Layout, Create custom Layout, Working with Helper class, Creating and using the user define Helper, Working with the element.
FITA Academy is trusted by 25,000+ students for their career growth.
FITA Academy has tie-up with more than 1200+ companies to expose students to many opportunities.
FITA Academy has a team of 1000+ expert trainers who are qualified and competent in their respective fields.
Creating, Managing, and Mastering MySQL Database - Installing and configuring MySQL, Understanding MySQL, Creating and Managing Database, MySQL data types, Creating tables and Managing Tables, Advanced-Data Manipulation - Groups, Functions, Constraints, Index, Handling Transactions in MySQL.
Upcoming Batches
| | | | |
| --- | --- | --- | --- |
| 16-05-2021 | Weekend | Sunday (Saturday - Sunday) | |
| 17-05-2021 | Weekdays | Monday (Monday - Friday) | |
| 18-05-2021 | Weekdays | Tuesday (Monday - Friday) | |
| 22-05-2021 | Weekend | Saturday (Saturday - Sunday) | |

Classroom Training
Get trained by Industry Experts via Classroom Training at any of the FITA Academy branches near you
Why Wait? Jump Start your Career by taking PHP Training in Coimbatore!
Instructor-Led Live Online Training
Take-up Instructor-led Live Online Training. Get the Recorded Videos of each session.
Travelling is a Constraint? Jump Start your Career by taking the PHP Online Training!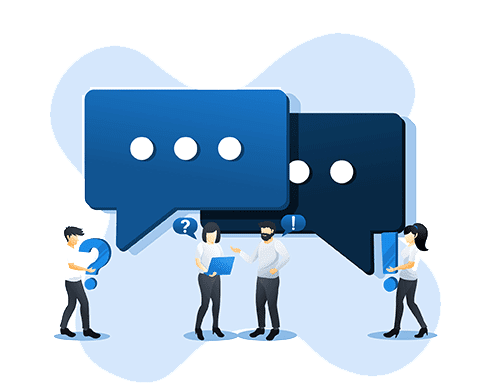 Have Queries? Talk to our Career Counselor
for more Guidance on picking the right Career for you!
Trainer Profile
The PHP Trainers oF FITA Academy are working industry professionals who hold a maximum of 12+ years of experience in their field.
The Professional experts provide career-oriented training to impart the necessary skills in students pertaining to their career growth.
Our trainers of FITA Academy have successfully guided many national as well as internal projects and have been a part of many global project completion.
FITA Academy's educators assist in placement guidance through conducting mock interviews, group discussions, assignments, mock tests, training to build real-time projects, etc.
The subject matter experts of FITA Academy concentrate more on the practical sessions to teach the industry-relevant technical skills to make them proficient in the web development domain.
Features
Real-Time Experts as Trainers
At FITA, You will Learn from the Experts from industry who are Passionate in sharing their Knowledge with Learners. Get Personally Mentored by the Experts.
LIVE Project
Get an Opportunity to work in Real-time Projects that will give you a Deep Experience. Showcase your Project Experience & Increase your chance of getting Hired!
Certification
Get Certified by FITA. Also, get Equipped to Clear Global Certifications. 72% FITA Students appear for Global Certifications and 100% of them Clear it.
Affordable Fees
At FITA, Course Fee is not only Affordable, but you have the option to pay it in Installments. Quality Training at an Affordable Price is our Motto.
Flexibility
At FITA, you get Ultimate Flexibility. Classroom or Online Training? Early morning or Late evenings? Weekdays or Weekends? Regular Pace or Fast Track? - Pick whatever suits you the Best.
Placement Support
Tie-up & MOU with more than 1000+ Small & Medium Companies to Support you with Opportunities to Kick-Start & Step-up your Career.
PHP Certification Course in Coimbatore
About PHP Certification Course in Coimbatore at FITA Academy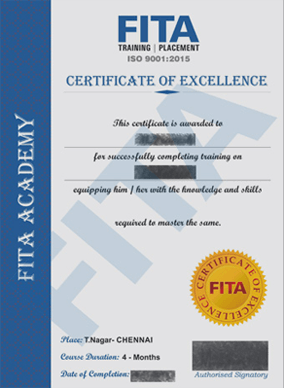 PHP Certification Course in Coimbatore
The PHP Course in Coimbatore is a comprehensive study of programming algorithms and fundamentals of PHP & MySQL. Moreover, they will also be learning the concepts of the MVC framework, GitHub, PHP Unit to build secure websites and web apps using PHP. It also involves advanced topics such as Advanced OOP, SPL (Standard PHP Library), XML, JSON encoding and decoding, Web services and APIs (SOAP and REST), Anonymous functions, Lambdas, and Closures.
Completing the PHP Training in Coimbatore at FITA Academy will multiply your skills to perform at your best in the PHP domain. The certification also paves the easy road to achieve your dreams as PHP developers are high in demand due to the scalability, security, and speed, the programming language provides.
The PHP Course in Coimbatore will add the title of proficiency to your resume certifying you as a staunch programmer to kick-start your career in the right direction.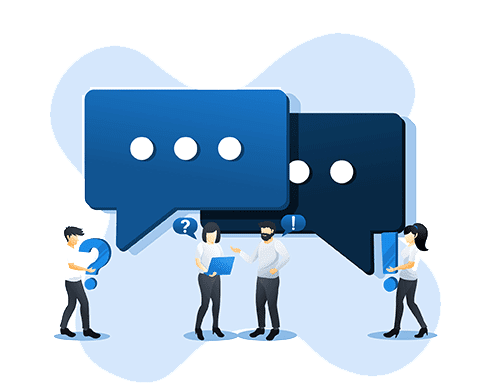 Have Queries? Talk to our Career Counselor
for more Guidance on picking the right Career for you!
Job Opportunities After Completing PHP Training in Coimbatore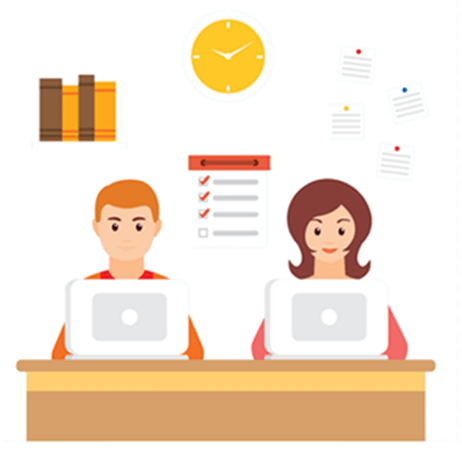 PHP is a popular open-source, server-side, scripting language mainly used in Web development. It is also a general-purpose programming language powering most of the top companies' websites in the world. From being the first preferred language of Facebook to build its entire website initially (Facebook still uses PHP along with other programming languages) to be the language of choice by other leading organizations such as Yahoo, Wikipedia, Tumblr, WordPress, Flickr, Digg, Slack, MailChimp, IStockPhoto, Baidu, Etsy, etc PHP is only growing stronger as a server-side scripting language.
The reasons PHP has attained huge popularity in being a server-side scripting language is due to the facts that it is
Completely easy to learn. Any fresher who wants to enter into the IT world with no prior programming or technical knowledge can opt for studying PHP course and can master it.
It has a big developer community where anyone can contribute and learn from it.
It is purely platform-independent.
It has the best frameworks for back-end development (Aiki, Symfony, Zend, Laravel, and CakePHP).
It can be easily integrated with sophisticated databases such as MySQL, Oracle, and others.
Error-codes can be easily fixed using PHP.
It can develop Content Management System applications.
It is compatible with modern servers like Apache or Microsoft IIS, NGINX, Apache Tomcat, etc.
It provides high Scalability.
It delivers applications operating at high speed.
With its interesting and alluring features, the demand for the language grows and it is the same for PHP developers.
Some of the Top companies hiring PHP developers are HCL Technologies, Infosys, Microsoft, BirlaSoft, Wipro, Cognizant, Capgemini, etc. There are also some SMBs who are actively hiring PHP developers for their small to high-budget projects. Apart from IT Companies, Internet application companies, Designing application companies, Federal government agencies are on the lookout for PHP developers to build highly secure faster running websites.
The active job titles the PHP professionals can hold are
PHP Developer
PHP Web Developer
Software Developer
PHP Programmer
PHP Web Designer
The Salaries of these professionals vary according to the company they work for, the city, and also the roles and responsibilities they hold.
The salary of a PHP fresher in India is ₹2,63,126 per annum. The salary of mid-level experienced personnel is ₹5,44,800 per annum. The salary of a high-level experienced personnel is ₹8,22,315 per annum. All the reports were taken from PayScale.com.
The PHP Training in Coimbatore at FITA Academy will be an essential training program for freshers who want to grab their place in the IT world.
Also Read: PHP Interview Questions and Answers
Student Testimonials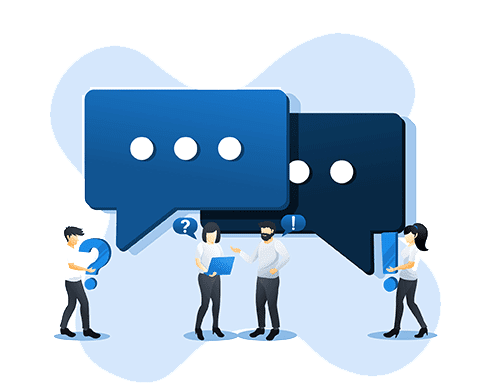 Have Queries? Talk to our Career Counselor
for more Guidance on picking the right Career for you!
Addition Information
What is PHP?
PHP Stands for the acronym "Hypertext Preprocessor" is an open-source server-side scripting language used to develop dynamic websites as well as web applications.
PHP scripts reside between reserved PHP tags.
This allows the programmer to embed PHP Scripts within HTML pages. So when a PHP page is accessed, the PHP code is read by the server, the page resides on.
Various built-in functions in PHP allow for fast development that is compatible with many popular databases.
PHP is more popular when it comes to web applications. PHP dominates the world of content management. PHP is the easiest and cheapest to deploy and host, and it allows you to use any shared host, etc.
Why PHP?
It is Everywhere.
Easy to learn.
Has great community support.
Freedom (Open Source)
Integration
Frameworks
Multiple Paradigms
Embedding
Pre- Configured
Features of PHP
More speed while comparing with other programming languages
Simple and easy to learn
Driving new solutions
Easy to code than other languages
Large community support
Skills that are required for a PHP developer
Project Management
Networking
Business Finance
Business Communication
HTML, JavaScript, CSS
New Features in PHP 7.4
PHP 7.4 is the version that is currently being used in the industry.
Forget array_merge
Arrow functions 2.0
Null Coalescing Assignment Operator
Typed Properties 2.0
Weak References
Covariant Returns and Contravariant Parameters
Preloading
New Custom Object Serialisation Mechanism
Deprecations
A Spread Operator in Array Expression
Reflection for references
Support for throwing exceptions from__toString()
PHP 8.0.5 is the latest version released on 29th April 2021.However, this version of PHP is yet to come into action completely. FITA Academy is the Best PHP Training Institute in Coimbatore trains the students to attain practical knowledge with the help of real-time projects and assignments.
Front-end Frameworks
Bootstrap, Foundation, Bulma, UIkit, Semantic UI, Susy, Materialize, Pure, Skeleton, Milligram, Tailwind CSS, Tacit, Spectre, and Primer are some of the front-end frameworks used in the front-end or client-side development. PHP developers learning some of the front-end frameworks will be useful in the long run. FITA Academy is one of the Best PHP Training Institute in Coimbatore that is efficiently training the students to attain the best professional growth for their career prosperity.
Back-end Frameworks
Laravel, CodeIgniter, Symfony, CakePHP, Yii, Zend Framework, Phalcon, FuelPHP, PHPixie, and Slim are some of the best PHP back-end frameworks that will assist you in developing high-end dynamic and secured websites. The PHP Training in Coimbatore will be providing in-depth syllabus, timely assignments, real-time projects, support for the certification, and placement support from FITA Academy.
Ideas for PHP Project
PHP projects are focused on the usage of the end-user and easy to manage the database from the processing aspect. Let us provide some ideas for PHP projects to relish the students. Find the different project ideas for the students listed below and the support for the real-time projects from the trainers is helpful to understand the challenging factors in the PHP language. Join FITA Academy for the PHP Course in Coimbatore to gain comprehensive knowledge through the trainer's explanations, assignments, and real-time projects.
Developing an E-commerce website is the best idea to create an interesting application using PHP. Magento, Joomla, Drupal, Zencart, and WooCommerce are some of the e-commerce websites developed with the PHP programming language. Join the PHP Training in Coimbatore to explore the PHP language through the efficacious training of the FITA Academy's educators.
Develop a matrimonial website with the help of PHP knowledge. The source code and the database need to be installed in the local server and then start using the application.
A real estate website with data search functions using PHP is the best idea where students can learn to explore different functions using PHP. FITA Academy is the Best PHP Training Institute in Coimbatore in delivering quality education to the students under its competency.
Information regarding the different universities and education details are presented using the PHP programming language. The educational website is a good idea to learn about the different functions used in educational websites.
PHP in IT Sector
Wikipedia, WordPress, Yahoo, Flickr, and Facebook are some of the famous websites using PHP. Multi-threading in PHP has many advantages like saving time. The format and the structure of PHP are easy to write and understand the different functions used in the websites. As Java is written once read anywhere PHP comes with a write-once and uses an anywhere option which helps for easy database management. The APIs of PHP are periodically enhanced and useful for web development. FITA Academy is the best PHP Training in Coimbatore with all the facilities to engage the students in different methods of learning. Javascript, Python, Ruby, and scale are some of the programming languages available for web development, and learning one language initiates the interest to learn the other languages also. The websites are reached through browsers, mobile phones, and the internet of things. The language which can communicate with the browser will get paramount importance in the case of web development. The access to the websites may change in the future due to the evolution of other technologies like mobile development and IoT. Learning PHP is good to start a passionate career and it makes the learning path for the other web development languages.
Learning at FITA Academy for the PHP Course in Coimbatore will help you to walk out with confidence attaining the best knowledge in the language.