Course Highlights & Why IELTS Coaching in Salem at FITA Academy?
FITA Academy provides IELTS Training in Salem aimed at achieving a band score of 7 or above on the first attempt.
The course incorporates modern and innovative methods to deliver a comprehensive education.
The training in Salem includes important elements that enhance students' understanding of the IELTS exam.
FITA Academy offers a flexible batch schedule, allowing students to choose between weekday and weekend classes based on their availability.
Smart classrooms provide an advanced learning experience.
The course covers all four language skills - reading, writing, speaking, and listening - for every subject.
The Best IELTS Coaching in Salem includes essential concepts to aid in the comprehensive understanding of the exam.
With the expertly designed curriculum and instructional methods, students can pass the IELTS exam on their first attempt.
The training is customizable to meet the unique needs of individual students.
The course is taught by experienced and certified instructors to ensure quality education.
Upcoming Batches
| | | | |
| --- | --- | --- | --- |
| 05-10-2023 | Weekdays | Thursday (Monday - Friday) | |
| 07-10-2023 | Weekend | Saturday (Saturday - Sunday) | |
| 09-10-2023 | Weekdays | Monday (Monday - Friday) | |
| 14-10-2023 | Weekend | Saturday (Saturday - Sunday) | |

Classroom Training
Get trained by Industry Experts via Classroom Training at any of the FITA Academy branches near you
Why Wait? Jump Start your Career by taking the IELTS Coaching in Salem!
Instructor-Led Live Online Training
Take-up Instructor-led Live Online Training. Get the Recorded Videos of each session.
Travelling is a Constraint? Jump Start your Career by taking the IELTS Online Coaching!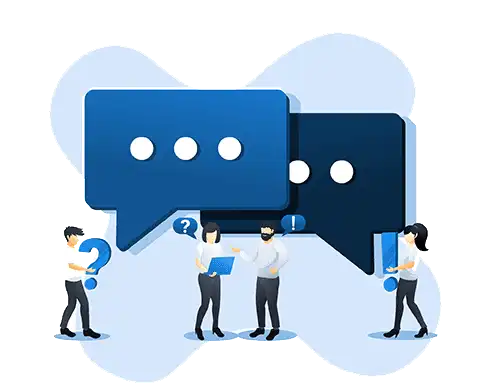 Have Queries? Talk to our Career Counselor
for more Guidance on picking the right Career for you!
Trainer Profile
FITA Academy trainers are skilled communicators who teach the latest techniques to improve public speaking.
FITA Academy instructors focus on developing their students' cognitive and communicative clarity.
Our Salem English tutors are communication and linguistics experts with 8+ years of experience.
At FITA Academy instructors use a variety of resources to improve students' writing and interpersonal communication skills.
Our mentors use practical assessments to help students gain confidence and improve learning outcomes.
Classes at FITA Academy have a maximum of 3-6 students, creating engaging and interactive sessions that develop communication abilities.
We are the Best English Coaching Centre in Salem that offers full-time training to help students achieve native-level proficiency in English.
FITA Academy equips students with the skills and knowledge to become successful communicators in their personal and professional lives.
Features
Real-Time Experts as Trainers
At FITA Academy, You will Learn from the Experts from industry who are Passionate in sharing their Knowledge with Learners. Get Personally Mentored by the Experts.
LIVE Project
Get an Opportunity to work in Real-time Projects that will give you a Deep Experience. Showcase your Project Experience & Increase your chance of getting Hired!
Certification
Get Certified by FITA Academy. Also, get Equipped to Clear Global Certifications. 72% FITA Academy Students appear for Global Certifications and 100% of them Clear it.
Affordable Fees
At FITA Academy, Course Fee is not only Affordable, but you have the option to pay it in Installments. Quality Training at an Affordable Price is our Motto.
Flexibility
At FITA Academy, you get Ultimate Flexibility. Classroom or Online Training? Early morning or Late evenings? Weekdays or Weekends? Regular Pace or Fast Track? - Pick whatever suits you the Best.
Placement Support
Tie-up & MOU with more than 1500+ Small & Medium Companies to Support you with Opportunities to Kick-Start & Step-up your Career.
IELTS Certification Training in Salem
About IELTS Certification Training in Salem at FITA Academy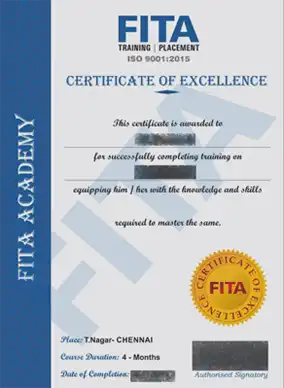 IELTS Certification Training in Salem
The IELTS coaching in Salem program at FITA Academy is highly sought-after due to the skilled educators, comprehensive instructional methodologies, and customised exercises that address the distinctive needs of each individual student. Upon finishing the course, participants will be granted a certificate by the International English Language Testing System (IELTS) to authenticate their mastery of the English language.
Furthermore, the certificate confirms that you have received professional training in all four formats of the test. It also signifies that you have achieved the highest level of proficiency in the IELTS Reading, Speaking, Writing, and Listening assessments. FITA Academy's student-centred classrooms, well-designed curriculum, and enthusiastic teachers promote the development of children's four academic skills and comprehension.
Attaining an IELTS certification can enhance your professional profile and provide a competitive edge if you intend to apply for overseas universities or seek employment abroad. Individuals who acquire the IELTS credential are likely to earn more money and have more job opportunities. FITA Academy's IELTS Course in Salem offers the essential training to exceed your expectations in the IELTS exam.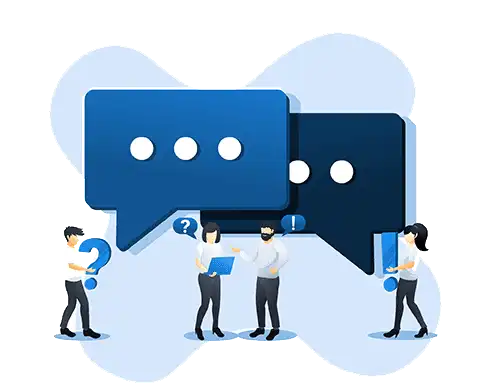 Have Queries? Talk to our Career Counselor
for more Guidance on picking the right Career for you!
Job Opportunities After Completing IELTS Coaching in Salem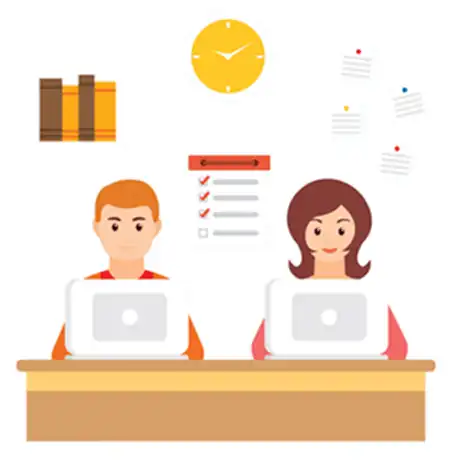 Proficiency in English is crucial for effective communication in business and social contexts. This makes it extremely beneficial to possess conversational skills in the language of the country where one intends to work or study. For individuals contemplating moving to an English-speaking nation like Australia, Canada, the United Kingdom, or the United States, taking the International English Language Testing System (IELTS) is a highly recommended choice for both professionals and students.
Obtaining an IELTS certificate will enable you to specialise in a particular field and then pursue job opportunities after finishing your studies. If an individual takes and successfully completes the IELTS, this can significantly increase their chances of finding employment in countries where English is the primary language. IELTS scores are considered an essential measure of an individual's proficiency in the English language and are often required for admission to various professional organisations, including those in the fields of medicine, education, law, and engineering, among others, in different nations.
In addition, obtaining a high score on the IELTS can also demonstrate an individual's ability to effectively communicate in English, making them a desirable candidate for potential employers. Therefore, investing time and effort in preparing for and taking the IELTS can prove to be a valuable asset for those seeking employment or looking to advance their careers in English-speaking countries.
Besides showcasing an individual's proficiency in the English language, taking the IELTS exam can offer a range of other benefits. For those seeking to pursue further education, seek employment, or relocate to a different country, the IELTS certificate can hold considerable value. With completion of IELTS coaching in Salem, FITA Academy guarantees a fulfilling career opportunity, which can potentially enhance an individual's likelihood of pursuing overseas endeavours.
Student Testimonials
I was really nervous about my IELTS exam, but FITA Academy helped me a lot in overcoming my fear. The trainers provided personalized attention and helped me in identifying my weaknesses and worked on them. The study material provided was comprehensive and covered all the essential topics. The mock tests were especially helpful in giving me an idea of the actual exam. I scored a good band in the IELTS exam, and I am grateful to FITA Academy for their support.
I had a great experience with FITA Academy in Salem for my IELTS coaching. The faculty was knowledgeable and supportive. The mock tests and practical sessions helped me a lot in improving my English language skills. I cleared the IELTS exam in the first attempt and now I am on my way to pursuing my dream of studying abroad. Thank you, FITA Academy.
FITA Academy is an excellent place for IELTS coaching. The trainers are experienced, and the curriculum is designed in a way that covers all aspects of the IELTS exam. The small batch sizes ensure that each student gets individual attention. The study material and practice sessions provided by FITA Academy helped me to score a band of 8 in my IELTS exam. I am very happy with my experience with FITA Academy and would recommend it to anyone who is planning to take the IELTS exam.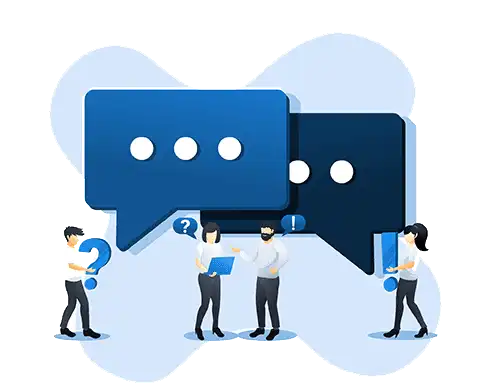 Have Queries? Talk to our Career Counselor
for more Guidance on picking the right Career for you!
Additional Information
The International English Language Testing System (IELTS) is a globally recognized English language exam, with more than 3 million candidates taking the test each year. This exam is acknowledged by several countries, as a requirement for university admissions. The exam measures the candidates' ability to communicate effectively in all four language skills: listening, reading, speaking, and writing. Preparing for the IELTS exam is crucial, especially if you're planning to study abroad or migrate to another country, as it can open up doors to various opportunities.
Although students may have to choose between IELTS and the Test of English as a Foreign Language (TOEFL) to obtain admission to foreign universities, IELTS is the preferred choice for universities in the UK, Australia, and New Zealand, while TOEFL is typically used for admission to colleges in the US and Canada. The primary purpose of these exams is to assess the English language proficiency of applicants, ensuring that they will be able to communicate effectively with locals in a foreign country. Although passing the IELTS exam is not mandatory for university enrolment, a satisfactory score can ease the process of obtaining a student visa.
If you're looking to prepare for the IELTS exam, FITA Academy is one of the best IELTS preparation centres in Salem, providing comprehensive training to help you achieve the desired score. With IELTS certification, you can attain the lifestyle you desire in a new country.
Importance of taking the IELTS exam
The International English Language Testing System (IELTS) is a test designed to assist professionals and students who intend to study, work or migrate to English-speaking countries such as the United States, Canada, Australia, the United Kingdom, and Canada. By obtaining IELTS certification, your chances of success in your desired industry or profession can be significantly enhanced.
Attaining proficiency in the English language is a fundamental component of getting ready for a prosperous career or educational undertaking overseas. Whether one intends to register in a renowned university or pursue a high-paying employment opportunity, possessing a commanding grasp of the English language is essential.
The IELTS test measures your English language skills in four key areas – listening, reading, writing, and speaking. By completing an IELTS preparation course, you can improve your chances of achieving a higher score on the exam, increasing your likelihood of success in your future academic or professional pursuits.
Why FITA Academy is the right choice for IELTS coaching in Salem?
FITA Academy stands out from other renowned and easily accessible learning opportunities due to its unique teaching approach. While other methods concentrate on teaching grammar rules and the five essential language skills, we emphasize on building confidence in speaking and using the language effectively. We understand that every individual's thinking process is unique, and therefore, we ensure that the needs of each student are met. Our teaching methodology revolves around providing personalized attention to each student, and we offer an individualized learning plan tailored to their specific requirements.
At FITA Academy, we believe that the key to successful language learning is to identify the strengths and weaknesses of each student and focus on improving their areas of weakness. This approach enables us to help students achieve their desired results more efficiently and effectively.
To aid students in attaining their desired scores in the IELTS examination, we provide preparatory classes. Our proficient trainers offer a complete course of instruction in the four key language proficiencies – listening, reading, writing, and speaking – to ensure that our students are thoroughly prepared to take the IELTS test with confidence.
Learning objectives of IELTS Coaching in Salem
Gain an understanding of the topics covered in the IELTS exam.
Assess your knowledge level by taking practice exams.
Learn time management strategies to quickly answer questions.
Learn effective question-answering tactics, techniques, and patterns.
Improve your writing skills through meaningful project work.
Utilize passage-based exercises of varying difficulty levels to improve comprehension.
Enhance your listening skills for jobs that require extended listening.
Build your vocabulary by practicing sentence formation and completing dictionary assignments.
Participate in peer review sessions to receive constructive feedback.
Regularly review your performance to track your progress.
Identify and correct grammatical errors in your writing and speech to improve accuracy.
Develop a comprehensive understanding of the IELTS exam to maximize your chances of success.
Prerequisite for enrolling at the IELTS Coaching Institute in Salem
While there are no specific prerequisites for participating in this program, it is recommended that you have some level of proficiency in the English language. Although it is not mandatory, the ability to communicate in English is highly recommended for optimal participation in this class. We warmly welcome individuals with limited proficiency in the English language to enroll in our classes, as we are dedicated to providing the necessary resources and assistance to help enhance their language skills.
Benefits of enrolling in FITA Academy's IELTS Coaching Centre in Salem for Fluent English Speaking
Developing Fluent Communication Skills
The IELTS Speaking test evaluates your English speaking abilities and lasts around 11 to 15 minutes. It is comprised of three sections, and examiners evaluate fluency, coherence, pronunciation, grammar, and vocabulary. Our comprehensive training program exposes you to a variety of social situations, helping you to hone your public speaking skills. To improve your listening skills, we recommend engaging in video discussions with native English speakers from around the world. Our instructors encourage enrolling in Spoken English Classes in Salem to improve eloquence and fluency.
Mastering Effective Writing
Spelling, grammar, and vocabulary are crucial in the IELTS writing section, and a good writing style that engages the reader is essential. A creative writing style with a high readability score is also recommended. Throughout the test, you should adhere to the guidelines and avoid adding excessive information or repetition. Instead, focus on including intriguing elements that will capture the examiner's attention.
Building Mental Resilience
Mental fortitude is essential to succeed in the IELTS exam, and our intensive training in Salem focuses on enhancing your speaking and writing skills. We provide materials on various topics, including "Business Vocabulary," "Daily Life Vocabulary," "Informal Conversation," and "Communication With Strangers." Reading news stories, newspapers, and online mock exams can help improve your confidence and prepare you for the exam.
Understanding Cultural Differences
Our IELTS Coaching center in Salem offers real-world examples of daily interactions that allow you to learn about and explore different cultures. These examples illustrate the language used in various situations and provide an opportunity to observe how people interact in real-world settings. Engaging in conversations with people from diverse cultures can help you build confidence and incorporate casual connections into your everyday life.
Enhancing Your Preparation
Repeated practice is key to mastering the IELTS exam, and at FITA Academy, we focus on putting what you learn into practice. Accessing a variety of IELTS practice tests and previous year's question papers can help improve your speed and strategy. Our instructors provide individualized assistance and a conducive learning environment for students to clarify any questions.
Trying Different Strategies
Exploring diverse approaches, whether it's reading a new literary genre or the newspaper, can help you find an appropriate preparation strategy. We emphasize quality control and want you to absorb and master the language and concepts more efficiently. We provide reliable sources and ensure that all students receive the same level of care.
Improved Interaction and Preparation
For students who aspire to work in multinational corporations, embassies, and other international organizations, developing effective communication skills is imperative. Acquiring English language proficiency as a second language can also prove advantageous, specifically in terms of enhancing verbal communication skills. At our IELTS Coaching Institute in Salem, we provide a safe and supportive learning environment, facilitate convenient exam scheduling, and offer personalized guidance to aid in exam preparation.
FITA Academy's IELTS Coaching in Salem aims to equip you with the knowledge, tips, and strategies to prepare you for the IELTS exam and achieve a good score. Our team of experienced mentors, who are proficient in multiple languages, have over eight years of experience in coaching students. With hands-on instruction and constructive evaluations, we help students achieve their goal of passing the IELTS exam quickly. Our classes begin as soon as you enroll and continue until all assignments are completed. We provide ample opportunities and expert guidance to help you pursue your career aspirations. Join the Best IELTS Coaching Centers in Salem at FITA Academy and gain immediate access to valuable resources to help you succeed.