Course Highlights & Why IELTS Coaching in Trichy at FITA Academy?
FITA Academy's IELTS Training in Trichy is tailored toward helping students get a band score of 7 or above on their first attempt.
Our course incorporates unique and creative methods from the modern day for a comprehensive education.
IELTS training in Trichy integrates vital elements for a superior comprehension of the IELTS examination.
FITA Academy offers a customizable batch Schedule. Students can choose between weekend and weekday classes depending on their schedules.
Smart classrooms provide innovative learning experiences.
Every subject integrates the four language skills: learning, speaking, reading, and writing.
Our Best IELTS Coaching in Trichy includes essential ideas for a comprehensive understanding of exam concepts.
IELTS can be passed on the first try with the use of an expertly prepared curriculum and instructional methods.
Upcoming Batches
| | | | |
| --- | --- | --- | --- |
| 23-09-2023 | Weekend | Saturday (Saturday - Sunday) | |
| 25-09-2023 | Weekdays | Monday (Monday - Friday) | |
| 28-09-2023 | Weekdays | Thursday (Monday - Friday) | |
| 30-09-2023 | Weekend | Saturday (Saturday - Sunday) | |

Classroom Training
Get trained by Industry Experts via Classroom Training at any of the FITA Academy branches near you
Why Wait? Jump Start your Career by taking the IELTS Coaching in Trichy!
Instructor-Led Live Online Training
Take-up Instructor-led Live Online Training. Get the Recorded Videos of each session.
Travelling is a Constraint? Jump Start your Career by taking the IELTS Online Coaching!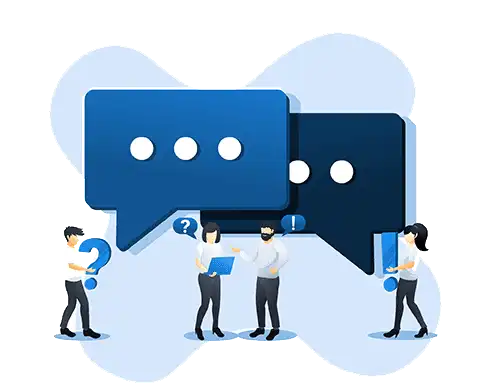 Have Queries? Talk to our Career Counselor
for more Guidance on picking the right Career for you!
Trainer Profile
Our trainers are skilled communicators who can assist students in becoming more persuasive public speakers by imparting the most recent information and techniques.
The instructors at FITA Academy pay particular attention to their students' cognitive and communicative clarity.
Our English tutors in Trichy are communication and linguistics experts with over 8 years of experience.
Our instructors utilise a variety of textbooks, instructional materials, and other resources to help students improve their writing and interpersonal communication abilities.
In the classroom, FITA academy mentors employ practical and real-world assessments to help students gain confidence and improve learning outcomes.
Each class has a maximum of 3 to 6 students. This allows for more engaging and interactive sessions that develop individuals' communication abilities.
At the Best English Coaching Centre in Trichy, our instructors offer full-time training to assist students in becoming native-level English speakers.
Features
Real-Time Experts as Trainers
At FITA Academy, You will Learn from the Experts from industry who are Passionate in sharing their Knowledge with Learners. Get Personally Mentored by the Experts.
LIVE Project
Get an Opportunity to work in Real-time Projects that will give you a Deep Experience. Showcase your Project Experience & Increase your chance of getting Hired!
Certification
Get Certified by FITA Academy. Also, get Equipped to Clear Global Certifications. 72% FITA Academy Students appear for Global Certifications and 100% of them Clear it.
Affordable Fees
At FITA Academy, Course Fee is not only Affordable, but you have the option to pay it in Installments. Quality Training at an Affordable Price is our Motto.
Flexibility
At FITA Academy, you get Ultimate Flexibility. Classroom or Online Training? Early morning or Late evenings? Weekdays or Weekends? Regular Pace or Fast Track? - Pick whatever suits you the Best.
Placement Support
Tie-up & MOU with more than 1500+ Small & Medium Companies to Support you with Opportunities to Kick-Start & Step-up your Career.
IELTS Certification Training in Trichy
About IELTS Certification Training in Trichy at FITA Academy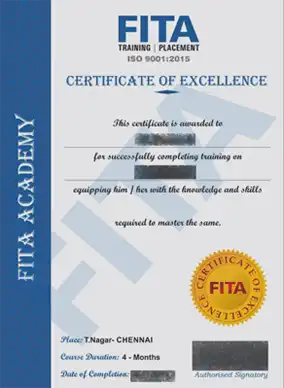 IELTS Certification Training in Trichy
IELTS Coaching in Trichy provided by FITA Academy is well-known for its highly qualified instructors, thorough teaching methodologies, and activities, which result in sessions geared to meet the individual needs of each student. After successfully completing the course, a certificate from the International English Language Testing System (IELTS) will be provided as evidence of the acquired competency in English.
In addition, the certificate certifies that you have received expert instruction on the subject's four test formats. In addition, it indicates that you attained the maximum level of proficiency on the IELTS Reading, speaking, writing, and listening exams. The four academic abilities and comprehension of children are enhanced through student-centered classrooms, a well-structured curriculum, and motivated teachers.
The IELTS certification can boost your professional portfolio and offer you with an advantage if you plan to apply to overseas universities or seek employment abroad. Those who gain the IELTS credential will earn more money and have additional employment opportunities. The IELTS Coaching in Trichy provides the necessary preparation to surpass your expectations in the IELTS examination.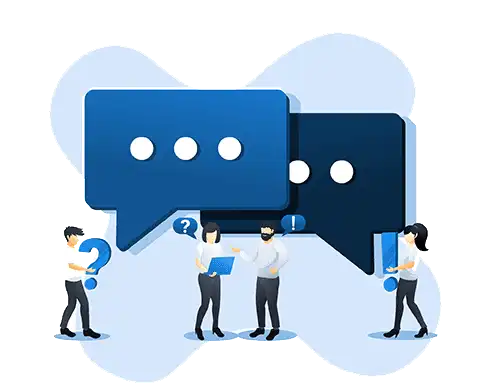 Have Queries? Talk to our Career Counselor
for more Guidance on picking the right Career for you!
Job Opportunities After Completing IELTS Coaching in Trichy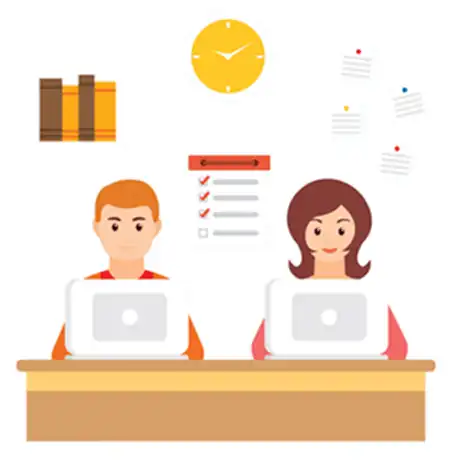 English is the language most commonly used in business and social contacts. Possessing conversational proficiency in the language of the country where you desire to work or study would be useful. Relocating to an English-speaking country like Australia, the United States, the United Kingdom, or Canada might be a great option for professionals and students taking the International English Language Testing System for a variety of reasons (IELTS).
Acquiring an IELTS certificate permits you to specialise in a particular sector and then seek employment after completing your studies. If you take and pass the IELTS, you'll open up a world of job opportunities in English-speaking countries. IELTS scores are essential to join a variety of professional organisations. They include careers in medical, education, law, and engineering in other nations.
In addition to demonstrating English proficiency, the IELTS exam can provide a variety of additional advantages. Those who wish to continue their study, get job, or relocate to another nation may find this degree valuable. After completing IELTS Coaching in Trichy, FITA Academy promises a rewarding job to increase your chances of going overseas.
Student Testimonials
After attending IELTS Training in Trichy at FITA Academy, I was able to clear my IELTS exam on the first attempt. I appreciated the lessons and practise sessions so much. I felt that the regular practise tests were quite valuable. Thanks to FITA Academy, I'm able to apply to all of the colleges I've always wanted to attend.
I plan to seek higher studies overseas. After finding about the IELTS centre in Trichy at FITA Academy, I enrolled instantly. They provided an abundance of study materials and sample papers. The instructors were courteous and took the time to thoroughly explain everything to the pupils. I was able to answer all inquiries within a few weeks. I am now awaiting my results, but I am confident that I will pass with a score of 7 or higher.
On my first attempt at the IELTS exam, which I prepared for on my own, I scored terribly. Then, I decided to enrol in the IELTS programme at FITA Academy in Trichy. During interactive sessions, I had no difficulty approaching my instructor. I am quite satisfied with the instruction I received here. I am now prepared and confident to ace the IELTS exam.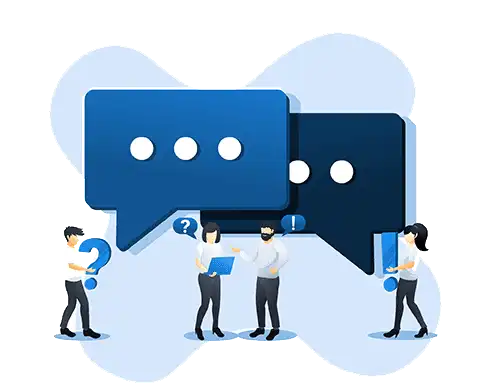 Have Queries? Talk to our Career Counselor
for more Guidance on picking the right Career for you!
Additional Information
The International English Language Testing System is the most well-known English language test in the world. Over 3 million candidates take this exam annually.
New Zealand, Canada, the United Kingdom, Australia, and the United States are among the nations that recognise IELTS for university admissions. In addition, this examination focuses on the test-takers' capacity to communicate in all four fundamental language skills — listening, reading, speaking, and writing. IELTS Training in Chennai will get you the lifestyle you seek in a completely different country.
Typically, students must choose between IELTS and TOEFL in order to obtain a score for admission to any university abroad. IELTS is primarily preferred in nations such as the United Kingdom, New Zealand, and Australia, whereas TOEFL is chosen for admission to colleges located in the United States and Canada.
However, these examinations are administered to assess the English proficiency of applicants so that they will not find it difficult to communicate with locals in a foreign location. This test is not required to enrol in a foreign university, but a passing score may facilitate obtaining your student visa without difficulty. FITA Academy is one of the leading IELTS preparation centres in Chennai.
Why do you need to take the IELTS exam?
The International English Language Testing System (IELTS) is meant to aid professionals and students who aspire to work, study, or relocate to English-speaking nations such as Australia, Canada, the United States, the United Kingdom, and Canada. After completing your course, obtaining IELTS certification may boost your chances of specialising in a given industry or job.
When looking for an IELTS coaching centre in Trichy, why should you choose FITA Academy?
The FITA Academy is distinct from other well-known and accessible learning opportunities. The FITA Academy's methods are unique. Other techniques focus on teaching grammar rules and five key skills, but we teach you how to confidently speak and use the language. Since we are all aware that our individual thought processes are unique. We ensure that the demands of every student are addressed. This implies that each student receives an individualised learning plan tailored to his or her specific needs. For this reason, we provide an IELTS preparation class.
Course objectives of IELTS Coaching in Trichy
Understand the topics included on the IELTS exam.
Assess your level of knowledge by taking a practise exam.
Learn time management so that you can promptly answer to any inquiries.
Learn popular question-answering tactics, approaches, and procedures, as well as their patterns.
Develop your writing skills through meaningful project work.
Utilise easy and challenging passage-based exercises to improve understanding.
Enhance your attention skills for job that requires extensive listening.
To enhance your vocabulary, you should familiarise yourself with sentence formation and dictionary assignments.
Participate in evaluative peer review sessions
Get the opportunity to review your performance periodically.
You must be able to recognise and correct grammatical faults in your writing and speech in order to improve.
Prerequisites for enrollment at the IELTS Coaching Center in Trichy
There are no specified requirements in order to be eligible for participation in this programme. It is strongly suggested that you have some familiarity with the English language. The ability to communicate in English is recommended for participation in this class, but it is not mandatory. Even if you have poor English skills, it is possible to join our classes.
Joining the IELTS Coaching Centre in Trichy at FITA Academy Learn To Speak Fluently has the following advantages:
Learn To Speak Fluently
To determine how well you speak English, you can take the IELTS Speaking test. The Speaking test will run roughly 11 to 15 minutes. Three sections make up the IELTS Speaking test. The IELTS speaking section is administered by qualified examiners who look for fluency, coherence, accurate pronunciation, grammar, and vocabulary. Through our thorough training programme, we help you hone your public speaking skills by exposing you to a range of social situations. In order to strengthen your listening talents, we also advise you to communicate with native English speakers via video discussions from all across the world. Our instructors encourage enrolling in Spoken English Classes in Trichy in order to develop eloquence and fluency.
Understand Correct Writing
In the IELTS writing section, spelling, grammar, and vocabulary all play an important role. The two most important requirements for passing the IELTS Writing test are a good writing style and the ability to engage the reader. In addition, it is recommended to have a creative writing style with a good readability score. Throughout the entirety of the IELTS Writing test, it is essential to adhere to the slogan. The IELTS candidate must always keep this in mind, as the essay should not contain an excessive quantity of supplementary information or be repeated. Instead, it should contain some intriguing elements that will compel the examiner to read the complete document.
Building Mental Strength
As part of our intensive IELTS training in Trichy, we place a great deal of attention on enhancing your speaking and writing skills, as success on the IELTS exam depends on your mental fortitude. For the IELTS Exam, you must prepare materials on a variety of topics, including "Business Vocabulary," "Daily Life Vocabulary," "Informal Conversation," and "Communication With Strangers." In order to develop your confidence, you will also be asked to undertake activities like reading news stories, newspapers, and online mock exams.
Gain an Understanding of Cultural Differences
By adding real-world examples of daily living into our classes, our IELTS Coaching centre in Trichy provides you with the opportunity to learn about and explore various cultures. These examples are designed to illustrate the normal things that people say and do during interactions. The culture classes give you the opportunity to observe how things are conducted in real-world settings and help you acquire the vocabulary used in these circumstances. You will be able to include casual connections into your everyday activities if you have the opportunity to listen to and participate in conversations with people from different cultures.
Build Confidence
Strengthen your skill by putting what you learn into practise; this is the motto of FITA Academy. The majority of our students find this technique to be highly effective when preparing for the IELTS exam, given that nothing is more effective than repeated practise until mastery is attained. The more questions there are, the sooner you will see the importance of regular practise. Every person on the planet is unique. A particular strategy may not work for everyone. Before settling on the approach that best suits you, it is advisable to experiment with a number of strategies and methods. You must remain employed.
Try other Strategies and Techniques
Make an effort to read something you wouldn't normally read. You may find an appropriate style by investigating and diversifying your approaches, whether you're reading the newspaper or a new literary genre. After locating an appropriate strategy, you will devote a considerable quantity of time to preparing for the IELTS exam. Before selecting a preparation method, it is essential to assess the advantages of each. You should consider the kind of preparation that works best for you and the importance of selecting the suitable approach for your level of expertise, one that fits you well and enables you to absorb material efficiently from our IELTS Coaching in Trichy.
Efforts at Solving the Questions on the Test
If you wish to enhance your speed and strategy, you can access a variety of IELTS practise tests and question papers from previous years. After enrolling with us, you will never feel isolated because you may contact our trainers by email or phone at any moment. Our instructors give individualised assistance and conducive environments for students to explain any questions. At our IELTS Coaching centre in Trichy, all students will receive the same level of care. We lay a great emphasis on quality control since we want you to absorb and master the language and concepts more rapidly because they come from reliable sources.
Improved Interaction and Preparation
Students who aspire to work in multinational firms, embassies, and other international organisations may benefit from enhancing their communication skills. By embracing English as a second language, they may also gain from acquiring more spoken English. Whether you're taking the exam from an English-speaking country or another country, you may feel secure in your performance and unwind, as we cover nearly every possible scenario. We organise the dates and times of your examinations and inform you when to study. Depending on the course you take, your exam date will differ.
IELTS Coaching in Trichy from FITA Academy helps you get ready for the test by telling you what will be on it, giving you tips, and showing you how to pass with a good score. Our mentors have more than eight years of coaching experience and are linguists. They aid students in passing the IELTS quickly by giving hands-on instruction and critical evaluations. Classes commence upon enrollment and conclude when the last assignment is submitted. FITA Academy provides chances and skilled guidance to help you pursue your chosen career. Enrol in FITA Academy's Best IELTS Coaching Centres in Trichy and obtain immediate access to these valuable resources.