Course Highlights and Why Salesforce Training in Salem at FITA Academy?

The Salesforce Training Course is tailored to meet international standards and best practices.

Real-world professionals teach interactive classes on Salesforce.

Trainees gain hands-on training and real-world application of the Salesforce platform.

The course covers how to create a Salesforce account and its components such as Apps, Objects, Tabs, and Fields, as well as Custom Apps and Console Apps.

Students will discover the most important Salesforce cloud types, editions, features, validators, objects, and field types.

The course provides thorough knowledge on Salesforce and customer relationship management.

Trainees will gain familiarity with data management and importation.

FITA Academy offers flexible batch schedules including weekend, weekday, and fast track batches.

The course provides comprehensive training on Salesforce to enhance skills and knowledge.

Students will benefit from the real-world experience of professional instructors to master Salesforce.
Upcoming Batches
| | | | |
| --- | --- | --- | --- |
| 09-12-2023 | Weekend | Saturday (Saturday - Sunday) | |
| 11-12-2023 | Weekdays | Monday (Monday - Friday) | |
| 14-12-2023 | Weekdays | Thursday (Monday - Friday) | |
| 16-12-2023 | Weekend | Saturday (Saturday - Sunday) | |

Classroom Training
Get trained by Industry Experts via Classroom Training at any of the FITA Academy branches near you
Why Wait? Jump Start your Career by taking Salesforce Training in Salem!
Instructor-Led Live Online Training
Take-up Instructor-led Live Online Training. Get the Recorded Videos of each session.
Travelling is a Constraint? Jump Start your Career by taking the Salesforce Training Online!
Trainer Profile
FITA Academy supports students in achieving their objectives through Salesforce Training in Salem.
The Salesforce instructors at FITA Academy have at least 10 years of industry experience.
FITA Academy's Salesforce Developer Training in Salem offers a comprehensive understanding of the theoretical and practical aspects of Salesforce technology.
Salesforce Mentors at FITA Academy help students prepare for global certification exams, increasing their job opportunities.
FITA Academy's Salesforce Training instructors provide consistent training and motivation to boost students' career prospects.
Salesforce Trainers offer personalized mentoring and career support to all students.
FITA Academy's Salesforce industry professionals can assist students with their resumes and interview techniques.
The course prepares students for a successful career in Salesforce by providing comprehensive training and career support.
Learn at FITA Academy & Get Your
Dream IT Job in 60 Days
like these Successful Students!

Features of Salesforce Training in Salem at FITA Academy
Real-Time Experts as Trainers
At FITA Academy, You will Learn from the Experts from industry who are Passionate in sharing their Knowledge with Learners. Get Personally Mentored by the Experts.
LIVE Project
Get an Opportunity to work in Real-time Projects that will give you a Deep Experience. Showcase your Project Experience & Increase your chance of getting Hired!
Certification
Get Certified by FITA Academy. Also, get Equipped to Clear Global Certifications. 72% FITA Academy Students appear for Global Certifications and 100% of them Clear it.
Affordable Fees
At FITA Academy, Course Fee is not only Affordable, but you have the option to pay it in Installments. Quality Training at an Affordable Price is our Motto.
Flexibility
At FITA Academy, you get Ultimate Flexibility. Classroom or Online Training? Early morning or Late evenings? Weekdays or Weekends? Regular Pace or Fast Track? - Pick whatever suits you the Best.
Placement Support
Tie-up & MOU with more than 1500+ Small & Medium Companies to Support you with Opportunities to Kick-Start & Step-up your Career.
Why Learn Salesforce Training in Salem at FITA Academy?
Live Capstone Projects
Real time Industry Experts as Trainers
Placement Support till you get your Dream Job offer!
Free Interview Clearing Workshops
Free Resume Preparation & Aptitude Workshops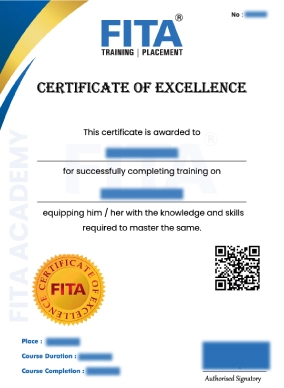 Salesforce Certification Course in Salem
FITA Academy's Salesforce Course in Salem offers trainees the opportunity to receive a certificate attesting to their competence with the Salesforce platform upon successfully completing the program's requirements. This certificate signifies the participant's preparedness to apply their acquired knowledge in a professional setting, validating their skills and competence in using the Salesforce platform. The certification can be added to a participant's CV as a relevant credential that verifies their proficiency in Salesforce, which can be beneficial when seeking employment or professional development opportunities. Additionally, the Salesforce Training Certification from FITA Academy complements a range of international credentials, further enhancing one's professional prospects.
Participating in the programme not only provides valuable practical experience with the Salesforce platform but also enables trainees to showcase their knowledge and capabilities to potential employers or organisations, increasing their competitiveness in the job market. The certification serves as tangible proof of the participant's dedication and expertise, elevating their professional profile and opening doors to new opportunities.
Have Queries? Talk to our Career Counselor for more Guidance on picking the
right Career for you!
Placement Session & Job Opportunities after completing Salesforce Training in Salem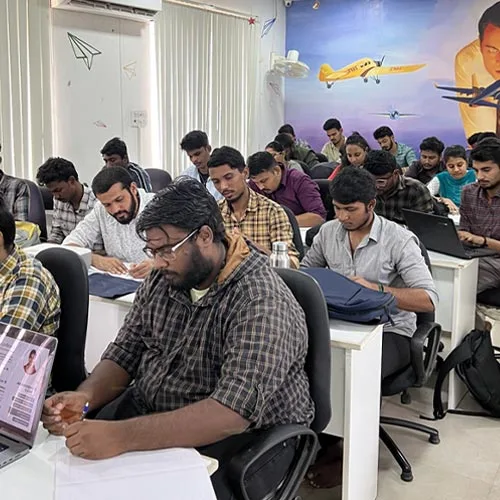 Currently, several company's primary focus is on meeting consumer needs and ensuring their satisfaction. The future of the business model has shifted from a focus on purchases to ongoing maintenance, placing greater importance on high-quality customer service facilitated by CRM technology. Customer attraction and retention are vital for a business's survival, and as a result, prioritising their satisfaction is crucial. The opinions and feedback of customers hold utmost significance for any firm, irrespective of its size.
Salesforce provides businesses with the most effective CRM platform to manage customer interactions and address company concerns in a centralised manner. Its advanced features allow for seamless customer data management and improved communication, enabling businesses to provide top-tier customer service. Utilising Salesforce can help businesses achieve their customer satisfaction goals and position themselves for long-term success. The focus on customer satisfaction through the use of CRM technology is critical for any business looking to stay competitive and succeed in today's market.
Comprehending the needs and requirements of customers is an essential skill for any organisation seeking success in today's market. Salesforce is a powerful tool that facilitates efficient management of client interactions and other critical company functions on a single platform. The platform boasts over 800 features and services, including tools for workflow and customer administration, analytics monitoring, collaboration, social media and email management, IoT integration, lead generation, and sales forecasting.
Furthermore, Salesforce is built on its cloud platform, which is one of its most significant benefits. The cloud-based software provides businesses with numerous advantages, including streamlined data storage and accessibility, greater flexibility and scalability, and enhanced data security. The utilization of Salesforce can enhance a business's efficiency, allowing it to allocate time and resources towards other crucial aspects.
By utilising Salesforce's comprehensive suite of features and services, businesses can gain a competitive edge in today's market by delivering top-notch customer service and driving growth. The platform's scalability and adaptability ensure that businesses can keep pace with the changing demands of their customers and the market, making Salesforce a valuable tool for any organisation seeking to thrive in a fast-paced and dynamic environment.
The job market for Salesforce Developers offers a range of lucrative opportunities for those looking to start their careers. The top positions with the most attractive Salesforce Developer Salaries for Freshers include roles such as Salesforce Developer, Salesforce Architect, Salesforce DBA, Salesforce Lead, and Salesforce Quality Assurance Specialist. Typically, a Salesforce Administrator can expect an annual compensation of between Rs. 3,40,000 to Rs. 4,20,000.
However, those with senior-level experience in the field can earn substantially more, with annual earnings ranging from Rs. 720,000 to Rs. 900,000. Globally, Salesforce Developers are in high demand, with salaries that can reach as high as $85,000 per year. These earnings are a testament to the value that businesses place on skilled and experienced Salesforce Developers, whose expertise is vital to the smooth functioning of various business operations.
For those considering a career in the Salesforce development field, these impressive salary figures highlight the lucrative opportunities available in the market. This sector presents the possibility of notable progress, both in terms of personal and financial growth, to individuals who possess the essential competencies and knowledge. It can also be a gratifying and meaningful occupation for such individuals.
Also Read: Salesforce Interview Questions and Answers
Success Story of Salesforce Training in Salem
I recently completed FITA Academy's Salesforce Course in Salem and I can honestly say that it was a fantastic learning experience. The trainers here are knowledgeable and well-versed in the latest industry trends. They provided me with hands-on training and guided me through the process of earning my Salesforce certification. Thanks to FITA Academy's placement programme, I secured a position at a top software company.
I had a fantastic experience with FITA Academy's Salesforce training course in Salem. The instructors provided comprehensive instruction and personalised assistance throughout the programme. The course material was well-organised and straightforward, making it easy to comprehend even for someone new to the subject. I am now working in the software industry, Thanks
I recently completed the Salesforce training course at FITA Academy in Salem, and it was a game-changer for my career. The trainers here are seasoned professionals with years of experience in the field. They were patient, supportive, and always available to assist me with my questions. The course provided me with the knowledge and expertise I needed to succeed in the industry. I am now working for a prominent IT firm and earning a good salary, all thanks to FITA Academy.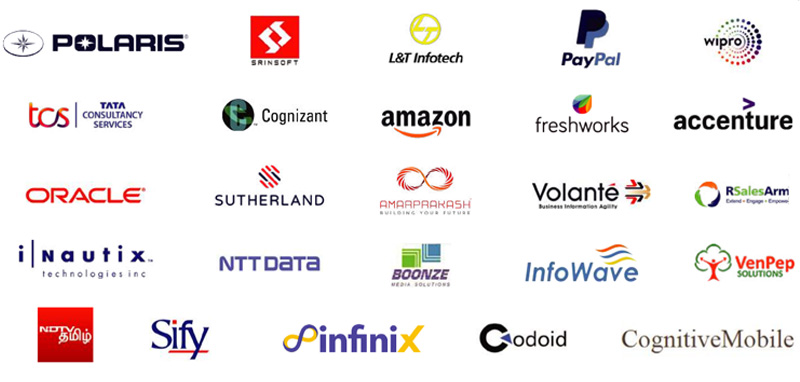 Frequently Asked Question (FAQ) about Salesforce Training in Salem
Additional Information of Salesforce Training in Salem
One of the primary reasons why companies choose to deploy Salesforce technology is its numerous benefits. Salesforce is considered among the best CRM software available and can be utilised for a wide range of business functions, including sales, marketing, IT services, and application development. Its success and longevity in the industry are proof of its efficiency and effectiveness in supporting businesses of all sizes.
The cloud-based nature of Salesforce makes it easily accessible from anywhere with an internet connection. This feature eliminates the need for expensive infrastructure hardware and software licences, making it a cost-effective solution for businesses. Additionally, Salesforce offers various functionalities that can streamline sales and marketing operations, automate manual tasks, and provide valuable insights into customer behaviour.
In Total, Salesforce is a versatile and powerful CRM software that offers several benefits to businesses. Its cloud-based nature, coupled with its numerous functionalities, makes it an efficient solution for companies looking to increase their productivity and profitability while reducing operational expenses.
FITA Academy provides comprehensive Salesforce training where expert instructors guide students in utilising all Salesforce applications. Through this program, students will gain industry-specific skills and technical knowledge that will improve their professional prospects and open up new opportunities for career advancement.
By completing the Salesforce training at FITA Academy, students will have a deep understanding of Salesforce technology and be equipped with the necessary skills to implement it in their professional lives. The program is designed to be comprehensive and adaptable, ensuring that students have a complete understanding of the Salesforce platform and can leverage it effectively to drive business success.
Eligibility Criteria and Prerequisites to learn Salesforce Course in Salem
Eligibility Criteria: The requirements for participation in this training are that individuals must be recent graduates who have an interest in pursuing careers on the Salesforce platform. Additionally, the course is beneficial for those who work in various roles such as Software Developers, Business Analysts, Business Architects, Business Consultants, IT specialists, Sales Managers, and Project Managers.
Prerequisites: Although there are no specific prerequisites for the Salesforce Course in Salem offered by FITA Academy, it is recommended that individuals have a basic understanding of Salesforce concepts. It can also be advantageous to have prior knowledge of DBMS and a fundamental understanding of how organisations operate, as this will help individuals to more easily grasp the course content. Overall, this Salesforce Training in Salem provides students with a comprehensive understanding of Salesforce concepts and their practical applications.
Why You Should Join in the Salesforce Course in Salem?
We offer a comprehensive Salesforce Training in Salem conducted by skilled trainers. Our expert instructors will guide students in developing their proficiency with the Salesforce platform and Apex code to handle all business customizations required by customers. We also provide assistance in obtaining Salesforce Certification in Salem, which validates skills in Salesforce Administration, Salesforce app building, and Salesforce development.
Why is it essential to understand Salesforce?
Undertaking a training program is valuable as it enables individuals to gain knowledge and skills that are essential for their professional growth and development, as well as for the advancement of their organisation. Many companies use Salesforce to solve business challenges and improve their sales and marketing processes. To acquire the necessary skills for career success in Salesforce, individuals can undergo specialised course at a Salesforce Training Institute in Salem. This is where FITA Academy can be of assistance, as we have been supporting students and professionals pursuing careers in Salesforce since 2012.
Placement Support
Upon completing the course at FITA Academy, candidates can receive full placement assistance.
FITA Academy has established connections with over 1,500 small to large companies.
A Placement Cell is available at FITA Academy to aid students in securing positions in their desired industry.
Also Read: Salesforce Tutorial