Course Highlights and Why Learn Artificial Intelligence Course in Salem at FITA Academy?
Our AI training modules have been specifically crafted to meet the needs of the global industry.
You can gain a thorough understanding of AI and its practical applications through our expert-curated courseware taught by industry professionals.
You will receive guidance from a proficient trainer who has over ten years of expertise in the field of AI.
Our AI training programme in Salem covers the fundamentals of Artificial Neural Networks, Tensor Flow, and Deep Learning.
FITA Academy offers interactive AI training sessions with instructors in Salem.
Regular review sessions are scheduled to help you develop your skills.
Our professional AI Training in Salem is affordable, and completion leads to certification.
We offer flexible batch scheduling options, including weekdays, weekends, and fast track courses.
Upon course completion, we assist you in finding the next step in your career.
FITA Academy's placement cell helps students achieve their career goals and secure their dream jobs.
Upcoming Batches
| | | | |
| --- | --- | --- | --- |
| 05-10-2023 | Weekdays | Thursday (Monday - Friday) | |
| 07-10-2023 | Weekend | Saturday (Saturday - Sunday) | |
| 09-10-2023 | Weekdays | Monday (Monday - Friday) | |
| 14-10-2023 | Weekend | Saturday (Saturday - Sunday) | |

Classroom Training
Get trained by Industry Experts via Classroom Training at any of the FITA Academy branches near you
Why Wait? Jump Start your Career by taking Artificial Intelligence Course in Salem!
Instructor-Led Live Online Training
Take-up Instructor-led Live Online Training. Get the Recorded Videos of each session.
Travelling is a Constraint? Jump Start your Career by taking the Artificial Intelligence Online Course!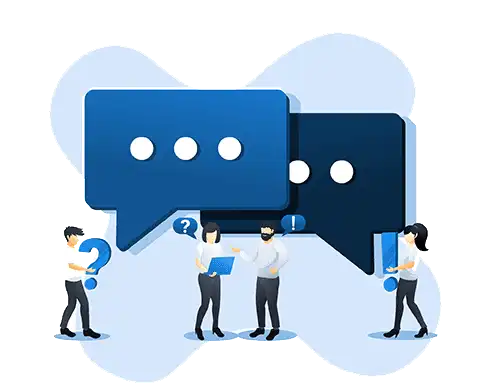 Have Queries? Talk to our Career Counselor
for more Guidance on picking the right Career for you!
Trainer Profile
FITA Academy instructors are highly experienced in Artificial Intelligence and provide the best learning solutions to students.
AI course instructors in Salem aim to equip students with practical and professional skills.
Our AI trainers possess extensive knowledge and expertise in the field of Artificial Intelligence.
Specialists who are also trainers provide hands-on training in various AI methodologies to our students.
Our FITA Academy teachers instruct students on the latest industrial approaches to enable them to become skilled specialists.
Our AI experts offer comprehensive instruction and hands-on training to provide students with an excellent learning experience.
Our AI mentors assist students with their resumes and prepare them for interviews.
Students at FITA Academy receive complete guidance and support from expert instructors and mentors to excel in their AI careers.
Features
Real-Time Experts as Trainers
At FITA Academy, You will Learn from the Experts from industry who are Passionate in sharing their Knowledge with Learners. Get Personally Mentored by the Experts.
LIVE Project
Get an Opportunity to work in Real-time Projects that will give you a Deep Experience. Showcase your Project Experience & Increase your chance of getting Hired!
Certification
Get Certified by FITA Academy. Also, get Equipped to Clear Global Certifications. 72% FITA Academy Students appear for Global Certifications and 100% of them Clear it.
Affordable Fees
At FITA Academy, Course Fee is not only Affordable, but you have the option to pay it in Installments. Quality Training at an Affordable Price is our Motto.
Flexibility
At FITA Academy, you get Ultimate Flexibility. Classroom or Online Training? Early morning or Late evenings? Weekdays or Weekends? Regular Pace or Fast Track? - Pick whatever suits you the Best.
Placement Support
Tie-up & MOU with more than 1500+ Small & Medium Companies to Support you with Opportunities to Kick-Start & Step-up your Career.
Artificial Intelligence Certification Training in Salem
About Artificial Intelligence Certification Course in Salem at FITA Academy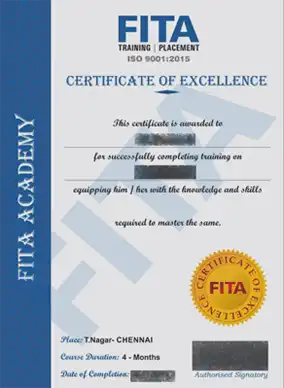 Artificial Intelligence Certification Course in Salem
The Artificial Intelligence certification is considered to be the most prestigious credential for individuals seeking to demonstrate their proficiency in AI. The certification serves as proof that the candidate has a solid understanding of the basic principles of artificial intelligence and its practical applications. The certification process involves learning from an experienced AI developer, which provides the candidate with valuable real-world experience in AI. With this credential, candidates can showcase their skills and knowledge to prospective employers, which can open up a range of employment opportunities in the field of AI. It also enables candidates to explore various career paths and identify potential areas for professional growth. Additionally, the certification adds weight to a candidate's resume and enhances their credibility as an AI professional. By acquiring the Artificial Intelligence certification, candidates can position themselves as highly skilled and knowledgeable experts in the field of AI, which can lead to a successful and fulfilling career.
If you are looking to gain expertise in AI development, then our Artificial Intelligence Course in Salem is perfect for you. The course is conducted by highly skilled AI specialists with years of experience in the field. For over a decade, FITA Academy has been helping individuals learn and master AI skills. With the assistance of our experienced AI trainer, you will gain comprehensive knowledge about the latest advancements in the field of AI. Our course is designed to provide you with all the necessary skills and knowledge required to become a proficient AI professional. So, join our course today and take the first step towards a successful career in AI.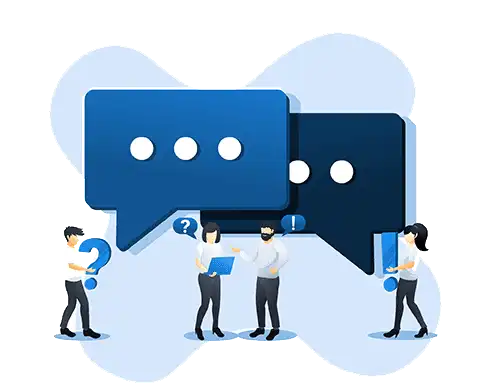 Have Queries? Talk to our Career Counselor
for more Guidance on picking the right Career for you!
Job Opportunities After Completing Artificial Intelligence Course in Salem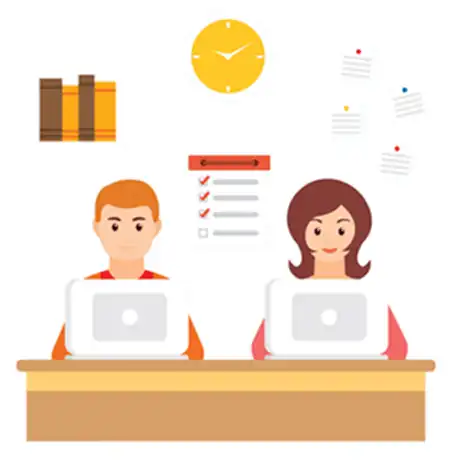 The field of artificial intelligence has witnessed a remarkable increase in the number of job openings in recent years. Employers are on the lookout for AI engineers who possess the required skills and expertise to meet their technological needs. Upon completing the Artificial Intelligence Course in Salem, students will be fully equipped to compete for some of the most sought-after AI-related positions, including big data engineering. Our course curriculum has been designed to enable students to create an environment that enables the usage of diverse business systems and effectively handles sensitive data.
Another crucial position that graduates can apply for is a business intelligence developer, which requires them to consider the role from both a business and an AI perspective. These professionals analyse massive data sets to determine various business trends and patterns. By gaining these specialized skills, students can secure high-paying jobs in the AI industry and advance their careers. With the advent of artificial intelligence, it has become possible to pursue a career in data science.
AI technology can play a critical role in gathering relevant data from various sources, which can then be used to draw meaningful insights and conclusions. In the context of data science, AI tools and techniques can help organizations to identify patterns, trends, and anomalies in large datasets that may have previously been difficult or impossible to detect. This has opened up new opportunities for professionals in the field of data science, as they can now leverage AI to improve the accuracy and efficiency of their data-driven workflows. By staying up-to-date with the latest AI technologies and techniques, data scientists can position themselves to take advantage of these emerging opportunities and advance their careers in this exciting and rapidly-evolving field.
Machine learning is a popular field within artificial intelligence and involves creating and overseeing self-executing and machine learning software. In addition to work automation, artificial intelligence is becoming increasingly important in various industries, such as research, medical, cyber security, process automation, gaming and entertainment, and education.
In addition, students who enrol in AI Courses in Salem will also learn about other promising professions such as AI product manager, researcher, scientist, data analyst, AI engineer, and robot scientist.
Some of the top companies that employ AI specialists include Amazon, Intel, IBM, Oracle, TCS, Accenture, Infosys, and Microsoft. The AI Engineer Salary For Freshers ranges from Rs. 600,000 to Rs. 800,000 in India. With several years of experience and training, an AI Engineer's salary can go up to Rs. 1,000,000 to Rs. 1,800,000. On a global scale, an AI Engineer can earn around $165,000 per year, but this figure can vary depending on the level of experience and demand for their skills.
Also Read: Artificial Intelligence Interview Questions and Answers
Student Testimonials
I had a fantastic experience with the Artificial Intelligence Training in Salem. The instructors were excellent and provided me with in-depth knowledge on various AI concepts and technologies. The course is also well-designed, with a perfect balance between theory and practical's. My Trainer provided me exceptional support throughout the course, and their guidance helped me obtain my AI certification.
I found the Artificial Intelligence classes at FITA Academy to be very informative and engaging. My course trainer is highly qualified and provided excellent support throughout the course. The practical projects we worked on helped me grasp AI concepts better. The course was well-structured, and I appreciated the effort my trainer put into ensuring that I understood the concepts.
After finishing the Artificial Intelligence Course at FITA Academy in Salem, I can confidently recommend this training to anyone who is interested in AI. I really appreciated the way he taught me the most current industry trends and technologies. The classes were structured and interactive, and my instructors were so knowledgeable and experienced. Overall, my experience at FITA Academy was beneficial and enlightening.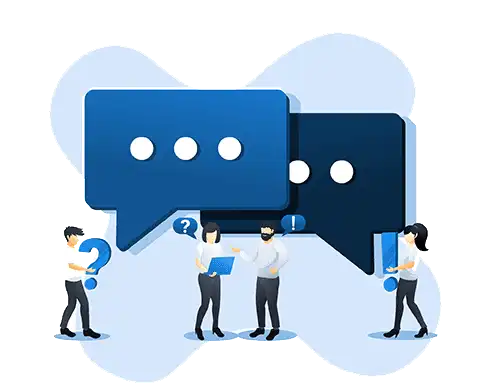 Have Queries? Talk to our Career Counselor
for more Guidance on picking the right Career for you!
Additional Information
The field of Artificial Intelligence is expanding rapidly worldwide. FITA Academy's Artificial Intelligence Course imparts fundamental principles and their practical applications across various fields. Additionally, the potential of AI is continually expanding, and this technology can help us surpass human potential beyond our imagination.
FITA Academy offers a course that teaches the basics of Artificial Intelligence and how it can be applied to developing intelligent computing models. Several RPA tools, such as BluePrism and Automation Anywhere, are available, but UiPath is the leading intelligent automation platform due to its user-friendly interface and cognitive capabilities.
Eligibility Criteria and Prerequisites to Learn Artificial Intelligence Course in Salem
Eligibility Criteria: This course is open to recent college graduates who are interested in pursuing a career in Artificial Intelligence. Professionals such as Data Scientists, Analysts, Search Engineers, E-commerce Experts, and Software Developers who want to transition to AI are also welcome to enrol.
Prerequisites: No prior knowledge or experience is necessary to enrol in an Artificial Intelligence course. However, if you have previous programming experience or knowledge, you may be able to grasp the concepts quickly. The course provided by the best Artificial Intelligence Training in Salem at FITA Academy is, taught by experienced experts in the field. It will provide a comprehensive understanding of AI concepts.
What are the main objectives of the Artificial Intelligence Training curriculum in Salem?
Analyze the impact of AI on industries and its development over time.
Learn the fundamental principles of AI and how they function.
Develop proficiency in Python programming to progress through the course and complete projects.
Differentiate between supervised and unsupervised learning and apply them.
Study the operation of AI, machine learning, and deep learning algorithms.
Utilize Python for the development of AI and machine learning algorithms.
Comprehend natural language processing, predictive analysis, and neural networks.
Obtain a thorough understanding of AI-related systems, libraries, tools, and functionalities.
Implement AI using Tensor Flow for result analysis.
Evaluate data and gain knowledge of computer vision and image processing while acknowledging the limitations of AI in problem-solving.
Understanding the Functioning of AI
AI functions by utilizing complex algorithms and an iterative process to analyze large sets of data and identify patterns or characteristics within them. This broad field of study includes the theories, methods, and technologies of various subfields, such as:
Machine Learning: A technique called Machine Learning utilizes various statistical, physics, operations research, and neural network techniques to automatically extract hidden meanings from data by automating the modelling of analyses.
Deep Learning: Deep Learning employs extensive neural networks consisting of multiple processing units, taking advantage of increased processing power and advanced training techniques to teach the brain to recognize and interpret voice or images.
Neural network:  This type of Machine Learning involves a network of interconnected units that exchange information and transmit it to external inputs through feedback. Through multiple passes and large datasets, this approach identifies the essential connections required to deduce meaning from unstructured data.
Trending Positions in the Job Market
After the successful completion of your AI Courses in Salem at FITA Academy, you will possess the expertise and proficiency required to explore multiple notable career prospects in the Artificial Intelligence domain. Some of the popular job roles that you may consider exploring include:
Machine Learning Engineer:
Machine learning engineers are responsible for creating algorithms that allow machines to learn from data and optimizing machine learning models for improved performance.
This role is essential for developing and maintaining reliable predictive models used in a variety of industries.
Machine learning engineers must have a strong understanding of artificial intelligence and how to apply it in business settings, as well as familiarity with various machine learning methods and tools.
Good problem-solving skills and the ability to work independently are necessary for success in this role.
FITA Academy's AI Training in Salem provides the necessary skills and knowledge to become a machine learning engineer.
In today's world, artificial intelligence is a highly significant and frequently discussed field, and knowledge of machine learning is essential for career advancement in this area.
Data Scientist:
Data scientists analyze vast volumes of data and extract insights from it while developing and implementing predictive models in real-life scenarios.
In today's world data science is an immensely significant and swiftly expanding domain. As a data scientist, your primary objective is to convert raw data into practical insights that facilitate informed decision-making for businesses.
Depending on the organisation you work for, your specific tasks as a data scientist may vary, but most roles involve tasks such as building models, analyzing data, and generating insights.
To be successful in the field of data science, you need to have a strong understanding of artificial intelligence and machine learning. These are essential skills that can help you gain a competitive edge in this constantly evolving industry.
Successful data scientists require a set of fundamental skills and qualities, including excellent analytical and problem-solving capabilities, attention to detail, and effective communication of intricate ideas.
To pursue a career in data science, commencing with an AI course is an excellent approach to acquire the essential knowledge and skills for thriving in this domain. FITA Academy's AI Courses in Salem is an exceptional choice for individuals aspiring to enter this dynamic and expanding industry.
AI Engineer:
Completing the Artificial Intelligence Course at FITA Academy in Salem qualifies you for a career as an AI Engineer, which requires specific credentials and expertise in the field.
The main responsibilities of an AI Engineer include developing and managing software programmes that perform automated tasks or decisions, which are essential in creating advanced AI applications.
AI Engineers must possess a deep understanding of programming languages and tools, as well as expertise in areas such as machine learning and neural networks, and mathematics, statistics, and probability to build robust AI systems.
Due to the increasing importance of artificial intelligence in various industries, the demand for skilled AI Engineers is on the rise.
FITA Academy's AI Courses in Salem is structured to equip students with the expertise and proficiency required to stand out in the competitive realm of AI Engineering.
Although a sound foundation in computer science and programming is essential to commence a profession as an AI Engineer, FITA Academy's course can furnish you with the necessary competencies to thrive in the employment sector.