Course Highlights and Why Digital Marketing Course in Salem at FITA Academy?
Our Digital Marketing Course is designed to cater to the requirements of the global industry.
The instruction provided is tailored to the digital marketing industry, and covers subjects such as SEO, SEM, SMO, SMM, Video Marketing, and Affiliate Marketing.
Our Digital Marketing lecturers have a wealth of experience in the field, having worked with the platform for more than a decade.
You will receive comprehensive digital marketing training to equip you with the most efficient marketing strategies.
FITA Academy provides engaging instructor-led sessions to guide you through the training process.
Regular review sessions are conducted to help you enhance your skills by revisiting previously learned material.
The smart classrooms with blended learning approach at Digital Marketing Classes In Salem which provide a unique and effective learning environment for Digital Marketing.
The course is reasonably priced and includes a professional certificate upon completion.
Digital Marketing classes are available on weekends, weekdays, and fast-track batches.
Upon successful completion of the training, FITA Academy provides full placement assistance to all qualifying graduates.
With experience working with over 1,500 small and large enterprises, we are well-equipped to help you achieve your career goals.
Our active placement cell at FITA Academy provides students with job opportunities in their desired field.
Upcoming Batches
| | | | |
| --- | --- | --- | --- |
| 05-10-2023 | Weekdays | Thursday (Monday - Friday) | |
| 07-10-2023 | Weekend | Saturday (Saturday - Sunday) | |
| 09-10-2023 | Weekdays | Monday (Monday - Friday) | |
| 14-10-2023 | Weekend | Saturday (Saturday - Sunday) | |

Classroom Training
Get trained by Industry Experts via Classroom Training at any of the FITA Academy branches near you
Why Wait? Jump Start your Career by taking Digital Marketing Course in Salem!
Instructor-Led Live Online Training
Take-up Instructor-led Live Online Training. Get the Recorded Videos of each session.
Travelling is a Constraint? Jump Start your Career by taking the Digital Marketing Online training!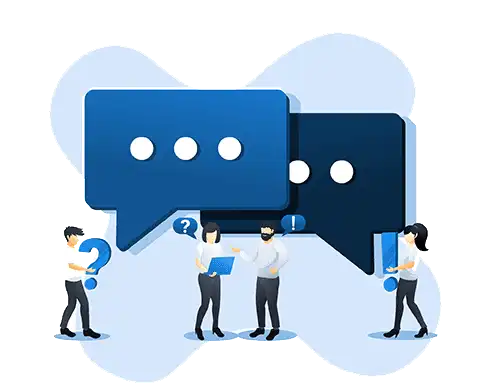 Have Queries? Talk to our Career Counselor
for more Guidance on picking the right Career for you! .
Trainer Profile
At FITA Academy, our expert trainers bring their extensive knowledge and experience from working on industrial projects for over 8+ years to the participants.
Our skilled trainers provide a fundamental understanding of digital marketing to meet current market demands.
The digital marketing training program in Salem covers the principles and practices of digital marketing in depth.
The classes are designed to be student-centric and interactive, ensuring an engaging learning experience.
Industry experts provided assessments for students to learn from their real-life experiences.
The latest advancements in digital technology are integrated into the digital marketing courses, teaching students how to effectively use them.
Our trainers focus on each individual student, providing extra time and attention to help them prepare for interviews and build strong resumes.
Features
Real-Time Experts as Trainers
At FITA Academy, You will Learn from the Experts from industry who are Passionate in sharing their Knowledge with Learners. Get Personally Mentored by the Experts.
LIVE Project
Get an Opportunity to work in Real-time Projects that will give you a Deep Experience. Showcase your Project Experience & Increase your chance of getting Hired!
Certification
Get Certified by FITA Academy. Also, get Equipped to Clear Global Certifications. 72% FITA Academy Students appear for Global Certifications and 100% of them Clear it.
Affordable Fees
At FITA Academy, Course Fee is not only Affordable, but you have the option to pay it in Installments. Quality Training at an Affordable Price is our Motto.
Flexibility
At FITA Academy, you get Ultimate Flexibility. Classroom or Online Training? Early morning or Late evenings? Weekdays or Weekends? Regular Pace or Fast Track? - Pick whatever suits you the Best.
Placement Support
Tie-up & MOU with more than 1500+ Small & Medium Companies to Support you with Opportunities to Kick-Start & Step-up your Career.
Digital Marketing Certification Course in Salem
About Digital Marketing Certification Training in Salem at FITA Academy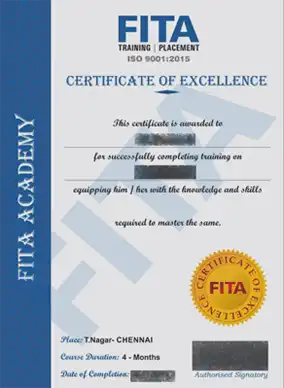 Digital Marketing Certification Course in Salem
The Digital Marketing Course Certification provided by FITA Academy is widely acknowledged as a respected professional accreditation that demonstrates a candidate's proficiency in the Digital Marketing field and their ability to perform in the industry. This recognition contributes to the high value placed on this certificate. The course concludes with a practical project that allows the candidate to showcase their acquired skills and competencies in digital marketing, preparing them for entry-level employment in the field. This certificate serves as an attractive addition to a candidate's resume and increases their chances of securing various professional opportunities.
The Digital Marketing Certification Course in Salem provides a comprehensive training in the fundamental skills necessary for a successful career as a Digital Marketer. The training program is taught by experienced professionals with a minimum of eight years of practical knowledge in the field, ensuring the delivery of the highest quality and most effective instruction. By enrolling in this course, you will have the opportunity to stay current with the latest market developments and enhance your understanding of the Digital Marketing platform.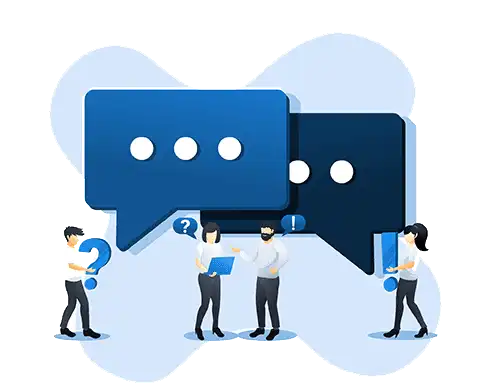 Have Queries? Talk to our Career Counselor
for more Guidance on picking the right Career for you!.
Job Opportunities After Completing Digital Marketing Course in Salem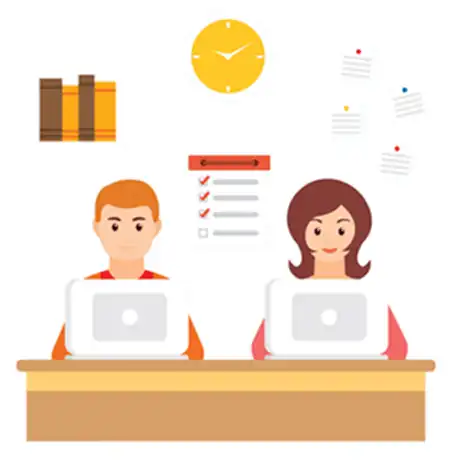 A career in digital marketing provides a wealth of opportunities and sub-specialties, affording you multiple options as you embark on your journey in this field. According to statistics, digital marketing boasts the highest number of job openings in the industry. Being a cutting-edge and innovative field, the growth of digital marketing is supported by numerous studies and research that indicate its continued expansion and success each year.
The need for digital marketing expertise is evident and in high demand in the business world. It is one of the most popular and in-demand techniques and strategies currently available, providing a competitive advantage in whichever field you choose. Whether you are just starting out or working as an intern, digital marketing offers the potential for a lucrative income. Leading companies such as Tech Mahindra, McKinsey, Genpact, Infosys, Cognizant, and CGI, among others, are actively seeking trained professionals in digital marketing to join their teams.
At present, there are over 97,000 job openings in digital marketing and its associated fields, and this number is projected to grow significantly in the future. The digital marketing industry encompasses a range of positions including Digital Marketing Marketing Executive, Senior Marketing Executive, Social Media Supervisor, Assistant Manager, WordPress Developer, Digital Marketing Content Manager, and SEO Analyst.
The average yearly salary for a digital marketing professional is approximately Rs 4 lakhs in India, while the global average stands at around $65,000 per year. The salary range can vary depending on factors such as location, company, experience, and skill level. By enrolling in our Digital Marketing Institute in Salem, you can gain the necessary knowledge and qualifications to confidently meet the requirements of the industry and earn a competitive salary.
Also Read: Digital Marketing Interview Questions and Answers
The Digital Marketing industry offers various job titles, including:
Search Engine Optimization Executive
Digital Marketing Executive
Social Media Marketing Executive
Search Engine Marketing Executive
Mobile Marketing Specialist
Email Marketing Executive
Content Marketing Executive
These positions represent the various areas of specialization within the field of digital marketing.
According to recent surveys, the Digital Marketing Salary for Freshers ranges from Rs 3 LPA to Rs 4 LPA, based on their level of experience. The median income and benefits package can vary depending on an individual's expertise and experience. At FITA Academy's Digital Marketing Training in Salem, our experienced trainers focus on developing the skills necessary to become a successful digital marketing professional. We provide expert guidance and support to help you embark on a rewarding career in the digital marketing industry. A list of job functions is provided below.
Student Testimonials
The Digital Marketing Course in Salem provided me with a comprehensive understanding of the digital marketing world. My instructor taught me the practical skills of SEO, SMM, and SEM, which have helped me become a confident digital marketing analyst. The hands-on approach to learning made me feel comfortable and pushed me to do my best.
I was able to advance my digital marketing career with the help of the Digital Marketing Institute in Salem. I was recommended by a friend to enroll in the program, and I am glad I did. Despite having several years of experience in the field, the course provided me with new knowledge and skills that I was previously unaware of. I am grateful to the experienced instructors and staff at FITA Academy for their guidance.
The Digital Marketing Course at FITA Academy was truly life-changing for me. The trainers provided me with in-depth knowledge of various digital marketing tools and techniques, and the hands-on training sessions helped me to hone my skills. The curriculum was up-to-date and covered the latest industry trends. I am now confident in my ability to excel in my digital marketing career.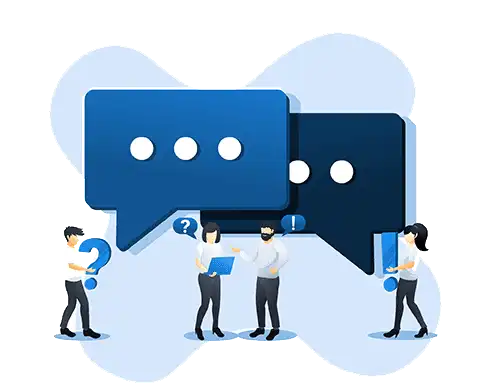 Have Queries? Talk to our Career Counselor
for more Guidance on picking the right Career for you! .
Additional Information
The concept of "digital marketing" encompasses a wide range of promotional strategies that utilize digital channels, including websites and social media platforms such as Google, Facebook, LinkedIn, Twitter, Instagram, Quora, and Twitter, to interact with and reach target customers. The aim of digital marketing is to effectively communicate the value and offerings of an organization to its potential customers through these digital channels.
Traditionally, businesses relied mainly on traditional marketing media, such as print newspapers, magazines, direct mail, billboards, radio, and television, to advertise and promote their products and services. However, with the advent of digital technologies, digital marketing has become a critical component of modern marketing. It encompasses a variety of techniques including Search Engine Optimization (SEO), Search Engine Marketing (SEM), Social Media Marketing, Content Marketing, Email Marketing, and Video Marketing.
Today, digital marketing has become a crucial aspect of marketing for businesses of all sizes. It offers numerous advantages over conventional marketing strategies, including being more cost-effective, efficient, and providing the ability to quickly monitor, analyze, test, and measure marketing efforts.
Due to the marked shift in consumer media consumption habits towards digital content, it is expected that the term "digital marketing" will eventually be phased out and simply referred to as "marketing." The best Digital Marketing Course in Salem offered by FITA Academy provides students with the opportunity to learn and master cutting-edge marketing strategies from seasoned professionals with years of experience in the field.
Enrolling in this course will give individuals an in-depth understanding of the rapidly evolving world of marketing and help them stay ahead of the curve as the industry continues to evolve. With the skills and knowledge gained from this course, students will be equipped to navigate the shifting landscape of marketing and successfully reach and engage with their target audience through digital channels.
Learning objective of FITA Academy's Digital Marketing Course?
FITA Academy's Digital Marketing Course aims to equip students with the ability to create a brand-new online business from scratch.
The course provides a comprehensive understanding of sales and branding strategies, enabling students to improve their brand image and grow their audience.
Students will be proficient in Search Engine Optimization (SEO) methods, which will enable them to enhance their website traffic.
They will also gain knowledge of lead production and lead magnets, allowing them to boost the growth of their email list, social media following, subscriber count, and website traffic.
Social media marketing sites such as Google, Twitter, Instagram, Quora, Facebook, Youtube, Pinterest, and LinkedIn will be covered in depth, helping students to master the use of these platforms.
Students will be able to analyze conversion statistics and metrics to determine the effectiveness of their marketing efforts.
The course also focuses on developing appropriate keywords for Google Ad campaigns, allowing students to create effective advertising strategies.
The Digital Marketing Training In Salem at FITA Academy is attended by a wide range of individuals, including marketing and sales professionals, entrepreneurs, digital marketers, bloggers, YouTubers, and content marketers.
Pre-Requisites and Eligibility Criteria to learn the Digital Marketing Course in Salem
Pre-Requisites: This course does not have any Pre-Requisites for enrollment and is open to individuals of all backgrounds who are interested in launching a career in digital marketing. However, it is suggested that participants have a fundamental understanding of how to use a computer. This will ensure they can make the most of the course and be well-equipped to apply the concepts taught.
Eligibility Criteria: This course is available to all recent graduates who aim to embark on a career in the marketing field. In addition, it is also ideal for individuals who are currently working in related positions such as marketing and sales professionals, entrepreneurs, digital marketers, bloggers, YouTubers, and content marketers. Whether you are just starting out or looking to enhance your skills and knowledge, this training program can provide valuable insights and tools for success in the marketing industry.
Trainees at FITA Academy's Digital Marketing Training program in Salem have the opportunity to deepen their knowledge of the various principles of digital marketing through the tutelage of highly experienced industry specialists. With these seasoned professionals as instructors, trainees are given the tools to fully comprehend the diverse aspects of digital marketing and the impact it has on the industry. This dynamic learning environment provides the ideal setting for individuals looking to establish themselves in the field of digital marketing.
Factors of Digital Marketing
Paid Search
Paid search, also known as pay-per-click (PPC) advertising, involves the display of sponsored links on the search engine results page (SERP). This type of advertising requires payment for each click that is made on the ad, and it appears when specific search terms are entered. The purpose of paid search is to reach individuals who are actively searching for a particular product or service that is being advertised. Although paid search can raise awareness of a business, it is important to note that organic marketing strategies can often lead to more successful outcomes.
PPC advertising uses data collected from user online behavior to present targeted ads at the right time to the right people. This approach to advertising makes it highly effective and can result in increased conversions. PPC also utilizes retargeting, which allows marketing automation tools to create customized, cross-platform ads that are tailored to consumer behavior. This helps to increase the effectiveness of the advertising and the overall return on investment for the business.
Content Writing
Content Writing is a discipline that encompasses the creation of various forms of online content such as blogs, scripts, and social media posts. A content writer must be able to write fluently and effectively to be successful in their role. The primary responsibilities of a content writer include planning, writing, and editing the materials. By consistently producing high-quality content, a content writer can attract a large number of readers and followers, so it's important to focus on writing for the target market.
Moreover, it's important to choose the right platform for publishing the content, as this will increase visibility and encourage engagement. Content marketing, which includes writing blog articles, how-to manuals, white papers, or any other type of content, is extremely valuable as it has the potential to generate three times as many leads as PPC. The Content Writing Course offered by Digital Marketing Training Institute In Salem provides a comprehensive understanding of the importance of content writing and teaches the skills required to create engaging content. Enroll in this course to learn how to effectively use content writing in your marketing efforts.
Copywriting
Copywriting is a form of writing that is designed to attract and engage an audience, and encourage them to take a specific action, such as buying a product or service. The primary objective of copywriting is to communicate the value of a brand in a compelling and persuasive manner. A successful copywriter must be able to craft text that accurately represents the brand's values, philosophy, and objectives in a unique and memorable way.
Most of the copywriting work consists of writing paid texts and advertisements. The goal of these advertisements is to grab the audience's attention and get them to take a closer look at the brand and its offerings. A well-crafted copy has the power to drive traffic and boost sales, making it an important component of any marketing strategy. To become a successful copywriter, it's essential to understand the art of persuasion and the techniques used to write compelling text that resonates with the target audience.
Search Engine Optimisation (SEO)
The process of SEO involves making a product or service more visible on search engines such as Yahoo, Bing and Google. An increase in traffic to a product draws in customers. SEO is a key component of digital marketing. Because there are thousands of internet sites that users can visit, you are losing money if your website does not appear when anyone searches for an item or service. Through SEO, you can make sure that your website ranks highly on Google and other popular search engines. Strong SEO techniques are crucial in digital marketing activities because visibility is the first step in developing a long-lasting customer relationship.
Search Engine Marketing (SEM)
Search Engine Optimization (SEO) is a technique aimed at increasing the visibility of a product or service on popular search engines like Google, Bing, and Yahoo. By ranking higher on search engines, the goal is to drive more traffic to the website and attract potential customers. SEO is a crucial aspect of digital marketing and can have a significant impact on the success of a business. With the large number of websites available on the internet, it is essential for businesses to ensure their website is easily discoverable through search engines. By implementing strong SEO practices, a business can increase its visibility and be more easily found by its target audience, which is the first step in building a lasting relationship with customers.
Social Media Marketing (SMM)
Social Media Marketing (SMM) is a form of digital marketing that involves connecting with customers through a variety of social media platforms. The objective of SMM is to increase the visibility of a brand, generate traffic to its website, and ultimately drive sales. This can be accomplished through engaging with customers, promoting products and services, and building a positive reputation for the business. To be successful in SMM, it is important to have a deep understanding of the various social media platforms and the skills necessary to effectively market a brand's offerings.