Course Highlights and Why IELTS Coaching in Pondicherry at FITA Academy?

FITA Academy's IELTS Coaching in Pondicherry is designed to ensure that students get through the test with a score of 7 or better on their first attempt.

For in-depth education, our course integrates innovative and creative ways from the modern period.

In Pondicherry, IELTS training incorporates pertinent concepts for a better understanding of the IELTS exam.

FITA Academy provides an adaptable class programme. Students can select between weekend and weekday classes based on their availability.

Smart classrooms provide cutting-edge learning environments.

Every subject incorporates the four components of the English language: learning, speaking, reading, and writing.

Our Best IELTS Coaching in Pondicherry incorporates important concepts for a thorough comprehension of test topics.

FITA Academy has partnered with over 1,500 firms to ensure our students' professional success in their career.
Upcoming Batches
11-12-2023
Weekdays
Monday (Monday - Friday)
14-12-2023
Weekdays
Thursday (Monday - Friday)
16-12-2023
Weekend
Saturday (Saturday - Sunday)
23-12-2023
Weekend
Saturday (Saturday - Sunday)

Classroom Training
Get trained by Industry Experts via Classroom Training at any of the FITA Academy branches near you
Why Wait? Jump Start your Career by taking the IELTS Training in Pondicherry!
Instructor-Led Live Online Training
Take-up Instructor-led Live Online Training. Get the Recorded Videos of each session.
Travelling is a Constraint? Jump Start your Career by taking the IELTS Online Coaching!
Trainer Profile
The qualified instructors at FITA Academy have over eight years of English language teaching experience.

Our trainers are skilled orators who engage with participants and discuss the most recent news and trends in order to improve their English proficiency.

Our IELTS coaches in Pondicherry devote special attention to the logical and vocal clarity of each student.

Each student receives individualised instruction from our mentors in order to promote speedy development.

Our mentors ensure that students receive the necessary guidance, feedback, and support while focusing on their weak areas.

In order to expedite learning, FITA Academy mentors provide frequent assignments and assessments.

Our IELTS coaching centre in Pondicherry is well-known for its professional instructors, thorough teaching methods, and student-centered sessions facilitated by relevant practical activities.
Learn at FITA Academy & Get Your
Dream IT Job in 60 Days
like these Successful Students!

Features of IELTS Coaching in Pondicherry at FITA Academy
Real-Time Experts as Trainers
At FITA Academy, You will Learn from the Experts from industry who are Passionate in sharing their Knowledge with Learners. Get Personally Mentored by the Experts.
LIVE Project
Get an Opportunity to work in Real-time Projects that will give you a Deep Experience. Showcase your Project Experience & Increase your chance of getting Hired!
Certification
Get Certified by FITA Academy. Also, get Equipped to Clear Global Certifications. 72% FITA Academy Students appear for Global Certifications and 100% of them Clear it.
Affordable Fees
At FITA Academy, Course Fee is not only Affordable, but you have the option to pay it in Installments. Quality Training at an Affordable Price is our Motto.
Flexibility
At FITA Academy, you get Ultimate Flexibility. Classroom or Online Training? Early morning or Late evenings? Weekdays or Weekends? Regular Pace or Fast Track? - Pick whatever suits you the Best.
Placement Support
Tie-up & MOU with more than 1500+ Small & Medium Companies to Support you with Opportunities to Kick-Start & Step-up your Career.
Why Learn IELTS Coaching in Pondicherry at FITA Academy?
Live Capstone Projects
Real time Industry Experts as Trainers
Placement Support till you get your Dream Job offer!
Free Interview Clearing Workshops
Free Resume Preparation & Aptitude Workshops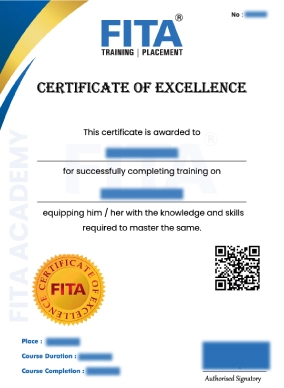 IELTS Certification Classes in Pondicherry
FITA Academy's IELTS Coaching in Pondicherry is well-known for its highly qualified instructors, extensive teaching strategies, and activities, which result in sessions tailored to match the specific needs of each student. After successfully completing the course, an IELTS certificate will be awarded as evidence of the strong English proficiency acquired.
Additionally, the certificate demonstrates that you have received expert teaching on all four test patterns for the subject. In addition, it demonstrates that you achieved the highest level of proficiency on the IELTS Reading, speaking, writing, and listening examinations. Through student-centered classrooms, a well-structured curriculum, and devoted instructors, students' four academic talents and comprehension are improved.
The IELTS certification can enhance your professional portfolio and provide you an advantage if you intend to apply to higher education institutions or seek job overseas. Those who obtain the IELTS certification will earn higher earnings and have greater employment prospects. The IELTS Coaching in Pondicherry provides the necessary preparation to pass the IELTS exam with a score that exceeds your expectations.
Have Queries? Talk to our Career Counselor for more Guidance on picking the
right Career for you!
Placement Session & Job Opportunities after completing IELTS Coaching in Pondicherry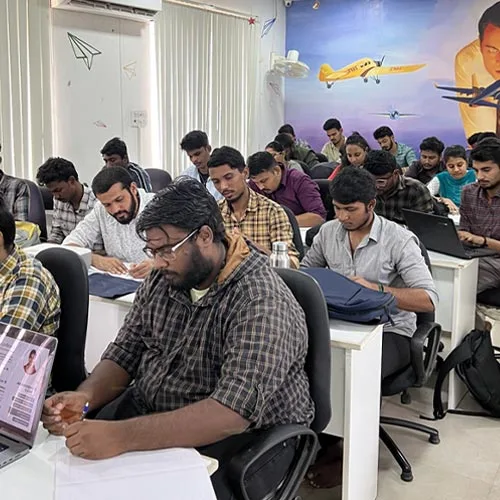 English is the language spoken most frequently in commercial and social interactions. The ability to converse in the language of the nation in which you wish to work or study will be advantageous. There are numerous reasons why professional and student students using the International English Language Testing System can relocate to English-speaking countries such as Australia, the United States, the United Kingdom, and Canada (IELTS). After completing your studies, acquiring an IELTS certificate enables you to concentrate in a certain field and then seek a profession.
If you pass the IELTS, you will have access to a wide variety of employment options in English-speaking nations. In order to join a variety of professional organisations, IELTS scores are required. They include medicine, teaching, legal, and engineering careers in other countries.
The IELTS exam can provide individuals with numerous benefits in addition to proving their English competence. This credential may be useful for those who seek to continue further education, gain employment, or relocate to another country. FITA Academy ensures a good career following the conclusion of your IELTS Coaching in Pondicherry to boost your chances of moving abroad.
Success Story of IELTS Coaching in Pondicherry
I had the chance to work in Canada, but it depended on how well I did on the IELTS. I joined FITA Academy after reading the reviews and seeing that they were all good. It is the best IELTS coaching that can be found in Pondicherry. The lessons were fun and interesting. The trainers helped me in all the areas where I was having trouble, and I ended up getting the best score. I would highly suggest that you join FITA Academy.
I'm going to study abroad. When I found out that FITA Academy in Pondicherry had an IELTS centre, I started classes right away. They gave me a lot of materials to help me study, as well as examples of essays. The teachers were helpful and took the time to help the students understand the material. Within a few weeks, I was able to answer each question. I'm still waiting for my grades, but I'm sure I'll get an average of 7 or higher.
The IELTS training I got at FITA Academy in Pondicherry was the best training I've ever had. It was great training, giving me many options for understanding grammar and concepts. Since I make my living as a Software Developer. I couldn't take the classes when they were scheduled. But the support team made sure I didn't miss any of my classes, and they were able to arrange the times of my classes in a way that worked for me. Thanks you very much FITA.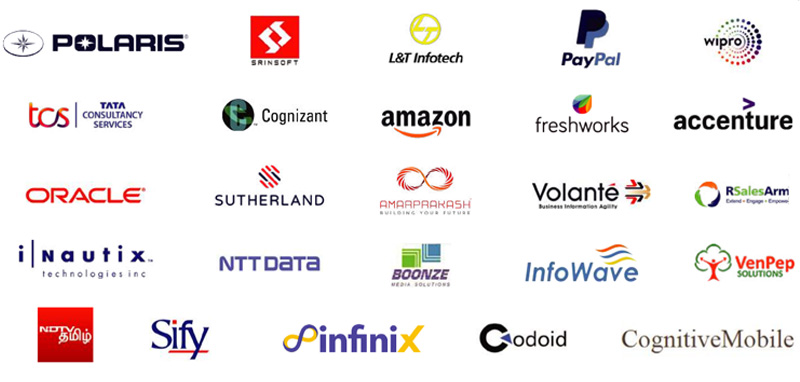 Frequently Asked Question (FAQ) about IELTS Coaching in Pondicherry
Additional Information of IELTS Coaching in Pondicherry
What is the need for IELTS?
The International English Language Testing System (IELTS) is designed to assist professionals and students who wish to work, study, or relocate to English-speaking nations such as Australia, Canada, the United States, the United Kingdom, and Canada. Obtaining IELTS certification might increase the likelihood of concentrating in a certain field or profession after completion of your courses.
What makes FITA Academy the best IELTS Coaching centre in Pondicherry?
The FITA Academy is different from other well-known ways to learn that are accessible. The way FITA Academy does things is unique. Other methods focus on teaching grammar rules and five essential skills, but we teach you how to speak and use the language with confidence and skill. Because we know that no two people have the same ways of thinking. We make sure that every client's needs are met. That means that each student gets a learning plan that is made just for them and their needs. This is why we provide an IELTS course 
Course objectives of IELTS Coaching in Pondicherry
Understand the subject areas included on the IELTS exam.

Assess your level of knowledge by taking a practice exam.

Learn time management in order to respond to all queries on time.

Learn strategies, techniques, and procedures for answering common questions, as well as their patterns.

Develop your writing skills by working on relevant projects.

Utilize simple and hard passage-based exercises to enhance your comprehension.

Improve your concentration strategies for listening-intensive work.

To increase your vocabulary, you should become familiar with the construction of sentences and dictionary tasks.

Participate in evaluative peer review sessions

Get the opportunity to evaluate your performance frequently.

To self-edit, you must have the capacity to identify and correct grammatical errors in your writing and speech.
Prerequisites for joining the IELTS Coaching centre in Pondicherry
There are no specific qualifications for participation in this programme. A knowledge of the English language is recommended. English proficiency is suggested, but not essential, for participation in this course. Even if you have limited English knowledge, it is possible to join our sessions.
Importance of taking the IELTS examination 
The results of the IELTS test are recognised by a large number of companies, institutions, professional organisations, and government agencies all over the world.

It is required in order to receive the visa. The results of these examinations could determine your professional success.

You will be capable of mastering the

Spoken English

language. You will be evaluated in all four IELTS subtests: listening, reading, writing, and speaking.

You will receive training to help you acquire the necessary English skills for success. Through the IELTS Academic test, you can acquire the communication skills necessary for learning English.

More than anything else, your language proficiency will increase, and you will be able to pick a life goal to pursue.
FITA Academy's IELTS training in Pondicherry provides the best strategies for improving your IELTS score.
Tips for improving your IELTS score
Writing section
Conduct an in-depth analysis of each project and spend time taking notes. To ensure you remain focused on the subject at hand, underline or highlight key terms.

Write your responses. Provide a single thought each paragraph and use good paragraph organisation.

Do not use the same word in many contexts. If you copy complete sentences from the question, you will not receive credit.

In this section, there are two prerequisites. Do not deviate or stray from the primary subject. Keep track of your time and remember that Task 2 is more important than Task 1. You should devote around 20 minutes to Task 1 and 40 minutes on Task 2.

Answers written as notes, bullet points, or other formats may not receive full credit. Pay close attention to grammar, spelling, and punctuation. Mistakes result in points.

Keep your language formal. Examiners are trained to spot memorised answers to sample questions, therefore you should not commit them to memory. Recheck your responses and make any adjustments you deem necessary.
Listening section
Be at ease when listening to a variety of native speakers and their various dialects. There may be speakers with British, American, and Australian accents on the audio recordings you'll listen to during the exam.

Be prepared for any possible queries. Typically, the listening test consists of six activities or questions. It is essential to practise on each and familiarise yourself with the difficulty level.

Even if you don't know the answer, you can attempt the question and instantly go on to the next. Pay close attention to spelling and grammar.

It is hard to predict what might occur during the exam. Do not place your emotions at the top of your priority list. If you do not have sufficient time to read through the entire set of questions. Do not be terrified.

The IELTS exam has a negative grade system for unattended questions. Even if you believe a question is incorrect, do not leave it unanswered; doing so could lose you a point.

Maintain your composure even if you find the topic matter or the speaker's rate of speech to be too challenging. Take a rest, read, or write while the speaker is speaking. Pay close attention to what is expected of you.

Improve your hearing abilities by watching as many English documentaries and films without subtitles as possible. Additionally, you should listen to English radio stations, podcasts, news, or networks to enhance your listening and vocabulary.
Reading section
Keep an eye out for headings, titles, and other unique components, including capitalization, underlining, italics, figures, graphs, and tables.

You must ensure that you comprehend the questions and follow the directions closely. Consider how much time you commit to each passage and question.

Remember that you're reading to comprehend Therefore, do not attempt to comprehend every word. Even if you are unsure of the answer to a question, you must respond with confidence. Try it anyway and don't be taking too long. Move directly on to the next question.

If you are uncertain about the topic the author is covering, you need not worry; the text has all the relevant information. Please use the same terminology from the reading in your answers.

Don't worry if you encounter a word that you are unfamiliar with. In the majority of instances, it is unnecessary to know. Ensure that you comprehend the meaning in context. Utilize the proper singular and plural pronouns.

Consider the word limit and try each question. There are no penalties for providing an incorrect response, and there is no danger involved. Pay close attention to the question and what it requires of you.
Speaking section
Try to speak as effectively as possible. Communicate naturally and without stuttering.

Relax, have self-assurance, and then develop your arguments. Find your own answers. Whenever necessary, request clarification.

Avoid memorization of prepared responses. If the examiner observes this, the questions may be altered. You will be evaluated based on your communication skills, so do not be hesitant to offer your opinions.

Typically, there is a pattern to the questions asked by examiners. Regularly test yourself and, if possible, practise at home while recording your own responses. This will boost your self-assurance.

To expand your vocabulary, watch BBC News and a variety of other English-language television programmes. Utilize a range of instances to leave a favourable impression on the examiner.
The IELTS Coaching in Pondicherry offered by FITA Academy provides students with the ideal blend of academic and practical education. FITA Academy also helps students get ready for the General Education or Academic IELTS tests. It is necessary to choose the right test before joining.