Course Highlights and Why Software Testing Course in Salem at FITA Academy?

The software testing course modules at FITA Academy have been expertly designed to meet the needs of businesses globally, with a focus on quality and standards.

The courses have been put together by a subject matter expert to provide students with a comprehensive understanding of manual and automated testing.

Students will receive extensive training in software testing, covering the use of a wide range of testing technologies.

The training is conducted in an interactive, instructor-led session, allowing students to engage and learn in a dynamic environment.

Lessons from previous classes will be regularly reviewed to ensure that students have a strong foundation of knowledge.

At FITA Academy, students will learn about software testing in state-of-the-art, smart classrooms, incorporating integrated learning.

The training practices will make students proficient in Test adequacy assessment using control flow, data flow, and program mutations.

The Software Testing Course In Salem at FITA Academy is affordable and leads to certification after completion.

Students can choose from weekend, weekday, and fast track courses, offering flexible scheduling options to meet their needs.

FITA Academy has partnerships with over 1,500 organizations and offers support through its Active Placement Cell, helping students find their dream job in the industry.
Upcoming Batches
| | | | |
| --- | --- | --- | --- |
| 09-12-2023 | Weekend | Saturday (Saturday - Sunday) | |
| 11-12-2023 | Weekdays | Monday (Monday - Friday) | |
| 14-12-2023 | Weekdays | Thursday (Monday - Friday) | |
| 16-12-2023 | Weekend | Saturday (Saturday - Sunday) | |

Classroom Training
Get trained by Industry Experts via Classroom Training at any of the FITA Academy branches near you
Why Wait? Jump Start your Career by taking the Software Testing Training in Salem!
Instructor-Led Live Online Training
Take-up Instructor-led Live Online Training. Get the Recorded Videos of each session.
Travelling is a Constraint? Jump Start your Career by taking the Software Testing Online Course!
Trainer Profile
The instructors at FITA Academy prioritize imparting both theoretical and practical knowledge of Software Testing to their trainees through blended learning.
The software testing trainers at FITA Academy deliver up-to-date training that is relevant to the current industry.
With over 10 years of experience, the software testing instructors at FITA Academy are highly knowledgeable and skilled in the field.
The hands-on training offered at FITA Academy is taught by industry professionals, providing practical experience to students.
The expert instructors at FITA Academy provide individualized instruction that covers the latest industry developments.
A comprehensive training curriculum is provided to each student by a skilled Software Testing Trainer, including hands-on experience.
Learn at FITA Academy & Get Your
Dream IT Job in 60 Days
like these Successful Students!

Features of Software Testing Course in Salem at FITA Academy
Real-Time Experts as Trainers
At FITA Academy, You will Learn from the Experts from industry who are Passionate in sharing their Knowledge with Learners. Get Personally Mentored by the Experts.
LIVE Project
Get an Opportunity to work in Real-time Projects that will give you a Deep Experience. Showcase your Project Experience & Increase your chance of getting Hired!
Certification
Get Certified by FITA Academy. Also, get Equipped to Clear Global Certifications. 72% FITA Academy Students appear for Global Certifications and 100% of them Clear it.
Affordable Fees
At FITA Academy, Course Fee is not only Affordable, but you have the option to pay it in Installments. Quality Training at an Affordable Price is our Motto.
Flexibility
At FITA Academy, you get Ultimate Flexibility. Classroom or Online Training? Early morning or Late evenings? Weekdays or Weekends? Regular Pace or Fast Track? - Pick whatever suits you the Best.
Placement Support
Tie-up & MOU with more than 1500+ Small & Medium Companies to Support you with Opportunities to Kick-Start & Step-up your Career.
Why Learn Software Testing Course in Salem at FITA Academy?
Live Capstone Projects
Real time Industry Experts as Trainers
Placement Support till you get your Dream Job offer!
Free Interview Clearing Workshops
Free Resume Preparation & Aptitude Workshops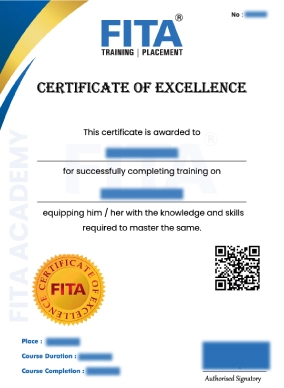 Software Testing Certification Training in Salem
Obtaining a certification in Software Testing showcases a candidate's proficiency and mastery in the field. The hands-on project experience gained from completing the course and practical application in the workplace serve as proof of the individual's capability to perform as a Software Tester. When a candidate brings this certification to a job interview, along with their resume, it can grab the attention of recruiters and increase the likelihood of receiving job offers. The certification serves as validation of the candidate's skills and expertise in the field of Software Testing.
At FITA Academy in Salem, aspiring software testers can receive comprehensive training from experienced professionals to prepare for a career in the field. The course, designed and taught by experts with over 8 years of experience, covers the latest advancements and technologies in software testing. Through interactive, instructor-led sessions, students will gain hands-on experience and build the necessary skills and knowledge to become successful software testers. With the support and guidance of real-time specialists, students can confidently pursue their careers with the assurance of a well-rounded education.
Have Queries? Talk to our Career Counselor for more Guidance on picking the
right Career for you!
Placement Session & Job Opportunities after completing Software Testing Course in Salem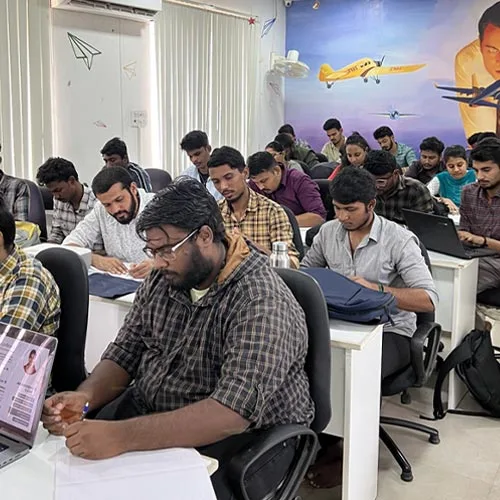 The software testing industry is rapidly expanding and has become a critical component in the implementation of products and applications. With the increasing demand for software testers with formal training, this field has become a crucial aspect in the development of a product or software. It is common for products to contain faults and only through testing can the efficiency and effectiveness of a product be evaluated and determine if it meets the intended purpose.
Testing is considered as important to a business as project management as it is the only way to ensure that the software or product is free of errors and can function seamlessly. These factors have contributed to the growth of testing and increased hiring of software testers in various industries. A recent market research study predicts that the global market for automated testing is expected to grow to reach $19.72 billion by the end of the next year.
The findings from a survey analysis by McKinsey's Analysis show that automation testing has the potential to save companies 60% of their processes and up to 30% of their productive time. These benefits are driving companies and organizations to increasingly seek and hire Software Testers. The industries that are most in need of software testers include Healthcare, Financial Services, Media, Retail, Telecommunications, Transportation, and Manufacturing. There are various job titles in the software testing industry such as Quality Assurance Analysts/Trainee, Software Test Engineer, Quality Assurance Tester, Test Architect, Test Lead, etc. with the highest salary offered to fresher software testers.
On average, the software tester salary for freshers is around Rs. 3,70,000 annually. Leading companies like IBM, Amazon, HCL, TCS, Accenture, Cognizant, Capgemini, and Infosys are among the firms that hire software testers. The software testing training institutes in Salem offer hands-on training to students to equip them with practical knowledge and skills in testing techniques and methods. The FITA Academy's Software Testing Course is designed to impart comprehensive knowledge to students and enhance their career prospects.
The demand for professionals with expertise in software testing has significantly increased in recent years, leading to a rise in individuals seeking training and certification in this field. As a leading software testing institute in Salem, we provide comprehensive training that enables students to pursue a successful career or leadership position in this rapidly growing industry. Our coursework goes beyond the traditional IT and computer science industries and covers various aspects of software testing. To further your knowledge and understanding of the field, it is recommended to consult the Top 25 Best Software Testing Books for Beginners and Experts. The role and responsibilities of a software tester include but are not limited to designing and executing tests, identifying and reporting bugs, and ensuring the software meets customer requirements.
Here are some of the Job roles
QA Analysts/Trainee
As a QA Analyst/Trainee, your responsibilities include the creation of specifications, requirements, analytical reports, and user acceptance testing plans for the product. You will use a combination of automated and manual testing techniques for exploratory and regression testing. Additionally, you will participate in non-functional testing and be tasked with validating defects, investigating their causes, and conducting code reviews. Your role also involves analyzing documentation, specifications, and designs for the project, preparing test data, and effectively communicating the outcomes, suggestions, and deliverables to relevant parties through various channels.
Software Test Engineer
As a Software Test Engineer, one is responsible for overseeing the resources employed for conducting system tests across a variety of application settings. The role also entails mentoring and guiding team members, resolving product defects, organizing quality assurance teams through the development of process guidelines, and ensuring the success of the product. The FITA Academy, being the top Software Testing Institute in Salem, offers cost-effective training and certification programs to support individuals in this field.
QA Executive
As a Quality Assurance Executive, you would be responsible for overseeing all quality assurance efforts and ensuring adherence to quality control and quality management protocols and standards. You would initiate and manage programs that support the broader goals of system development, and serve as the key liaison between software developers and testers.
Success Story of Software Testing Course in Salem
I joined FITA Academy for their Software Testing course and was pleasantly surprised with the level of education I received. The classes were engaging and taught by knowledgeable trainers who used real-world examples to reinforce the concepts. I highly recommend FITA Academy to anyone looking to enhance their software testing skills.
I can clearly say this is the best Software Testing Institute In Salem was a great experience for me. I learned a lot about the latest software testing tools and methodologies. The trainers were very supportive and provided hands-on experience in real-world projects. I am now working as a software tester thanks to FITA's placement services.
I enrolled in the Software Testing program at FITA Academy in Salem and found it to be a great decision. The curriculum was comprehensive and taught by industry experts. The class was interactive and challenging, which kept me engaged and motivated. I would recommend FITA Academy to anyone looking for a career in software testing.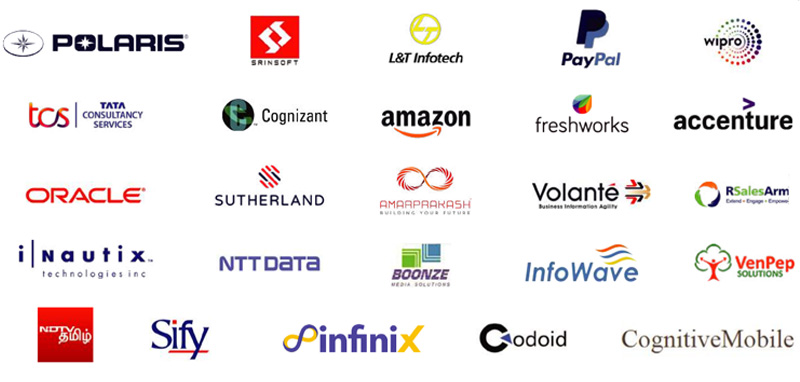 Frequently Asked Question (FAQ) about Software Testing Course in Salem
Additional Information of Software Testing Course in Salem
Over the past decade, testing software applications has become a critical part of the software development process. This is due to the growing significance of advanced technologies such as AI, IoT, robotics, and big data in our daily lives. Companies need to create applications and products that take advantage of these advancements. It's worth mentioning that developers can't effectively test their own work as their focus shifts from quality to fixing errors. Moreover, developers often have a biased view and consider their creation to be flawless. As a result, the testing process is delegated to a team of experienced professionals.
Benefits of Taking a Software Testing Course in Salem
Career Opportunities
Software testing offers great employment opportunities for both newcomers and experienced professionals. It offers a range of job prospects in sectors such as finance, healthcare, and e-commerce. The role of a software tester is to identify any flaws that could deceive customers. In the IT industry, there is a high demand for testers, with over 50,000 new testing positions being created each year in India alone.
Career Development
It's critical to stay current with changes in the IT business in today's competitive market. Learning this cutting-edge talent can help you boost your career. By identifying flaws, enhancing effectiveness, and raising productivity, our Software Testing Training Institute in Salem aids in the development of quality assurance. A rise within the company and career advancement to the level of the top tester may be facilitated by these abilities.
Creative Career Path
Software testing is a creative profession that requires imagination and determination. Finding faults in software products requires the ability to think outside the box, solve problems creatively, work under pressure, and communicate effectively.
Opportunities to Work for Global Organizations
Keeping up with the latest technological advancements can be challenging in today's competitive market, but testing provides a way to stay informed. Many leading tech companies look for candidates with a strong aptitude for testing technology, making it easier to launch a career in this field.
Boost Your Reputation
Earning a certification from the Software Testing Institute in Salem will enhance your reputation among peers. Certifications are highly regarded in the industry and can be used to demonstrate your expertise and skill set. Mentioning this accreditation during job interviews can also set you apart as a qualified candidate.
Engaging Learning Experience
Testing is an engaging process that involves working with various technologies. When testing different software tools, you encounter various contexts, APIs, and other features, making the learning experience fascinating. When you encounter difficulties during testing, you have the opportunity to learn and develop your skills. Our Software Testing Training in Salem teaches you what to look for and how to improve your abilities, providing a deeper understanding of how everything interacts with each other.
At FITA Academy, we aim to provide practical, industry-relevant strategies. Our trainers, who are industry experts with a strong reputation, tailor the course to meet the specific requirements of certifications. For students pursuing specific certification paths, we provide both general information and specialized guidance.
With 100% success rate in getting the certification, our learners are equipped with the necessary knowledge and skills to excel in their careers. Our trainers are knowledgeable and experienced, making the course accessible to students of all technical backgrounds, covering all aspects of computer science.
Different Types of Software Testing
Software Testing is an important aspect of software development where the software's performance and efficiency is analyzed and evaluated. The objective of testing is to minimize errors and enhance the performance of the application. There are various types of software testing, including:
Integration Testing: This type of testing checks the compatibility and interaction of different components of the software to make sure they work together effectively.
Acceptance Testing: This type of testing establishes whether or not the complete system functions as expected.
Functional Testing: This involves simulating real-life business scenarios and evaluating the software's functionality based on the requirements. Black-box testing is a common method used in functional testing.
Unit Testing: This test examines each individual unit of the software, ensuring that it functions as intended.
Performance Testing: This testing shows how the software performs under different loads and conditions, such as in real-world situations.
Regression Testing: This type of testing is done to identify if new features have a negative impact on the software's performance and stability.
Usability Testing: This testing ensures that the user can easily and effectively use the web application or system to complete their intended task.
Stress Testing: This testing determines the maximum amount of pressure or load the system can handle before breaking down.
The aim of software testing is to examine the performance and functionality of an application in order to meet user expectations. A user would desire a product that is error-free and flawless. Hence, all businesses must undergo a testing process before releasing their products to the market. The Testing Courses In Salem provided by FITA Academy is designed to give students a comprehensive understanding of industry-standard testing methods and scenarios. Upon completion of the software testing program at FITA Academy, you will have acquired all the necessary skills for a successful career as a software tester.
Also Read: Software Testing Tutorial