Course Highlights and Why IELTS Coaching in Coimbatore at FITA Academy?

FITA Academy delivers comprehensive IELTS training aligned with the latest question format recommended by IDP.

Our instructors, certified by IDP, have meticulously crafted the curriculum to ensure a thorough comprehension of the four IELTS Test modules—Listening, Reading, Writing, and Speaking.

The IELTS Coaching in Coimbatore will navigate the IELTS exam evaluation criteria and equip you with effective strategies to attain your desired band score.

We organize regular practice sessions at various proficiency levels, aiding you in achieving the necessary band score for success in the IELTS test.

FITA Academy accommodates diverse schedules with flexible class timings, offering options for weekdays, weekends, and fast-track sessions to cater to the varying needs of both students and working professionals.

You will receive a valuable IELTS certification upon course completion, validating your strong English language communication skills.

Our training, characterized by in-depth, hands-on sessions, comes at an affordable course fee, ensuring that quality IELTS coaching is accessible to everyone.

Additionally, as an authorized IELTS Test booking center, FITA Academy simplifies the exam registration process for our students.
Upcoming Batches
11-12-2023
Weekdays
Monday (Monday - Friday)
14-12-2023
Weekdays
Thursday (Monday - Friday)
16-12-2023
Weekend
Saturday (Saturday - Sunday)
23-12-2023
Weekend
Saturday (Saturday - Sunday)

Classroom Training
Get trained by Industry Experts via Classroom Training at any of the FITA Academy branches near you
Why Wait? Jump Start your Career by taking IELTS Coaching in Coimbatore!
Instructor-Led Live Online Training
Take-up Instructor-led Live Online Training. Get the Recorded Videos of each session.
Travelling is a Constraint? Jump Start your Career by taking the IELTS Online Coaching!
IELTS Course Objectives
To foster competence in the four IELTS modules—Listening, Reading, Writing, and Speaking.
Participants can refine their English language skills, encompassing vocabulary, grammar, and pronunciation, enabling them to excel in the IELTS exam.
Individuals can familiarize themselves with various questions commonly encountered in the IELTS test and acquire practical strategies to achieve a band score of 8 or higher.
You can cultivate the confidence and techniques necessary to approach the IELTS exam with a composed and focused mindset.
Learning time management skills is essential to completing tasks within allocated time limits and optimizing scores across all test sections.
Regular feedback and corrections on practice tests and assignments will be provided, facilitating continuous improvement in performance.
IELTS Course Trainer Profile
FITA Academy boasts IELTS trainers who are certified experts acknowledged by the British Council and IDP, having successfully trained multiple IELTS batches over the past decade.
These trainers offer in-depth knowledge of each IELTS module—Listening, Reading, Writing, and Speaking—aiming for a band score of 8 or higher.
They provide personalized guidance, tailoring their approach to address individual students' needs and goals in enhancing language skills and mastering test-taking strategies.
Keeping up with the most recent updates in the IELTS exam format and question patterns, trainers of IELTS Coaching in Coimbatore ensure that their coaching remains pertinent and effective.
Through interactive teaching methods, they create a dynamic and stimulating learning environment that encourages active participation and discussions.
Students enrolled in our program benefit from consistent and helpful evaluations of practice tests and assignments, facilitating continuous improvement throughout the course.
The trainers equip students with effective test-taking strategies, covering essential aspects such as time management techniques and approaches to handle diverse question types.
More than just instructors, our IELTS trainers serve as mentors, inspiring students and instilling the confidence needed to approach the IELTS exam with self-assurance.
Our trainers have a reliable record of helping students attain their desired IELTS band scores, making them a dependable option for IELTS preparation.
Learn at FITA Academy & Get Your
Dream IT Job in 60 Days
like these Successful Students!

Student Success Story of IELTS Coaching in Coimbatore
Dakshan, a determined individual hailing from Coimbatore, had a desire to explore job opportunities abroad, specifically in Canada. He held a Bachelor's degree in Engineering and aimed to pursue a Master's degree in a foreign country. His focus was on two countries, namely the United Kingdom and Canada.
However, to achieve his dream, he had to prove his proficiency in the English language by taking an English language proficiency test. So he chose to take an IELTS Test. Realizing the importance of enhancing his English communication skills, Dakshan searched for the Best IELTS Coaching Centre in Coimbatore.
During his search, he came across FITA Academy, which was recommended by a friend who had scored an impressive 8 band and secured admission in a Canadian university. Dakshan was impressed by his friend and discovered that FITA Academy was among the top institutions offering IELTS Coaching in Coimbatore at an affordable fee. Taking the initiative, he visited our branch to inquire about the IELTS course, including details such as duration, fee structure, and class timings.
Our coordinators provided him with comprehensive insights, addressing all his queries. Considering his work commitments, he requested flexible scheduling for IELTS coaching classes, which we readily accommodated.
Through the IELTS Coaching designed by expert trainers, he underwent practical sessions for each module of the IELTS test, which included Listening, Reading, Writing, and Speaking. The guidance of our proficient English trainers helped him develop proficiency in all aspects of the test.
Upon successful completion, FITA Academy presented him with an IELTS Training completion certificate. With FITA Academy's support, Dakshan registered for the IELTS Exam, choosing the online format and took the test.
After a waiting period of 3-5 days, the results were out, and Dakshan achieved an impressive band score of 8, classifying him as a 'very good user' of the English language. His joy was multiplied by the fact that he accomplished this goal on his very first attempt.
Then, Dakshan navigated IT Companies in canada. Today, he stands as a proud software developer at RootQuotient in Toronto, Canada. We feel very pride to be a part of Dakshan's journey to set a strong foundation in his career.
Features of IELTS Coaching in Coimbatore at FITA Academy
Real-Time Experts as Trainers
At FITA Academy, You will Learn from the Experts from industry who are Passionate in sharing their Knowledge with Learners. Get Personally Mentored by the Experts.
LIVE Project
Get an Opportunity to work in Real-time Projects that will give you a Deep Experience. Showcase your Project Experience & Increase your chance of getting Hired!
Certification
Get Certified by FITA Academy. Also, get Equipped to Clear Global Certifications. 72% FITA Academy Students appear for Global Certifications and 100% of them Clear it.
Affordable Fees
At FITA Academy, Course Fee is not only Affordable, but you have the option to pay it in Installments. Quality Training at an Affordable Price is our Motto.
Flexibility
At FITA Academy, you get Ultimate Flexibility. Classroom or Online Training? Early morning or Late evenings? Weekdays or Weekends? Regular Pace or Fast Track? - Pick whatever suits you the Best.
Placement Support
Tie-up & MOU with more than 1500+ Small & Medium Companies to Support you with Opportunities to Kick-Start & Step-up your Career.
Why Learn IELTS Coaching in Coimbatore at FITA Academy?
Live Capstone Projects
Real time Industry Experts as Trainers
Placement Support till you get your Dream Job offer!
Free Interview Clearing Workshops
Free Resume Preparation & Aptitude Workshops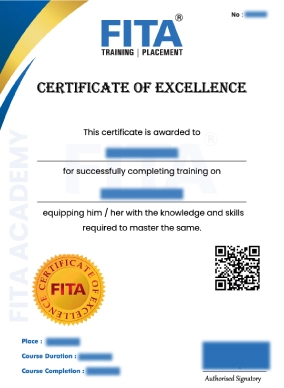 IELTS Certification Training in Coimbatore
After completing the IELTS Coaching program at FITA Academy in Coimbatore, individuals are awarded a certification that serves as official confirmation of their successful completion of IELTS Training Coimbatore. This certificate reflects their comprehensive proficiency in the diverse IELTS test modules, covering skills in Reading, Writing, Listening, and Speaking, and denotes their achievement. The IELTS training at FITA Academy in Coimbatore is conducted by trainers certified by the British Council and IDP, each possessing over a decade of expertise.
What is IELTS?
The International English Language Testing System, shortly referred to as IELTS, is the most trusted and widely accepted English proficiency examination worldwide. Over 10,000 educational institutions, numerous professional associations, immigration authorities, and employers embrace it. Administered by the IDP education system, IELTS evaluates applicants' proficiency in four key modules of the English language such as Listening, Reading, Writing, and Speaking, which attracts participants from all corners of the globe. Those who aspire to immigrate or pursue higher education in English-speaking nations are usually required to undergo this comprehensive test, with more than 3 million candidates from over 150 countries taking the IELTS examination each year, mainly to seek higher studies, employment, and permanent residency abroad.
Types of IELTS Test
There are two distinct types of IELTS Test.
IELTS Academic
IELTS General
Applicants should first select the most suitable test type based on their specific purposes to begin their IELTS journey. The Academic Test is for students aspiring to pursue education in international academic institutions, while the General Training Test is opted by the individuals who seek employment or opportunities to work in international settings.
IELTS Test Format
To assess one's ability in Listening, Reading, Writing, and Speaking, the IELTS examination is taken within a three-hour window.
The exam has two versions: Academic and General Training. While the Listening and Speaking sections are the same in both versions, the Reading and Writing parts vary depending on the chosen test.
The first three sections are taken in succession without breaks in both IELTS tests.
The Speaking section, on the other hand, may be tasked up to a week before or after the other test segments, as advised by the test center.
The total duration of the assessment is 2 hours and 45 minutes.
Skill Level Indicated by Band Scores in IELTS Test
The IELTS exam rates Listening, Reading, Writing, and Speaking with the same level of importance and the skills are evaluated by the band score ranging from 0 to 9 with increments of 0.25, 0.5, and 0.75 to determine scores.
To determine the overall band score, the scores of all four test modules are averaged. The final score is then rounded to the nearest half or whole band. Scores that end in .25 are rounded up to the next half band, while scores that end in .75 will be rounded up to the next whole band.
Band 0 (Test not attempted): The candidate did not provide any information during the test.
Band 1 (Limited user): The candidate can communicate minimally in English, using only a few words.
Band 2 (Occasional user): The candidate experiences significant difficulty in both written and Spoken English.
Band 3 (Basic user): The candidate can convey and understand only the general meaning.
Band 4 (Basic user): Candidates often require assistance in comprehending and responding to situations in English.
Band 5 (Intermediate user): The candidates have a partial command of the English but can handle essential communication in various situations.
Band 6 (Skilled user): This indicates that the candidate has a satisfactory command of the English language, with some inaccuracies in word usage and meanings.
Band 7 (Proficient user): Ability to handle the complex language and understands detailed reasoning with some inaccuracy.
Band 8 (Highly proficient user): The candidate has an operational command over English.
Band 9 (Expert user): The candidate demonstrates a fully operational command of English.
Benefits of IELTS Coaching in Coimbatore at FITA Academy
In a world where globalization and international opportunities are paramount, possessing proficiency in the English language is a valuable asset. A crucial milestone in showcasing your English language skills to educational institutions and employers is obtaining an outstanding band score IELTS Test. Though self-study is an option, enrolling in an IELTS Coaching program at FITA Academy can significantly enhance your likelihood of success.
Structured Learning Environment
Joining IELTS Classes in Coimbatore at FITA Academy offers a structured learning environment, a notable advantage. These institutes feature experienced instructors who adhere to a meticulously planned curriculum covering various aspects of the IELTS exam, ensuring that you receive comprehensive guidance tailored to your specific needs.
Expert Guidance
The instructors at the IELTS Coaching in Coimbatore are certified professionals well-versed in the intricacies of the IELTS exam. They offer valuable insights, strategies, and personalized feedback, enabling you identify strengths and areas for improvement. This expert guidance is invaluable in enhancing your overall performance.
Targeted Practice
IELTS Coaching Classes in Coimbatore provide ample practice materials and mock tests. Regular practice sessions familiarize you with the exam format, allowing you to refine time management skills and enhance proficiency, essential for building confidence and competence.
Constructive Feedback
Feedback is vital in the learning process. The IELTS Training Coimbatore at FITA Academy ensures detailed feedback on mock test performances and practice sessions. This feedback aids in understanding mistakes, making corrections, and continually improving your skills.
Time Management Skills
Effectively managing time is a common challenge in the IELTS exam. Our trainers offer effective strategies and techniques to help you complete each section within the allocated time. Acquiring these time management skills is important to avoid the stress of time constraints during the actual exam.
Confidence Building
IELTS Class in Coimbatore at FITA Academy not only emphasizes language proficiency but also focuses on building your confidence. By providing a supportive and nurturing environment, these classes assist you in overcoming anxiety and nervousness during the exam.
Realistic Exam Experience
Mock tests conducted by IELTS Training Coimbatore closely simulate exam conditions. This realistic experience prepares you for the actual exam, ensuring you are well-prepared and comfortable when you face the real thing.
Personalized Approach
Recognizing the uniqueness of each student, our trainers adjust their teaching methods to suit your requirements and skill level, whether you are a beginner or seeking to elevate the skills which you already have .
Through the guidance of our trainers and a structured approach, you can start a journey towards achieving your academic and career goals with confidence . If you're aiming to achieve your desired scores and develop your language skills, confidence, and strategies, it's worth considering the Best IELTS Coaching in Coimbatore. This coaching provides a guided path to succeed in the IELTS exam.
Have Queries? Talk to our Career Counselor for more Guidance on picking the
right Career for you!
Success Story of IELTS Coaching in Coimbatore
I enrolled for IELTS Classes in Coimbatore at FITA Academy. They taught the English classes in a neat and understandable manner. The staff was very professional in teaching the concepts. I am confident that I have gained sound knowledge and can perform well in my exam. Thanks to FITA Academy and the trainers for such effective training.
I am planning to do my MS in the US. So I wanted to take the coaching for the IELTS Exam. I found FITA Academy online and decided to go with it seeing the good reviews. Thankfully I didn't get disappointed as the trainers were extremely qualified and proficient in teaching the topics. Confidently, I would say FITA Academy is the Best IELTS Coaching Centre in Coimbatore and anybody can benefit from it. Finally, I want to say I have scored 8.5 on my exam. Thanks, FITA Academy.
Completing my IELTS Classes in Coimbatore at FITA Academy has given me a great learning experience. The IELTS Coaching was good and I scored 7 for 10 in my exam and now I can pursue my higher education in the UK. I would recommend FITA Academy to anyone who wants to crack their IELTS exams. It provides the best IELTS Coaching in Coimbatore.
After looking for the Best IELTS Coaching Center in Coimbatore I found FITA Academy. The training met my expectations and it was up to the International standard. The staff teaching was very good and helpful in getting a good score on the exam. Thank you FITA Academy and my trainers for your support and good training.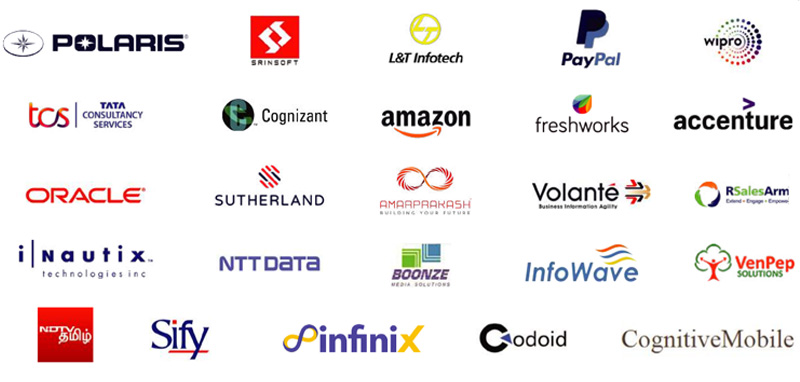 Frequently Asked Question (FAQ) about IELTS Coaching in Coimbatore
General Q & A about IELTS Coaching in Coimbatore
What is the course fee for IELTS Coaching in Coimbatore?
The cost of IELTS Coaching in Coimbatore varies based on a number of variables, including the type of course, the institution, and the mode of instruction. An IELTS course costs between Rs. 5000 and Rs. 25,000 for two months.
Is IELTS very difficult?
Many applicants are inquiring as to how easy or difficult the exam is. It depends. Obtaining a high band score on the IELTS is likely to be extremely difficult if you take the test unprepared and do not have a strong command of the English language.
Is Coimbatore good for IELTS exam?
As a major city in Tamilnadu, Coimbatore is home to numerous establishments that provide excellent IELTS instruction.
How many months is the IELTS course?
It takes at least four months to get ready for the IELTS exam. It could take six months for some test takers. The least amount of time you should dedicate to your IELTS preparation is not set in stone. While some test-takers find that 15 days of preparation is sufficient, others might need more time.
What is IELTS exam fees?
To take the IELTS exam in India, candidates must pay a registration fee of INR 16,250 each time they book the exam. The fees for Computer-delivered IELTS for UKVI have also been updated to INR 16,500.
How to calculate IELTS score?
Each section of the test, which includes Listening, Reading, Writing, and Speaking, will be scored on a scale of 1 to 9. Your overall band score will be calculated by averaging these scores. You have the option of scoring whole bands (such as 5.0, 6.0, 7.0) or half bands (such as 5.5, 6.5, 7.5) in each section of the test.
What is a good IELTS score?
A "good" IELTS band score is 7.0 or higher. A band 7.0 is defined as a "good user", a band 8.0 a "very good user", and a 9.0 an "expert" user. It will take less than two weeks to get the IELTS results.
What is the poor score for IELTS?
Scores range from 0 to 36. The IELTS is a test that tests your English language skills. The good score is about 7.0 and the poor score is about 5.5.
Is there any age limit for IELTS?
There is no age limit for IELTS Exam eligibility, meaning anyone can take the exam regardless of their age and location. However, the minimum age requirement for taking the exam is 16 years old.
How long is IELTS valid for?
Your IELTS certificate must remain valid for two years. When taking the PLAB test, it needs to be valid on the day of your PLAB part 1 exam. Similarly, if you're seeking registration with a license to practice, it must remain valid at the time of our approval of your application.
Who is eligible for IELTS exam?
Whether you have completed high school, hold a bachelor's degree, or have any other level of education, you are eligible to take the IELTS exam. The focus of the IELTS is on assessing your English language skills in listening, reading, writing, and speaking, rather than evaluating your educational qualifications.
How many attempts are there in IELTS?
International students can take the IELTS, a standardized English language test that assesses their writing, speaking, reading, and listening skills. The test is offered 48 times annually, with four opportunities each month, and there are no restrictions on the number of attempts.
Is it possible to obtain an IELTS certificate through online means?
Your IELTS center will dispatch the official Test Report Form (TRF) or the IELTS certificate containing your scores to your mailing address. In the case of a computer-based exam, the TRF will be sent out three to five days after the test date.
Is IELTS exam online or offline?
You have the freedom to choose when and where to take your IELTS test with IELTS Online. It includes the same content and features as the paper-based and computer-based tests taken at a test center. The format of the Listening, Reading, and Writing sections for the IELTS Online test is identical to that of the computer-based test.
Is IELTS compulsory for job?
Most employers require job seekers to take the General Training IELTS exam. The reason behind this is that the exam assesses practical language skills that are relevant to everyday work and social situations. Additionally, the General Training IELTS exam includes a focus on workplace and social contexts.
Do IELTS have negative marking?
The answer is no, IELTS does not apply negative marking. This means that you will not lose points for incorrect answers. Instead, your score is based solely on the number of correct answers you provide.
Can I book IELTS 2 days before?
No. Candidates looking to take the IELTS exam are required to book their IELTS exam dates at least 3 days before the test date. As part of the IELTS registration process, candidates would need to keep their valid passport and credit/debit cards handy to complete the IDP IELTS registration process.
What is the new rule of IELTS 2023?
According to a recent update, IELTS will introduce a "One Skill Retake" provision in which candidates will have the liberty to appear only for the module in which they have scored less. It means that now they don t have to appear for all the four modules of the IELTS exam.
Can I retake IELTS without paying?
You can retake the IELTS single-module test after 60 days of your first attempt. The timing and format of the exam will be unchanged. In India, an IELTS One Skill Retake fee is 16,250 INR. The registration and exam fees remain the same, no matter how many times you take the IELTS.
Can I take IELTS from home?
It's possible to take the IELTS Online exam using your personal computer or laptop. The exam is remotely proctored using a mix of both human and artificial intelligence. Prior to taking the test, you'll need to download the Inspera Exam Portal software, which is the platform that IELTS Online operates on.
What are the new changes in IELTS exam 2023?
Starting in March 2023, students who did not achieve their desired score on one component of the IELTS exam will have the opportunity to retake that specific component. This option has already been implemented in countries such as Australia, allowing students who wish to study abroad to retake a module of the IELTS exam.
Is IELTS fee refundable?
If you find yourself needing to cancel or reschedule your test, you may be eligible for a refund, but an administration fee will be deducted if the request is made more than 5 weeks before the test date. However, if the request is made within 5 weeks of the test date, the full fee will be charged unless there is a genuine medical reason for the cancellation or rescheduling.
Which country need IELTS?
Begin your life in English-speaking countries like Australia, the United States, Canada, the United Kingdom, New Zealand, and Ireland with IELTS. IELTS is accepted by more than 11,500 organizations across 140 countries, these include universities, companies, government organizations and migration agencies.
Does handwriting matter in IELTS?
Yes, your handwriting does matter, especially during the paper-based. Your handwriting must be legible so the examiner can read and understand it. You will be marked down if the examiner cannot read your answer.
Can we get a scholarship through IELTS?
The British Council has a scholarship program for IELTS that is specifically designed for Indian students who wish to pursue higher education abroad.