Course Highlights and Why Should I Learn the CCNA Course in Salem at FITA Academy?
The CCNA curriculum includes modules that have been developed professionally to meet the global demands of the industry.
The main goal of the CCNA training is to provide students with specific training that will help them understand the networking environment and configure it accurately.
The CCNA trainers at FITA Academy have over 10 years of experience as Network Engineers, and they are dedicated to helping students achieve their goals.
After completing the comprehensive CCNA training curriculum, which covers the fundamentals, students will be able to manage routers, switches, modems, TCP/IP, LAN and WAN.
Aspiring CCNA students in Salem can participate in interactive training sessions that are instructor-led at FITA Academy.
Regular review sessions of previous lessons are offered to students to maintain and enhance their learned skills.
FITA Academy provides CCNA training in Salem with Smart Classrooms and integrated learning for quality education.
The objective of the CCNA training is to offer quality training at affordable fees in Salem and provide Certification upon successful completion of the course.
FITA Academy offers flexible CCNA training in Salem on weekends, weekdays, and fast-track groups to suit students' schedules.
Upon completion of the course, FITA Academy provides 100% placement assistance to all skilled students.
FITA Academy has collaborations with over 1,500 organizations that range from small businesses to global conglomerates.
FITA Academy also has a placement cell that helps students find employment opportunities, making it a comprehensive learning and career development institution.
Upcoming Batches
| | | | |
| --- | --- | --- | --- |
| 05-10-2023 | Weekdays | Thursday (Monday - Friday) | |
| 07-10-2023 | Weekend | Saturday (Saturday - Sunday) | |
| 09-10-2023 | Weekdays | Monday (Monday - Friday) | |
| 14-10-2023 | Weekend | Saturday (Saturday - Sunday) | |

Classroom Training
Get trained by Industry Experts via Classroom Training at any of the FITA Academy branches near you
Why Wait? Jump Start your Career by taking the CCNA Course in Salem!
Instructor-Led Live Online Training
Take-up Instructor-led Live Online Training. Get the Recorded Videos of each session.
Travelling is a Constraint? Jump Start your Career by taking the CCNA Course Online!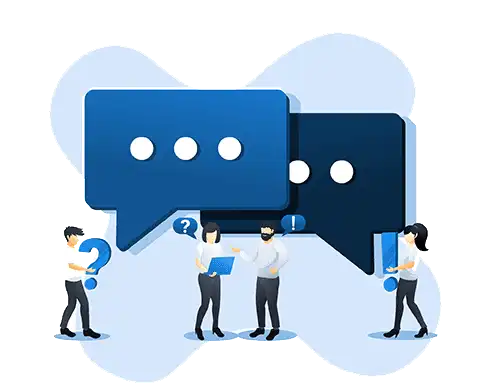 Have Queries? Talk to our Career Counselor
for more Guidance on picking the right Career for you! .
Trainer Profile
The trainers at FITA Academy offer a thorough training program that encompasses both theoretical and practical aspects of networking.
The CCNA trainers at FITA Academy are all working professionals who stay up-to-date with the latest advancements in the field.
FITA Academy's Cisco Certification instructors provide hands-on training and are also working professionals.
Students receive in-depth training on the latest industry practices from the CCNA experts at FITA Academy.
The CCNA trainers at FITA Academy provide individualized attention and hands-on training to each student.
The CCNA instructors at FITA Academy are Cisco-certified networking experts with extensive experience in the field.
FITA Academy's CCNA trainers engage students in mock interviews and provide crucial advice on constructing a professional resume and conducting interviews.
At FITA Academy, students receive a comprehensive CCNA training program that includes both practical and professional skills.
Features
Real-Time Experts as Trainers
At FITA Academy, You will Learn from the Experts from industry who are Passionate in sharing their Knowledge with Learners. Get Personally Mentored by the Experts.
LIVE Project
Get an Opportunity to work in Real-time Projects that will give you a Deep Experience. Showcase your Project Experience & Increase your chance of getting Hired!
Certification
Get Certified by FITA Academy. Also, get Equipped to Clear Global Certifications. 72% FITA Academy Students appear for Global Certifications and 100% of them Clear it.
Affordable Fees
At FITA Academy, Course Fee is not only Affordable, but you have the option to pay it in Installments. Quality Training at an Affordable Price is our Motto.
Flexibility
At FITA Academy, you get Ultimate Flexibility. Classroom or Online Training? Early morning or Late evenings? Weekdays or Weekends? Regular Pace or Fast Track? - Pick whatever suits you the Best.
Placement Support
Tie-up & MOU with more than 1500+ Small & Medium Companies to Support you with Opportunities to Kick-Start & Step-up your Career.
CCNA Certification Course in Salem
About CCNA Certification Course in Salem
at FITA Academy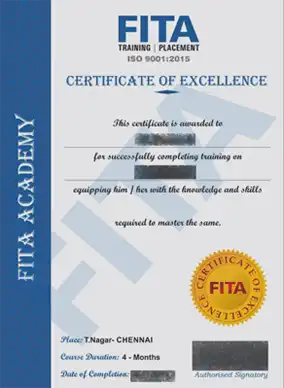 CCNA Certification Course in Salem
The CCNA Course Certification is a professional certificate that validates a person's knowledge of CCNA concepts and their practical application in real-world situations. This certification serves as evidence that the applicant has the necessary skills to work as a Network Engineer based on their training and real-world experiences. Obtaining this certification not only increases your chances of getting a job but also enhances your resume's status when you apply for jobs. This certification can demonstrate to potential employers that you have the skills and expertise needed to perform the job duties of a Network Engineer effectively. Obtaining the CCNA Course Certification is a significant certification that can enhance your career opportunities and distinguish you from other applicants when seeking Network Engineer roles.
The CCNA Training session offered by FITA Academy in Salem is designed to equip students with the necessary knowledge and skills to become proficient networking professionals in the current landscape. FITA Academy's CCNA training program in Salem is delivered by seasoned professionals who have over eight years of experience working with networks. With the guidance of our CCNA trainers, you will be able to deepen your understanding of networking and successfully pass the global certification exam for Cisco CCNA. Moreover, this training will help you expand your job prospects in the field of networking. By completing the CCNA training, you will be better prepared to take on various networking roles and opportunities. FITA Academy's CCNA training is an excellent opportunity to acquire the necessary skills and experience to succeed in the competitive world of networking.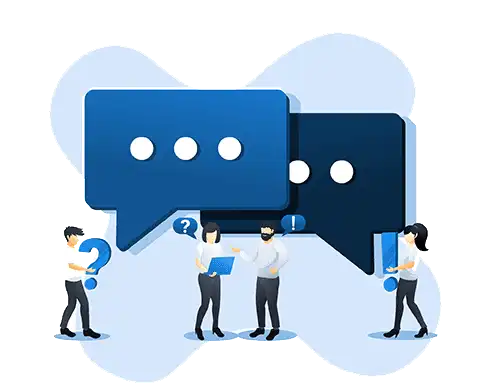 Have Queries? Talk to our Career Counselor
for more Guidance on picking the right Career for you! .
Job Opportunities After Completing CCNA Course in Salem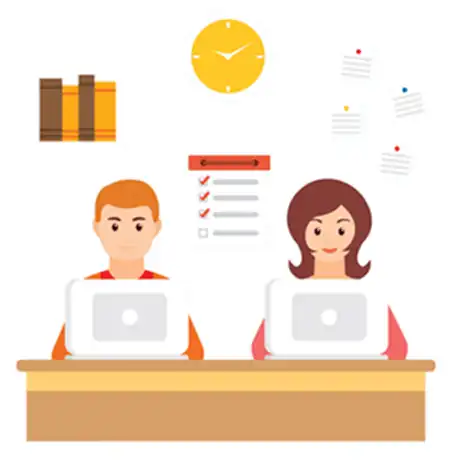 Networking presents one of the most rapidly growing job prospects in the information technology industry. Those who choose to pursue a career in networking should anticipate numerous opportunities for growth and a stable future. As businesses continue to adopt digital platforms, they rely on secure systems that operate efficiently and without interruption. To achieve a completely secure network and system, they require network experts with extensive knowledge of networking protocols and systems.
Thus, there is an increasing demand for skilled network professionals who possess the expertise to design, implement and maintain secure networks. As a result, networking is a promising career path for individuals looking for stability and growth in the information technology industry. As a result of this trend, more and more companies are seeking to hire networking professionals. Despite the ongoing evolution of the IT industry, it is certain that networking will continue to expand. This is because without the proper networks and communication systems in place, other technologies are unable to function.
Therefore, networking can be considered as the foundation for all other technologies.  The critical role that networking plays in enabling the functionality of other technologies means that networking professionals will remain in high demand as more and more companies continue to adopt digital technologies. Many well-known organizations such as Cisco Systems, HCL Technologies, CSS Corporations, Tech Mahindra, TCS, Reliance Communications, Wipro, IBM, Cognizant, Infosys, Red Hat, and others hire employees who possess CCNA Certification. These companies offer a variety of job titles including, but not limited to, Network Engineer, Network Administrator, Network Security Support Engineer, Network Analyst, Network Solutions Architect, and Network Technician.
By obtaining CCNA Certification, individuals can demonstrate their skills and knowledge in networking concepts and their applications, making them a valuable asset to any of the aforementioned organizations. These companies recognize the significance of having qualified network professionals on their team to ensure that their networks are functioning smoothly and securely.
To work as a networking professional in India, the annual salary range is between Rs. 3.5 million to Rs. 4.5 million. Network engineers with 3 to 5+ years of experience can earn an annual income of Rs. 4670,000 to Rs. 5,20,000. Across the world, network professionals can earn an annual salary of up to $97,859 USD, which may vary based on the number of certificates and years of experience. FITA Academy's CCNA Training in Salem is taught by real-world professionals who cover essential skills required for becoming a successful networking engineer.
Also Read: Important Networking Interview Questions and Answers.
Companies are always looking for skilled candidates to fill various positions within their organization. Upon finishing the CCNA course, you will be able to understand how most companies describe their job roles. As a CCNA-certified professional, you will be able to assist businesses in resolving their issues with your advanced knowledge and skills. Possessing a CCNA certification offers several opportunities for individuals who are looking to advance in their careers.
Student Testimonials
Enrolling in the CCNA program at the CCNA Institute in Salem was undoubtedly the best decision I have made. The course curriculum was all-inclusive, and the trainers were experienced, approachable, and interactive. They consistently demonstrated their willingness to offer additional assistance to guarantee our comprehension of the course material. With the support of FITA Academy, I successfully passed the job interview on my first attempt
As someone who had no prior experience in networking, I was nervous about taking the CCNA certification. However, my trainer at FITA Academy in Salem was amazing. He was patient, supportive, and always available to answer my questions. He made the concepts easy to understand, and I felt confident enough to take the exam after completing the program. I'm happy to say that I passed with flying colors. Thank you, FITA Academy, for helping me achieve my goals.
I had the pleasure of attending the CCNA program at the CCNA Institute in Salem, and it was a life-changing experience. The trainers were knowledgeable, passionate, and dedicated to their craft. They created a positive and supportive learning environment that helped me to thrive. The coursework was challenging but rewarding, and I gained a wealth of knowledge that I will carry with me for the rest of my career. I highly recommend FITA Academy to anyone looking to improve their networking skills.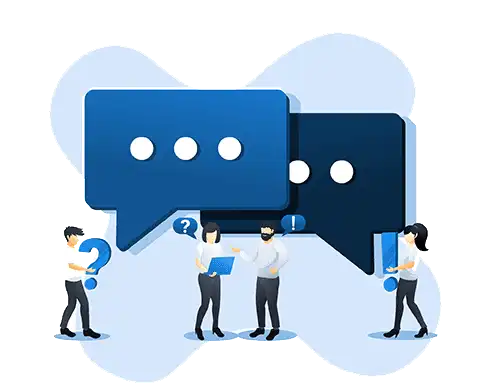 Have Queries? Talk to our Career Counselor
for more Guidance on picking the right Career for you! .
Additional Information
The CCNA certification, which has been in existence for a considerable period, is widely regarded as a significant yardstick for networking professionals worldwide. It is noteworthy that over a million individuals who possess this certification are employed in the networking and hardware industries. A certified network specialist's primary responsibility is to develop and establish network infrastructure that is capable of meeting the dynamic demands of businesses.
At FITA Academy's CCNA course in Salem, students will receive comprehensive training on designing, implementing, configuring, and testing an IPv4 or IPv6 network. This training will involve the installation of a LAN switch, configuration of an IP router, establishing WAN connectivity, and identifying the most fundamental network security concerns. Through this program, trainees will acquire essential skills and knowledge that will enable them to excel in the field of networking.
Network technology professionals are frequently required to possess the Cisco CCNA certification by their employers. Contemporary networks are sophisticated and require the implementation of cutting-edge hardware, software, and Cisco technologies to optimize and secure network and physical infrastructures. As the foremost CCNA Training Institute in Salem, FITA Academy offers top-quality Cisco training to enhance students' comprehension of networking and hardware.
The best CCNA Institute in Salem at FITA Academy offers students expert instruction on installing, configuring, and maintaining Cisco devices, which can lead to improved productivity, error elimination, and enhanced technical proficiency. Students will learn how to optimize network utilization to increase the speed and quality of network components, and gain the knowledge needed to design a successful infrastructure. In general, the CCNA program available at FITA Academy has been developed to provide students with the essential skills and knowledge required to thrive in the networking industry.
Why Enrol in a CCNA Course in Salem with FITA Academy?
The trainers at FITA Academy are Cisco-certified professionals with extensive knowledge of Cisco products and other popular networks, such as cloud computing.
The course curriculum offered at FITA Academy is specifically designed to align with the CCNA certification, providing a concentrated and comprehensive learning experience.
FITA Academy students can achieve a high level of proficiency in the CCNA certification.
The program includes detailed instructions on how to obtain the CCNA certification with the highest possible performance.
FITA Academy offers sessions that teach students how to manage Cisco technologies and networks effectively.
Upon successfully completing the Networking program, FITA Academy provides 100% placement assistance to students.
FITA Academy has helped other networking professionals advance their careers.
FITA Academy's smaller batch sizes allow for personalized attention to be given to each participant, ensuring a quality learning experience.
Are there any specific qualifications or prerequisites that I need to have to enroll in the CCNA course in Salem at FITA Academy?
To enroll in the CCNA Training Institute in Salem at FITA Academy, no specific prerequisites are required as the course is designed to cater to students with varying levels of experience. However, having a comprehensive understanding of networks and computers would be beneficial for students to grasp the material covered more effectively. FITA Academy's CCNA course is a comprehensive program that covers a wide range of networking topics, including network installation, configuration, and troubleshooting.
Throughout the course, FITA Academy's experienced instructors guide students through hands-on exercises that provide practical exposure to various networking scenarios. Through these exercises, students can apply the theoretical concepts they have learned to real-world scenarios, which enables them to obtain a better understanding of managing and maintaining intricate networks.
Overall, the CCNA course at FITA Academy is intended to provide students with the essential knowledge and skills required to succeed in the field of networking. The course is accessible to students from different educational backgrounds and levels of experience, making it an excellent option for anyone looking to enhance their networking knowledge and advance their career in this field.