Course Highlights and Why Digital Marketing Course in Trichy at FITA Academy?

The courses of our Digital Marketing Course are tailored to satisfy the needs of the global industry.

We provide industry-specific instruction in the fundamentals of Digital Marketing, including SEO, SEM, SMO, SMM, Video Marketing, and Affiliate Marketing.

Our lecturers for Digital Marketing have more than a decade of experience with the Digital Marketing platform.

You will receive extensive digital marketing training to provide you with the most effective marketing methods.

FITA Academy will lead you through an engaging instructor-led session during this Digital Marketing Training In Trichy.

Regular review sessions are provided so that you can improve your skills by studying material from previous lessons.

Our smart classrooms with blended learning make learning Digital Marketing at FITA Academy in Trichy a one-of-a-kind experience.

The course offers reasonably priced, professional Digital Marketing Training In Trichy, complete with a completion certificate.

FITA Academy offers Digital Marketing classes on weekends, weekdays, and in an expedited style.

After successfully completing training, FITA Academy offers all qualifying graduates full placement help.

Because we have worked with over 1,500 small and large enterprises, we are able to assist you.

We have an active placement cell at FITA Academy where students can obtain employment in their respective fields.
Upcoming Batches
| | | | |
| --- | --- | --- | --- |
| 09-12-2023 | Weekend | Saturday (Saturday - Sunday) | |
| 11-12-2023 | Weekdays | Monday (Monday - Friday) | |
| 14-12-2023 | Weekdays | Thursday (Monday - Friday) | |
| 16-12-2023 | Weekend | Saturday (Saturday - Sunday) | |

Classroom Training
Get trained by Industry Experts via Classroom Training at any of the FITA Academy branches near you
Why Wait? Jump Start your Career by taking Digital Marketing Course in Trichy!
Instructor-Led Live Online Training
Take-up Instructor-led Live Online Training. Get the Recorded Videos of each session.
Travelling is a Constraint? Jump Start your Career by taking the Digital Marketing Online training!
Trainer Profile
FITA Academy believes in blended learning and seeks to teach students both digital marketing concepts and techniques.
FITA Academy Digital Marketing Instructors provide their trainees industry-relevant skills.
Digital Marketing Trainers at FITA Academy have considerable experience in the Digital Marketing industry.
Trainers at FITA Academy are Digital Marketing Experts with Extensive Hands On experience.
In order to increase the skill sets of FITA Academy students, our instructors provide in-depth training on the most recent industry-relevant techniques.
Our Digital Marketing Trainers at FITA Academy invest a great deal of time and effort in each student, providing them with in-depth instruction and a complete collection of practical tasks.
During simulated interviews, our teachers educate students with valuable insight into Interview Questions and How to Handle Interviews, enabling them to prepare for and handle interviews with professionalism and confidence.
Learn at FITA Academy & Get Your
Dream IT Job in 60 Days
like these Successful Students!

Features of Digital Marketing Course in Trichy at FITA Academy
Real-Time Experts as Trainers
At FITA Academy, You will Learn from the Experts from industry who are Passionate in sharing their Knowledge with Learners. Get Personally Mentored by the Experts.
LIVE Project
Get an Opportunity to work in Real-time Projects that will give you a Deep Experience. Showcase your Project Experience & Increase your chance of getting Hired!
Certification
Get Certified by FITA Academy. Also, get Equipped to Clear Global Certifications. 72% FITA Academy Students appear for Global Certifications and 100% of them Clear it.
Affordable Fees
At FITA Academy, Course Fee is not only Affordable, but you have the option to pay it in Installments. Quality Training at an Affordable Price is our Motto.
Flexibility
At FITA Academy, you get Ultimate Flexibility. Classroom or Online Training? Early morning or Late evenings? Weekdays or Weekends? Regular Pace or Fast Track? - Pick whatever suits you the Best.
Placement Support
Tie-up & MOU with more than 1500+ Small & Medium Companies to Support you with Opportunities to Kick-Start & Step-up your Career.
Why Learn Digital Marketing Course in Trichy at FITA Academy?
Live Capstone Projects
Real time Industry Experts as Trainers
Placement Support till you get your Dream Job offer!
Free Interview Clearing Workshops
Free Resume Preparation & Aptitude Workshops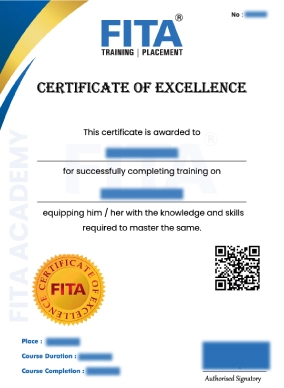 Digital Marketing Certification Course in Trichy
The Digital Marketing Course Certification offered by FITA Academy is recognised as one of the professional credentials that indicates a candidate's mastery of the Digital Marketing platform and its requirement for performance in the Digital Marketing industry. This is one of the reasons why this certification is so well valued. By completing a real-world project at the end of the course, the candidate will be able to demonstrate that they have gained the essential abilities to begin working as a digital marketer following completion of the course. This certificate, which you present to the interview together with your CV, serves to highlight your profile and opens the door to several professional prospects.
Learning from our Digital Marketing Certification Course in Trichy will instruct you in the essential skill sets required for a professional Digital Marketer to become knowledgeable in important areas. Our Digital Marketing Training In Trichy is taught by experts with at least eight years of experience working with this platform, allowing them to provide the most effective training possible. Update your knowledge with the most recent market trends.
Have Queries? Talk to our Career Counselor for more Guidance on picking the
right Career for you!
Placement Session & Job Opportunities after completing Digital Marketing Course in Trichy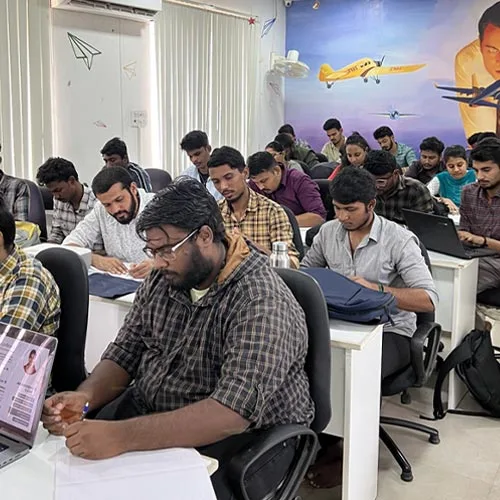 As a career, digital marketing offers a variety of opportunities and specialisations. As a result, you will have various options as you begin your digital marketing career. The industry with the most employment openings, according to statistical data, is digital marketing. Digital marketing is a developing and novel field. Numerous studies and research indicate that the digital marketing industry continues to expand and thrive each year.
Current demand for digital marketing methods requires no evidence. It is currently one of the most sought-after methods and approaches in the business industry. Consequently, it may give you with more leverage in whichever area you select. Even if you're just starting out or an intern, you can make a decent living in digital marketing. Tech Mahindra, McKinsey, Genpact, Infosys, Cognizant, and CGI, among others, are actively hiring trained digital marketing professionals.
There are currently more than 97,000 open positions in digital marketing and related fields, and this number will significantly expand over time. 
This industry includes positions such as Digital Marketing Marketing Executive, Senior Marketing Executive, Social Media Supervisor, Assistant Manager, WordPress Developer, Digital Marketing Content Manager, and SEO Analyst. A typical annual salary for a digital marketing professional is approximately Rs 4 lakhs. Globally, the average yearly salary for a similar position is $65,000. The wage scale is affected by location, organisation, experience, and proficiency. With our Digital Marketing Institute In Trichy, you can confidently meet the industry's requirements.
Also read: Digital Marketing Interview Questions and Answers
Popular job titles in the Digital Marketing industry comprise the following:
Search Engine Optimization Executive

Digital Marketing Executive

Social Media Marketing Executive

Search Engine Marketing Executive

Mobile Marketing Specialist 

Email Marketing Executive

Content Marketing Executive 
From latest survey indicates that the Digital Marketing Salary for Freshers is between Rs 3,000,000 and Rs 4,00,000 per year, depending on their level of experience. Depending on a person's level of knowledge and experience, the median income and benefits package will vary. Under the leadership of our qualified trainers, FITA Academy's Digital Marketing Training In Trichy focuses on polishing the skills necessary to become a Digital Marketing professional. We provide the required professional advice and lead you to a successful career in the Digital Marketing business. Several job functions are described below.
Search Engine Optimization Executive 
The primary responsibility of an SEO executive is to ensure that the websites of their clients rank highly on Google, Bing, Yahoo, and other major search engines. This can be achieved through the construction of high-quality backlinks from relevant websites, the optimization of website content, and the implementation of effective traffic-driving activities, among others.
Digital Marketing Executive
Develops and monitors the effectiveness of all digital marketing initiatives across multiple platforms, including SEO, SEM, Email Marketing, Social Media Marketing, Mobile Marketing, Display Advertising, Web Designer, Content Creation, Conversion Rate Optimisation and Affiliate Marketing. Creates and maintains a customer database containing demographic information, product/service details, purchase patterns, brand preferences, and loyalty programmes. Identifies new business prospects and evaluates current market circumstances through market research.
Success Story of Digital Marketing Course in Trichy
After learning from this Digital Marketing Courses In Trichy enlightened me on the changing aspects of the digital world and transformed me into an expert digital marketing analyst. I received practical instruction in SMM, SEO, and SEM. My trainer made me feel comfortable and urged me to put out my best effort.
I presently hold the position of Digital Marketing Consultant. Despite having a few years of experience in the field, I desired certificates to advance my career. A colleague recommended that I join at the Digital Marketing Training Institute in Trichy, so I did. I learned a great deal more about a topic about which I was unaware. I am grateful to all the knowledgeable coaches and personnel at FITA Academy.
It was a great experience for me to get understanding from my training programme, which offered me a lot of useful information. The course equipped me with a detailed curriculum and up-to-date industry standards. My instructors taught utilising real-world case studies as examples. I could communicate with them at any time. It is a highly recommended, beginner-friendly course.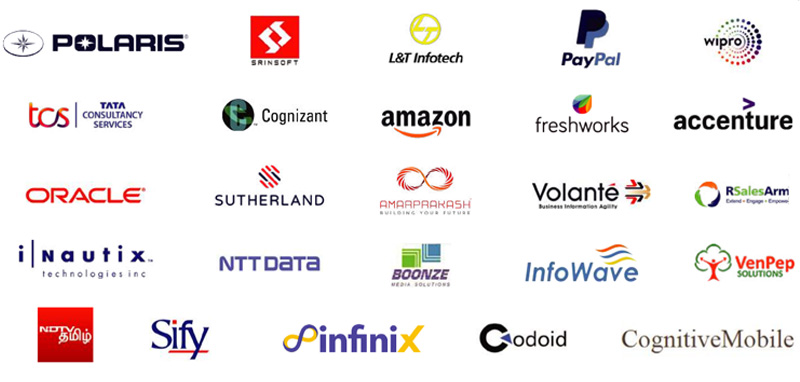 Frequently Asked Question (FAQ) about Digital Marketing Course in Trichy
Additional Information of Digital Marketing Course in Trichy
The term "digital marketing" refers to promotional efforts that are carried out via digital mediums including the World Wide Web and social media platforms like Google, Facebook, LinkedIn, Twitter, Instagram, Quora, and Twitter to reach and interact with potential customers. Consequently, Digital Marketing is communicating and promoting the value of the organisation to customers via digital platforms. Historically, businesses relied primarily on traditional marketing media, such as newspapers, television, radio, billboards, direct mail, magazines, and any kind of print. Digital marketing consists of Search Engine Optimization, Search Engine Marketing, Social Media Marketing, Content Marketing, Email Marketing, and Video Marketing. Currently, businesses of all sizes rely on the Digital Marketing platform for promotion. It is the most cost-effective, efficient, and provides rapid monitoring, analysis, testing, and measuring compared to conventional marketing strategies.
On the basis of consumer media consumption trends that continue to shift significantly away from traditional marketing and toward more Digital Content, it is projected that at some point in the future, we will no longer refer to it as Digital Marketing, but simply marketing. Enroll in the Digital Marketing Course In Trichy to learn marketing methods from professional instructors with years of experience.
What is the learning objective of FITA Academy's Digital Marketing Course?
Capable of Creating a Brand-New Online Business.
A greater understanding of Sales and Branding
Improving Brand Image and Growing Brand Audience
Knowledgeable about SEO methods.
Capable of enhancing website traffic.
Knowledge of lead production and lead magnets
Capable of boosting the email list, social media following, subscriber count, and website traffic.
Social Media Marketing sites such as Google, Twitter, Instagram, Twitter, Quora, Facebook, Youtube, Pinterest, and LinkedIn will be mastered.
Capable of utilising conversion statistics and metrics to determine the value of a marketing effort.
To be able to develop and construct appropriate keywords for your own Google Ad Campaign. Our Digital Marketing Training In Trichy is also attended by numerous others.
Pre-Requisites and Eligibility Criteria to learn the Digital Marketing Course in Trichy
Pre-Requisites: This course has no prerequisite requirements. This course is open to anyone interested in beginning a career in digital marketing. A basic familiarity of computer usage is recommended.
Eligibility Criteria: This course is open to any recent graduate who intends to pursue a career in the marketing industry. This training is also appropriate for the following specialists:
Marketing and Sales Professionals
Entrepreneurs
Digital Marketers
Bloggers
YouTubers
Content Marketers
Trainees in FITA Academy's Digital Marketing Training In Trichy gain a full understanding of the numerous digital marketing principles under the leadership of seasoned industry professionals.
Advantages of Completing the Digital Marketing Course in Trichy
Online marketing is a boon to all firms because it promotes small-scale industry to a great extent. The time is here to enrol in our Digital Marketing Course.
In recent decades, the marketing business has been forced to adapt. Due to its utility in the promotion of any product, online marketing is of tremendous importance. It has made advertising a product or business as easy as touching a screen.
This course focuses mostly on business promotion on digital media. Even if a student joins the programme with no prior understanding of the Best Digital Marketing Institute In Trichy, they will acquire information by the programme's conclusion.
The Internet of Things has altered the marketing sector. At FITA Academy, our instructors guides students from the fundamentals to the advanced level.
We provide the best Digital Marketing Courses In Trichy have been a game-changer for a number of applicants. We educate our kids according to international norms. Our students will have access to the most qualified coordinator, who will guide them through the various interview procedures.
Online marketing has a substantial impact on revenue generation; hence, enrolling in Digital Marketing Training In Trichy is a wise decision. Our professors place equal emphasis on both practical and theoretical sessions, preparing you to face real-world issues.
We ensure that each individual's questions are swiftly addressed. Experts and students trained by our faculty concur that FITA Academy is the most prestigious Digital Marketing Institute.
Digital Marketing's Scope
Due to the variety of digital channels, the constant development of digital technology, and the ever-changing tactics, the scope of digital marketing is vast. A digital marketer is responsible for all digital platforms and uses them to promote brand awareness and generate leads. In other words, a digital marketer is responsible for overseeing and developing an organization's overall content strategy and promotional initiatives. Digital marketing is an essential tool for helping firms fulfil the increased demands of their customers.
As a result of the Internet's tremendous expansion, the demand for skilled digital marketing specialists is continually increasing. From the latest analysis demonstrates a constant growth in demand for digital marketing specialists. This year alone, at least ten million job vacancies were created in this area in India, with an expected increase of 27.4% over the next few years. Due to increased advertising costs, digital marketing is predicted to surpass traditional print by the end of the following year.
Digital marketing encompasses a wide range of responsibilities, including the creation of marketing campaigns, the maintenance and provision of the relevant material for business campaigns, the maintenance of social media interactions, and the monitoring of website traffic. Digital Marketing Institute In Trichy at FITA Academy offers a promising career path for the development of both technological and creative skills. As the sector evolves and expands, hiring organisations are seeking specialised talent. The expansion of the digital marketing business has increased employment prospects in the region. Following the outbreak, internet usage has increased.
We offer the best Digital Marketing Training In Trichy, allowing you to confidently launch your career. With our connections to over 1500 organisations, you are certain to obtain a well-paying position. Since digital marketing is expected to grow the fastest, it could be the finest option for a successful career.