Course Highlights and Why Data Science Course in Trichy at FITA Academy?

Our trainers are data science specialists who have participated in a range of projects and have in-depth subject knowledge.

We provide a Data Science Course In Trichy that combines both theoretical and practical ideas.

Trainees can apply their knowledge by creating models utilising Machine Learning techniques, analysing data from real-world settings and designing interactive visualisations.

The FITA Academy in Trichy will offer live, interactive Data Science training from certified experts.

Regular review sessions are provided to guarantee that your skills are continuously enhanced.

We offer weekend, weekday, and fast-track Data Science Training in Trichy.

With our skilled Data Science Instructors. We offer reasonably-priced data science certification with a completion certificate in Trichy.

Our Data Science Training Institute In Trichy has worked with more than 1,500 companies to provide placement aid.

Students who have successfully completed the FITA Academy curriculum receive placement assistance in full.

Since its founding, FITA Academy has trained over 50,000 students who are currently employed by various firms.
Upcoming Batches
| | | | |
| --- | --- | --- | --- |
| 11-12-2023 | Weekdays | Monday (Monday - Friday) | |
| 14-12-2023 | Weekdays | Thursday (Monday - Friday) | |
| 16-12-2023 | Weekend | Saturday (Saturday - Sunday) | |
| 23-12-2023 | Weekend | Saturday (Saturday - Sunday) | |

Classroom Training
Get trained by Industry Experts via Classroom Training at any of the FITA Academy branches near you
Why Wait? Jump Start your Career by taking Data Science Course in Trichy!
Instructor-Led Live Online Training
Take-up Instructor-led Live Online Training. Get the Recorded Videos of each session.
Travelling is a Constraint? Jump Start your Career by taking the Data Science Training Online!
Trainer Profile
The trainers at FITA Academy are among the best in their field and have more than eight years of experience in Data Science.
The trainers have extensive knowledge of initiatives relevant to real-world issues.
They are highly skilled and competent specialists who work for multinational firms.
Our institution employs data science professionals with excellent theoretical and practical skills.
The instructors provide a comprehensive, hands-on instruction and require students to accomplish real-world tasks throughout the course so that trainees can acquire field experience.
Data science's most advanced algorithms, tools, and methodologies are taught to students by their instructors.
The instructors give students the individualised attention they require and aid them in attaining their professional goals.
As part of their training, FITA Academy trainers guide students through the key interview skills and assist them in developing a stellar resume.
Trainers instruct on how to improve their Data Science technical abilities so that they may flourish.
Learn at FITA Academy & Get Your
Dream IT Job in 60 Days
like these Successful Students!

Features of Data Science Course in Trichy at FITA Academy
Real-Time Experts as Trainers
At FITA Academy, You will Learn from the Experts from industry who are Passionate in sharing their Knowledge with Learners. Get Personally Mentored by the Experts.
LIVE Project
Get an Opportunity to work in Real-time Projects that will give you a Deep Experience. Showcase your Project Experience & Increase your chance of getting Hired!
Certification
Get Certified by FITA Academy. Also, get Equipped to Clear Global Certifications. 72% FITA Academy Students appear for Global Certifications and 100% of them Clear it.
Affordable Fees
At FITA Academy, Course Fee is not only Affordable, but you have the option to pay it in Installments. Quality Training at an Affordable Price is our Motto.
Flexibility
At FITA Academy, you get Ultimate Flexibility. Classroom or Online Training? Early morning or Late evenings? Weekdays or Weekends? Regular Pace or Fast Track? - Pick whatever suits you the Best.
Placement Support
Tie-up & MOU with more than 1500+ Small & Medium Companies to Support you with Opportunities to Kick-Start & Step-up your Career.
Why Learn Data Science Course in Trichy at FITA Academy?
Live Capstone Projects
Real time Industry Experts as Trainers
Placement Support till you get your Dream Job offer!
Free Interview Clearing Workshops
Free Resume Preparation & Aptitude Workshops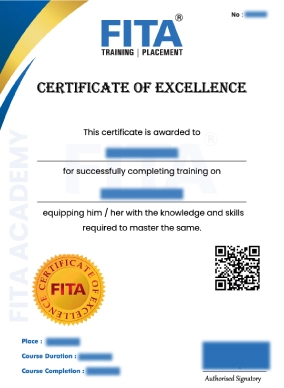 Data Science Certification Training in Trichy
Earning a Data Science Certificate demonstrates to employers that you have the knowledge and skills necessary to become an expert in the field. This accreditation is advantageous for students who wish to obtain the best positions in MNCs. With this certification in Data science in Trichy, you will acquire the skills necessary to begin a career in Data Science. With this accreditation, you can convince any hiring manager and land the job you desire.
You will be able to make sound decisions if you are familiar with the most vital aspects of Data Science and the primary services. This course is an excellent approach to launch a career in Data Science. They can enrol in the FITA Academy Data Science Course In Trichy to jumpstart their careers. This course will assist students in discovering rewarding careers in Data Science.
There are now many available employment in the industry, making this a great time to consider it. This credential can help you obtain a higher-paying job and acquire more marketable abilities. If you desire to enter the field of analytics, the Data Science Course In Trichy is an excellent option.
Start by studying the fundamentals and enrolling in trial classes. After you complete the data science course at Trichy, we will assist you in whatever manner possible until you obtain your certification. At each stage of the certification procedure, our students receive assistance. Students receive extensive practise, which expedites their comprehension of the concepts.
The course covers all areas of Machine Learning, Statistics, and Programming Languages such as Python, Big Data Analytics R, and Cloud Computing. Python Course in Trichy will give you the right skill to master Python programming and data analysis.
Have Queries? Talk to our Career Counselor for more Guidance on picking the
right Career for you!
Placement Session & Job Opportunities after completing Data Science Course in Trichy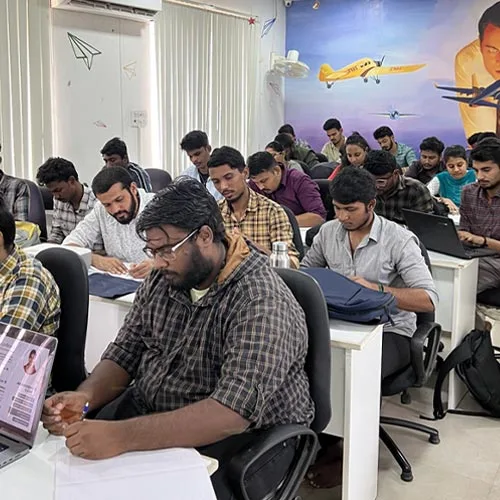 In the IT industry, big data specialists are in high demand due to the abundance of available positions. Today, many firms employ the useful insights provided by data scientists to gain a competitive advantage while incurring as little expense as possible. There are numerous employment prospects in data science. The data analyst is a prime illustration of this. This position is responsible for analysing business data, developing and deploying custom models, mapping trace data from numerous systems, and writing SQL queries to retrieve the data. Data scientist is another essential position in the world of information technology.
Data scientists are tasked with collecting, transforming, and utilising both structured and unstructured data to provide useful insights. They also find a solution for data analytics and implement various analytical techniques. Our college offers trainees the opportunity to become Data engineers. This position requires assembling, cleaning, and integrating data. Help create and maintain an up-to-date data architecture.
In India, there are numerous opportunities for Data Scientists and Analysts with the highest Data Scientist Salary For Freshers. Data Analysts do a variety of tasks, and many of them have many career paths. Analysts can collaborate with numerous teams within an organisation, making them extremely valuable. FITA Academy's data science training in Trichy will equip you with the most recent skills and tools for your work. This comprises open-source libraries and technologies like as databases, SQL, and data visualisation tools. There are numerous instances like this in the actual world. Participants will be able to create a portfolio of data science projects that will help them compete with other experts in their area after completing this course.
Job Roles
Data Analyst:
The task of a data analyst is to analyse huge quantities of data, such as survey data and sales figures, in order to discover useful information. Using specialised technologies, data analysts collect and analyse data to generate decision-supporting knowledge. They will answer questions about the data and analyse it for trends, patterns, and anomalies. Typical professions demand the use of specialised equipment to collect the necessary data. They must be adept in data manipulation and visualisation.
Data Scientist:
The role of a data scientist is to extract usable information and patterns from vast amounts of unstructured data. When working on predictive analytics, the majority of data scientists employ statistical modelling techniques such as regression, clustering, classification, etc. Without them, a company will struggle to realise its full potential and become really data-driven.
Also read: Data Science Interview Questions and Answers
Success Story of Data Science Course in Trichy
I joined in the Data Science Training in Trichy just as I was interested by the popularity surrounding it. I was surprised by their efforts, which helped me improve my career. I had the opportunity to gain practical experience using a number of data science tools. I decided to switch careers after deciding that the classes were so enjoyable. After completing the programme, I was fortunate to get hired by a reputable company, thanks to FITA Academy.
I have completed my training in Data Science at FITA Academy. Before enrolling in this course, I had a difficult time grasping the topics. The experts assisted me in learning the programming language in the most convenient manner possible. I was just hired by a multinational corporation after completing my certifications. I am grateful to the FITA Academy trainers and team for providing me with the best instruction.
The learning experience at FITA Academy was extraordinary. The trainer's explanation of ideas and systematic approach to instruction were quite beneficial. The trainers helped me master the data science components in the most efficient manner available. I recently secured a position with a multinational corporation after completing my certification.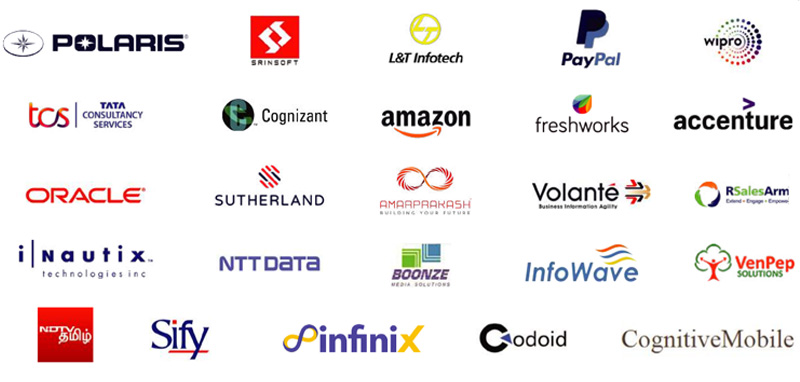 Frequently Asked Question (FAQ) about Data Science Course in Trichy
Additional Information of Data Science Course in Trichy
The quantity of data that is created and stored online continues to expand on a daily basis. Consider the scenario where you wish to discover the most popular material on Instagram, YouTube, and Twitter. You must assess the data first. How are these enormous data sets examined? Data Science provides the answer.
Data Science is gaining prominence in today's society. In order to make better decisions and improve processes, data analysis is vital for all sectors. The most common application of data science is in marketing. This can aid organisations in gaining a deeper understanding of their customers and adjusting their marketing strategy accordingly.
Participating in the FITA Academy's Data Science Training in Trichy will allow you to acquire these skills. Through these courses, students will acquire the knowledge and skills necessary for effective data utilisation.
This course will provide a thorough understanding of data analysis, machine learning, and big data management. This course will teach you how to identify trends in large data sets, do predictive analytics, and create successful dashboards.
Data Science Life Cycle
Data Science is the application of data to business requirements. Beginning the data science life cycle is the identification of business challenges. This phase requires the Data Scientist to possess the relevant domain expertise to identify business issues.
At the next stage, critical data acquisition occurs. For Data Preparation, data from multiple sources, including logs, web server APIs, and databases, are collected and utilised.
Data Preparation is the elimination of duplicate and inconsistent data types. Several applications, such as Informatica and Talend, can be used to improve data management and integration.
Exploratory data analysis is a component of Data Preparation. This is used to identify and enrich the data in order to discover the features and variables that can be included in models. Data Modelling uses a variety of ML techniques to determine the ideal business model.
Data Visualisation utilises a range of Business Intelligence tools, such as Tableau, Power BI, and Qlikview, to display essential data and generate reports. With the assistance of data scientists, the model is implemented and evaluated, and quarterly performance reports are generated.
Why Data Science?
We may have uncovered some really useful information during the past few years. Future businesses will be driven mostly by data. Data Science is the predictive analysis of enormous quantities of data generated by businesses. It facilitates the creation of beneficial business plans for the company.
Numerous fields, such as finance, banking, and e-commerce, utilise data science. Globally, businesses are automating their workflows. Data Science and Machine Learning will be required to automate activities using Big Data and other machine learning approaches.
Data Science is a powerful marketing technique. It can process massive amounts of data and identify consumer behaviour trends. Data Science enables firms to market products that are likely to be well-received by customers by analysing past search and purchase habits.
Business Organizations will demand Data Scientists with specialised data skills in the coming years. In order to construct a business plan, data scientists must be able to manage huge quantities of data and extract any actionable business insights.
Tools Covered in the Data Science Course in Trichy
NumPy
Pandas
SciPy
SAS
R
Python
Learning outcomes of  Data Science Training in Trichy at FITA Academy
Data cleansing, analysis, and processing
Creating Essential Tableau Visualization
Familiarity with the Confusion Matrix
Configuration and Use of SQL Server
Creating SQL scripts
Can generate dummy variables.
Construction of the CAP curve in Excel
Logistic Regression and Linear Regression
The ability to successfully complete each step of a complex Data Science project, as well as additional concepts.
Prerequisites to learn Data Science
The Data Science Course is open to all students. Having a little understanding of statistics or mathematics could be more beneficial.
Eligibility Criteria to learn Data Science
This programme is open to anybody seeking a career in Data Science. This training is also open to professionals who wish to expand their work opportunities.
IT Professionals
Marketing Managers
Business Analysts
Banking and Finance specialists
Also Read: Data Science Tutorial