Course Highlights and Why Python Course in Trichy at FITA Academy?

FITA Academy provides a complete education that meets global standards for Python programmers.

Instructors will instruct students on the proper usage of Python lists, tuples, and libraries, helping them to become proficient programmers.

This course will help students in identifying Python object types and using them effectively.

After intensive training on indexing and slicing, students will be able to obtain data in Python applications using these approaches competently.

Through consistent assessment and practice, students will acquire the skills necessary to build functions in Python with ease.

FITA Academy's Python Training in Trichy will teach students the fundamentals of Python programming.

This course teaches students the crucial skills to create graphical user interfaces in Python.

Students will have the opportunity to examine the object-oriented programming features of Python in order to acquire a solid understanding of this programming language.

The learners will receive a series of case studies detailing how to appropriately handle errors and exceptions in order to make the code robust.

Extensive coverage will be given to regular expressions, including Match and Search, Search and Replace, and extended regular expressions.
Upcoming Batches
| | | | |
| --- | --- | --- | --- |
| 09-12-2023 | Weekend | Saturday (Saturday - Sunday) | |
| 11-12-2023 | Weekdays | Monday (Monday - Friday) | |
| 14-12-2023 | Weekdays | Thursday (Monday - Friday) | |
| 16-12-2023 | Weekend | Saturday (Saturday - Sunday) | |

Classroom Training
Get trained by Industry Experts via Classroom Training at any of the FITA Academy branches near you
Why Wait? Jump Start your Career by taking Python Training in Trichy!
Instructor-Led Live Online Training
Take-up Instructor-led Live Online Training. Get the Recorded Videos of each session.
Travelling is a Constraint? Jump Start your Career by taking the Python Course Online!
Trainer Profile
As a strategy for our training, we have a strong commitment to the blended learning paradigm.
FITA Academy teaches Python concepts, frameworks, and case studies to students in order to familiarise them with the most current Python principles. This enables students to obtain real-world experience with Python Coding and Scripting.
Our Python instructors at FITA Academy have more than 12 years of combined experience in Software Development and are industry experts.
Professional Python programmers from the programming community provide training.
Expert educators will upskill trainees by continuously assessing and refining their knowledge with industry-standard tools.
Instructors at FITA Academy advise their trainees on how to use Python to create dependable software.
Trainers assist students in building a professional resume and provide interview tips so that they may easily prepare for interviews.
Learn at FITA Academy & Get Your
Dream IT Job in 60 Days
like these Successful Students!

Features of Python Course in Trichy at FITA Academy
Real-Time Experts as Trainers
At FITA Academy, You will Learn from the Experts from industry who are Passionate in sharing their Knowledge with Learners. Get Personally Mentored by the Experts.
LIVE Project
Get an Opportunity to work in Real-time Projects that will give you a Deep Experience. Showcase your Project Experience & Increase your chance of getting Hired!
Certification
Get Certified by FITA Academy. Also, get Equipped to Clear Global Certifications. 72% FITA Academy Students appear for Global Certifications and 100% of them Clear it.
Affordable Fees
At FITA Academy, Course Fee is not only Affordable, but you have the option to pay it in Installments. Quality Training at an Affordable Price is our Motto.
Flexibility
At FITA Academy, you get Ultimate Flexibility. Classroom or Online Training? Early morning or Late evenings? Weekdays or Weekends? Regular Pace or Fast Track? - Pick whatever suits you the Best.
Placement Support
Tie-up & MOU with more than 1500+ Small & Medium Companies to Support you with Opportunities to Kick-Start & Step-up your Career.
Why Learn Python Course in Trichy at FITA Academy?
Live Capstone Projects
Real time Industry Experts as Trainers
Placement Support till you get your Dream Job offer!
Free Interview Clearing Workshops
Free Resume Preparation & Aptitude Workshops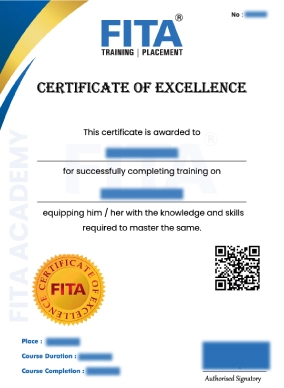 Python Certification Training in Trichy at FITA Academy
The Python course in Trichy aims to equip trainees with the knowledge and skills necessary to perform coding tasks that are directly related to the fundamental concepts of Python programming, as well as the techniques and concepts used for Object-Oriented Programming, Web Design, and Games Design, as well as other forms of programming. In addition, having a Python certification on your resume can increase your chances of being prioritised during an interview, which will expedite the hiring process.
Our Python training in Trichy with Certification is suitable for both novices and experienced IT professionals. This course will be taught by professors with more than a decade of experience in the field at FITA Academy, who will help you improve your programming skills with in-depth knowledge that will help you flourish in your job. You can also look for employment in any organisation that requires Python programmers. As the demand for qualified developers increases on a daily basis, so does the number of available career opportunities. This qualification teaches you how to manage projects effectively and efficiently and grants you independence. This training will facilitate the growth of your analytical and problem-solving abilities. You will also be able to improve your critical thinking and business logic comprehension as a byproduct of this training. Finally, it aids you in handling mistakes with grace.
Have Queries? Talk to our Career Counselor for more Guidance on picking the
right Career for you!
Placement Session & Job Opportunities after completing Python Course in Trichy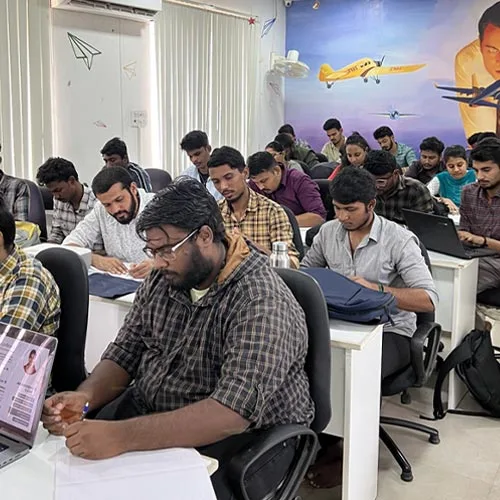 Python is an easy-to-learn and simple-to-use programming language, which is the key benefit of Python training in Trichy. In addition to multiple work opportunities, there are numerous Python Developer Salary for Freshers with benefits. Python developers are responsible for building websites, resolving challenges related to data scientists, developing flexible and efficient code, enhancing data algorithms, and establishing data security and protection.
There are a large number of reputable companies seeking individuals who can manage massive volumes of data. In addition, these companies are seeking Python specialists with knowledge of pandas, scipy, and more Python libraries.  The executive in charge of product development, who guides and assists a company in analysing and understanding the market and arguing why the design and development of a product will be superior to that of other products, is another crucial role inside the organisation.
They are responsible for conducting market research and evaluating the product's qualities and attributes, as well as its market, resulting in substantial revenues for the company. Data is considered the most essential aspect of their everyday work. At these companies, Python-experienced data managers are in high demand. In addition to the aforementioned occupations, machine learning engineer is one of the most in-demand jobs on the market and among the most prestigious organisations. This person is responsible for building and instructing machine programmes and other computer-based systems in order to generate accurate forecasts using their acquired skills and knowledge.
Also Read: Python Interview Questions and Answers
Success Story of Python Course in Trichy
Python Course in Trichy at FITA Academy is an excellent opportunity for beginner like me to master the Python programming language. With in-depth training and hands-on experience with Python projects, it was easier to learn how to code in Python. Thank you very much to my trainer and the FITA Academy.
I took a Python course at FITA Academy in Trichy, where I finished it. I was able to get a good grasp of all the Python tools, which made it easy for me to get my certification. They also helped me get placements, and now I work as a Python developer for a well-known MNC. I am thankful for the placement service I got as it helped me discover my dream career.
After getting trained at FITA Academy, I can say that it is the best place in Trichy to learn Python. I had taken classes at other schools, but I wasn't happy with them. But FITA Academy made it easy for me to understand the subject and find easy ways to use the programming language. My trainer was very nice and didn't mind answering my questions.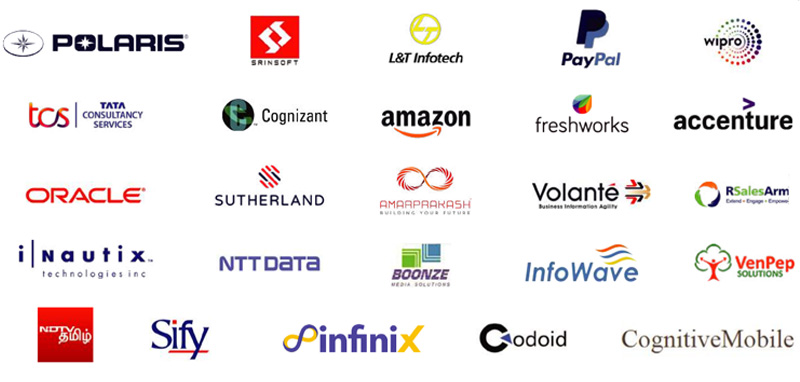 Frequently Asked Question (FAQ) about Python Course in Trichy
Additional Information of Python Course in Trichy
Python Training at FITA Academy in Trichy, India is an ideal place to enrol in a Python course. You will gain knowledge of Python code, scripts, and data libraries including Pandas, NumPy, and Matplotlib. You will examine Python's use in various fields, including Machine Learning, Artificial Intelligence, Networking, and Data Science.
As an interpreted general-purpose programming language, Python is utilised by programmers and graduate students at a high rate. Python, an object-oriented programming language, is compatible with Linux, Windows, and Mac. Python has risen to prominence in the field of Rapid Application Development because of its dynamic binding options and typing capabilities. Python has a grammar that emphasises readability and usability above everything else. Python is not just widely used by Software Engineers, but also by Data Scientists, Accountants, Network Engineers, and Mathematicians. Due to its user-friendly architecture and reduced requirement for programme maintenance and development, Python is preferred over other programming languages.
FITA Academy continues to give Python training in Trichy. Learn the subject under the direction of seasoned professionals. In the near future, you can hone your programming skills in order to become a Software Developer.
Why Take this FITA Academy Python Course in Trichy?
More than 50,000 students and IT professionals receive career development help.

Only five or six students are enrolled in each class, ensuring that each learner receives individualised attention.

We have partnerships with over 1500 businesses. Our Placement team works carefully to assist you in obtaining the IT employment you have always dreamed of!

Due to its innovative sessions and industry-specific knowledge and methods, FITA Academy is a global leader in software training.

Our educators provide high-quality corporate training that will enhance your skills and productivity.

Our highly qualified instructors teach a variety of IT courses in real time in classrooms.

Enroll in the top-rated Python training in Trichy to gain a thorough understanding of each concept.

For interview success, we give real-world case studies.

We provide the most comprehensive learning experience, transforming concepts into novel applications.

Instructors from the most famous IT firms deliver intense, in-depth training with real time projects.
Also Read: Python tutorial
More information on Python Frameworks
Python is a well-known open-source programming language that provides a great level of usage flexibility. When considering how to implement software, you should be aware of the optimal framework. First, could you define a Python framework for us? Frameworks are collections of packages and modules that simplify the development of Web applications. When using Python Frameworks, developers do not have to worry about sockets, protocols, and thread management. When Python Frameworks are utilised, the Developer's work is simplified.
Web Security, URL Routing, Database Section, Request Interpretation, Session Storage, Session Retrieval, Input Validation, and Input Handling are facilitated by Python Frameworks. Using frameworks also facilitates the reusability of code for typical HTTP operations. Additionally, they assist the other developers in structuring the projects optimally. Changes and additions can be made to frameworks, which is one of the strongest grounds for employing them. Frameworks assist developers in setting up their projects in a manner that makes it simple for other framework-savvy developers to maintain and build applications. By incorporating Python frameworks into our projects, we obtain the necessary tools to enhance the functionality.
Python Tips and Techniques for Novices
Have you ever been attracted to programming and worried about how to acquire answers quickly, but refrained from learning more because you believed it was challenging? Programming is straightforward, but you must begin with the correct way.
How to Quickly Learn Code?
Consistency: Consistency is crucial regardless of the talent you desire to utilise; it goes without stating. Make a daily commitment and schedule! By practising this, you will eventually become an expert in the skill and a prolific Python programmer.
Taking Notes: As youngsters, we were instructed that taking notes is the most effective approach for remembering information. I guess the same concept applies to programming as well. In addition, this recommendation should have the desired effect because research indicates that taking notes improves long-term memory recall.
Learn from Bugs: The most important aspect of the Python tips and tricks is recognising that making errors is entirely normal and necessary. As a beginner in coding, you cannot anticipate developing flawless programmes. You must keep your motivation despite these obstacles. Consider them as stepping stones on the route to Python programming mastery. Debugging is one of the most beneficial learning experiences one can have.
Collaboration: It is advantageous to be among other learners when coding. This will aid your education. During this process, you also learn several ideas and techniques that you might have missed had you attempted to study coding on your own.
Regular Breaks: It is essential to allow yourself time to assimilate what you've learned while studying. Without breaks, Python coders who work nonstop will generate nothing. Spend some leisure time engaging in your passion.
Pair Programs: Pair programming is viewed as an additional way for understanding unintelligible material. Here, two developers are completing a task at a single workstation. One assumes the role of "driver" by writing the code, while the other assumes the role of "navigator" by assisting in problem-solving and reviewing the code as it is produced.
Ask Questions: Being truly interested in things demonstrates your eagerness to learn everything. As a beginner, it is not surprising that you have "n" questions regarding Python programming. Therefore, do not hesitate to ask all the questions you desire. Ultimately, programming proficiency is what matters!
Practical Implementation: By performing a multitude of small exercises, you can strengthen your memory and gain confidence using Python for beginners, as indicated previously. After mastering object-oriented programming, building classes, and fundamental data structures, it is time to begin construction (strings, lists, dictionaries, and sets).
What you develop is less important than how you develop it. The actual process of constructing is what will teach you the most. Reading Real Python articles and classes can only teach you so much. Sign up for Python Training in Trichy in order to improve your coding skills. The majority of your education will be achieved through Python object construction. You will learn a great deal from the challenges you overcome.
Contribute to the Open Source
The source code for open-source software is available to the public and collaboration is encouraged. Numerous Python open-source libraries accept external contributions. Additionally, many companies distribute open-source projects. This means that you can utilise code generated and produced by the engineers of these companies.
Contributing to open-source Python projects is an excellent way to generate extremely good learning opportunities. If you choose to report a bug, you will send a "pull request" to incorporate your fix into the code. The project managers will then evaluate your work and provide feedback and suggestions. By doing so, you can practise speaking with other developers and learn Python programming best practises.