Course Highlights and Why Java Course in Trichy at FITA Academy?

Expertly developed Java Course modules to meet the evolving needs of the market.

Curated by Industry Experts, this curriculum provides a thorough understanding of Javascripts and Codes.

We have Expert Java Trainers with over a decade of expertise dealing with different Software Development Platforms.

Extensive Java training to provide you with a variety of strategic techniques

At FITA Academy, we provide instructor-led, interactive Java classes in Trichy.

There are periodic review sessions of previous classes to assist you in retaining your understanding.

Smart Classrooms Using Blended J Java Training in Trichy with FITA Academy

We offer a variety of batch timing options, such as weekend, weekday, and fast track batches.

After successful completion of training, FITA Academy offers placement assistance to all skilled trainees.

We have partnerships with more than 1,500 small to major businesses.

The Active Placement Cell of FITA Academy aids students in getting their desired career.
Upcoming Batches
| | | | |
| --- | --- | --- | --- |
| 09-12-2023 | Weekend | Saturday (Saturday - Sunday) | |
| 11-12-2023 | Weekdays | Monday (Monday - Friday) | |
| 14-12-2023 | Weekdays | Thursday (Monday - Friday) | |
| 16-12-2023 | Weekend | Saturday (Saturday - Sunday) | |

Classroom Training
Get trained by Industry Experts via Classroom Training at any of the FITA Academy branches near you
Why Wait? Jump Start your Career by taking the Java Training in Trichy!
Instructor-Led Live Online Training
Take-up Instructor-led Live Online Training. Get the Recorded Videos of each session.
Travelling is a Constraint? Jump Start your Career by taking the Java Online Course!
Trainer Profile
FITA Academy focuses on blended learning and instructs students in both theoretical and practical Java programming techniques.
Our Java course instructors impart only industry-relevant skills to their trainees.
FITA Academy's Java training instructors are experts in Software Development.
FITA Academy offers hands-on instruction in Java programming languages from industry professionals.
Trainers at FITA Academy provide students with in-depth training on the most recent industry-relevant techniques, ultimately boosting their skills.
At FITA Academy, our Java instructors provide each student with adequate individualised attention and practical experience.
Trainers guide trainees to build a professional CV and boost their confidence through mock interviews.
Learn at FITA Academy & Get Your
Dream IT Job in 60 Days
like these Successful Students!

Features of Java Course in Trichy at FITA Academy
Real-Time Experts as Trainers
At FITA Academy, You will Learn from the Experts from industry who are Passionate in sharing their Knowledge with Learners. Get Personally Mentored by the Experts.
LIVE Project
Get an Opportunity to work in Real-time Projects that will give you a Deep Experience. Showcase your Project Experience & Increase your chance of getting Hired!
Certification
Get Certified by FITA Academy. Also, get Equipped to Clear Global Certifications. 72% FITA Academy Students appear for Global Certifications and 100% of them Clear it.
Affordable Fees
At FITA Academy, Course Fee is not only Affordable, but you have the option to pay it in Installments. Quality Training at an Affordable Price is our Motto.
Flexibility
At FITA Academy, you get Ultimate Flexibility. Classroom or Online Training? Early morning or Late evenings? Weekdays or Weekends? Regular Pace or Fast Track? - Pick whatever suits you the Best.
Placement Support
Tie-up & MOU with more than 1500+ Small & Medium Companies to Support you with Opportunities to Kick-Start & Step-up your Career.
Why Learn Java Course in Trichy at FITA Academy?
Live Capstone Projects
Real time Industry Experts as Trainers
Placement Support till you get your Dream Job offer!
Free Interview Clearing Workshops
Free Resume Preparation & Aptitude Workshops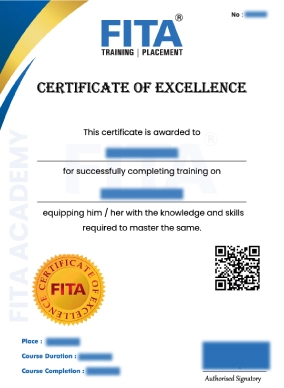 Java Certification Training in Trichy
The Java Course Certification is a professional credential that certifies knowledge of the Java programming language and its applications. After completing the JAVA Course in Trichy and completing a real-world project, this certification certifies that the candidate has the skills essential to work as a Software Developer. By mentioning this credential on your resume, you can emphasize your profile during the interview. This will also facilitate access to several employment opportunities. Under the leadership of our Java training specialists, FITA Academy's Java Certification Course in Trichy emphasizes the necessary skill sets for a skilled Java Developer. Our Java training is of the highest quality and is offered by professionals with eight years of experience in the Software Development platform.
Have Queries? Talk to our Career Counselor for more Guidance on picking the
right Career for you!
Placement Session & Job Opportunities after completing Java Course in Trichy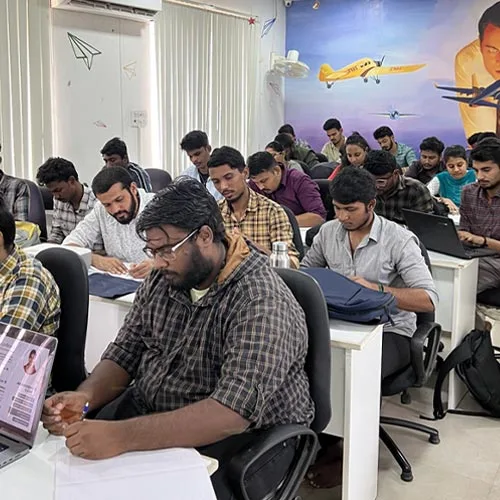 Learning Java is one of the most effective strategies for advancing your career in the Software Development industry. In addition to the preceding statistics, it is considered that Java is the most popular programming language used by developers, according to the TIOBE Popularity Index. In addition, it is stated that Javascript may be used to create over 125 million tvs and over three billion smartphone applications. This language's enormous growth is owing to the fact that it may be utilised in numerous ways and on any platform. Because of these essential qualities, the Java programming language had to expand.
Because of these essential qualities, the Java programming language had to expand. An impartial survey predicts a 19% growth in the number of Java Developers employed in Software Development over the next couple of years. Employers of Java Developers with a positive reputation include Amazon, Netflix, HCL, IBM, Wipro, Accenture, Infosys, Cognizant, TCS, and Capgemini.
Common job titles used by these companies include Java Developer, Java Programmer, Software Developer, Web Developer, Java Architect, Database Administrator, and Application Developer.
If you are new to India, then In a typical year, the greatest Java Developer Salary For Freshers is between 3,50,000 and 4,50,000 rupees. Java specialists with three to five years of expertise earn between Rs. 4,70,000 and Rs. 6,00,000 annually. The salaries of the most senior Java developers range between Rs. 6 LPA and Rs 8 LPA. Globally, a Java Developer earns approximately $102,045 per year. Java Training in Trichy provided by FITA Academy equips students with the specialized skills required to become Java Developers.
Also Read: Java Interview Questions and Answers
Success Story of Java Course in Trichy
The Java Course in Trichy has helped me make a career in this field. The instructors did a great job of explaining the most important ideas and showing how to use them in real life. I would highly recommend this course to anyone in this field who wants to improve their job prospects.
I work as a Java programmer at the moment. I got certified in Java at FITA Academy in Trichy and got a job through the placement cell, which is very helpful. Also, the trainers gave me practice sessions for placement interviews, which helped me a lot.
I finished FITA Academy's Java course. I learned everything quickly and gained the most valuable experience. For me, the practical session helped me learn how to code more. Both the course and the placement are easy for me. Thanks to FITA Academy for giving me the best training.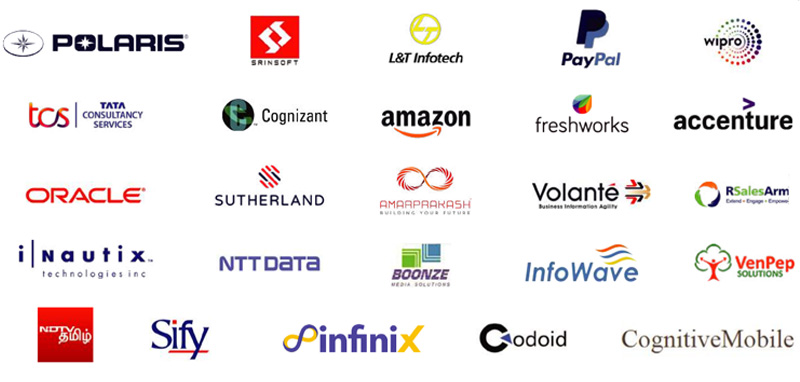 Frequently Asked Question (FAQ) about Java Course in Trichy
Additional Information of Java Course in Trichy
Java is one of the most secure and potent programming languages on the market, and it was created more than two decades ago. Millions of programmes, ranging from large supercomputers to mobile phones, function utilizing Java. Java platform. Java was first released more than two decades ago and is regarded as an evergreen programming language for software development due to its adaptability, security, and robustness. JAVA Training in Trichy provides students with a well-structured curriculum that prepares them to manage complicated software systems. There is a significant demand for Java and J2EE developers to create new apps and manage existing Java applications.
FITA Academy is the top Java training institute in Trichy, catering to the expanding needs of businesses. The Java Course Syllabus is intended to enhance your knowledge of Java programme development, programming, and other necessary tools for creating applications utilising J2EE, J2SE, and J2ME. As part of our course curriculum, we provide intensive instruction in hands-on practice of real-world scenarios, allowing students to get exposure to the industry and the confidence to accomplish any task needs.
Learning outcomes of Java Training In Trichy at FITA Academy
Develop an in-depth understanding of Java programming

To understand sophisticated Multithreading and Java Threading concepts.

To get knowledge of Advanced JDBC and Advanced Java File I/O

Develop the abilities necessary to use the JDK framework to create a Java application.

To comprehend how to use the most often used SQL queries that interface with databases.

Sockets and client-server interactions are explained.

Remote Method Calling (RMI)

Discover how to use the collection to organise and store data.
Eligibility Criteria and Prerequisites to learn Java Course in Trichy 
Eligibility Criteria: This course is available to anyone interested in starting a career in Software Development. However, the Java Course in Trichy offered by FITA Academy is also beneficial for Web Designers, Program Developers, Project Managers, Software Developers, and developers of every other programming language who wish to enhance their knowledge.
Prerequisites: There are no prerequisites necessary to learn the Java programming language. Java Training in Trichy is provided by FITA Academy, which offers in-depth instruction on this programming language under the supervision of certified, real-world specialists.
Also Read: Java Tutorials
Why is Java necessary and what does it do?
Java is a popular programming language used by developers to create apps for Mac, Linux, and Windows, among others. The popularity of these applications can be attributed to their independence from the platform on which they run.

Websites can also integrate Java applications. The bulk of banking applications are Java-based. It is an object-oriented programming language that facilitates application development and permits the creation of code that is reusable.

Java may be used to construct programmes that can either operate on a single machine or be spread across a network of servers and clients.

Java is an easy-to-learn language that has been increasingly popular in recent years. Java is a gateway to work prospects and professional advancement to the highest levels.

Java, which entered the market decades ago, is a popular programming language that is worth knowing because it is used by programmers and experts around the world.

Android applications are written in Java, which is sufficient motivation to master Java even today.
Java's relationship with Oracle
The Oracle Corporation owns Java today. This happened after they purchased Sun Microsystems in the recent past. Oracle is RDBMS software, whereas Java is a programming language and they both cannot be considered for comparison. To access Oracle databases in Java applications, the JDBC API is used.
Oracle is an ORDBMS (Object Relational Database Management System) that works on a multitude of platforms. Different versions of Oracle are capable of running as standalone applications for personal use or in multiple computers for enterprise-level applications.
Oracle is the most popular database system and Java is the most widely used programming language. The Oracle databases can be accessed by a variety of programming languages and Java is one of them. One can write programs in Java to communicate with Oracle databases. Candidates interested to learn Oracle can join Oracle training in Trichy at FITA Academy to excel as a software engineer.
FITA Academy has been regarded as the best Java training institute in Trichy, with thousands of students making successful careers that have taken them to great international success.
How much time would it take to become an expert in Java?
If you are familiar with C/C++ programming, then learning Java is straightforward. You can likely begin writing programmes within a few weeks. If you are unfamiliar with object-oriented programming languages, it will take you between two and six months to build larger Java projects.
Java is a very rich programming language with numerous libraries that may be utilised to enhance the functionality of projects. Programmers require considerable time to learn these Java features.

In the end, the time required to learn a programming language relies on the amount of time spent learning the language and practising problem-solving through writing programmes in that language. If you have a strong desire to master the language, you can begin performing real-world projects within six to eight months.

FITA Academy offers Java Training in Trichy around-the-clock in labs outfitted with the most recent software and hardware to help you learn Java quickly and efficiently.