Course Highlights and Why Learn Full Stack Developer Course in Chennai at FITA Academy?
This courseware was created by industry specialists with equal emphasis on Frontend and Backend technologies.
This course is taught by Full Stack developers with more than a decade of experience in Web Development.
Under the guidance of skilled educators, you will master Web Developer technologies and associated environment.
In Trichy FITA Academy provides in-depth training under the supervision of a knowledgeable instructor.
Periodic refresher sessions are provided to students in order to reinforce their learned skills.
FITA Academy delivers state-of-the-art classrooms with cutting-edge technology for Full-Stack Training in Trichy.
We offer full-stack training and certification at an affordable price.
FITA Academy offers Full Stack Developers training in Trichy on the weekends, during the week and in fast track batches.
Candidates who successfully complete FITA Academy training receive complete placement assistance.
We have tie-ups with over 1,500 companies ranging from small to big MNCs.
The Active Placement Cell at FITA Academy will assist students in locating the best positions for their future professions.
Upcoming Batches
| | | | |
| --- | --- | --- | --- |
| 23-09-2023 | Weekend | Saturday (Saturday - Sunday) | |
| 25-09-2023 | Weekdays | Monday (Monday - Friday) | |
| 28-09-2023 | Weekdays | Thursday (Monday - Friday) | |
| 30-09-2023 | Weekend | Saturday (Saturday - Sunday) | |

Classroom Training
Get trained by Industry Experts via Classroom Training at any of the FITA Academy branches near you
Why Wait? Jump Start your Career by taking the Full Stack Developer Training in Trichy!
Instructor-Led Live Online Training
Take-up Instructor-led Live Online Training. Get the Recorded Videos of each session.
Travelling is a Constraint? Jump Start your Career by taking the Full Stack Developer Course Online!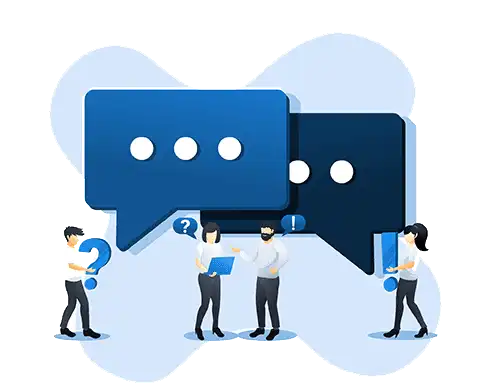 Have Queries? Talk to our Career Counselor
for more Guidance on picking the right Career for you!
Trainer Profile
Professionals from FITA Academy have over a decade of experience as full-stack developers in a variety of well-known organizations.
The trainers are highly qualified and have dealt with a wide range of common real-world projects and case studies.
Our mentors evaluate the trainees' talents, learning capacities, and application of knowledge to ensure that they are job-ready.
Our professionals has educated more than a thousand students, many of whom currently hold executive positions at large corporations.
Our mentors are subject matter experts who are current on the most recent advances in practical application.
Our instructors are responsible for having a technical and conceptual understanding of the most effective Full Stack methods.
Mentors from the Full Stack Developer Course in Trichy have supported a substantial number of students to participate in job interviews and secure employment.
Trainers have supported a lot of students in securing employment and participating in job interviews.
Features
Real-Time Experts as Trainers
At FITA Academy, You will Learn from the Experts from industry who are Passionate in sharing their Knowledge with Learners. Get Personally Mentored by the Experts.
LIVE Project
Get an Opportunity to work in Real-time Projects that will give you a Deep Experience. Showcase your Project Experience & Increase your chance of getting Hired!
Certification
Get Certified by FITA Academy. Also, get Equipped to Clear Global Certifications. 72% FITA Academy Students appear for Global Certifications and 100% of them Clear it.
Affordable Fees
At FITA Academy, Course Fee is not only Affordable, but you have the option to pay it in Installments. Quality Training at an Affordable Price is our Motto.
Flexibility
At FITA Academy, you get Ultimate Flexibility. Classroom or Online Training? Early morning or Late evenings? Weekdays or Weekends? Regular Pace or Fast Track? - Pick whatever suits you the Best.
Placement Support
Tie-up & MOU with more than 1500+ Small & Medium Companies to Support you with Opportunities to Kick-Start & Step-up your Career.
Full Stack Developer Certification Training in Trichy
About Full Stack Developer Certification Training in Trichy at FITA Academy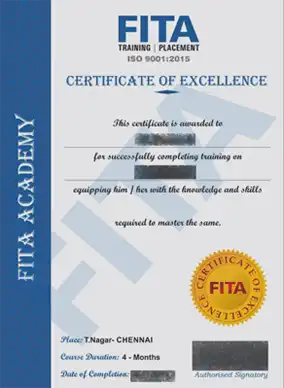 Full Stack Developer Certification Training in Trichy
Our institution provides this certificate to students who successfully complete the Full Stack Developer Training In Trichy at FITA Academy. It will highlight the knowledge and skills acquired during the full-stack development training. Student's acquired expertise and understanding that will be professionally recognised. The importance of FITA Academy's Full-stack Certification in Trichy is shown by its practical experience and in- depth market knowledge. Adding this credential to your previous academic credentials will also increase your employment prospects. By studying this course thoroughly and carefully, students can improve their abilities and skills. This certification will boost your value in the IT industry, and you will be able to exhibit your remarkable abilities in a range of job interviews and assessments.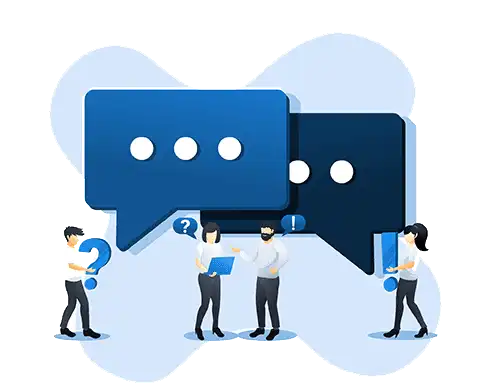 Have Queries? Talk to our Career Counselor
for more Guidance on picking the right Career for you!
Job Opportunities After Completing Full Stack Developer Course in Trichy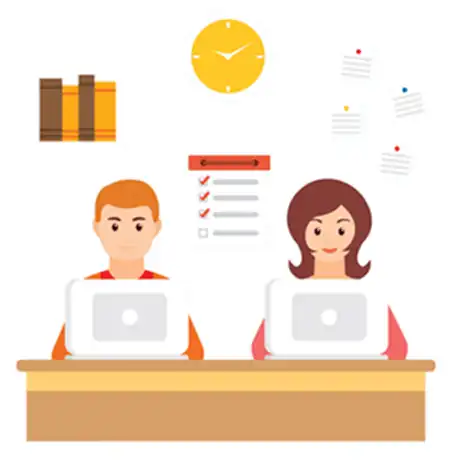 In the software development industry, backend developers, frontend developers, database engineers, testers, and quality assurance specialists are in high demand. They are able to manage numerous facets of the software development life cycle (sdlc) and produce a wide range of frameworks, tools, and libraries. This has created a demand for programmers who can oversee all phases of developing and distributing software programmes.
Rather than focusing on specialised skills, a lot of significant sectors increasingly seek trained full-stack developers. The demand for Fullstack has expanded significantly as a result of their numerous benefits. They can utilise a wide variety of technologies. They are capable of undertaking a wider range of project-related duties than a typical coder. Globally, the entry-level median salary for a full-stack developer is approximately Rs 3 to 5 LPA. For seasoned professionals, the value may reach up to Rs 8 LPA. Due to their exceptional abilities, skills, and talents, companies are willing to offer full-stack engineers substantially.
FITA Academy Full Stack Developer Training Institute In Trichy offers training that prepares students for jobs as full-stack developers, front-end developers, web developers, and web designers. Therefore, acquiring the position of full-stack developer will require a great deal of knowledge. Any organisation anticipates that they can handle all aspects of web design and development.
This full-stack developer training in Trichy will provide students with all of the industry-relevant information and abilities required to compete for the position they want and for the success of the organisations. This would help our students acquire the most competitive Full Stack Developer Salary For Freshers. Utilising the numerous components of their acquired training, our students may become front- or back-end developers or knowledgeable full-stack specialists.
After completing FITA Academy's Full Stack Developer Course in Trichy, you'll be prepared for the following careers.
Full-Stack Developer
Back-End Developer
Front-End Developer
Web Developer
Web Designer
Also Read: Full Stack Developer Interview Questions and Answers
Student Testimonials
I am happy to have the opportunity to speak with FITA Academy about my professional career experience. I was finally able to obtain employment after years of unsuccessful attempts, but after enrolling in Full Stack Training in Trichy. Currently, I am a Full Stack developer in a reputable MNC. I am grateful to the personnel and trainers who motivated me to reach my goals.
After graduating, I just joined the Full Stack Developer Course in Trichy. This has been a learning opportunity. The training has been interesting and uplifting. The majority of the time, my instructor uses real-world examples and encourages us to come up with our own creative solutions. The materials and practical classes have both proven to be really beneficial. I am thankful to FITA Academy's work and commitment.
It gives me great pleasure to tell you about the exciting journey I had when I signed up for classes at FITA Academy. After a few unsuccessful attempts, I was finally able to obtain employment after enrolling in the Full Stack Training in Trichy. I am a Full Stack developer with a respected MNC at present. I am grateful to the team and my trainer who assisted me in achieving my goals.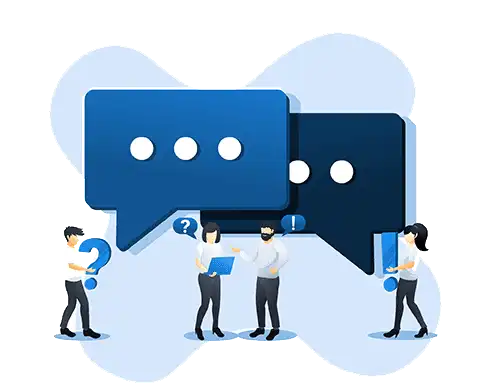 Have Queries? Talk to our Career Counselor
for more Guidance on picking the right Career for you!
Additional Information
Full Stack Development is a skillset that is in high demand across a range of industries. It is responsible for developing websites, server-side connection applications, and databases. In addition, it tests client-requested projects. Professionals can also anticipate robust salaries and career progression. You can produce fresh and alluring projects for your target market by employing Full Stack Development intelligently.
The curriculum is current in order to meet the needs of the entire organisation. Full Stack Development is covered in depth, from practise tests and exercises to workshops and projects that emphasise practical application. This course can assist you in furthering your career in Full Stack Development and other sectors.
The professors in this programme have been experts in their respective fields for many years. For the interview, they will make sure they have both soft skills that are useful and technical skills that are marketable. This programme is available to students with an engineering or computer science background. You have the option of enrolling in the Full Stack Developer Training In Trichy or studying online. We will maximise your potential through our training programmes.
What are the learning outcomes of the Full Stack Developer Training In Trichy provided by FITA Academy?
Comprehend all aspects of the Web Development process.
A thorough understanding of Frontend and Backend programming languages, as well as the newest technologies.
Knowledge of how databases operate, query processing, and database linking.
Extensive familiarity with MongoDB.
It is possible to construct front-end applications with React JS.
Discover how to use Node.js.
Capable of developing real-time apps.
RESTful apps can be fully functioning, well-structured, and tested.
With knowledge of HTML and CSS, it is possible to organise and style web pages.
Understanding the latest technologies and the web developer ecosystem.
Also Read: Full Stack Tutorial
Eligibility criteria and prerequisites for taking the Full Stack Developer Course in Trichy
Eligibility Criteria
This course is open to any recent graduate who desires to become a Full-Stack Developer. Additionally, the Full Stack Course In Trichy is great for Backend and Frontend Designers who want to master their respective technologies and enhance their skills.
Programming experts who work in the IT industry as software developers.
Administrators of databases and networks.
Managers and Project Managers within the IT industry.
Pre-requisites
We offer the most comprehensive Full Stack Developer Course in Trichy with no prerequisites, as it also covers the fundamentals. It is crucial to comprehend the principles of any programming language you use, and comprehension of the Web Application Development Process can accelerate your mastery of the subject matter. Beginning with the fundamentals of web application development, FITA Academy's Full Stack Developer Training In Trichy will help you build your talents. With the assistance of our skilled educators, who are all seasoned developers, you may streamline the process of developing Web applications.
Course Objectives
Learn the basics of Web Development for Full Stack.
Perform the necessary steps to install the necessary hardware and software for self-practice and demonstrate those steps.
Learn to modify the appearance of a website's front-end using HTML and CSS.
Integrating JavaScript will allow you to create interactive and responsive applications.
JQuery is used to learn object-oriented programming.
Develop online apps utilising JavaScript frameworks such NodeJS, ExpressJS, ReactJS, and AngularJS.
Learn to use databases for functions such as Data Modelling, Schema Design, and Indexing.
Execute back-end projects with SQL, Java, PHP, MongoDB, and so on.
Understand how to analyse and test your software or website with TDD.
Learn how to integrate front-end and back-end components to create a complete application stack.
Learn to use the Git Version Control System to document your work and its modifications.
Utilise the acquired skills on real-world projects to enhance your resume.
Full Stack developers are acknowledged as actual domain specialists and generalists. With the ongoing rise in the need for full-stack engineers, it is plausible to assert that their future is quite bright. At FITA Academy, we do our best to incorporate all of the necessary curriculum components for real-world experience in this sector. For these practical implementations, they incorporate recurring assignments, evaluations, and live, hands-on projects. As expected, the Full Stack Developer Training In Trichy encompasses all the most recent trends and best practices for your professional development.
FITA Academy offers the best Full Stack Developer Training In Trichy, with placement assistance from mentors at 100 %. This course's topics are easily grasped and used by students with different levels of prior knowledge. Therefore, anyone with or without technical experience can become proficient Full Stack developers by enrolling in this course.
Components of Full Stack
Frontend Development
HTML, JQuery, and Cascading Style Sheets are only some of the technologies used to create the application's front end (CSS). Front-end developers construct and design the user interface elements of a website or mobile application, such as the icons, menus, sections, links, buttons, and graphics. These platforms are extensively utilised as standard development tools because they enable developers to meet the rising demand for business applications without sacrificing quality. Developers must now consider a wider range of screen sizes and network connectivity when designing user interfaces.
Backend Development
The back end of the programme, also known as the server side, consists of the host, which supplies data upon request, the interface, which guides it, and the database, which organises the data. Back-end developers' primary objective is to develop software that can locate and transfer data to the front end interface. Many of them rely on dependable corporate systems such as MongoDB, Teradata, Microsoft SQL Server, IBM DB2, and EnterpriseDB. There are several well-known databases, such as PostgreSQL, NoSQL, and MySQL. Several platforms and programming languages, including Java, Python, PHP, and C/C++, were used to construct the application. In recent years, backend-as-a-service (BaaS) has become a competitive alternative.
Databases
Databases are an interface provided by an operating system's file system that makes it simple for programmers to create, save, modify, and remove long-term data. Databases are collections of linked data that facilitate the insertion, deletion, and retrieval of data. By utilising tables, views, templates, and analytics, databases are utilised to organise data.
For a comprehensive understanding of all back-end, front-end, and database technologies, enrol in FITA Academy's Full Stack Training in Trichy.
A full-stack developer is an indispensable asset for companies seeking to increase their technological success. Future need for full-stack developers is anticipated to increase due to the rapid evolution of software and technology. Full-stack engineers are in high demand because of their broad skill sets and comprehensive understanding of the software development life cycle.