Course Highlights & Why PMP Training in Ahmedabad at FITA Academy?
PMP Institute in Ahmedabad equips Trainees with the knowledge necessary to enhance their careers as managers through the utilisation of expert-led practical exercises and projects.
Using case studies and problem-based learning, this programme aims to improve the experience of learning and encourage the practical application of newly learned techniques.
The variable batch schedules of FITA Academy include weekend, weekday, and fast track batches.
The application of a blended learning strategy takes the shape of selectively assembled modules as the fundamental learning method.
Trainers have decades of experience in their respective industries.
After completing the FITA Academy Training Program, Trainees receive extensive placement assistance.
FITA Academy has trained over 50,000 students who are currently employed in a wide range of fields since its foundation.
Our PMP Training Institute in Ahmedabad has placement partnerships with over 1,500 companies.
The Active Placement Cell of FITA Academy assists learners in getting their suitable employment.
Upcoming Batches
| | | | |
| --- | --- | --- | --- |
| 05-10-2023 | Weekdays | Thursday (Monday - Friday) | |
| 07-10-2023 | Weekend | Saturday (Saturday - Sunday) | |
| 09-10-2023 | Weekdays | Monday (Monday - Friday) | |
| 14-10-2023 | Weekend | Saturday (Saturday - Sunday) | |

Classroom Training
Get trained by Industry Experts via Classroom Training at any of the FITA Academy branches near you
Why Wait? Jump Start your Career by taking the PMP Training in Ahmedabad!
Instructor-Led Live Online Training
Take-up Instructor-led Live Online Training. Get the Recorded Videos of each session.
Travelling is a Constraint? Jump Start your Career by taking the PMP Online Course!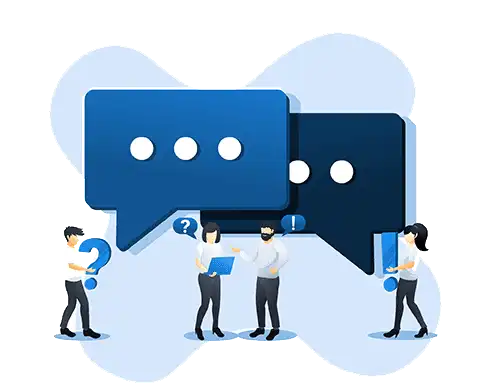 Have Queries? Talk to our Career Counselor
for more Guidance on picking the right Career for you!
Trainer Profile
The PMP training at FITA Academy is both theoretical and practical because it is based on the principles of blended learning.
Our Professional Project Management Trainers have a minimum of ten years expertise in their respective fields.
As current PMP industry professionals, our Trainers have access to a range of real-world projects that will be utilised in training sessions.
Our Trainers are all currently employed by prestigious multinational companies.
By providing placement assistance, trainers assist trainees in securing career with their respective firms.
Our Trainees receive the finest PMP Training from industry specialists with an in-depth understanding of the most recent technologies.
As part of our PMP Certification training programme, our Mentors give comprehensive training, doubt-clearing sessions, and placement aid, including resume critiques and interview preparation.
Features
Real-Time Experts as Trainers
At FITA Academy, You will Learn from the Experts from industry who are Passionate in sharing their Knowledge with Learners. Get Personally Mentored by the Experts.
LIVE Project
Get an Opportunity to work in Real-time Projects that will give you a Deep Experience. Showcase your Project Experience & Increase your chance of getting Hired!
Certification
Get Certified by FITA Academy. Also, get Equipped to Clear Global Certifications. 72% FITA Academy Students appear for Global Certifications and 100% of them Clear it.
Affordable Fees
At FITA Academy, Course Fee is not only Affordable, but you have the option to pay it in Installments. Quality Training at an Affordable Price is our Motto.
Flexibility
At FITA Academy, you get Ultimate Flexibility. Classroom or Online Training? Early morning or Late evenings? Weekdays or Weekends? Regular Pace or Fast Track? - Pick whatever suits you the Best.
Placement Support
Tie-up & MOU with more than 1500+ Small & Medium Companies to Support you with Opportunities to Kick-Start & Step-up your Career.
PMP Certification Course in Ahmedabad
About PMP Certification Course in Ahmedabad
at FITA Academy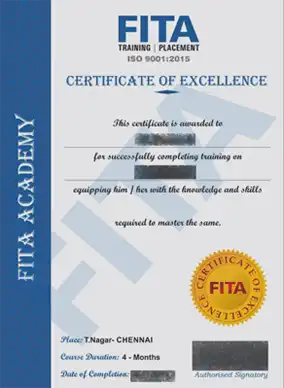 PMP Certification Course in Ahmedabad
FITA Academy provides the most exhaustive PMP Certification Course in Ahmedabad, covering all fundamental principles. In addition, we provide Mock Tests to familiarise you with the testing environment. Individuals who possess the Project Management Professional credential can easily find job with internationally renowned companies. For employment in project management, understanding of business strategy is necessary. Get your PMP certification if you want to stand out in the competitive area of project management.
We're here to assist you from the moment you decide to pursue the Project Management Professional Certification until you've submitted your application. The course is intended to assist you clear the certification on your first attempt by focusing project management through real-world case studies. Obtaining PMP certification in Ahmedabad will result in worldwide recognition. Each individual in the industry is aware that these professionals are skilled in project management and possess all of the relevant abilities to properly complete a project. This course is required for all project managers who wish to grow and fulfil their duties effectively. Every project management expert understands the significance of Project Management Professional Certification.
Advantages of Getting Your PMP Certification in Ahmedabad
There are a number of advantages in obtaining a PMP certification in Ahmedabad. Let's examine each in greater detail:
Earning Potential: In Ahmedabad, project managers with PMI certification can expect a 30% raise over their non-certified counterparts.
Excellent Job Prospects: In today's competitive employment market, it is advantageous to stand out from the throng. A PMP certification can indicate to hiring managers that you have the knowledge and abilities necessary to succeed in a project management career.
More Recognition: The PMP certification is widely recognised as the industry standard in project management. This may be useful when chasing new leads and establishing commercial relationships with other organisations.
Professional Network: If you earn PMP certification, your professional network will broaden to include project managers from throughout the globe. This could be useful for undertaking initiatives or determining direction.
Growth Satisfaction: Earning the Project Management Professional (PMP) credential has been associated with higher likelihood of completing projects on time and within budget, as well as greater job satisfaction and effectiveness for project managers.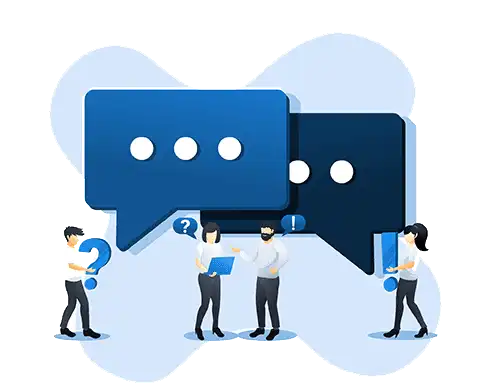 Have Queries? Talk to our Career Counselor
for more Guidance on picking the right Career for you!
Job Opportunities After Completing PMP Training in Ahmedabad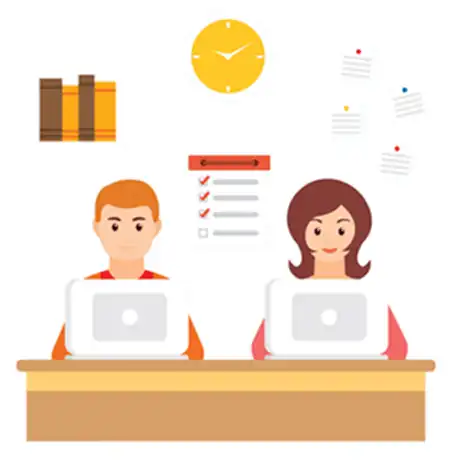 The Project Management Professional (PMP) certification, as you are probably aware, is highly valued in the project management profession. Currently, certification in project management is the most prevalent. For budget-conscious project managers, the anticipated PMP salary increase or return on investment (ROI) is crucial. Currently, more than 2 million professionals are eligible to take the Certification and become PMP-certified. PMP Certification Training in Ahmedabad is a credential gained by industry experts.
In addition, the vast majority of project managers believe that this certification offers an exceptional return on investment. Despite this, just 58% of organisations recognise competent project management's full benefit. This PMP Training in Ahmedabad enhances your project management skills in a variety of ways. As long as there are human-operated firms, project managers will always be in need. Forty percent of IT executives intend to hire project management specialists, according to a recent survey. 
As the project management technique evolves, each organisation charged with overcoming these obstacles must establish and implement project management principles. Moreover, the emergence of new digital industries and marketplaces will substantially boost the number of new businesses. It is projected that these two factors would keep the need for project management specialists high for an extended period of time.
Student Testimonials
The PMP training was very perfect. I got a lot out of my sessions, and his live, hands-on classes helped me a lot. When I missed some few classes, I could also get compensated classe Scheduled. I also got the help I was looking for from a placement, for which I got here. Thank you, FITA Academy, for helping me get certified.
Successfully completed the Project Management Professional (PMP) certification on the first attempt with scores that were higher than the necessary ranges for all areas. Thank you, FITA Academy, for giving me confidence when I wasn't sure if I could reach this stage. I'm glad I did. The material helps me learn more about my subject and do better on practise tests. The training has given me a solid foundation.
It was a one-of-a-kind experience that changed my business idea and helped me understand the whole process. The way my instructor, sir, showed me how to do the PMP was great. Professionals who want to get their PMP certification are strongly encouraged to take training at FITA. The best training was also given here by the instructor. I'm glad I got my PMP certification through FITA Academy.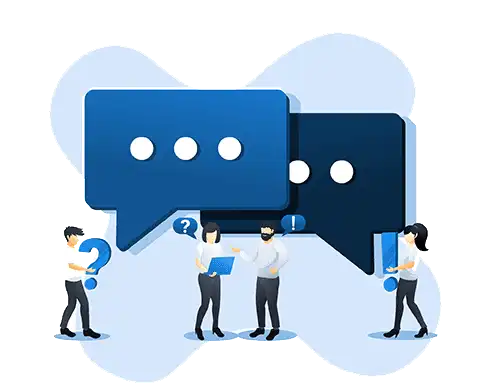 Have Queries? Talk to our Career Counselor
for more Guidance on picking the right Career for you!
Additional Information
A variety of strategies, techniques, and methodologies are employed by project managers to meet the project's objectives. The project manager's top priority is to protect the client's and other stakeholders' interests while completing the project on time and within budget constraints. Aspiring project managers must complete the PMP Certification Course in Ahmedabad in order to get accredited as project management specialists. This is essential since restrictions on project managers continue to increase due to factors such as rising competition, the emergence of innovative ideas, the desire to decrease costs, a limited budget, a tight timeline, and stringent quality requirements.
What Exactly Is a Professional in Project Management?
We are the most reputable PMP Training Institute in Ahmedabad, delivering the globally recognised Project Management Professional (PMP) certification (PMI). Since its start in 1969, PMI has helped millions of professionals. It is a non-profit organisation.
The first version of the Project Management Body of Knowledge (PMBOK), which was published in 1996, comprises the PMI's project management standard.
Preparing for the PMP Certification
The PMP Certification will be beneficial to your career progression. You will be able to accept tasks in highly renowned companies if you obtain this certification. Professional project managers can work in a vast array of industries and environments. A project is a temporary endeavour performed to produce a product, result, or service, according to the Project Management Institute.
A trained project manager has several work opportunities in any industry. To sustain the productivity and efficiency of a project and team, both small and large organisations have a high demand for project managers.
Ensure you have completed the necessary training and professional experience prior to pursuing PMP certification.
Why should you enrol in a PMP Certification Course in Ahmedabad?
When considering how to become a PMP-certified expert, you are certainly interested in the certification's advantages. Here are some of the most compelling reasons to start preparing for PMP certification:
The PMP certification is not restricted to a specific industry or business type. Consequently, skilled people may have the option to work in businesses such as healthcare, government, and information technology, among others.
A Project Management Professional who is credentialed may discover new ways to increase their income potential. According to the Project Management Institute, the average pay of PMP-certified professionals was more than 25 percent greater than that of non-certified persons.
The wide community of project management professionals is the second major reason to obtain PMP certification. Professionals in over 200 countries have consistently obtained and maintained PMP certification. The global PMP community comprises of around one million certified professionals. You could get global recognition in project management by joining a vast global community.
Candidates who have cleared the PMP certification are required to maintain their certification by adhering to certain requirements. Consequently, competent candidates must continue their journey of continuous learning while adapting to changing needs for project management.
The PMP certification indicates your commitment to enhancing your understanding of the multiple project management skills, techniques, and technology.
The majority of the Project Management Professional (PMP) examination is devoted to teamwork and leadership.
The breadth of modern project management approaches focuses mostly on people and helping them to achieve desired objectives as a cohesive unit.
The PMP certification enables professionals to identify the strengths and weaknesses of their team members so that they can integrate them into the project.
What does a PMP professional with PMI certification do?
In project management lifecycles, the PMP-Certified professional is accountable for the following responsibilities:
Development of ideas
Team building and allocation of roles
Organization and coordination of the plan
The leadership of the team
Budgeting and resource management
Managing coordination among team members and stakeholders
How is a PMP professional responsible for the success of a project?
A trained expert in project management has the skills and knowledge to ensure that the project's people, procedures, and business environment are aligned.
The success of a project is significantly impacted by assembling the right people, enabling processes with technical expertise, and managing the business environment in accordance with changing project requirements.
Who is eligible to pursue the PMP Certification
The PMP certification eligibility requirements let you know if you are qualified to take the exam.
PMP certification requirement:
You need a secondary degree and at least five years of professional project management experience that doesn't overlap.
Minimum qualifications include a four-year college education and three or more years of relevant work experience in project management, none of which can overlap.
Bachelor's or Master's degree from a GAC-accredited university and at least two years of non-overlapping professional project management experience.
35 hours of project management education/training or CAPM Certification.
Advantages of FITA Academy's PMP Training in Ahmedabad
This course will help you get an advanced understanding of project management, resource management, risk management, value management, integration, change, control, schedule management, Gantt charts, and other multidisciplinary skills.
Enhances your company management and project management skills.
Enroll in a PMP Course in Ahmedabad, which is recognised as the standard in Project Management across various industries, in order to enhance your work prospects.
Facilitates the application of PMP course principles and best practises to the management of varied project types and levels of complexity by project managers.
Improves your capacity to recognise, analyse, and handle project management issues.
Develops your abilities in project management, leadership, team management, critical thinking, and customer-focused management.
Increases organisational efficiency through enhanced time management skills.
Who Needs Training in Project Management?
This PMP Training Institute in Ahmedabad will train business owners how to manage their teams to the best of their abilities. It will also assist you in developing the skills required for advancement within your organisation. Even basic undertakings are bound to failure if there is insufficient control and management. This course in project management is designed for individuals who wish to become managers. Your understanding of the numerous facets required to effectively manage teams for project implementation will be considerably improved. In addition, this PMP Certification in Ahmedabad will make it easier for students to comprehend and implement real time project management strategies that guarantee greater effectiveness and success.