Course Highlights and Why PMP Training in Hyderabad at FITA Academy?

All the new methods and concepts are emphasised in the most current revision of the PMBOK Guide are covered in depth at our PMP training in Hyderabad.

Through the use of case studies and a problem-based learning approach, training is intended to enhance the learning experience and promote the immediate application of newly gained skills.

The flexible batch schedules at FITA Academy include weekend, weekday, and fast-track batches.

Utilizing a blended learning technique, custom-tailored courses are developed.

The instructors are certified and have decades of expertise in their specialties.

After successfully completing the FITA Academy curriculum, trainees receive comprehensive placement support.

Since its foundation, FITA Academy has trained more than 50,000 students who are now employed by various companies.

Our PMP Training Institute in Hyderabad has worked with more than 1,500 companies to give placement assistance.

The Active Placement Cell of FITA Academy assists trainees in finding their desired employment.
Upcoming Batches
| | | | |
| --- | --- | --- | --- |
| 04-12-2023 | Weekdays | Monday (Monday - Friday) | |
| 07-12-2023 | Weekdays | Thursday (Monday - Friday) | |
| 09-12-2023 | Weekend | Saturday (Saturday - Sunday) | |
| 16-12-2023 | Weekend | Saturday (Saturday - Sunday) | |

Classroom Training
Get trained by Industry Experts via Classroom Training at any of the FITA Academy branches near you
Why Wait? Jump Start your Career by taking the PMP Training in Hyderabad!
Instructor-Led Live Online Training
Take-up Instructor-led Live Online Training. Get the Recorded Videos of each session.
Travelling is a Constraint? Jump Start your Career by taking the PMP Online Course!
Trainer Profile
The PMP curriculum at FITA Academy is both theoretical and hands-on, since the institution adheres to the principles of blended learning.
Our Project Management Professional Trainers have a minimum of ten years of expertise in their respective fields.
Due to the fact that our Trainers are active PMP industry professionals, they have access to a variety of real-world projects that will be utilised throughout training sessions.
Our Trainers are all currently employed by prestigious multinational corporations.
By providing placement assistance, trainers assist applicants in obtaining jobs with their respective firms.
Our students receive the Best PMP Training in Hyderabad from professionals with extensive expertise in the field and the use of pertinent software.
As part of Our PMP Training in Hyderabad, Our Mentors enhance project management abilities by delivering effective training, doubt-clearing sessions, and placement support ranging from resume writing to interview tips.
Learn at FITA Academy & Get Your
Dream IT Job in 60 Days
like these Successful Students!

Features of PMP Training in Hyderabad at FITA Academy
Real-Time Experts as Trainers
At FITA Academy, You will Learn from the Experts from industry who are Passionate in sharing their Knowledge with Learners. Get Personally Mentored by the Experts.
LIVE Project
Get an Opportunity to work in Real-time Projects that will give you a Deep Experience. Showcase your Project Experience & Increase your chance of getting Hired!
Certification
Get Certified by FITA Academy. Also, get Equipped to Clear Global Certifications. 72% FITA Academy Students appear for Global Certifications and 100% of them Clear it.
Affordable Fees
At FITA Academy, Course Fee is not only Affordable, but you have the option to pay it in Installments. Quality Training at an Affordable Price is our Motto.
Flexibility
At FITA Academy, you get Ultimate Flexibility. Classroom or Online Training? Early morning or Late evenings? Weekdays or Weekends? Regular Pace or Fast Track? - Pick whatever suits you the Best.
Placement Support
Tie-up & MOU with more than 1500+ Small & Medium Companies to Support you with Opportunities to Kick-Start & Step-up your Career.
Why Learn PMP Training in Hyderabad at FITA Academy?
Live Capstone Projects
Real time Industry Experts as Trainers
Placement Support till you get your Dream Job offer!
Free Interview Clearing Workshops
Free Resume Preparation & Aptitude Workshops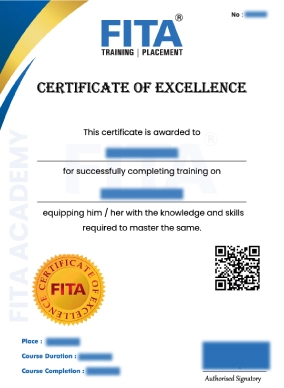 PMP Certification Course in Hyderabad
FITA Academy offers the most complete PMP Certification Training in Hyderabad, covering all fundamental principles. We also offer Mock Tests so that you can get used to the testing environment. After obtaining the Project Management Professional credential, individuals can easily get employment with globally known organisations. Managerial positions in projects necessitate familiarity with business strategy. If you're looking for a job that involves projects, having a PMP certification will help you stand out from the competition.
Preparing for the Project Management Professional Certification is a complex process, and FITA Academy is here to help you through every step of it, from understanding the exam objectives to filling out the application. The training programme is designed to help you succeed on your first try by emphasizing project management through realistic scenarios. Obtaining PMP certification in Hyderabad would result in international recognition. Everyone in the sector will be aware of the fact that these persons are proficient in project management and possess all of the skills necessary to carry out an assignment in an efficient manner. This course is needed for all project managers who wish to flourish and execute their duties effectively. Every expert in project management acknowledges the necessity of a Project Management Professional Certification.
Have Queries? Talk to our Career Counselor for more Guidance on picking the
right Career for you!
Placement Session & Job Opportunities after completing PMP Training in Hyderabad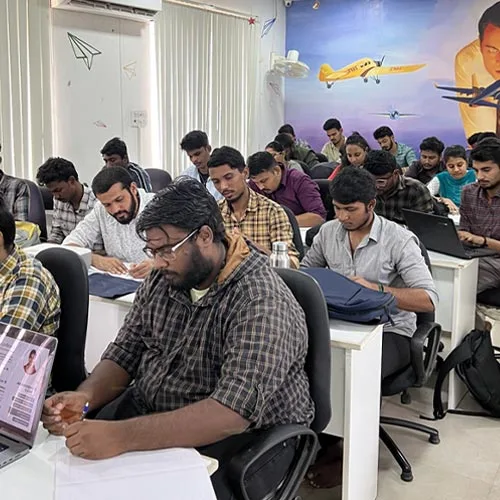 As you may already be aware, the Project Management Professional (PMP) credential is highly regarded within the project management industry. Currently, certification in project management is the most prevalent. For budget-conscious project managers, the anticipated PMP salary increase or return on investment (ROI) is crucial. More than 2 million professionals are already qualified to take the Certification exam and become PMP-certified.
PMP Certification Course in Hyderabad is a credential earned by industry professionals. Moreover, a sizable majority of project managers believe that this certification offers an exceptional return on investment. Nevertheless, just 58% of businesses recognise the full value of effective project management. This PMP course in Hyderabad opens many options for your project management abilities. Project managers will always be in need so long as there are human enterprises. Forty percent of IT executives intend to hire project management specialists, according to a recent survey.
As the project management technique expands, every organisation tasked with overcoming these obstacles must develop and implement project management concepts. In addition, the emergence of new digital markets and industries will dramatically boost the number of new businesses. It is projected that these two factors will maintain the demand for project management expertise for a very long period.
There are many benefits to enrolling in a PMP Course in Hyderabad, including the increasing demand for PMP-certified workers in the global labour market. Many industries require project managers with PMP certification. Enrolling in the leading PMP training programmes is required to achieve this certification and increase one's credentials.
Success Story of PMP Training in Hyderabad
It was an unique experience that transformed my business concept and gave me insight into the overall process. The manner in which my instructor, sir, demonstrated the PMP was wonderful. It is highly recommended that professionals who are interested in getting their PMP certification attend training at FITA Academy.
I completed the PMP Training in Hyderabad provided by FITA Academy. My trainer did an excellent job guiding us through the session. When I wasn't sure if I could pass the test, you gave me confidence that I could. I'm glad I did. The material helps me learn more about my subject and do better on practise tests. It assisted me in grasping the topics. In addition, FITA's certification covered all PMP concepts, which aided me further. Thanks to the FITA Academy team and my trainer for assisting me in obtaining my PMP certification
The PMP training curriculum was really engaging and educational. It has provided me with sufficient knowledge not only for certification preparation but also for career and personal management. Since my trainer is so knowledgeable and skilled at presenting, I'm interested in attending more training by them in the future.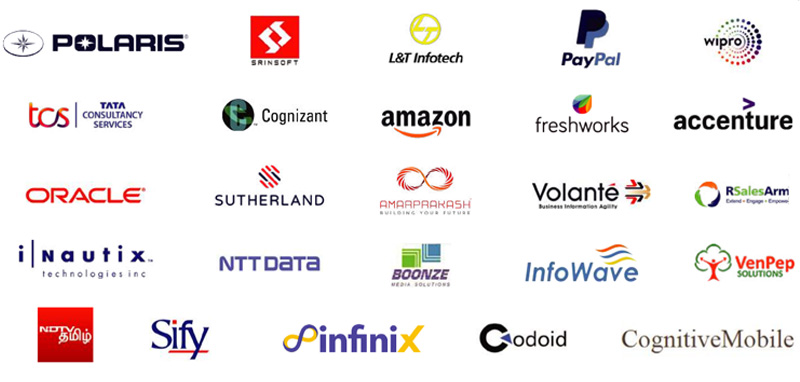 Frequently Asked Question (FAQ) about PMP Training in Hyderabad
Additional Information of PMP Training in Hyderabad
To meet the project's objectives, project managers employ a variety of strategies, tactics, and approaches. The project manager is responsible for completing and delivering the project on schedule and within budget while maintaining the interests of the client and other stakeholders. In order to become accredited as a project management specialist, ambitious project managers must attend the essential PMP Certification Course in Hyderabad. This is essential since the job of a project manager is becoming increasingly difficult due to factors such as increased competition, the introduction of new techniques, cost-cutting pressure, a tight schedule, and stringent quality standards.
Why Should You Participate in PMP Training in Hyderabad?
Achieving the Project Management Professional credential demonstrates your commitment to excellence, your capacity to deliver results that consistently exceed expectations, and your mastery of the skills that are in high demand by today's organisations. This is a substantial advantage.
Obtaining this qualification can be advantageous in several ways. For Project Management Professionals, the average salary increase across the 40 nations studied was 16%. The PMP credential demonstrates that you are a more successful manager. It demonstrates that you can achieve business objectives and expand the office's and organization's global reach.
Due to the rigorous examination necessary to gain it, the Project Management Professional (PMP) Certification is sometimes regarded as the most distinguished accomplishment in the world of project management. According to the most recent data, there are approximately 823,026 active PMP holders worldwide. This number continues to increase year after year.
Due to the strong demand, companies are willing to overpay for qualified project managers. In today's fast-paced corporate environment, Project Management Professional (PMP) certification might provide you a significant advantage over other job candidates. According to PMI data, a certified PMP is eligible for a 20% pay increase. The PMP certification is globally recognised and demonstrates that you have the skills and knowledge to successfully manage projects.
The certification procedure is demanding and takes much effort and experience. However, the investment is worthwhile because PMP certification can lead to intriguing employment options. PMP certification can benefit professionals as well as their employers.
What are the benefits of PMP Certification in Hyderabad?
A PMP certification can greatly raise the projected pay of an employee. Additionally, it might open up more project management career prospects. It will strengthen the ways you already show peers and employers your capacity to oversee project management activities.
Teams with PMP certification perform better for corporations at realising project benefits. It has been demonstrated that they accomplish more goals on schedule and according to plan than managers who are not certified. Eighty percent of successful projects have certified project managers on their team. This is due to the fact that they are crucial in a number of crucial areas, including risk management, value management, project planning, and post-project analysis.
What is the PMBOK Guide?
The PMBOK Guide is an internationally acknowledged standard and reference for project management professionals. In its modern state, this standard comprises the cumulative wisdom and expertise of project managers from throughout the world. It describes the profession's best practices, established standards, and widely accepted processes and has changed over time.
PMP Certification Learning Outcomes in Hyderabad
This PMP certification programme in Hyderabad is organised and begins with an introduction to project management principles. A module is dedicated to starting, planning, executing, and ending process groups for project management. The participant is initially instructed on how to create, validate, and control the project scope and define the project charter. They are then instructed in project procurement, project planning, and project management. In addition, the significance of project cost control and risk management is emphasised.
Scrum methodology and the growth of the project team are given due consideration. The student is finally instructed on how to interact and manage project stakeholders at the best PMP training in Hyderabad. Students will be able to apply the methods and concepts of project management developed by the Project Management Institute (PMI) by the end of the course. Students will be able to start, plan, budget, control, and talk to management about quality, risks, scope, schedules, and cost, as well as finish the project successfully. This course is for people who have experience managing projects on the job and want formal project management training to move up in their careers and get better at managing projects.
Recent Developments in PMP Certification Course in Hyderabad
Transformation is all that project managers can think about these days, what with the constant stream of new tools, methods of delivery, and adjustments to the business's requirements. If you want to be successful in this day and age of digital creative technology and automation, you need to become more of a leader than a manager, and in order to do so, you need the expertise to be able to deliver strategic leadership. This can be accomplished with a PMP certification that recognises your talents to manage hybrid projects and your experience leading them to completion. Project managers are crucial to any business discipline involved in the management and execution of projects.
The project managers will need to develop a foundational understanding of artificial and data intelligence technologies, which will be one of the leading trends in this field. The shifting demand in this industry necessitates the hiring of fresh individuals with both technical and managerial skills in order to adopt customised and hybrid project management strategies. The quickly evolving project environment needs a flexible methodology to support the increasingly diverse project teams, which will consist of full-time, part-time, freelance, and remote workers. There will be a need to interact effectively and efficiently in order to achieve team goals, and this is where a PMP certification is advantageous.
What are the career opportunities for PMP that are now available in Hyderabad?
It is anticipated that within the next five years, Hyderabad will have the second-highest number of job openings in the field of project management and will emerge as the state with the quickest growth rate in the country for jobs that are related to project management.
What tools are used for PMP certification?
There are many open-source solutions such as TaskJuggler, FreedCamp, ProjectLibre, Redmine, Target Process, Teamweek. And OpenProject allows you to monitor the progress of all projects, detect project risks, achieve corporate objectives, and complete projects on schedule.