Course Highlights and Why PMP Certification in Coimbatore at FITA Academy?

PMP Training in Coimbatore highlights project management expertise with an emphasis on agile, hybrid, and predictive methodologies.

Through the implementation of practical exercises and projects, this programme equips students with the skills necessary to improve their careers as managers.

The course's emphasis on case studies and problem-based learning is intended to enrich the learning experience and encourage the direct application of newly acquired knowledge.

The variable batch schedules of FITA Academy include weekend, weekday, and fast track batches.

Blended learning strategies use structured, personalised curriculum as the primary approach.

Trainers are seasoned industry experts with decades of experience.

After completing the FITA Academy Training Program, trainees receive substantial placement support.

Since its founding, FITA Academy has trained over 50,000 students who are now employed in a variety of fields.

Our PMP Training Institute in Coimbatore has placement partnerships with over 1,500 companies.

The Active Placement Cell of FITA Academy assists students in obtaining suitable employment.
Upcoming Batches
09-12-2023
Weekend
Saturday (Saturday - Sunday)
11-12-2023
Weekdays
Monday (Monday - Friday)
14-12-2023
Weekdays
Thursday (Monday - Friday)
16-12-2023
Weekend
Saturday (Saturday - Sunday)

Classroom Training
Get trained by Industry Experts via Classroom Training at any of the FITA Academy branches near you
Why Wait? Jump Start your Career by taking the PMP Training in Coimbatore!
Instructor-Led Live Online Training
Take-up Instructor-led Live Online Training. Get the Recorded Videos of each session.
Travelling is a Constraint? Jump Start your Career by taking the PMP Online Course!
Trainer Profile
The PMP training at FITA Academy is both theoretical and practical due to blended teaching techniques.
Our Professional PMP Trainers have a minimum of ten years of relevant expertise.
Since our Trainers are PMP specialists, they have access to a range of real-world projects that will be utilised throughout the course.
Our Trainers are all now employed by well-known multinational companies.
By providing placement assistance, trainers aid learners in finding jobs with their respective firms.
Our Trainees receive superior PMP training from industry professionals who have an in-depth understanding of current technology.
Mentors provide intensive training, doubt-clearing sessions, and placement support, such as resume writing and interview preparation, as part of our PMP Certification programme.
Learn at FITA Academy & Get Your
Dream IT Job in 60 Days
like these Successful Students!

Features of PMP Certification in Coimbatore at FITA Academy
Real-Time Experts as Trainers
At FITA Academy, You will Learn from the Experts from industry who are Passionate in sharing their Knowledge with Learners. Get Personally Mentored by the Experts.
LIVE Project
Get an Opportunity to work in Real-time Projects that will give you a Deep Experience. Showcase your Project Experience & Increase your chance of getting Hired!
Certification
Get Certified by FITA Academy. Also, get Equipped to Clear Global Certifications. 72% FITA Academy Students appear for Global Certifications and 100% of them Clear it.
Affordable Fees
At FITA Academy, Course Fee is not only Affordable, but you have the option to pay it in Installments. Quality Training at an Affordable Price is our Motto.
Flexibility
At FITA Academy, you get Ultimate Flexibility. Classroom or Online Training? Early morning or Late evenings? Weekdays or Weekends? Regular Pace or Fast Track? - Pick whatever suits you the Best.
Placement Support
Tie-up & MOU with more than 1500+ Small & Medium Companies to Support you with Opportunities to Kick-Start & Step-up your Career.
Why Learn PMP Certification in Coimbatore at FITA Academy?
Live Capstone Projects
Real time Industry Experts as Trainers
Placement Support till you get your Dream Job offer!
Free Interview Clearing Workshops
Free Resume Preparation & Aptitude Workshops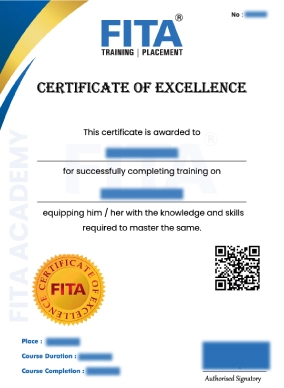 PMP Certification Course in Coimbatore
The Project Management Professional (PMP) Certification in Coimbatore at FITA Academy is widely regarded as the most prestigious credential available in the world of project management. A Project Management Professional (PMP) who has completed PMP Certification Training is proficient in handling project-related activities by employing the most recent techniques and understanding of the field. Individuals who have earned the Project Management Professional credential will find employment opportunities with companies of a very high profile internationally. Project management positions require candidates to have a working knowledge of business strategy. Obtain your PMP certification if you want to be a project management leader.
We are here to assist you from the moment you decide to pursue Project Management Professional Certification until you submit your application. You will be able to clear the certification course on your first try if you take this course, which focuses on project management by using case studies derived from the actual life. Your Coimbatore PMP Certification would be worldwide recognised. Everyone in the industry is aware that PMP-certified personnel possess the abilities essential to manage projects and are highly regarded. If they wish to improve and perform their responsibilities, all project managers must attend this course.
How does getting a PMP certification help you get a great job?
PMP offers additional value to your resume: Recruiters tend to give preference to the profiles having a PMP certification over their non-certified counterparts. If you are a beginner in the field of Project Management, you will add tremendous value to your resume by adding a PMP certification to your collar. As a veteran, you can take your career to the next level with a PMP certification.
Acquire the ability to communicate in a global language: Acquire proficiency in the global standard language of Project Management by equipping yourself with a PMP certification in addition to improving your job prospect. PMP training provides you with a solid and time-tested framework which helps the promotion of effective communication. Adding the proven ability to identify and overcoming the problems within an organisation automatically makes you more preferable to an employer over your non-certified counterpart.
Certified project managers are in high demand at all times: Companies are continually attempting to locate employees with the abilities and knowledge to manage projects in the present environment, where methodologies for project management are constantly evolving. This is precisely why employers want PMP-certified personnel, and why this certification is in such great demand.
PMP certification certifies your experience: The qualifications that need to be met in order for you to be eligible to take the PMP certification are held in high regard by the companies that will be hiring you. Candidates are expected to have obtained a particular degree of education levels and professional experience.
Having a Project Management Professional credential on your CV tells hiring managers that you put in the time and effort to earn this recognition and that you have solid work experience to back up your claims of competence.
Have Queries? Talk to our Career Counselor for more Guidance on picking the
right Career for you!
Placement Session & Job Opportunities after completing PMP Certification in Coimbatore

It's important for project managers to have the Project Management Professional (PMP) certification. Currently, the most common credential is in project management. For project managers who want to save money, the expected PMP compensation or return on investment (ROI) is a big deal. More than 2 million professionals are currently qualified to take the Certification and acquire PMP certification. PMP Certification Training in Coimbatore is a certification gained by experts in the field.
Moreover, the vast majority of project managers believe that this certification offers an exceptional return on investment. Despite this, just 58% of firms recognise project management's full worth. This PMP Training in Coimbatore enhances your project management abilities in numerous ways. As long as there are businesses that are directed by people, there will never be a time when there is an enough supply of work for project managers to do. Forty percent of IT executives aim to hire project management specialists, according to a recent survey. 
Every organisation that is entrusted with the responsibility of addressing these obstacles must define and embrace project management principles as the field of project management continues to grow.  Additionally, the emergence of brand-new digital industries and marketplaces will lead to a dramatic growth in the quantity of new businesses. It is projected that these two factors would keep the need for project management professionals high for an extended period. PMP Certification Training in Coimbatore is well suited for associate project managers,  project coordinators, product managers, project managers, and project team members who are eager to begin a career in project management.
In the coming years, demand for project managers will increase faster than need for people in other occupations. In addition, the gap study reveals that the workforce that is oriented toward project management is anticipated to rise by 33 percent in seven industries that are focused on project Management.
Success Story of PMP Certification in Coimbatore
I have recently received my PMP Certification in Coimbatore. The office is efficient and has helpful people working there. The class went well because the teacher knew a lot about the subject and took the time to explain things well, give extra information, and answer questions. There was one more student who attended my classes, and his involvement helped me learn more by due to the fact that he shared some of the relevant experiences he'd had during the course of our sessions.
When I realised that getting PMP Certification from the Project Management Institute is the best way to prove that I have experience with project management. So I tried to get in touch with FITA Academy PMP training institute. I was given preparation training as well as access to the Reference, both of which proved to be the primary factors in my ability to clear the PMP certification on the very first try and got a score that was higher than average.
This was by far the most beneficial course I've ever taken. I liked finding out everything about PMP. I'm sure that this will help me in the future. I'm grateful to my trainer for keeping me going when I felt like giving up during class. It's exciting to hang out with I literally can not wait to submit my application for the test and then let you know the results. I'm very happy that I chose FITA Academy to help me get my PMP certification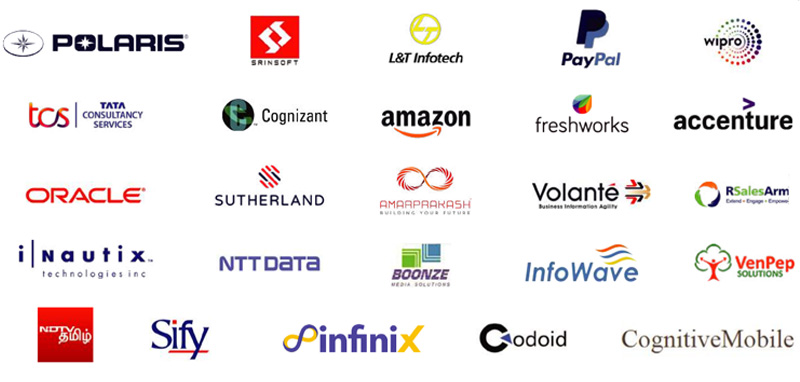 Frequently Asked Question (FAQ) about PMP Certification in Coimbatore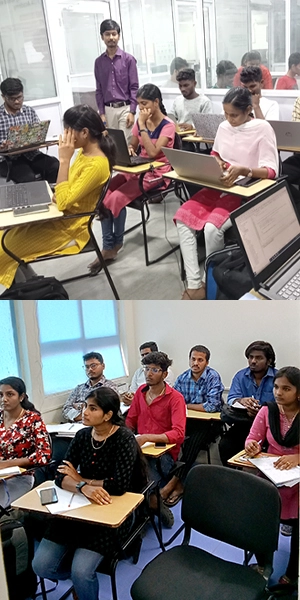 Project managers employ many various tactics, approaches, and methodologies to meet the goals of a project. The project manager's first priority is to safeguard the client's and other stakeholders' interests while ensuring the project is completed on time and within budget. Future project managers must complete the PMP Certification Course in Coimbatore in order to be recognised as project management specialists. This is significant because project managers face a growing number of obstacles, including increased competition, innovative ideas, the desire to save costs, a limited budget, a tight timeline, and stringent quality standards.
Why Get PMP Certification in Coimbatore?
Having the Project Management Professional credential shows that you have the specific talents that businesses are looking for, a dedication to excellence, and the ability to deliver results that meet or exceed expectations. This certification is beneficial because it exhibits certain characteristics. One cannot emphasise the importance of this.
Adding this certificate on your resume can be advantageous in various respects. In 40 different countries, the average compensation for PMPs was found to be 16% more than that of individuals without the certification.
The PMP indicates how well you run your business. It demonstrates your ability to achieve business objectives and expand your organization's impact in the office and globally.
In the field of project management, the Project Management Professional (PMP) Certification is sometimes regarded as the most prestigious because it entails clearing an extremely challenging exam. According to the most recent data, there are approximately 822,022 active PMP holders in the world. This number continues to increase annually.
Due to the scarcity of qualified project managers, organisations are willing to overpay for them. In today's fast-paced corporate world, Project Management Professional (PMP) certification might provide you a significant advantage over other job seekers. According to PMI, a certified PMP is entitled to a 20% salary increase. With certification from the best PMP Training Institute in Coimbatore is globally recognised and demonstrates that you have the knowledge and skills to effectively manage projects.
To obtain certification, you must work effecienlty and have much experience. But the expense is worthwhile because a PMP certification can open doors to exciting employment opportunities. PMP certification is beneficial for both professionals and their businesses.
Guidelines on Becoming a Project Manager
Project managers have a reputation for being inclusive and active leaders. The field of project management is enormous, thus working in it is never boring. Here are a few suggestions for launching a career in Project Management:
Acknowledge your skills: You can prepare the route for your career advancement as a Project Manager by acquiring the necessary skills at the best PMP Training Institute in Coimbatore. To effectively complete a project, you must increase your understanding of project management methodologies, procedures, tools, and frameworks and acquire the necessary soft skills. You must be more than an effective communicator and leader to face the daily obstacles in this career. To manage the complex and unpredictable issues in this sector, you must be decisive, accountable, risk-taking, and an exceptional multitasker.
Get yourself certified: Obtaining a certification in project management provides you with the information necessary in this field, allowing you to explore the different characteristics of career paths as well as enhance the amount of income you make. The PMP certification is regarded as the pinnacle of all project management credentials and is recognised globally across all industries.
Consult with a professional: Get a mentor to guide your career with our PMP Certification in Coimbatore. You need to find a skilled project manager who has patience and time to teach you some tips and tricks to climb the ladder of your project management career. By witnessing a professional at work, you will without a doubt be able to acquire the techniques and procedures of project management by learning them from actual life scenarios. You will also get the ability to participate in real-world projects and receive feedback on your contributions in order to grow professionally.
Prepare for anything: Depending on the project to which you are allocated, you will be responsible for a variety of duties, ranging from preparing project plans and timelines to conducting training and engaging with stakeholders. As a Project Manager, you may find yourself changing from one industry to another. You can, however, specialise in one field to avoid switching fields.