Course Highlights and Why PMP Certification in Trivandrum at FITA Academy?

PMP Training in Trivandrum focuses on agile, mixed, and predictive project management strategies.

Through doing practical exercises and projects, this programme gives Trainees the skills they need to move up in their careers as managers.

Throughout the course, case studies and problem-based learning are emphasised to improve the learning experience and get trainees to use what they've learned effortlessly.

There are weekend, weekday, and fast track batches available at FITA Academy.

Structured, individualised curriculum is the most important part of blended learning strategies.

Trainers are experts in their fields with years of experience.

When participants complete the FITA Academy Training Program, they are given extensive assistance in finding employment.

Since it started, FITA Academy has given training to more than 50,000 people who now work in a wide range of jobs.

Our PMP Training Institute in Trivandrum works with more than 1,500 companies to assist people in finding careers.

The Active Placement Cell at FITA Academy helps trainees find job roles that are right for them.
Upcoming Batches
| | | | |
| --- | --- | --- | --- |
| 09-12-2023 | Weekend | Saturday (Saturday - Sunday) | |
| 11-12-2023 | Weekdays | Monday (Monday - Friday) | |
| 14-12-2023 | Weekdays | Thursday (Monday - Friday) | |
| 16-12-2023 | Weekend | Saturday (Saturday - Sunday) | |

Classroom Training
Get trained by Industry Experts via Classroom Training at any of the FITA Academy branches near you
Why Wait? Jump Start your Career by taking the PMP Training in Trivandrum!
Instructor-Led Live Online Training
Take-up Instructor-led Live Online Training. Get the Recorded Videos of each session.
Travelling is a Constraint? Jump Start your Career by taking the PMP Online Course!
Trainer Profile
The PMP training is both theoretical and practical because of a combination of instructional practices.
Our Professional PMP Trainers have been in the field for at least ten years.
Since our Trainers are PMP experts, they have access to real-world projects that will be used throughout the course.
Now, all of our Trainers work for large, well-known companies around the world.
Trainees are assisted by their instructors in getting work with the companies they are interested in by the offering of placement assistance.
Our trainees get high-quality PMP training from experts in the field who know a lot about innovative techniques.
Our PMP Certification mentors provide intensive training, doubt-clearing sessions, and placement support, including resume writing and interview preparation.
Learn at FITA Academy & Get Your
Dream IT Job in 60 Days
like these Successful Students!

Features of PMP Certification in Trivandrum at FITA Academy
Real-Time Experts as Trainers
At FITA Academy, You will Learn from the Experts from industry who are Passionate in sharing their Knowledge with Learners. Get Personally Mentored by the Experts.
LIVE Project
Get an Opportunity to work in Real-time Projects that will give you a Deep Experience. Showcase your Project Experience & Increase your chance of getting Hired!
Certification
Get Certified by FITA Academy. Also, get Equipped to Clear Global Certifications. 72% FITA Academy Students appear for Global Certifications and 100% of them Clear it.
Affordable Fees
At FITA Academy, Course Fee is not only Affordable, but you have the option to pay it in Installments. Quality Training at an Affordable Price is our Motto.
Flexibility
At FITA Academy, you get Ultimate Flexibility. Classroom or Online Training? Early morning or Late evenings? Weekdays or Weekends? Regular Pace or Fast Track? - Pick whatever suits you the Best.
Placement Support
Tie-up & MOU with more than 1500+ Small & Medium Companies to Support you with Opportunities to Kick-Start & Step-up your Career.
Why Learn PMP Certification in Trivandrum at FITA Academy?
Live Capstone Projects
Real time Industry Experts as Trainers
Placement Support till you get your Dream Job offer!
Free Interview Clearing Workshops
Free Resume Preparation & Aptitude Workshops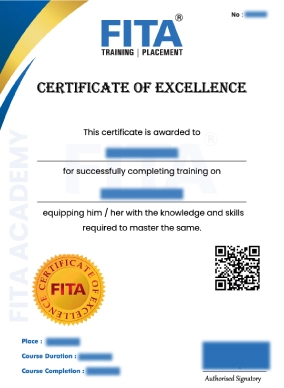 PMP Certification Course in Trivandrum
The Project Management Professional (PMP) Certification in Trivandrum from FITA Academy is widely thought to be the most respected project management credential. A Project Management Professional (PMP) who has successfully completed PMP Certification training knows how to manage project-related tasks using the latest techniques and knowledge of the field. With the Project Management Professional credential, you can get a job at a company with a sterling reputation around the world. Candidates for employment in project management need to know about business strategy. Get your PMP Certification in Trivandrum if you want to become a project manager/ leader.
We will help you get Project Management Professional certification from the time you decide to do so until the time you send in your application. This course is all about project management. To help you clear the certification by using real-time case studies. The PMP certification you get in Trivandrum will be accepted all over the world. Professionals in the field all know that PMP-certified professionals are usually valued and know how to run projects. If a project manager wants to learn and do a better job, they should take this course.
Have Queries? Talk to our Career Counselor for more Guidance on picking the
right Career for you!
Placement Session & Job Opportunities after completing PMP Certification in Trivandrum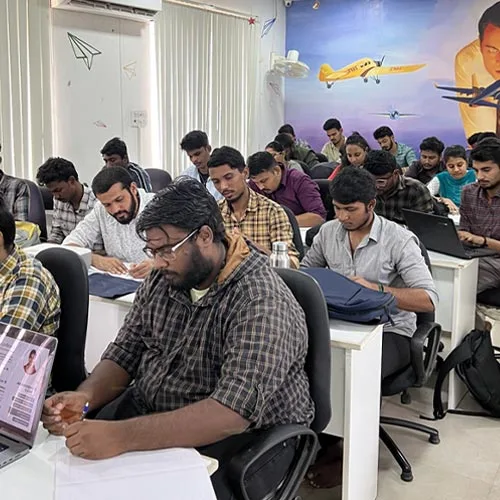 Project managers should obtain the Project Management Professional (PMP) credential. Currently, the most popular qualification is project management. The anticipated PMP compensation or return on investment (ROI) is crucial for project managers who are cost-conscious. Currently, over 1.5 million professionals are qualified to qualify for the PMP exam and earn certification. PMP Certification is a certification attained by industry experts.
Moreover, the vast majority of project managers consider that this accreditation offers an exceptional return on investment. Despite this, just 58% of companies acknowledge the full value of project management. This PMP Training in Trivandrum enhances your project management abilities in numerous ways. Project managers will always be in demand so long as businesses are managed by people. As the area of project management continues to expand, organisations tasked with overcoming these obstacles must identify and implement project management concepts.
Recent research indicates that forty percent of IT executives plan to hire project management specialists. In addition, the introduction of new digital industries and markets will lead to a significant increase in the number of new companies. It is anticipated that these two causes will keep the need for project management specialists strong for an extended period of time. The PMP Certification in Trivandrum is appropriate for aspiring associate project managers, project coordinators, product managers, project managers, and members of the project team.
Success Story of PMP Certification in Trivandrum
I recently enrolled in PMP training Trivandrum. I am very satisfied with the training, and the entire experience. I had a wonderful trainer with many years of experience. His communication skills were excellent and he was able easily explain complex topics. He answered every question with patience, even after long sessions. Thank You FITA Academy, I expect to be certified as a PMP and I will sure give you an update.
FITA Academy Team, I am grateful for my PMP training inTrivandrum. I am certain that the concepts were clear, the manner it was taught and the key points from certification point of view, together with some interesting ideas, insights, and examples into project management principles, which helped me get the PMP Exam cleared Thanks
It was an unforgettable experience that transformed my business and gave me insight to the entire process. It was amazing to see the way my instructor explained PMP. FITA also offers training for professionals like me who want to obtain my PMP certification. FITA Academy was also a great place to learn. I was provided with the best training and I am glad that I chose them to help me get my PMP certification.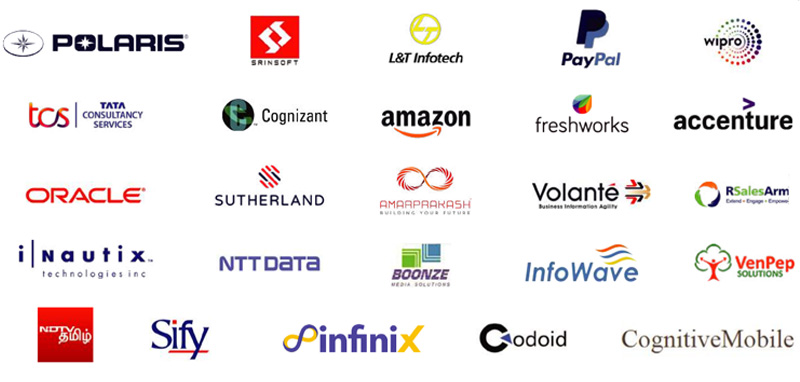 Frequently Asked Question (FAQ) about PMP Certification in Trivandrum
Additional Information of PMP Certification in Trivandrum
Project managers employ numerous tactics, methods, and approaches to attain their objectives. The project manager's first priority is to safeguard the client's and other stakeholders' interests while ensuring the project is completed on time and on budget. To be recognised as specialists in project management, aspiring project managers in Trivandrum must complete the PMP Certification Course. This is essential because the obstacles that project managers must overcome are continually increasing: there is more competition, more creative ideas, more cost-cutting pressure, less time, less money, and higher quality standards.
Why Prepare PMP Certification in Trivandrum?
The Project Management Professional certification proves that you have the specialised abilities required by businesses, a dedication to quality, and the ability to deliver results that meet or exceed expectations. This certification is advantageous since it possesses specific characteristics. It is impossible to emphasise the significance of this.
Inclusion of this accreditation on your resume could be advantageous in various ways. In 40 countries, the average PMP compensation was discovered to be 16% more than that of those without the certification.
The PMP demonstrates how effectively your organisation is managed. It demonstrates your ability to achieve business objectives and expand the office and global influence of your corporation.
In the realm of project management, the Project Management Professional (PMP) Certification is usually regarded as the most prestigious because it entails passing a very rigorous examination. According to recent figures, there are approximately 823,024 current PMP holders in the world. This number continues to increase annually.
Due to the scarcity of qualified project managers, businesses are willing to pay a premium for those that are available. In today's fast-paced corporate climate, Project Management Professional (PMP) certification could provide you with a significant competitive advantage. A PMI-certified PMP is eligible for a 20% salary increase, according to PMI. Certification from the premier PMP Training Institute in Trivandrum demonstrates that you have the knowledge and skills required to effectively manage projects.
To achieve this target, you must have substantial experience and demonstrate your proficiency. The investment is worthwhile, though, because being PMP-certified can open doors to better job opportunities. Both professionals and their respective organisations benefit from PMP Certification in Trivandrum.
Who is a Project Management Professional?
We are the most reputable PMP Training Institute in Trivandrum, delivering the globally recognised Project Management Professional (PMP) certification. The Project Management Institute (PMI) has been around since 1969, and in that time it has spoken to millions of professionals.
The 1996 first edition of the Project Management Body of Knowledge (PMBOK) contains the PMI's standard for project management.
PMP Certification Preparation
The PMP Certification will aid in your career advancement. If you earn this certification, you will be able to obtain employment at prestigious companies. Professional project managers are capable of working in a wide variety of sectors and environments. The Project Management Institute (PMI) defines a project as a temporary endeavour undertaken to deliver a product, result, or service.
Any industry offers numerous work options for a trained project manager. Small and large businesses have a strong demand for project managers in order to maintain the productivity and efficiency of a project and its workforce.
Before seeking to obtain your PMP certification, ensure that you have completed all of the essential courses and have the necessary amount of practical experience.
What are the concepts discussed in this PMP training course?
The PMP course will enlighten you how to plan, organise, execute, and manage projects, irrespective of the size or complexity of the business.
In addition to the value delivery spectrum, which encompasses agile, hybrid, and predictive techniques, PMP training will emphasise the People, Process, and Business Environment domains.
We are the top PMP certification training centre in Trivandrum, and we can help you establish successful careers in the fast-paced IT, manufacturing, finance, and healthcare industries, among others.
Globally, there are over one million PMP-certified professionals, and their average compensation is 25 percent greater than that of their non-certified peers.
In PMP Course in Trivandrum, professional abilities like time management, teamwork, leadership, and the capacity to settle conflicts can be developed.
What exactly is the PMBOK?
The PMBOK Guide is a globally recognised standard and resource for project management professionals. In its current form, this standard represents the accumulated knowledge and experience of project managers from around the globe. It has evolved over time and now describes the best practises, established norms, and commonly acknowledged methods of the profession.
Learning Outcomes of PMP Certification in Trivandrum
This PMP Certification Course in Trivandrum is structured and proceeds with an overview of project management fundamentals. A module is dedicated to initiating, planning, executing, and concluding project management process groups. The participant is initially trained on how to design, validate, and control the project scope as well as define the project charter. They are then trained on project procurement, planning, and management. Moreover, the importance of project cost management and risk management is stressed.
Consideration is given to both the Scrum technique and the expansion of the project team. At the finest PMP Training in Trivandrum, the student is eventually taught how to interact with and manage project stakeholders. By the completion of the course, students will be able to use the methods and principles of project management defined by the Project Management Institute (PMI). Trainees will be able to initiate, plan, budget, control, and communicate with management regarding quality, risks, scope, timelines, and costs, as well as effectively complete the project. This course is designed for those who have experience managing projects on the job and desire formal project management training in order to advance in their professions and improve their project management skills.
Recent Developments in PMP Certification Course in Trivandrum
With the steady influx of new technologies, methods of delivery, and alterations to the business's requirements, project managers can only think about transformation at this time. If you want to be successful in today's era of digital creative technology and automation, you must become more of a leader than a manager, and you must have the knowledge to provide strategic leadership. This can be accomplished with a PMP certification that recognises your abilities to manage hybrid projects and your experience bringing them to a successful conclusion. In any business discipline involving the management and execution of projects, project managers are indispensable.
The project managers will need a fundamental understanding of artificial intelligence and data intelligence technologies, which will be one of the key trends in this industry. In order to apply customised and hybrid project management strategies, the fluctuating demand in this business needs the appointment of new personnel with both technical and managerial skills. The rapidly changing project environment need a flexible methodology to serve the increasingly diverse project teams, composed of full-time, part-time, freelance, and remote workers. In order to reach team objectives, there will be a requirement for good and efficient communication; hence, a PMP certification is advantageous.