Course Highlights and Why Ethical Hacking Course in Delhi at FITA Academy?

The Ethical Hacking Course in Delhi is a certification-specific program to help validate your proficiency with relevant credentials.

FITA Academy training courses come with a flexible schedule for the learners. They can opt for offline classes, live online classes, and recorded classes.

This course provides hands-on lessons and live projects to integrate real-world problems into your syllabus.

The Hacking Institute in Delhi covers topics from scratch. It is appropriate for individuals with negligible or some knowledge of the subject.

The study materials or resources are available for a lifetime after the completion of your enrollment.

The Hacking Institute in Delhi offers regular pace and fast track options for the benefit of students.

Practice assignments and assessments exist after the completion of every topic.

The Ethical Hacking Course in Delhi has a placement support system with a reputable network of 1000+ small and medium enterprises.

Describe the fundamental terminologies of Ethical Hacking.

Configure software requirements like Kali Linux, VMware, etc., into your system.

Perform vulnerability analysis using techniques like footprinting, scanning, and enumeration.

Explore the infrastructure and functions of various hacking tools.

Learn social engineering to exploit victim error for access and information.

Understand system, network, and web hacking using password cracking, and penetration testing, among other methods.

Apply cryptographic algorithms for encryption and decryption procedures.

Understand the working of intrusion detection systems and how to evade them.

Perform a SQL Injection attack and execute countermeasures against it.

Explore the tools used for cross-site scripting, sniffing, and session hijacking.

Learn to execute a Denial of Service (DDoS) attack and prevent it.

Understand the limitations of your Ethical Hacking techniques.

Discuss the prospects and guidelines surrounding a career in Ethical Hacking.
Upcoming Batches
| | | | |
| --- | --- | --- | --- |
| 09-12-2023 | Weekend | Saturday (Saturday - Sunday) | |
| 11-12-2023 | Weekdays | Monday (Monday - Friday) | |
| 14-12-2023 | Weekdays | Thursday (Monday - Friday) | |
| 16-12-2023 | Weekend | Saturday (Saturday - Sunday) | |

Classroom Training
Get trained by Industry Experts via Classroom Training at any of the at FITA Academy branches near you
Why Wait? Jump Start your Career by taking Ethical Hacking Course in Delhi!
Instructor-Led Live Online Training
Take-up Instructor-led Live Online Training. Get the Recorded Videos of each session.
Travelling is a Constraint? Jump Start your Career by taking the Ethical Hacking Online Course!
Trainer Profile
Our Ethical Hacking trainers are certified specialists in the field.
The trainers in the Ethical Hacking Course in Delhi have working experience of 15+ years in this industry.
Mentors in this program have delivered several Ethical Hacking solutions against cyber attacks that became professional successes.
Our trainers integrate the latest tools and technology for current cybercrime standards in the course modules.
FITA Academy mentors adopt hands-on tutorials and live projects for efficient practice of concepts.
Our trainers are responsible for the conceptual and practical development of learners in the top Ethical hacking concepts.
Mentors in the Ethical Hacking Institute in Delhi have trained around 5,500+ students on this topic.
Interested learners can seek out individual guidance for additional information and career benefits surrounding this industry.
Mentors in the Hacking Institute in Delhi have encouraged more than 72% of the learners to attempt global certifications with a success rate of 100% in passing them.
Learn at FITA Academy & Get Your
Dream IT Job in 60 Days
like these Successful Students!

Features of Ethical Hacking Course in Delhi at FITA Academy
Real-Time Experts as Trainers
At FITA Academy, You will Learn from the Experts from industry who are Passionate in sharing their Knowledge with Learners. Get Personally Mentored by the Experts.
LIVE Project
Get an Opportunity to work in Real-time Projects that will give you a Deep Experience. Showcase your Project Experience & Increase your chance of getting Hired!
Certification
Get Certified by FITA Academy. Also, get Equipped to Clear Global Certifications. 72% FITA Academy Students appear for Global Certifications and 100% of them Clear it.
Affordable Fees
At FITA Academy, Course Fee is not only Affordable, but you have the option to pay it in Installments. Quality Training at an Affordable Price is our Motto.
Flexibility
At FITA Academy, you get Ultimate Flexibility. Classroom or Online Training? Early morning or Late evenings? Weekdays or Weekends? Regular Pace or Fast Track? - Pick whatever suits you the Best.
Placement Support
Tie-up & MOU with more than 1500+ Small & Medium Companies to Support you with Opportunities to Kick-Start & Step-up your Career.
Why Learn Ethical Hacking Course in Delhi at FITA Academy?
Live Capstone Projects
Real time Industry Experts as Trainers
Placement Support till you get your Dream Job offer!
Free Interview Clearing Workshops
Free Resume Preparation & Aptitude Workshops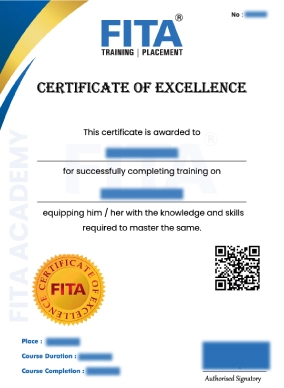 Hacking Certification Institute in Delhi
At the successful completion of the Ethical Hacking Course in Delhi, FITA Academy awards the candidate with a course completion certificate. Most enterprises recognize this certificate as proof of your credibility in this subject. This certificate provides validation for the skills and concepts you acquired in the speculated time of enrollment. It acts as verification for passing all the assignments, assessments, and projects to become a successful Ethical Hacking professional.
The Ethical Hacking Course certificate at FITA Academy is sufficient to authenticate your proficiency in the subject. However, mentors at FITA encourage learners to extend this knowledge by earning global certifications for their resumes.
The most well-known certification on this topic is called the Certified Ethical Hacker (CEH) exam offered by the EC Council.
Some popular queries about these certifications are below:
1.How to enroll for this certification?
The certification tracks are available online to take up in the comfort of your home.
2.What format do they follow for the exam?
This certification exam follows two tracks. The theory paper comes with 4 hours of multiple-choice questions, and the practical one consists of 6 hours of hands-on practical assignments. You can appear for them separately or together. The number of questions varies based on the standard of the paper.
3.What is a passing mark for each exam?
The passing score for this certification is around 65-80% depending on the question setter.
4.Is this certification valid for a lifetime?
This certification expires in three years from the date of issue. However, learners should re-earn it to maintain their credibility in the field.
5.What is the pocket-pinch for earning this certification?
The pocket-pinch for this certification is track and location dependent.
For further details, please consult with your mentor or contact our team from the official page.
Have Queries? Talk to our Career Counselor for more Guidance on picking the
right Career for you!
Placement Session & Job Opportunities after completing Ethical Hacking Course in Delhi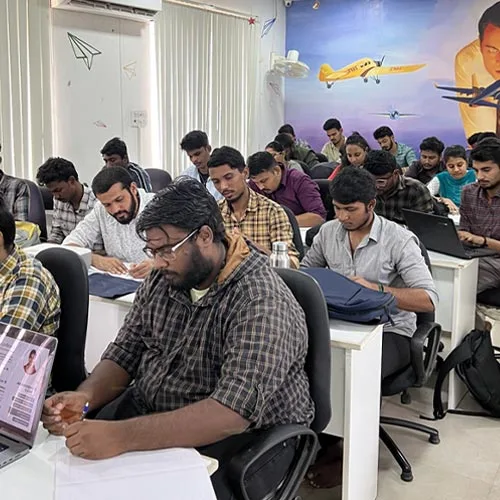 The world has slowly but gradually moved to the digital platform for all their needs. It gives validation to the rising demand for Ethical Hacking or Security professionals for protection from unwanted consequences. This skill is beneficial for the long run and is not going to die down anytime soon. These concepts are invaluable for individuals interested or involved in job roles revolving around Information Security Analysis, Intrusion Analysis, Network Engineering, Penetration Testing, System Engineering, IT Operations, and Technical Support Management. This skill is best suited for Ethical Hacking and Cyber Security enthusiasts, Computer Science undergraduates, and graduates in the starting or middle of their careers. Today, naukri.com lists around 1571 full-time and part-time job options for Ethical Hacking professionals and related careers in India. Some of those job profiles or positions include Application Security Analyst, Penetration Tester, Security Operation Engineer, Ethical Hacking Lead, Certified Ethical Hacker Instructor, Cyber Security Engineer, IT Auditor, Associate Security Consultant, IT Manager, Information Security Architect, and Network Specialist, among others.
Some organizations hiring Ethical Hacking certified professionals actively today are Standard Chartered, Accenture, Quest Global, IBM India, Udaan, etc. According to surveys, the average annual income of a Certified Ethical Hacker is $127K. In India, the same average is around Rs 4.9 lakhs. However, these figures vary exponentially with experience, location, proficiency level, enterprise, and position in the industry you hold. With the Ethical Hacking Course in Delhi, you can rest assured about your career ambitions.
Success Story of Ethical Hacking Course in Delhi
Hacking Course in Delhi is one of the best training regimes I have come across in a while. As a college student, our social media groups keep receiving many links and information about courses and training. I was lucky to find my attention captured by the Ethical Hacking Institute in Delhi. They outdid my expectations with the many projects and practical sessions we had in these months.
FITA Academy comes with several perks for its students. I am happy with them from an academic perspective. I have developed the confidence to install and work on Kali tools, which made me hesitant previously. I wish to validate my proficiency further with the CEH exam. I hope to ace it with good scores too.
FITA Academy sports the best Ethical Hacking Institute in Delhi. I am so glad to find it online while doing some self-preparation for my CEH exam. They made the concepts so easy for me to understand that it was a cakewalk. I am patiently awaiting my results while I write this review. I assure you that this course is worth a shot.
The trainers at the Hacking Institute in Delhi are subject experts, without any doubt. They have impressed me from the first lecture with how they carry themselves. I used to face several concentration issues, but the trainers here never let you go astray. This course has left me satisfied on multiple levels, and I wish to invest in their brand more in the future.

I am a Network Engineer in the IT sector. I was looking for a course to brush up on some of my Ethical Hacking concepts when my acquaintance suggested this institute. I was relieved to know that they provide online training as well due to my tight schedule. Thankfully, the course didn't disappoint. It was just appropriate for the money and time investment. I hope to do better on my career goals post this training.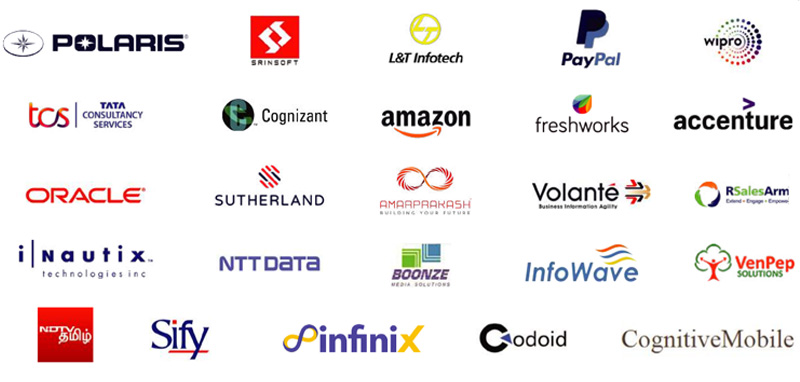 Frequently Asked Question (FAQ) about Ethical Hacking Course in Delhi
Additional Information of Ethical Hacking Course in Delhi
With rapid digitalization, more activities develop online dependency every day. Since our information or data currently reside under digital supervision, it is necessary to be aware of the cyber crimes around us. Hacking is the practice of evading or breaching security mechanisms to access information through unauthorized means. There are three kinds of hackers known today, black hat, grey hat, and white hat hackers. Ethical Hacking falls primarily in the category of white hat hacking and occasionally grey hat hacking as well. Various techniques contribute to the composition of this domain. They are sniffing, vulnerability analysis, system, network, and web hacking, penetration testing, cryptography, social engineering, denial-of-service, session hijacking, and SQL injection, among other topics. Thus, the Ethical Hacking Course in Delhi aims to bridge this gap between the mechanism and curiosity behind this domain. At FITA Academy, we integrate the best Ethical Hacking practices for your practical proficiency in the subject. The Hacking Course in Delhi is also certification-oriented. It provides interview and resume/CV benefits for your career goals. With assignments, assessments, hands-on lessons, and projects, the success rate for passing Certified Ethical Hacker (CEH) exam has been 100% in the past few years. Mentors in this course are certified subject experts with experience of several years in this field. Students from computer science backgrounds can make the best use of this course. You can choose to study at the Ethical Hacking Course in Delhi or through online methods. This training will enhance your existing skills if you invest your confidence in FITA Academy.