Course Highlights and Why Ethical Hacking Course in Coimbatore at FITA Academy?

Learning of Ethical Hacking, the difference between Hacking and Ethical Hacking, the scope of the hacking, and five phases of Hacking.

Understanding Footprinting, its types, tools and countermeasures and Enumeration, its techniques and countermeasures and Network Scanning, its techniques and countermeasures.

Comprehending System Hacking Methodology, Steganography, Steganalysis attacks, and covering tracks.

Acquiring skills in Kali Linux and password hacking for zip files and pdf files.

Getting familiarised with sniffing, Malware threats, Viruses and Worms and DoS, and DDoS.

Acquiring skills in Session Hijacking techniques, Server Attacks, Hacking Web Applications, SQL injection attacks, and Wireless Network Attacks.

Getting proficient in IDS, IPS, Firewalls and Honeypots, Cloud Computing techniques, Cryptography, and Social Engineering.

Knowing how to handle Ethical Hacking tools like N-map and Burp-suit.

Learning the types of Attacks, Attack Techniques, Botnets, DDoS Attack tools, DoS/DDoS Countermeasures.

Insights on Wireless Encryption, Wireless Cracking Methodology, Wireless Cracking Tools and Wireless Security Tools.
Upcoming Batches
09-12-2023
Weekend
Saturday (Saturday - Sunday)
11-12-2023
Weekdays
Monday (Monday - Friday)
14-12-2023
Weekdays
Thursday (Monday - Friday)
16-12-2023
Weekend
Saturday (Saturday - Sunday)

Classroom Training
Get trained by Industry Experts via Classroom Training at any of the FITA Academy branches near you
Why Wait? Jump Start your Career by taking Ethical Hacking Course in Coimbatore!
Instructor-Led Live Online Training
Take-up Instructor-led Live Online Training. Get the Recorded Videos of each session.
Travelling is a Constraint? Jump Start your Career by taking the Ethical Hacking Online Course!
Trainer Profile
The training experts at FITA Academy are industry professionals indicating they are real-time professionals working for more than 10+ years in their respective fields.
The trainers of FITA Academy go through a tough evaluation process of their skills to deliver a quality education to students.
The qualified trainers of FITA Academy have successfully guided many international projects in their corporations or individually been a part of handling successful projects.
The professional trainers provide both theoretical as well as practical sessions on all the concepts for a better understanding of the subject.
Students can utilize the professional expertise of trainers pertaining to their career growth.
The top-notch experts of FITA Academy will also assist students in developing other crucial skills such as Communication Skills, Interpersonal Skills, Leadership skills, Teamwork skills, Learning skills, and Organizational skills to make them adapt to the corporate environment.
The trainers of FITA Academy also provide career-oriented training in all aspects from academic skills, technical skills to professional skills.
Learn at FITA Academy & Get Your
Dream IT Job in 60 Days
like these Successful Students!

Features of Ethical Hacking Course in Coimbatore at FITA Academy
Real-Time Experts as Trainers
At FITA Academy, You will Learn from the Experts from industry who are Passionate in sharing their Knowledge with Learners. Get Personally Mentored by the Experts.
LIVE Project
Get an Opportunity to work in Real-time Projects that will give you a Deep Experience. Showcase your Project Experience & Increase your chance of getting Hired!
Certification
Get Certified by FITA Academy. Also, get Equipped to Clear Global Certifications. 72% FITA Academy Students appear for Global Certifications and 100% of them Clear it.
Affordable Fees
At FITA Academy, Course Fee is not only Affordable, but you have the option to pay it in Installments. Quality Training at an Affordable Price is our Motto.
Flexibility
At FITA Academy, you get Ultimate Flexibility. Classroom or Online Training? Early morning or Late evenings? Weekdays or Weekends? Regular Pace or Fast Track? - Pick whatever suits you the Best.
Placement Support
Tie-up & MOU with more than 1500+ Small & Medium Companies to Support you with Opportunities to Kick-Start & Step-up your Career.
Why Learn Ethical Hacking Course in Coimbatore at FITA Academy?
Live Capstone Projects
Real time Industry Experts as Trainers
Placement Support till you get your Dream Job offer!
Free Interview Clearing Workshops
Free Resume Preparation & Aptitude Workshops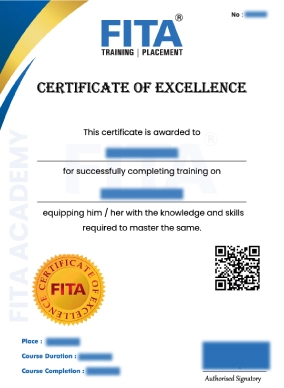 Ethical Hacking Certification Training in Coimbatore
The Ethical Hacking Training in Coimbatore exposes students to all the fundamentals and advanced concepts in ethical hacking. From learning web server hacking, web application hacking, system hacking, wireless network hacking to learning the phases(stages) in hacking, the Hacking Course in Coimbatore makes a candidate a first-hand professional in the field. Apart from the important concepts, the certification course also concentrates on the skills that have to be developed to be a pro ethical hacker. Some mandatory skills our professional experts will be teaching are Computer networking skills, Computer skills, Linux skills, Programming skills, Database skills, etc to fully understand the functioning of the ethical hacking field.
Our Hacking Course in Coimbatore will also help you to prepare for other Ethical hacking certifications including Certified Ethical Hacker (CEH) conducted by EC-council, GIAC penetration tester (GPEN) conducted by SANS Institute, Offensive Security Certified Professional (OSCP) by for-profit offensive security, Certified Information System Security Professional (CISSP) by International Information System Security Certification Consortium which is few among the certifications that helps students to be a professional ethical hacker. The Ethical Hacking Course in Coimbatore by FITA Academy will definitely set you apart from the crowd and help you to get acknowledged for your efforts.
Have Queries? Talk to our Career Counselor for more Guidance on picking the
right Career for you!
Placement Session & Job Opportunities after completing Ethical Hacking Course in Coimbatore

As technology is advancing, giving rise to the latest concepts and themes that are applied everywhere, right from home appliances to computer systems for the welfare of mankind, threat attacks have also been happening to target the systems and digital devices through the same technology. This is where an ethical hacker is highly in demand to bring the cyber crimes to a halt and also to strengthen the security of the devices that do not possess any vulnerabilities to face furthermore attacks. The White hat hacker is a lucrative job as companies are paying high-end salaries as these professionals act as a knight in shining armor by putting forth a strong security defense for their organizations. For the same reason, these white hat professionals are in high demand across a wide range of industries from government agencies to law enforcement agencies, big MNCs to internet companies, and military to defense agencies. Coming to the organizations that are hiring Certified Ethical Hackers are TCS, IBM, Wipro, EY (Ernst and Young), Accenture, Bank of America, Boeing, Citi, Verizon, Deloitte, Lenovo, Walmart, etc.
Let us see some of the other roles a Certified Ethical Hacker can get in the top MNCs, other than as a White hat hacker.
Junior Penetration Tester
Vulnerability Analyst
Information Security Auditor
Information Security Analyst
Chief Information Security Officer(CISO)
Network Security Engineer
Security Auditor
Computer Forensics Investigator
Information Security Officer
Data Security Analyst
Sometimes these certified hackers can work on a freelance basis offering consultation services to organizations, small and medium businesses, etc to heighten their security system from time to time.
Discussing the salaries of the white hat professionals, fresher earns around Rs. 4.8 lakh per annum. The mid-level to senior professionals earn around 30 lakh per year.
The Ethical Hacking Course in Coimbatore follows a proven methodology of imparting the necessary programming as well as hacking skills in students to help them achieve their goals.
Success Story of Ethical Hacking Course in Coimbatore
The Ethical Hacking course in Coimbatore is by far the best hacking course I attended. The trainers taught all the concepts in an understandable way. The practical sessions were also useful in learning the techniques and methods to implement our hacking skills. Comprehensively, it is a good training program conducted by FITA Academy to help freshers learn the course at ease.
I attended the Ethical Hacking Training in Coimbatore at FITA Academy. The guidance they provided was really beneficial. The efforts of the trainers should be appreciated as they showed complete dedication while teaching the concepts. Thanks, FITA Academy for this scholarly training program.
I am a fresher who learned the Ethical Hacking Course in Coimbatore at FITA Academy. The outtake of the program was that it was really educational and productive. The trainers were skilled and competent in teaching the subjects. I really enjoyed the classes. I would suggest freshers join FITA Academy for learning the Ethical Hacking Course.
Joining FITA Academy of learning the Ethical Hacking Classes in Coimbatore has really paid me well. I am now offered the role of Ethical hacker in an MNC. Thanks, FITA Academy for the good guidance and prompt assistance in my career development. I would really recommend freshers to join FITA Academy for learning the Ethical Hacking Course in Coimbatore. They have the best set of trainers who really to the level of industry standards.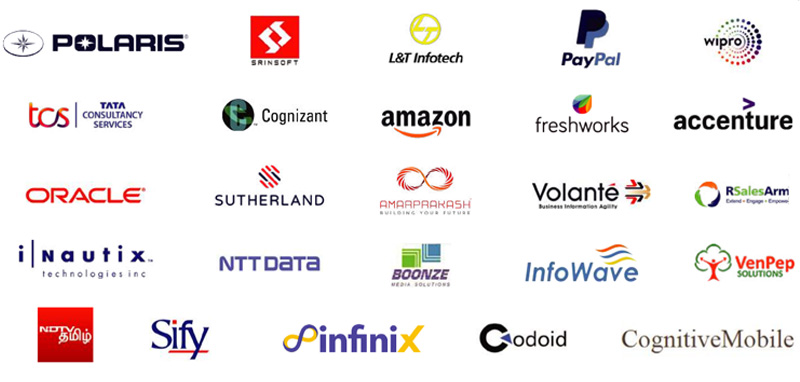 Frequently Asked Question (FAQ) about Ethical Hacking Course in Coimbatore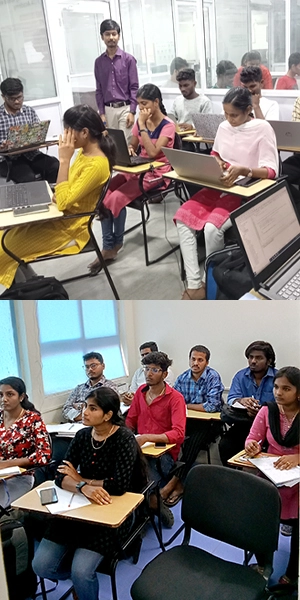 What is Hacking?
As we discussed before, Hacking is breaking into computing platforms to manipulate critical data for personal gains. Some examples of hacking are money laundering, stealing of personal information, accessing important business information, etc.
What is the Need for Ethical Hacking?
Ethical Hacking is an act of Penetration testing of computer systems or networks to find the vulnerabilities in their security system and thus eliminating them by tightening the security. To perform this action, organizations appoint ethical hackers who are otherwise called white hat hackers to protect their data and information from potential black hat hackers.
Need of Ethical Hackers For Corporate World
The need for ethical hackers is so prevalent in and outside the corporate world. Even though the corporate world deals with computing systems, other organizations depend on computer systems to work with critical data and get information from them. So the whole world relies on computers or computing platforms to store and work with important data. So when systems and networks become the only source of accessing large amounts of information, they are much prone to cyber-attacks and malicious acts.
Therefore to safeguard all the information and build a high-end security system for our computers and computer networks, a professional who knows the ins and outs of a security system is needed.
These professionals work mostly technically finding all the weaknesses in an organization's security system and coming up with a good plan to eliminate the loopholes and heighten the security.
Eligibility to Learn Ethical Hacking
There are no Eligibility criteria required to learn the Ethical Hacking Course. All it requires is an interest and passion to crack the codes but for the betterment of an organization or country. But to talk about the skills, there are some indisputable competencies an organization expects from an ethical hacker.
Foremost an ethical hacker should be very much aware of how the IT world functions like working with security, networking, programming languages, etc.
Should be efficient in scripting languages like JavaScript, PHP, Python, and other programming languages like C, C++, and Java.
Proficiency in Operating Systems.
Linux Skills
Networking Knowledge
Computer skills like data processing, managing databases, programming and running calculations in spreadsheets, etc.
Principles of Information Security.
Reverse Engineering
Cryptography skills
Database Skills
Problem -Solving Skills
Join FITA Academy for Ethical Hacking Training in Coimbatore to develop your skills and competencies to deliver exceptional performance in your working medium.
Best Positions for Ethical Hackers across Industries
IT Security Specialist
Penetration tester
Intrusion Analyst
Security Engineer
InfoSec Analyst
IT Auditor
Computer Network Defense Engineer
CND Support Engineer
Site Administrator
Computer Forensic Engineer
IT Consultant
The Hacking Course in Coimbatore designed by FITA Academy is the best course for learning the hacking concepts that are according to industry practices and developments. Also, the Hacking Classes in Coimbatore are instructor-led quality sessions that are majorly delivered for career-oriented training for the better career progress of students.
Soft Skills Required for Ethical Hackers
Like every other corporate employee, Ethical hackers too should possess valuable soft skills to adapt to their working environment to have a progressive working graph. Some of the essential soft skills are,
Communication Skills
Leadership Skills
Teamwork Skills
Interpersonal Skills
Learning/adaptability skills
Self-management skills
Organizational skills
The Ethical Hacking Training in Coimbatore follows a standard methodology of learning to help students gain imperative knowledge over the subject matter.
Key Concepts Of Ethical Hacking
Key Concepts are nothing but the important rules that are followed by Ethical Hackers while legally hacking the systems.
Stay legal: Here an Ethical hacker should obtain legal or authorized permission from the respective owner of a system for assessing system vulnerabilities.
Define the Scope: Determining the scope of the work so that the ethical hacker performs only the job he is assigned so that his work remains legal and within an organization's boundaries.
Report Vulnerabilities: An Ethical hacker should report all the vulnerabilities he has found in the Owner's system and also the remedial measures to further not get exposed to such cyber attacks.
Respect Data Sensitivity: As a gesture of respecting the data sensitivity of an organization, ethical hackers may have to agree to a non-disclosure agreement and also to terms and conditions as required by the organization.
Current Trends in Ethical Hacking
Some of the major trends in cloud computing are,
Cloud Computing: Cloud Computing is the latest technology used by every other organization where it is easy to access the software without having a server. It cut the cost of maintaining more servers, systems, and hardware. So with this technology booming, there are high chances that it will be prone to hacking and thus coming up with a remedial measure such as CloudPassage Halo, which is a defense mechanism for protecting cloud technology, will prevent the hackers from hacking it.
Mobile Platforms and Devices: As there is a big surge in the usage of smartphones, they are also a probable platform for attack from hackers. So the latest modules have been designed for the Certified Ethical Hackers to learn about the mobile security mechanisms and countermeasures to secure mobile infrastructure.
So all in all, Ethical Hacking is a good career option for anyone who has an interest in cracking the codes and playing with the codes to provide a high-end security system for their organizations or countries.
The Ethical Hacking Course in Coimbatore conducted by FITA Academy is one of the intense training programs in Coimbatore to upscale students to their highest capabilities.