Course Highlights and Why UI UX Course in Delhi at FITA Academy?

FITA Academy provides comprehensive education in UI UX design through its fully-rounded and current program.

Digital learning material, created by professionals with deep knowledge of the subject matter, encompassing all relevant aspects like CSS, HTML, Photoshop, and visual design among others.

A combination of theory and practice is used to teach students, enhancing their understanding of the subjects.

Enhanced labs equipped with the latest computer technology enable students to implement and practice whatever they have learned.

To accommodate students' schedules, different batch timings are provided.

Students at the UI UX Design Course in Delhi are given the choice to select online or offline training according to their convenience.

An accelerated learning option is available for those who cannot invest the time required for regular classes.

Towards the end of the course, students are offered placement training.
Upcoming Batches
| | | | |
| --- | --- | --- | --- |
| 09-12-2023 | Weekend | Saturday (Saturday - Sunday) | |
| 11-12-2023 | Weekdays | Monday (Monday - Friday) | |
| 14-12-2023 | Weekdays | Thursday (Monday - Friday) | |
| 16-12-2023 | Weekend | Saturday (Saturday - Sunday) | |

Classroom Training
Get trained by Industry Experts via Classroom Training at any of the FITA Academy branches near you
Why Wait? Jump Start your Career by taking the UI UX Design Course in Delhi!
Instructor-Led Live Online Training
Take-up Instructor-led Live Online Training. Get the Recorded Videos of each session.
Travelling is a Constraint? Jump Start your Career by taking the UI UX Online Course!
UI UX Course in Delhi Trainer Profile
Trainers at FITA Academy are established professionals in the realm of UI UX design and web creation.
Trainers have extensive teaching experience, having mentored numerous students throughout their career.
Trainers regularly revise the concepts to help students keep track of what they have learnt.
The instructors for the UI UX Course In Delhi seasoned UI UX developers, who have spent several years working in esteemed organizations.
Instructors use a fusion of learning techniques to provide students with both theoretical and hands-on knowledge.
Instructors run sessions aimed at resolving any queries or doubts, ensuring students thoroughly understand the concepts.
Instructors assist students in job placements by discussing potential interview questions.
Learn at FITA Academy & Get Your
Dream IT Job in 60 Days
like these Successful Students!

Features of UI UX Course in Delhi at FITA Academy
Real-Time Experts as Trainers
At FITA Academy, You will Learn from the Experts from industry who are Passionate in sharing their Knowledge with Learners. Get Personally Mentored by the Experts.
LIVE Project
Get an Opportunity to work in Real-time Projects that will give you a Deep Experience. Showcase your Project Experience & Increase your chance of getting Hired!
Certification
Get Certified by FITA Academy. Also, get Equipped to Clear Global Certifications. 72% FITA Academy Students appear for Global Certifications and 100% of them Clear it.
Affordable Fees
At FITA Academy, Course Fee is not only Affordable, but you have the option to pay it in Installments. Quality Training at an Affordable Price is our Motto.
Flexibility
At FITA Academy, you get Ultimate Flexibility. Classroom or Online Training? Early morning or Late evenings? Weekdays or Weekends? Regular Pace or Fast Track? - Pick whatever suits you the Best.
Placement Support
Tie-up & MOU with more than 1500+ Small & Medium Companies to Support you with Opportunities to Kick-Start & Step-up your Career.
Why Learn UI UX Course in Delhi at FITA Academy?
Live Capstone Projects
Real time Industry Experts as Trainers
Placement Support till you get your Dream Job offer!
Free Interview Clearing Workshops
Free Resume Preparation & Aptitude Workshops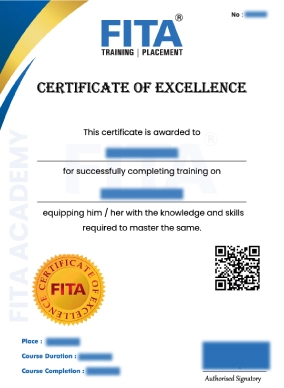 UI UX Certification Course in Delhi
After successfully finishing the UI UX Design Course In Delhi, students are awarded a valuable course completion certificate. This FITA Academy certificate gives candidates a significant edge, since employers highly regard it. The certificate sets itself apart because it is not only recognised widely, but it also signifies extensive practical experience. Having this practical involvement acknowledges the skills you've gained, demonstrating that you are fully capable of excelling in your role as a UI UX Developer.
The certificate from this UI/UX Course Certificate becomes even more you step into the job market. Featuring this certificate in your resume significantly enhances your profile during job interviews, acting as a gateway to numerous career prospects. Having the FITA Academy UI UX certification outlined on your resume makes you stand out during interviews. Employers view it as a credible testimony of your expertise and abilities in the realm of UI UX design.
The digital domain extends far and wide, teeming with opportunities. Enrolling in the UI UX Course in Delhi at FITA Academy paves the way to countless possibilities. This certification acts as a launchpad for a vibrant career in a highly sought-after field.
The skills gained from this course aren't exclusive to any particular industry. UI UX Design has a universal application – bridging the gap between users and technology. Regardless of the industry, every organization requires professionals capable of creating smooth digital experiences.With the FITA Academy certification in your possession, you are free to navigate various sectors and discover your specific area of interest.
Have Queries? Talk to our Career Counselor for more Guidance on picking the
right Career for you!
Placement Session & Job Opportunities after completing UI UX Course in Delhi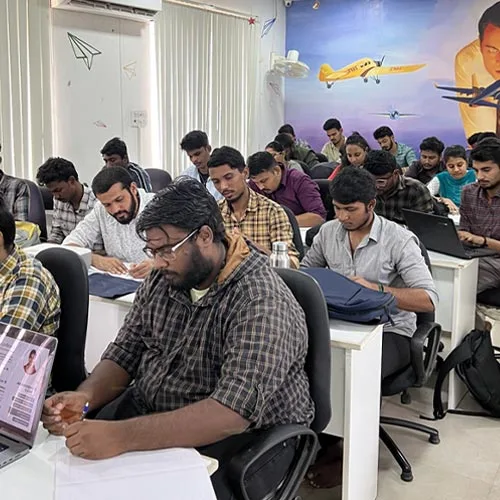 The swift advancement of the internet, technology, and social media has equipped consumers with larger buying capacities and heightened expectations from their engagement with digital goods. In reaction to these transformations, firms are devoted to delivering satisfactory mobile and website user experiences. It is in this very context that UX designers become instrumental.
As companies consistently amplify their digital footprint, the demand for UI/UX designers has significantly risen. In the present scenario, businesses are on the lookout for designers proficient in creating impactful and immersive user experiences, which in turn boost the effectiveness of their digital goods and services.
As per Forrester, an efficient UI can boost conversion rates up to 200%, while a streamlined UX can hike them up to 300-400%. In 2021, LinkedIn identified UI designers among the top 15 most in-demand professions. This tendency is predicted to persist with the growing reliance on digital goods and services for daily tasks and interactions.
Taking into account these aspects, FITA Academy is committed to becoming the Best Institute For UI UX Design In Delhi.Thanks to a committed placement cell, FITA Academy possesses an effective placement training system which is designed to help students during the placement process.
Some of the most sought after job roles in the UI UX domain are as follows
UX Designer
The role of UX designers is crucial for making platforms, services, and tech devices user-friendly and enjoyable. Although the expression "user experience" commonly refers to the design of digital platforms like websites and apps, the core design stages stay the same despite differing execution strategies depending on the company or project. Generally, UX designers serve as vital members of larger product squads, linking users, development groups, and important business stakeholders.
UX designers are flexible experts who prioritize user needs from the beginning of a project. This involves partaking in user studies from the get-go, determining the scope of the project in terms of features and content, devising navigation and information hierarchies, creating wireframes and prototypes, and continuously testing designs to gauge their effectiveness. Even though UX designers can participate in any phase of the design procedure, specialized UX researchers in bigger organizations might take over some responsibilities, meaning a UX designer might not always have overarching control for all design aspects.
FITA Academy's UI UX Institute In Delhi has trained many individuals to become successful UX designers over the years. By imparting the necessary knowledge, practical experience, and job placement training, FITA Academy has helped numerous candidates secure UX design positions.
UI Designer
The main task for a UI designer is developing the graphical user interface for applications, websites or devices to promote fluid interaction between the users and the digital environment. They are responsible for creating and improving interactive elements that facilitate your actions, such as buttons, menus, breadcrumbs, progress bars, and accordions.
It's essential to realize that User Interface Design plays a key role in User Experience (UX) design. Despite having a shared aim of delivering an enjoyable user experience, UI design is a unique sector within this process.
In a nutshell, while UI involves the tools and components used to interact with a product, UX relates to how this interaction feels and is perceived. Balancing these two areas ensures a pleasant and efficient experience for users with a digital platform.
In the UI UX Designer Course in Delhi offered by FITA Academy, we offer thorough placement training to students for different job positions in the field, including UI design. Our alumni network includes numerous UI designers employed at esteemed companies across various locations nationwide.
UX Researcher
UX researchers have a critical role in shaping product design. They methodically delve into the world of target users, gathering and analyzing data to inform the design process. Understanding who the users are and their needs is the first step towards crafting products that truly satisfy.
Using a range of research methods and surveys, UX researchers pinpoint problems and unearth user desires, needs, and expectations. This wealth of insights forms the basis for creating products that cater to customer needs and enhance the user experience. The collaborative effort with UI and UX designers is crucial.
UX researchers act as the bridge between users and designers. They carefully listen to users, collect valuable data, and translate it into actionable insights for the design team.The UX research process follows a structured path. Weak points in the product are identified, and solutions are suggested to improve them. Crucially, these solutions are put to the test with users to gather authentic feedback.
Students enrolled in the UI UX Course In Delhi have bright prospects of landing in various jobs in the field of UI UX. The UX Researcher role is one of the notable roles.
UI/UX Developer
A UI/UX developer is a specific type of software developer whose focus rests primarily on designing user interfaces and experiences, mostly for websites and mobile applications. They interweave elements of graphic design, psychology, and engineering to guarantee that the final product is not only attractive but also seamless and user-friendly.
They are delegated with the task of converting designs into fully functional interfaces. This involves the integration of design aesthetics and technological application. In doing so, they work conjointly with UI and UX designers to effectively bring to life the visual and experiential facets.
Although not as financially rewarding as designer positions, UI developer salaries still stand well within industry standards. UI/UX Developer Salary For Freshers stands at around 1.5 LPA on average, though it can differ based on many factors, including location, the organization etc.
Success Story of UI UX Course in Delhi
I'm truly thankful for joining the UI/UX course at FITA Academy. With experienced instructors simplifying complicated concepts, this course has provided me with practical skills and expertise needed for landing a job. I highly endorse it!
Selecting FITA Academy for the UI UX Design Course proved to be a wise choice. The strategically planned course and their hands-on teaching methodology greatly developed my skills. The job placement training was effective too. Kudos to FITA Academy.
The UI/UX course at FITA Academy has indeed been a turning point in my career. The practical projects and user-centric teachings refined my design skills. I've gained priceless knowledge and am proud to be a UI/UX designer.
FITA Academy's UI/UX course is impressive. It covers all necessary subjects, and the trainers are very helpful. A great sense of collaboration exists among students, and that has made me more confident for job interviews.
The UI UX Design Course at FITA Academy was exceptional. Gaining industry insights from the instructors was fantastic. Their encouragement to tap into our creativity was great and the job hunt guidance was very beneficial.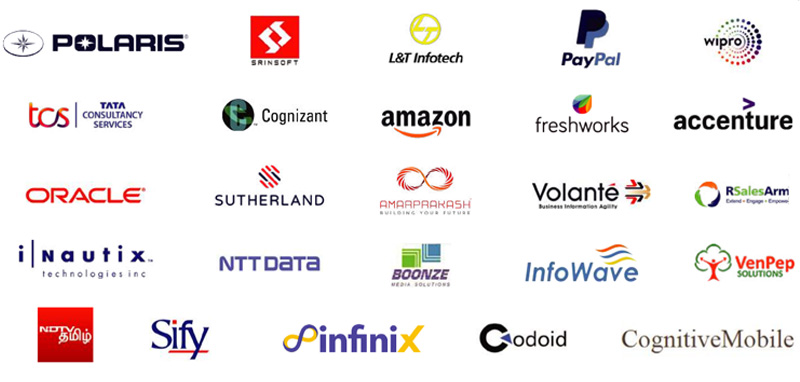 Frequently Asked Question (FAQ) about UI UX Course in Delhi
Additional Information of UI UX Course in Delhi
In the modern market, businesses need to transition from a product-centered approach to being focused on customers. It's crucial for them to employ data and principles of UI/UX design for understanding consumer liking instead of merely making presumptions about user needs.
There is a growing demand in companies for UX designers, in conjunction with graphic designers and creative directors.
Job seekers with UI/UX design skills listed on their resumes find themselves in a competitive position across various sectors. Designers working in the user experience and user interface domains use design thinking methods to connect with users, understand their problems and craft innovative, testable solutions through prototyping. They conduct user research within the framework of UI/UX design, building wireframes, prototypes, and mockups, and also organize user testing sessions to evaluate user interaction with the design result.
FITA Academy's UI UX Design Course In Delhi based offers a comprehensive course in UI UX design suitable for both novices venturing into UI UX design and seasoned professionals looking to enhance their skills.
UX
User Experience, or UX, addresses the sentiments of users and the fulfillment of their requirements when they interact with software, devices, or any designed product. Essentially, it evaluates if users can use a product effectively as originally proposed by the maker.
UX deeply explores the wants, preferences, capabilities, and constraints of the users. It also takes into consideration the project management team's business aims. The quintessence of UX best practices is to enhance the quality of user's engagement with the product and their overall perception, including affiliated services.
User Experience (UX) design is the organized methodology employed by design groups to mold products that provide users with significant and relevant experiences. This design method covers the complete journey of acquiring and integrating a product, and includes elements like brand promotion, design, usability, and utility.
UI
The User Interface (UI) serves as the critical link between humans and computers, incorporating all the elements with which users engage. This includes elements such as screens, sound components, overall visual appeal, and reactivity, all of which require careful attention in UI.
Designing a User Interface (UI) involves the techniques used by designers to create interfaces within software or computerized devices, with a primary focus on looks and style. The main aim is to create interfaces that users see as intuitive and straightforward to use.
Put simply, a User Interface (UI) consists of a variety of pages, screens, buttons, forms, and other visual elements that aid user interaction with a device. In essence, every application and website possesses an interface for users. Designing a User Interface (UI) entails graphics creation, illustration, photographic artworks, and typography to improve digital product layout and presentation across different device perspectives.
Elements of the interface include input controls such as buttons and data fields, as well as navigational elements, establishing UI as a key aspect of human-computer interaction.
The UI UX Course in Delhi provided by FITA Academy dedicates a significant portion of its curriculum to the fundamentals of UI and UX, thereby allowing students to start learning from the ground up.
Graphic Design
Graphic design is the process of arrangement of visual elements, and its applications are vast. Whether it's crafting the layout of a magazine, designing a theater poster, or creating product packaging, graphic design is at play.
Graphic Design employs techniques like visual hierarchy and page layout to meet specific user needs and enhance the user experience. The ultimate goal is effective communication.
A prime example of graphic design's power is seen in data analytics. Using colors and visuals, a designer can make complex data easier to understand. They can quickly highlight trends, helping viewers grasp what's working and what needs adjustment. Graphic design is all about making information more accessible and engaging.
To know more about Graphic Design and its concepts, join the UI UX Design Course In Delhi, offered by FITA Academy.
Design Thinking
Design thinking is a dynamic, non-linear approach that problem-solving teams employ to understand users, challenge assumptions, and create innovative solutions. This iterative process, comprising five key phases—Empathize, Define, Ideate, Prototype, and Test—is especially effective for tackling complex, poorly defined problems.
Empathy stands as the foundation of design thinking. It's the vital first step, fostering a deep understanding of the individuals affected by the problem. Through observation and research, this process ensures that the user remains at the forefront of the final solution.
Design Thinking empowers teams to unearth groundbreaking solutions by tapping into hard-to-reach insights and leveraging hands-on techniques.FITA Academy covers Design Thinking as a major part of the curriculum of the UI UX Design Course In Delhi.
HTML
HyperText Markup Language, or HTML, serves as the essential infrastructure for formulating documents designed for web browser portrayal. It is mostly known as the conventional markup framework utilized to stipulate the design and importance of web content. HTML typically works alongside supplementary technologies like Cascading Style Sheets (CSS) and scripting dialects such as JavaScript to boost its potential.
Within the broader web cosmos, HTML documents are distributed to web browsers by web servers or local storage databases. Subsequently, these browsers transform these documents into multimedia web pages. HTML has a dual function: it not only prescribes the structural components of a web page but also offers initial stylistic hints.
FITA Academy teaches HTML as part of the UI UX Design Course In Delhi. To learn more about HTML, join FITA Academy.
CSS
Cascading Style Sheets, or CSS in short, is a crucial component in the web development sector. It serves as a style sheet language that works closely with HTML and JavaScript, and it outlines how documents penned in markup languages like HTML or XML are to be displayed on the internet.
It enables developers to simplify the creation of pleasing web pages by introducing styles to various elements. One of the most significant aspects of CSS is its capacity to distinguish between design and structure. This allows for changes in the aesthetics of a web page without disrupting the base HTML code.
With the help of CSS, you can manipulate aspects like fonts, colors, layouts, and spacing, offering a consistent and professional look throughout a website. It's the ultimate answer for designing appealing, organized web pages that draw user attention and ensure the best browsing experience. FITA Academy teaches CSS as part of the UI UX Design Course in Delhi. To learn more about CSS, join FITA Academy.