Course Highlights and Why Salesforce Training in Delhi at FITA Academy?

The Salesforce Training in Delhi at FITA Academy is a meticulously tailored program with the intent to make students proficient with Salesforce and other related fields.

This training program provides a detailed understanding of the environment of Salesforce and customer relationship management.

Learning about the working of major cloud types of Salesforce as well as its editions, rules, features, objects, and field types.

The Salesforce Training Program has been created keeping in mind the global industry standards of the present world.

Master the art to customize various features of an application such as page layouts, fields, page tabs, and business processes.

Study and learn under the guidance of expert professionals as your Salesforce trainers help you to get a thorough understanding of Salesforce and its environment.

Our mentors guide you through the processes of installation, configuration, and administration of the Salesforce platform.

Data cleaning as well as importing data using different methods is also covered in the syllabus.

Work on real-time projects to get hands-on training in creating dashboards, automating workflow set up, and generating high-value reports.

The Salesforce Course in Delhi at FITA Academy furnishes you with the required skills and preparation to help you appear for the global Salesforce exams like the Salesforce Administrator exam.
Upcoming Batches
| | | | |
| --- | --- | --- | --- |
| 09-12-2023 | Weekend | Saturday (Saturday - Sunday) | |
| 11-12-2023 | Weekdays | Monday (Monday - Friday) | |
| 14-12-2023 | Weekdays | Thursday (Monday - Friday) | |
| 16-12-2023 | Weekend | Saturday (Saturday - Sunday) | |

Classroom Training
Get trained by Industry Experts via Classroom Training at any of the at FITA Academy branches near you
Why Wait? Jump Start your Career by taking Salesforce Training in Delhi!
Instructor-Led Live Online Training
Take-up Instructor-led Live Online Training. Get the Recorded Videos of each session.
Travelling is a Constraint? Jump Start your Career by taking the Salesforce Online Course!
Trainer Profile
The trainers for Salesforce Training in Delhi at FITA Academy are selected only after a thorough evaluation.
The Salesforce Trainers have a minimum of 10+ years of expertise in the Salesforce and have worked on various real-time, complex Salesforce projects.
The instructors of the Salesforce program at FITA Academy have proficient salesforce skills and aim to furnish the students with the same level of proficiency.
The Salesforce mentors aim to uplift the career prospects for the students by continuously training and motivating the students.
The mentors for the Salesforce Course in Delhi at FITA Academy encourage the students to appear for various global Salesforce certification exams like the Platform App Builder Exam and the Salesforce Administrator Exam.
The trainers in Salesforce Training Institute in Delhi at FITA Academy have trained over 25+ batches and always strive to give equal and personal mentorship and career guidance to the students.
The Salesforce Instructors at FITA Academy support the students with numerous handy interview tips and valuable insights to help them prepare various interview processes.
Learn at FITA Academy & Get Your
Dream IT Job in 60 Days
like these Successful Students!

Features of Salesforce Training in Delhi at FITA Academy
Real-Time Experts as Trainers
At FITA Academy, You will Learn from the Experts from industry who are Passionate in sharing their Knowledge with Learners. Get Personally Mentored by the Experts.
LIVE Project
Get an Opportunity to work in Real-time Projects that will give you a Deep Experience. Showcase your Project Experience & Increase your chance of getting Hired!
Certification
Get Certified by FITA Academy. Also, get Equipped to Clear Global Certifications. 72% FITA Academy Students appear for Global Certifications and 100% of them Clear it.
Affordable Fees
At FITA Academy, Course Fee is not only Affordable, but you have the option to pay it in Installments. Quality Training at an Affordable Price is our Motto.
Flexibility
At FITA Academy, you get Ultimate Flexibility. Classroom or Online Training? Early morning or Late evenings? Weekdays or Weekends? Regular Pace or Fast Track? - Pick whatever suits you the Best.
Placement Support
Tie-up & MOU with more than 1500+ Small & Medium Companies to Support you with Opportunities to Kick-Start & Step-up your Career.
Why Learn Salesforce Training in Delhi at FITA Academy?
Live Capstone Projects
Real time Industry Experts as Trainers
Placement Support till you get your Dream Job offer!
Free Interview Clearing Workshops
Free Resume Preparation & Aptitude Workshops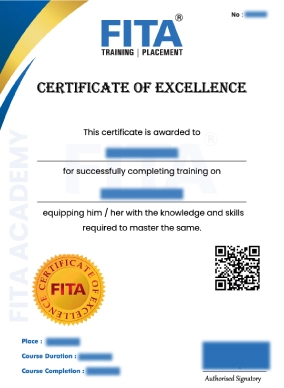 Salesforce Certification Course in Delhi
Upon the successful completion of the Salesforce Training at FITA Academy, the students will be rewarded with a certificate that will state that the respective student is now equipped with a broader understanding of the Salesforce software and its applications. The Salesforce Training Certificate is proof of the successful completion of the full training program on Salesforce at FITA Academy. The certificate is used to demonstrate the skills which a student has obtained throughout the training program. The Salesforce certificate will accredit your profile and illustrate your knowledge to your potential employer or hiring organization. Apart from the Salesforce Training certificate at FITA Academy, a candidate can also take up several other global Salesforce certifications that would help expand your job opportunities. Given below are some of the global Salesforce certifications:
Salesforce Certified Advanced Administrator
Salesforce Certified Platform Developer
Salesforce Service Cloud Consultant Certification
Salesforce Platform App Builder
Salesforce Certified Commerce Cloud Digital Developer
Earning any of the above-mentioned global Salesforce certificates will upskill your Salesforce knowledge and would immensely broaden the career opportunities and job prospects.
Have Queries? Talk to our Career Counselor for more Guidance on picking the
right Career for you!
Placement Session & Job Opportunities after completing Salesforce Training in Delhi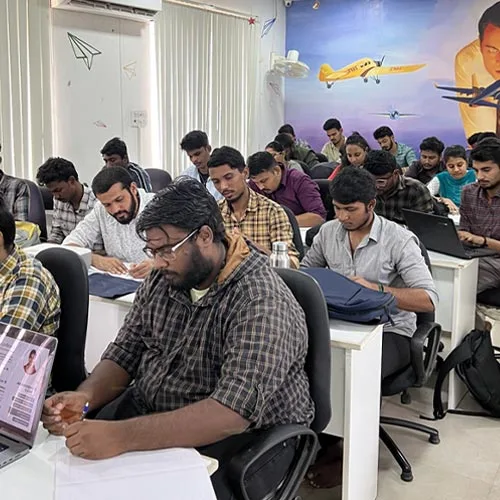 Considering the primary goal of any organization of keeping the customer needs and satisfaction as the topmost priority, CRM has utter importance. In today's world, businesses have a new notion of customer maintenance, instead of customer acquisition. This has led to the increasing emphasis on the CRM tool in order to provide a better service to the customer. Since the customers are the backbone of a business, it is necessary to keep a check on their needs to sustain themselves in the market. It doesn't matter if the enterprise is of a large scale or a small scale, a customer's review and feedback is the most relevant thing for a business. The Salesforce company has an incredible CRM tool named Salesforce which provides the best CRM platform to enterprises helping with customer management, customer interactions, and various other business concerns in a single page display. Being a cloud-deployed software, the Salesforce platform has an easy management system. The rich ecosystem of the Salesforce software has over 800 functionalities containing all the fields required for the working of an organization including the support of social media, tools for customer management, IoT integration, Sales tools, management of workflow, email customization, etc.
One of the primary features of Salesforce which makes it a top choice CRM software is that it is cost-effective. It requires minimum installation setup and the hardware costs are charged only at the time of installation. The various functionalities of Salesforce are designed to offer high flexibility and scalability while working with recent technologies such as the Internet of Things, Cloud computing, and Big Data which delivers highly promising results.
Industries across diverse domains make use of the Salesforce software for easy workflow management. Companies using Salesforce belong to various sectors including Technological, Finance, Educational, Healthcare, IT Services, etc.
Some of the job roles offered across the above-mentioned industries are:
Salesforce Administrator
Salesforce Cloud Consultant
Salesforce Business Analyst,
Salesforce Platform Developer
Salesforce Project Manager
Salesforce Developer
SalesforceTechnical Architect
On average a Salesforce Developer can earn anywhere between Rs 3.6lacs to Rs.5.2lacs per annum in India while Globally they can earn about $87,000 annually.
Based on the survey reports that were collected recently it is expected that in the coming days the need for Salesforce developers would be high and above 4.2 million jobs positions are expected to arise within the next three years.
More than 200,000+ companies are now adopting the Salesforce platform and switching from the on-premise CRM platforms. Considering the numbers stated by the above-mentioned reports, we can conclude that a career as a Salesforce developer would be lucrative with a high-paying salary package.
The Salesforce Course in Delhi at FITA Academy provides immersive training to the students on the Salesforce platform where industry expert professionals guide you throughout the program. After the completion of Salesforce training, a student will have a sheer understanding of the concepts of Salesforce and its environment as well as the technical, practical, and proper professional skills set that are needed in an office environment.
Success Story of Salesforce Training in Delhi
I completed my Salesforce Training in Delhi at FITA Academy. The training program on Salesforce is a complete guide on the concepts and working of Salesforce equipped with a vast amount of knowledge. We had professional mentors who made sure every student understands according to the pace they are comfortable in. Since I was a fresher, I personally found the interview preparation session highly beneficial as it gave them the skills and confidence required for an interview. Big thanks to FITA Academy for a marvelous learning experience.
My learning experience for the Salesforce Course in Delhi at FITA Academy was wonderful. The professional Salesforce trainers of the FITA Academy made use of various practical methods to equip us with in-depth knowledge about the concepts of Salesforce. I am grateful to FITA Academy and my mentors for helping me master the Salesforce concepts. I would surely recommend this course to my family and friends.
I pursued my Salesforce Training in Delhi at FITA Academy. The course curriculum for FITA Acdemy's Salesforce training program has been carefully customized to provide an utter understanding of the Salesforce concepts starting from basics to advance. Apart from getting a detailed understanding of the course the FITA Academy also helped us with the placements and trained us for various interview processes. Thanks to FITA Academy I am now a professional Salesforce developer working for a renowned firm.
I completed my Salesforce Course in Delhi at FITA Academy. There were regular assessment sessions after the completion of every module which promoted in-depth learning. They even helped me prepare for the global Salesforce certification exam. The Salesforce training program is a complete guide for a student which provides the optimized level of learning.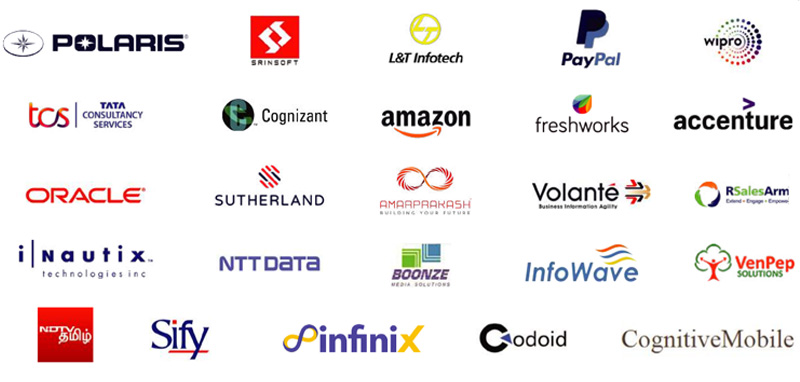 Frequently Asked Question (FAQ) about Salesforce Training in Delhi
Additional Information of Salesforce Training in Delhi
Salesforce is a Cloud-based customer relationship management software tool that is gaining immense popularity worldwide due to its diverse features aiding an organization to be more efficient, productive, and streamlined concerning business. The Salesforce tool undoubtedly is one of the most exceptional CRM software that has sustained in the Cloud-based CRM market for more than two decades and made its mark because of its extraordinary features and remarkable performance. To generalize, the Salesforce software is a widely used CRM solution that has the capabilities to help a company to gain profit while cutting down the cost of managing hardware infrastructure.
The primary reason for Salesforce's popularity and why enterprises choose to adopt this technology is because it possesses over 800 functionalities that provide various benefits. Salesforce is one of the leading CRM tools that supports several business fields including accounts, sales, IT, customer services, marketing, application development, etc.
As compared to the on-premise CRM platforms which require various resources for infrastructure handling, the Salesforce software has no need for infrastructure handling including data, computing power, security, and networking. The easy system administration of the Salesforce software has made its management so effortless that it can be managed even by the developers. The default and built-in features of the Salesforce tool help to efficiently manage all of the activities ensuring a smooth functioning for the better workflow of an enterprise.
Integration of different technologies with the Salesforce tool makes it highly efficient increasing its performing capability. Salesforce can be used with various other cloud services like the Analytics Cloud, Data Cloud, Custom Cloud, Sales Cloud, etc delivering highly productive results.
Besides increasing an enterprise's efficiency, the Salesforce tool offers an easy website-like user interface for the customers which requires a single login. This makes it highly customizable and open to be used remotely.
Being a cloud-deployed customer relation management software, Salesforce offers a highly flexible environment and assists in the easy integration of several business processes and activities. To top this up, the enhanced security features of Salesforce act as an added bonus. Salesforce supports various devices, working irrespective of its environment, and is the only CRM tool supporting Mobile CRM.
A recent survey stated that Salesforce has proved to be highly beneficial for the organizations as it has led to increased productivity of 44%, the revenues have increased by 32%, and a 40% increase in customer satisfaction was reported. Salesforce has outperformed its competitors including IBM, SAP, and Oracle, and emerged as the leading and most widely used CRM software globally.
FITA Academy is a renowned institution that has delivered promising results since its establishment. We provide the best Salesforce Course in Delhi under the mentorship of real-time professionals who guide you throughout the Salesforce Training program teaching you about all its technical and practical applications. We help you develop industry-relevant skills and technical competence which immensely broadens the career opportunities for you.