Course Highlights and Why Ethical Hacking Course in Jaipur at FITA Academy?

FITA Academy offers comprehensive training in ethical hacking, covering all types of malware and defenses against them.

The course curriculum has been developed by industry professionals with over a decade of experience in ethical hacking and cyber security.

The program covers various ethical hacking tools, including Burp Suite, N-map, and Nessus, among others.

Experienced trainers conduct the training in interactive classrooms with integrated learning.

Regular review sessions are conducted to aid in the retention of information.

FITA Academy provides flexible training options, including weekends, weekdays, and fast-track batches.

After successful completion of the course, students receive certification and full placement assistance from FITA Academy's Active Placement Cell.

FITA Academy has collaborations with over 1,500 organizations ranging from small businesses to global conglomerates.

The training program is reasonably priced and offers high-quality instruction.

FITA Academy's Ethical Hacking Training is the most effective in Jaipur, with a focus on practical, hands-on learning.
Upcoming Batches
| | | | |
| --- | --- | --- | --- |
| 11-12-2023 | Weekdays | Monday (Monday - Friday) | |
| 14-12-2023 | Weekdays | Thursday (Monday - Friday) | |
| 16-12-2023 | Weekend | Saturday (Saturday - Sunday) | |
| 23-12-2023 | Weekend | Saturday (Saturday - Sunday) | |

Classroom Training
Get trained by Industry Experts via Classroom Training at any of the FITA Academy branches near you
Why Wait? Jump Start your Career by taking the Ethical Hacking Course in Jaipur!
Instructor-Led Live Online Training
Take-up Instructor-led Live Online Training. Get the Recorded Videos of each session.
Travelling is a Constraint? Jump Start your Career by taking the Ethical Hacking Online training!
Trainer Profile
FITA Academy emphasises blended learning to provide students with practical and theoretical skills in ethical hacking.
The trainers at FITA Academy are industry experts with over a decade of experience in cyber security and ethical hacking.
FITA Academy's Ethical Hacking Trainers are Real-Time Professionals who use industry-relevant skills to assist students.
The trainers at FITA Academy teach the latest security techniques in a hands-on manner.
FITA Academy provides in-depth training on ethical hacking principles and practices to prepare students for the CEH exam.
Each student at FITA Academy receives individualised instruction and significant hands-on experience.
FITA Academy trainers help students create professional resumes and provide practice interviews to boost their confidence.
The goal of FITA Academy is to provide students with a comprehensive education in ethical hacking that prepares them for success in the industry.
FITA Academy offers a practical, real-world approach to ethical hacking education.
The ethical hacking course at FITA Academy is designed to cater to the needs of both beginners and advanced learners.
Learn at FITA Academy & Get Your
Dream IT Job in 60 Days
like these Successful Students!

Features of Ethical Hacking Course in Jaipur at FITA Academy
Real-Time Experts as Trainers
At FITA Academy, You will Learn from the Experts from industry who are Passionate in sharing their Knowledge with Learners. Get Personally Mentored by the Experts.
LIVE Project
Get an Opportunity to work in Real-time Projects that will give you a Deep Experience. Showcase your Project Experience & Increase your chance of getting Hired!
Certification
Get Certified by FITA Academy. Also, get Equipped to Clear Global Certifications. 72% FITA Academy Students appear for Global Certifications and 100% of them Clear it.
Affordable Fees
At FITA Academy, Course Fee is not only Affordable, but you have the option to pay it in Installments. Quality Training at an Affordable Price is our Motto.
Flexibility
At FITA Academy, you get Ultimate Flexibility. Classroom or Online Training? Early morning or Late evenings? Weekdays or Weekends? Regular Pace or Fast Track? - Pick whatever suits you the Best.
Placement Support
Tie-up & MOU with more than 1500+ Small & Medium Companies to Support you with Opportunities to Kick-Start & Step-up your Career.
Why Learn Ethical Hacking Course in Jaipur at FITA Academy?
Live Capstone Projects
Real time Industry Experts as Trainers
Placement Support till you get your Dream Job offer!
Free Interview Clearing Workshops
Free Resume Preparation & Aptitude Workshops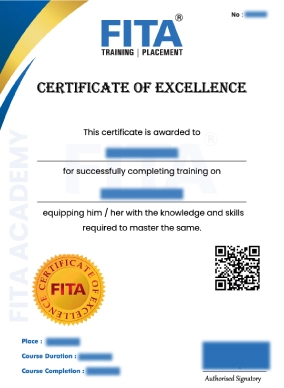 Ethical Hacking Certification Training in Jaipur
Having an Ethical Hacking Course Certification showcases a candidate's comprehensive knowledge and understanding of the Ethical Hacking platform, making them more attractive to potential employers. This certification is obtained after completing an Hacking course in Jaipur, demonstrating that the individual has the necessary skills and capabilities to become an ethical hacker. Moreover, this certification is backed by hands-on project experience, and including it on a resume can enhance the interview process and open up more job opportunities.
FITA Academy's Ethical Hacking Certification in Jaipur is tailor-made to equip learners with the requisite expertise and know-how to succeed as ethical hackers. Recognized for delivering top-notch Ethical Hacking Course in Jaipur, FITA Academy has a team of cyber security specialists with a minimum of eight years of practical experience as trainers. These experts are equipped with the latest techniques and concepts used in the industry, enabling students to learn through practical demonstrations and hands-on application. Upon completing this course, students are well-prepared to excel in the field of Ethical Hacking.
Have Queries? Talk to our Career Counselor for more Guidance on picking the
right Career for you!
Placement Session & Job Opportunities after completing Ethical Hacking Course in Jaipur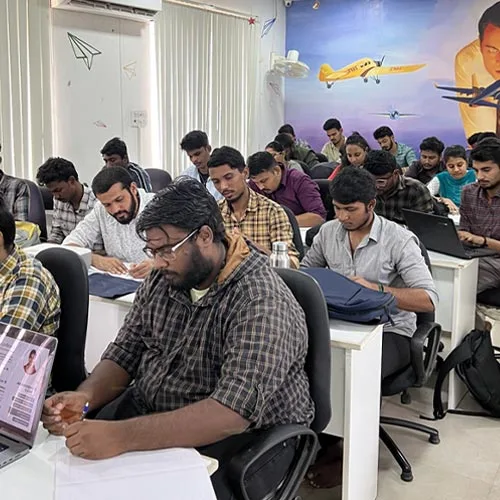 The field of Ethical Hacking offers a plethora of advantages and is known for being highly profitable. As per recent estimates, there will be a surge in demand for Ethical Hacking professionals in the upcoming years. A recent survey predicts that over 3.5 million Cyber Security positions will remain unfilled by the end of the year, underscoring the need for more ethical hackers to assist multinational organizations in identifying and addressing potential vulnerabilities or threats.
Unfortunately, there is a shortage of qualified ethical hackers available to meet this demand, with only 38% of companies having a solid security plan in place. This further highlights the significance of skilled professionals in this field. In today's scenario, where security breaches are on the rise, companies across different domains are prioritizing the protection of their data. Employing ethical hackers has become crucial to safeguarding the security and data systems of an organisation.
As per a recent survey, the increasing number of people going online in India will require a minimum of 77,000 certified Ethical Hackers each year. These professionals operate across different industries, such as IT and ITES firms, e-commerce, government sectors, consultancy services, banking, defence, security organisations, and telecommunications. In these domains, certified Ethical Hackers play a crucial role in averting cyber-attacks and ensuring the security and confidentiality of sensitive data.
The field of cybersecurity offers a diverse range of job opportunities that are crucial in maintaining a secure IT infrastructure and protecting against potential cyber threats. Some of the most common positions found in cybersecurity-related fields include Network Security Engineers, Network Security Administrators, Security Consultants, Penetration Testers, Data Security Analysts/Specialists, IT Analysts in Vulnerability Management, and Ethical Hacking Specialists.
Network Security Engineers and Administrators are responsible for managing and securing a company's network infrastructure, while Security Consultants provide guidance on improving overall security. Penetration Testers identify vulnerabilities in systems, and Data Security Analysts/Specialists focus on protecting sensitive data. IT Analysts in Vulnerability Management identify and mitigate vulnerabilities, and Ethical Hacking Specialists simulate cyber-attacks to identify and strengthen weaknesses in a company's defenses.
Various companies, including Amazon, Apple Inc., IBM, Infosys TCS, Wipro, and Tech Mahindra, actively seek skilled individuals in the cybersecurity field. These skills are in high demand not only by large multinational corporations but also by small businesses and new enterprises. As a result, individuals possessing these skills have a wide range of employment opportunities available to them, from both large and small organisations.
The Ethical Hacker Salary For Freshers who are just starting out typically falls within the range of Rs. 3,80,000 to Rs. 4,90,000. For an ethical hacker with three to five years of experience, the salary may increase to anywhere between Rs. 520,000 and Rs. 740,000. Individuals who have attained a senior level position with a minimum of 5 to 8 years of experience in the industry can earn an annual salary ranging from Rs. 820,000 to Rs. 10,50,000. Globally, the average initial compensation for ethical hackers is approximately $87,898 per year. However, the compensation and benefits may vary depending on the individual's expertise and location, and these may change over time.
Success Story of Ethical Hacking Course in Jaipur
Enrolling in the Ethical Hacking Course at FITA Academy Jaipur was one of the best decisions I've made. The instructors were extremely knowledgeable and were able to teach complex concepts in an easy-to-understand manner. I appreciated the practical training and the opportunity to work on real-world scenarios. The course has given me the necessary skills to pursue a career in ethical hacking, and I'm grateful to FITA Academy for providing such an excellent learning experience.
I recently completed FITA Academy's Ethical hacking institute in Jaipur, and I must say, it was an enlightening experience. The course material was well-organised and comprehensive, and the trainers were friendly and supportive throughout. I particularly enjoyed the practical training, which gave me hands-on experience in hacking techniques. I'm confident that the skills I've gained from this course will enable me to tackle real-world cyber threats confidently.
FITA Academy's Ethical Hacking Course in Jaipur exceeded my expectations. The course content was thorough, and the trainers were patient, knowledgeable and very supportive. The training environment was conducive to learning, and I appreciated the hands-on training which helped me understand the concepts better. I'm grateful for the opportunity to enrol in this course, and I would recommend FITA Academy to anyone looking to pursue a career in ethical hacking.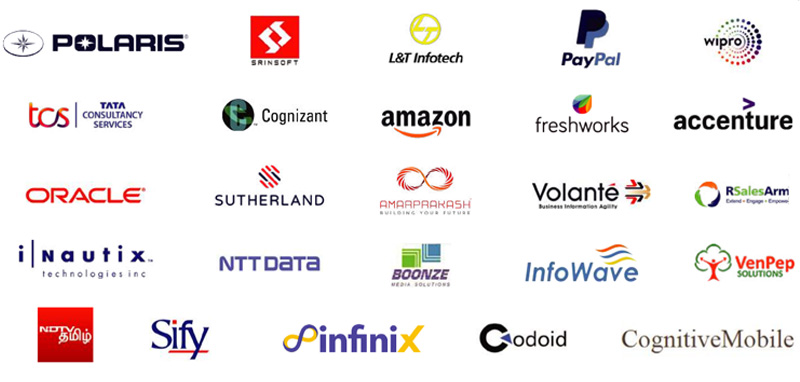 Frequently Asked Question (FAQ) about Ethical Hacking Course in Jaipur
Additional Information of Ethical Hacking Course in Jaipur
Understanding system concepts is typically associated with having a background in mathematics, computer science, or information technology. FITA Academy offers an Ethical Hacking Course in Jaipur, which provides students with the necessary knowledge and skills to become proficient and ethical hackers. Ethical hacking requires problem-solving skills and the ability to connect different scenarios. Familiarity with programming languages such as Java, PHP, C, and Python can also be advantageous for ethical hackers. FITA Academy's Ethical Hacking Course in Jaipur is comprehensive and challenging, with a curriculum created by industry professionals that is both technically advanced and practical.
The increasing digitalization of India has made cybersecurity more critical than ever, with numerous attacks on government institutions and private companies. Top multinational corporations are seeking Certified Ethical Hackers to safeguard their information systems from intrusions. As a beginner in ethical hacking, one can expect to earn between 3.5 and 5 Lakhs annually, with the salary range expanding as the individual's skills and experience increase.
FITA Academy provides a certified ethical hacking course that equips students with the latest industry practices and prepares them to pass ethical hacking certification exams in Jaipur. Enrolling in this course can help individuals achieve their aspirations of working in the IT security industry.
Key Takeaways from FITA Academy's Ethical Hacking Training in Jaipur
FITA Academy's Ethical Hacking Training in Jaipur provides comprehensive knowledge of network and security protocols.
Students develop expertise in various hacking methods and techniques to identify system and network vulnerabilities.
The training program teaches network protection and its different approaches, as well as skills to secure systems against email and data loss, server failures, and virus incursions.
Students learn remote keylogging to detect and prevent unauthorized access and web application hacking techniques.
The training program also covers common security threats and how to protect against cyber attacks.
Completing this course prepares students for a career in IT security with practical training and industry-relevant knowledge.
Eligibility Criteria and Prerequisites to learn Ethical Hacking Course
Eligibility Criteria: Prospective candidates who have completed their bachelor's degree and aspire to build their career in the field of Cybersecurity are eligible to apply for the Ethical Hacking course. In addition, individuals with job titles such as Technical Support Engineers, Network Engineers, Network Administrators, System Administrators, IT Operation Managers, IS/IT Analysts, Specialists, IT Security Officers, System Analysts, and others in similar positions, based on their experience, may also apply for the course.
Prerequisites: Although there are no specific prerequisites to enroll in the Hacking Course in Jaipur, having a basic knowledge of networks and the Internet may aid in a better understanding of Ethical Hacking concepts and techniques. We are the best Ethical Hacking Institute in Jaipur, providing students with practical training and exposure to various ethical hacking methods with the assistance of industry experts.
Similarities and Differences between Hackers and Ethical Hackers
Hacking and ethical hacking may seem similar, but they have notable differences. Hackers obtain unauthorized access to computer networks using illegal methods, whereas ethical hackers are authorized to do so. Their perspectives on internet security and systems also differ, with ethical hackers focusing on protecting them, while hackers aim to exploit vulnerabilities. Ethical hackers are proficient programmers with expertise in multiple programming languages, while hackers lack significant programming skills. Their differing goals and pursuits set them apart from each other.
Understanding the Various Phases of Ethical Hacking
Reconnaissance
Reconnaissance is the initial phase of ethical hacking, which involves gathering information about the target to identify potential vulnerabilities. The attacker uses various tools, such as HTTPTrack and Maltego, to access information from websites and other sources.
Scanning
The second phase is scanning, where the attacker searches for entry points into the network and gathers information such as login credentials and IP addresses using tools like network mappers and penetration testing.
Gaining Access
In the gaining access phase, the attacker uses various techniques and programs to gain unauthorized access to the victim's system or application, with the aim of misusing it for malicious purposes.
Maintaining Access
Maintaining access involves sustaining unauthorized access while remaining undetected by using DDoS attacks and exploiting system vulnerabilities with viruses and spyware. Ethical hackers analyze the organization's infrastructure to identify the source of malicious activity.
Clearing Track
Clearing tracks is the final phase, where the attacker removes any evidence of their presence to avoid detection by the forensic team. This involves modifying or deleting logs, programs, software, and directories, as well as restoring any altered files to their original state. Practical training in tools like Metasploit and social engineering is offered during the Hacking Course in Jaipur to help prevent system hacks and identify potential entry points.
Mastering the Art of Ethical Hacking
To become a white hat hacker, it's important to know the laws related to computer crimes. There are several methods for gaining this knowledge. You can start by studying relevant literature, seek guidance from a reputable organization, or enroll in courses at our Ethical Hacking Institute in Jaipur. Our courses offer practical, hands-on training that equips you with the necessary skills to succeed in this role.
Our Ethical Hacking Tutorial is an excellent resource for anyone seeking a thorough understanding of the principles and methods of ethical hacking, whether they are beginners or advanced users. By consulting our tutorial, you can expand your knowledge of the various techniques and practices involved in ethical hacking, as well as deepen your understanding of key concepts and principles. Our tutorial covers a range of topics, including reconnaissance, scanning, gaining access, maintaining access, and clearing tracks, all of which are essential aspects of ethical hacking.