Course Highlights and Why Salesforce Training in Coimbatore at FITA Academy?

The modules of the Salesforce Training Course were perfectly made to match international best practises.

Real-world experts teach interactive Salesforce training courses.

Gain a full understanding of the Salesforce platform through hands-on training and a live project

Learn how to construct a Salesforce account and its various components (Apps, Objects, Tabs, and Fields), as well as how to develop Custom Apps, Console Apps, etc.

Discover the most essential Salesforce cloud types, editions, features, validators, objects, and field types.

A comprehensive understanding of Salesforce and customer relationship management.

Gain knowledge of data management and importing.

The Salesforce Training Institute in Coimbatore has relationships with over 1500 firms to ensure a successful career for graduates.

Students may attend classes on weekdays or weekends. In addition, our online courses provide an alternative means of obtaining a quality training without leaving home.
Upcoming Batches
09-12-2023
Weekend
Saturday (Saturday - Sunday)
11-12-2023
Weekdays
Monday (Monday - Friday)
14-12-2023
Weekdays
Thursday (Monday - Friday)
16-12-2023
Weekend
Saturday (Saturday - Sunday)

Classroom Training
Get trained by Industry Experts via Classroom Training at any of the FITA Academy branches near you
Why Wait? Jump Start your Career by taking Salesforce Training in Coimbatore!
Instructor-Led Live Online Training
Take-up Instructor-led Live Online Training. Get the Recorded Videos of each session.
Travelling is a Constraint? Jump Start your Career by taking the Salesforce Course Online!
Trainer Profile
Through Salesforce Training in Coimbatore, instructors from FITA Academy aid students in accomplishing their goals.

FITA Academy's SalesForce instructors have a minimum of ten years of industry experience.

Salesforce Developer Training In Coimbatore from FITA Academy is the finest way to understand the theoretical and practical aspects of Salesforce's technology.

Salesforce Mentors on FITA Academy prepares learners to master Salesforce's worldwide certification exams, hence expanding their employment options.

Instructors of Salesforce Training at FITA Academy constantly instruct and inspire students. This increases their chances of career advancement.

Salesforce Trainers will provide personalized mentoring and career support to all students.

Students can get help with their resumes and interview techniques from industry professionals at FITA Academy who are well-versed in Salesforce.
Learn at FITA Academy & Get Your
Dream IT Job in 60 Days
like these Successful Students!

Features of Salesforce Training in Coimbatore at FITA Academy
Real-Time Experts as Trainers
At FITA Academy, You will Learn from the Experts from industry who are Passionate in sharing their Knowledge with Learners. Get Personally Mentored by the Experts.
LIVE Project
Get an Opportunity to work in Real-time Projects that will give you a Deep Experience. Showcase your Project Experience & Increase your chance of getting Hired!
Certification
Get Certified by FITA Academy. Also, get Equipped to Clear Global Certifications. 72% FITA Academy Students appear for Global Certifications and 100% of them Clear it.
Affordable Fees
At FITA Academy, Course Fee is not only Affordable, but you have the option to pay it in Installments. Quality Training at an Affordable Price is our Motto.
Flexibility
At FITA Academy, you get Ultimate Flexibility. Classroom or Online Training? Early morning or Late evenings? Weekdays or Weekends? Regular Pace or Fast Track? - Pick whatever suits you the Best.
Placement Support
Tie-up & MOU with more than 1500+ Small & Medium Companies to Support you with Opportunities to Kick-Start & Step-up your Career.
Why Learn Salesforce Training in Coimbatore at FITA Academy?
Live Capstone Projects
Real time Industry Experts as Trainers
Placement Support till you get your Dream Job offer!
Free Interview Clearing Workshops
Free Resume Preparation & Aptitude Workshops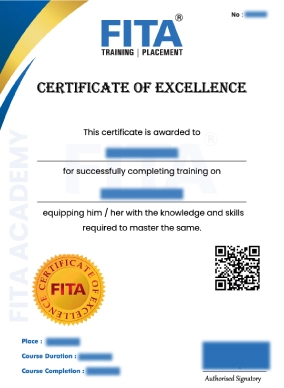 Salesforce Certification Course in Coimbatore
When students complete the Salesforce Course in Coimbatore at FITA Academy, they will be given a certificate attesting to their mastery of the Salesforce platform and their readiness to put their new skills into practise in the business world. Participants in the programme would also get a certificate of completion. The recipient of the Salesforce Training Certificate has successfully finished the Salesforce training programme offered by FITA Academy and possesses the necessary abilities for professional success. This certification will help you include relevant credentials on your resume, should a prospective employer or organization require it. In addition to FITA Academy's Salesforce Training Certification, a variety of other foreign qualifications may boost your employment possibilities.
Have Queries? Talk to our Career Counselor for more Guidance on picking the
right Career for you!
Placement Session & Job Opportunities after completing Salesforce Training in Coimbatore

Currently, the company's primary focus is on consumer requirements and satisfaction. The future business model has shifted from acquisition to ongoing care and maintenance. This has led organizations to place a greater emphasis on CRM technology that provides the best customer service. Customers are the backbone of any market-survival-seeking firm. Regardless of its size, the opinion of the consumer is the most crucial part of any business. Salesforce is the most efficient CRM platform for organizations, allowing for the centralized administration of customer interactions and business concerns.
Understanding your consumers' needs is one of the most critical skills for any business. Here, Salesforce helps organizations by offering the most effective platform for managing customer interactions and all other company features on one page. Salesforce is a platform that provides more than 800 functions and services, such as workflow and customer administration, analytics monitoring, collaboration, social media and email, IoT Integration, Lead creation, and sales forecasting tools.
In addition, one of the advantages of using Salesforce is that the software is built on Salesforce's Cloud platform. In addition to Salesforce Administrator, Salesforce Developer, Salesforce Architect, Salesforce DBA, Salesforce Lead, and Salesforce Quality Assurance Specialist, prominent job titles with the highest Salesforce Developer Salary for Freshers include Salesforce Developer, Salesforce Architect, Salesforce DBA, Salesforce Lead, and Salesforce Quality Assurance Specialist. The average annual salary for a Salesforce Administrator is between Rs. 3,40,000 and Rs. 4,20,000. Candidates with senior-level experience might earn between Rs. 720,000 and Rs 9,00,000. Salesforce Developers can make up to $85,000 per year on the global market.
Also Read: Salesforce Interview Questions and Answers
Success Story of Salesforce Training in Coimbatore
I registered in SalesForce training at FITA Academy in Coimbatore. I am quite pleased with my choice to use this platform. Regular assessment sessions were provided for each module. In addition, the support team worked closely with me to schedule training classes at my convenience during the duration of the programme. Thank you, FITA Institute!
FITA Academy completed my Salesforce Developer Certification Training. The Salesforce Training course went as planned throughout. In addition, I would like to express my gratitude to my trainer, who provided me with excellent training on the most recent market trends. I would also want to highlight the support staff who helped me schedule my classes at my convenience.
FITA Academy completed my Salesforce training in Coimbatore. The curriculum for the salesforce training is organized in such a way that even a novice like myself could readily grasp the salesforce fundamentals. I am particularly grateful to the mentors who ensured that I learned at my own pace. I'm glad I chose FITA Academy's Salesforce Training programme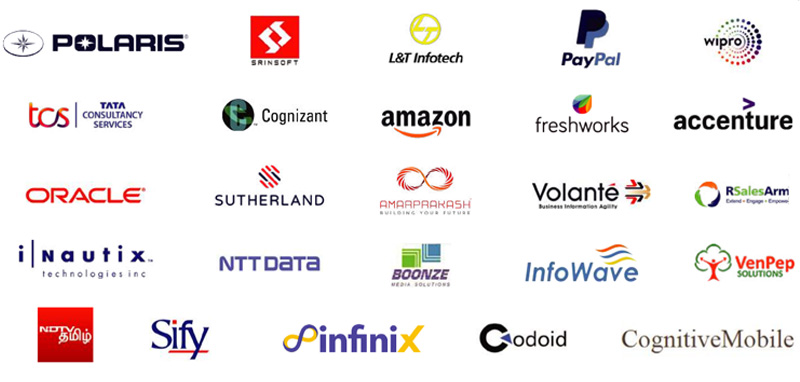 Frequently Asked Question (FAQ) about Salesforce Training in Coimbatore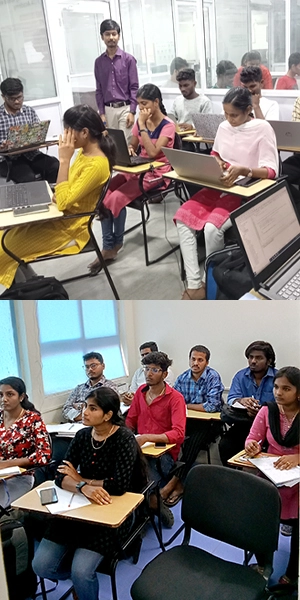 Salesforce is cloud-based CRM software that is becoming more and more popular around the world because it helps businesses be more effective, productive, and efficient. Due to its success and durability in the cloud-based CRM sector for over two decades, Salesforce is unquestionably one of the most amazing CRM programmes. Salesforce is a well-known CRM solution that can help businesses receive more profit and lower hardware infrastructure operating costs. Salesforce provides a variety of advantages, which is the key reason why businesses opt to implement Salesforce technology. Salesforce is among the top CRM software, and it can serve a number of corporate tasks, including sales, marketing of IT services, application development, and more.
At FITA Academy, instructors lead you through Salesforce Training and instruct you how to use all Salesforce apps. In addition, they empower you with industry-specific skills and technical expertise that expand your chances for professional advancement.
Eligibility Criteria and Prerequisites to learn Salesforce Course In Coimbatore
Eligibility Criteria: This course is open to all fresh graduates who wish to establish their careers on the Salesforce platform. This Salesforce training is also beneficial for Software Developers, Business Analysts, Business Architects, Business Consultants, IT professionals, Sales Managers, and Project Managers.
Prerequisites: This Salesforce Course in Coimbatore has no prerequisites, as it was designed for those who already have a solid understanding of Salesforce concepts. However, having prior knowledge of DBMS and a rudimentary understanding of how organizations operate can be useful for those who wish to quickly comprehend the Salesforce Course. FITA Academy's Salesforce Training in Coimbatore provides students with a comprehensive understanding of Salesforce concepts and their applications.
Why You Should Learn SalesForce Course in Coimbatore
In Coimbatore, our expert trainers provide a complete Salesforce training course. Students will be assisted by our knowledgeable instructors to become proficient with the Salesforce platform and Apex code in order to manage all of the business customizations required by customers. In addition, we aid you in attaining Salesforce Certification in Coimbatore, guaranteeing that your Salesforce Administration, Salesforce app builder, and Salesforce developer talents are utilized.
Why is it important to learn about Salesforce?
The relevance of training rests in the learning of information essential to the success of an organization or a career. Numerous businesses utilize Salesforce to handle business challenges and improve their Sales and Marketing processes. Through Salesforce-specific training at a Salesforce Institute in Coimbatore, you can learn the skills necessary for professional success. This is where FITA Academy enters the picture. Since 2012, we have aided students and professionals in Salesforce careers.
Placement Support
FITA Academy provides 100% placement assistance to qualified candidates who successfully complete training.

We have relationships with over 1,500 small to major businesses.

The FITA Academy maintains an active Placement Cell that assists students in obtaining employment in their selected field.
Salesforce Tutorial
Salesforce is a very successful cloud-based tool that helps you to manage your company's sales, marketing, and customer support processes from a single interface. This tutorial will teach how to improve business using this technology.
Why choose Salesforce?
You should use Salesforce since it satisfies all of your business requirements. You can organise your data and information in a convenient location. This aids knowledge discovery and dissemination. With the right technologies, you can manage your sales, marketing, and customer service activities from a single interface. The cloud-based nature of Salesforce is the most important feature. This indicates that all actions are carried out in the cloud. It is highly protected and accessible from any device.
Advantages of choosing Salesforce
Salesforce provides several advantages. Here are a few reasons why Salesforce should be required.
You may quickly create beautiful, personalized forms.

You may easily generate unique reports.

It allows for the monitoring of all leads and sales.

You can easily send emails to your customers.

You can efficiently organise and monitor your tasks.
There are a few things to consider before transferring to Salesforce. First, you must check that you are using the same version of Salesforce as the organisation with which you will be collaborating. Ensure that you are utilising the most recent version of Salesforce DX. Learn from our experts at the Salesforce Institute in Coimbatore in order to make the best decision possible.
Utilized Technologies by Salesforce
Apex
Apex is a programming language used to develop Salesforce code. Similar to programming languages such as Java and C++.
Visualforce
Visualforce is a means for developing customized, Salesforce-integrated web pages. Visualforce can be used to construct application pages.
Compiler
Apex Code is transformed into classes and functions by the compiler. The compiler can be run in two distinct ways:
The online compiler allows you to test your code without actually deploying it. This is helpful for testing a new feature or diagnosing a problem.
The offline compiler converts Apex Code to classes and functions. This is useful for code deployment.
Salesforce was an excellent resource for understanding various sales strategies. Our Salesforce Institute In Coimbatore utilised technology to assist you in gaining a deeper understanding of sales and how to sell things.
Also Read: Salesforce Tutorial