Course Highlights and Why Learn Salesforce Course in Chennai at FITA Academy?
Our Salesforce course modules include Salesforce admin, developer, and lightning modules to meet industry requirements at all levels.
With our Salesforce courseware, you will acquire a deeper understanding of Salesforce's various components based on the expertise of industry experts.
During this comprehensive Salesforce training program, you will be equipped with the necessary skills in order to develop applications connected to Salesforce.
With our smart classroom experience that combines blended learning with our expertise, we offer this Salesforce Training in Chennai.
Our Salesforce Trainers have more than a decade of experience in the Salesforce Platform and have proven results in the field.
We will schedule an interactive instructor-led Salesforce training session at FITA Academy in Chennai.
In order to ensure your skills are continually strengthened, we provide regular recap sessions of the previous classes.
With our flexible batch timings, we are able to offer Salesforce Training in Chennai to students over weekends, weekdays, and fast tracks batches.
With the help of our professional Salesforce Trainers, we provide Salesforce Training in Chennai at an affordable cost with a certification at the end of your course.
Upcoming Batches
| | | | |
| --- | --- | --- | --- |
| 05-10-2023 | Weekdays | Thursday (Monday - Friday) | |
| 07-10-2023 | Weekend | Saturday (Saturday - Sunday) | |
| 09-10-2023 | Weekdays | Monday (Monday - Friday) | |
| 14-10-2023 | Weekend | Saturday (Saturday - Sunday) | |

Classroom Training
Get trained by Industry Experts via Classroom Training at any of the FITA Academy branches near you
Why Wait? Jump Start your Career by taking Salesforce Training in Chennai!
Instructor-Led Live Online Training
Take-up Instructor-led Live Online Training. Get the Recorded Videos of each session.
Travelling is a Constraint? Jump Start your Career by taking the Salesforce Training Online!
Curriculum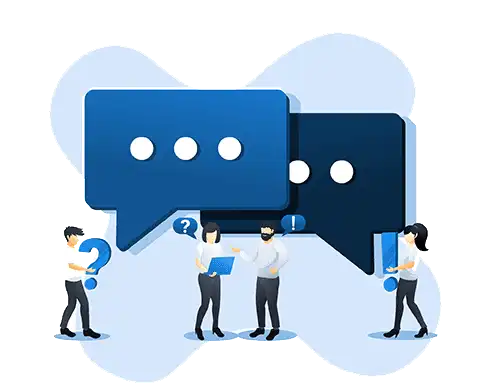 Have Queries? Talk to our Career Counselor
for more Guidance on picking the right Career for you! .
Trainer Profile
Our students receive a blend of theoretical as well as practical knowledge of Salesforce from FITA Academy.

It is the Salesforce instructors at FITA Academy who provide students with the skills needed to succeed in the industry.

Our Salesforce Trainers have extensive experience in training on Salesforce platforms.

Our Salesforce trainers are real-time professionals who provide hands-on training on the Salesforce software and its applications.

During FITA Academy classes, trainers give students an in-depth understanding of the Salesforce configuration and administration process.

At FITA Academy, Salesforce Trainers give each student individual attention and provide hands-on training with complete hands-on practice.

Students benefit from our Trainers' guidance in building their resume professionally, as well as building their confidence by learning about interview questions and handling mock interviews.
Features
Real-Time Experts as Trainers
At FITA Academy, You will Learn from the Experts from industry who are Passionate in sharing their Knowledge with Learners. Get Personally Mentored by the Experts.
LIVE Project
Get an Opportunity to work in Real-time Projects that will give you a Deep Experience. Showcase your Project Experience & Increase your chance of getting Hired!
Certification
Get Certified by FITA Academy. Also, get Equipped to Clear Global Certifications. 72% FITA Academy Students appear for Global Certifications and 100% of them Clear it.
Affordable Fees
At FITA Academy, Course Fee is not only Affordable, but you have the option to pay it in Installments. Quality Training at an Affordable Price is our Motto.
Flexibility
At FITA Academy, you get Ultimate Flexibility. Classroom or Online Training? Early morning or Late evenings? Weekdays or Weekends? Regular Pace or Fast Track? - Pick whatever suits you the Best.
Placement Support
Tie-up & MOU with more than 1500+ Small & Medium Companies to Support you with Opportunities to Kick-Start & Step-up your Career.
Salesforce Certification Course in Chennai
About Salesforce Certification Course in Chennai
at FITA Academy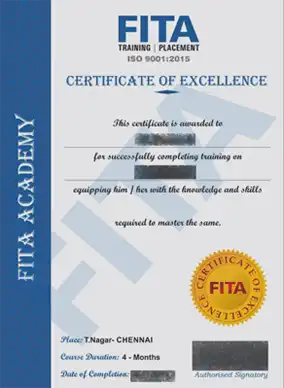 Salesforce Certification Course in Chennai
One of the professional credentials that demonstrate in-depth knowledge of Salesforce is Salesforce Course Certification. This certification states that the candidate has acquired the necessary skills to work as a Salesforce Developer by providing real-time project experience at the end of the course. Including this certificate on your resume improves your chances of getting an interview and opens up a wide range of career options for you.
Under the guidance of our Real-time professionals, FITA Academy's Salesforce Certification Course in Chennai helps students develop the necessary skills needed as a Salesforce Developer. A professional Salesforce trainer at FITA Academy has over 10 years of experience in the Salesforce platform. You are upskilled with the newest developments in the market.
Benefits of getting certified from Salesforce Training in Chennai at FITA Academy
The training will help you understand the basic concepts of Salesforce and its architecture.

It will provide you with the ability to customize the application according to your business needs.

It will give you the opportunity to learn new tools and techniques.

It will enable you to create custom objects, fields, reports, dashboards, etc.

It will help you build applications using various components like Lightning Components, Visualforce Pages, Apex Classes, Workflows, Chatter, Communities, Data Loader, API's, Mobile Apps, Analytics, etc.

It will allow you to integrate Salesforce with other systems such as Google Sheets, Excel, MS Word, MS PowerPoint, etc.

It will enhance your communication skills and make you more confident when interacting with customers.

It will help you become familiar with the latest updates in the Salesforce platform and get ready for any future changes.

It will help you gain expertise in Salesforce development and boost your career prospects.

It will help you stay updated with the latest trends in the industry.
The above benefits of salesforce certification training in Chennai at FITA Academy are clear. By learning the various Salesforce features and how to use them, students can increase their productivity and work smarter. Additionally, our Salesforce Training in Chennai will help students gain the skills they need to be successful in the sales industry.
Salesforce Industrial Certification 
Apart from FITA Academy's Salesforce Course Completion certification, there are Global Salesforce Certification exams and they are,
Salesforce Administrator
Salesforce Certified Administrator

Salesforce Certified Advanced Administrator
Salesforce App Builder
Salesforce Certified Platform App Builder
Salesforce Architect
Salesforce Certified Technical Architect

Salesforce Certified Application Architect
Salesforce Consultant
Salesforce Certified Sales Cloud Consultant

Salesforce Certified Service Cloud Consultant
Salesforce Developer
Salesforce App Builder Certification

Salesforce Certified Platform Developer I

Salesforce Certified Platform Developer II
Commonly asked Salesforce Certification Questions
1. What is the best Salesforce Certification I can pursue?
Salesforce Admin Certification

Salesforce App Builder Certification

Salesforce Consultant Certification

Salesforce Developer Certification
2. What will I be learning in the Salesforce Admin Certification?
The Salesforce Admin Certification is curated for aspirants who have worked as Administrator. The Salesforce Admin Certification Training program consists of Setting up and configuring Salesforce for the required application, managing its features, customizing functions that are available to the end-users, creating and managing users and implementing security. This is the admin level credential for any aspirants who are planning to pursue their career in the Salesforce Admin domain.
3. What will be the cost of the Salesforce Admin Certification?
The cost charged for the Salesforce Admin Certification exam is USD 200
4. How long does it take to complete a Salesforce Admin Certification?
It takes 6 weeks to complete a Salesforce Admin Certification.
5. What are the ways to prepare for Salesforce Admin Certification?
It is always advisable to learn certification exams under the guidance of a professional training institute. Salesforce Training in Chennai at FITA Academy provides complete guidance to clear the Salesforce Admin Certification exam with good scores under the mentorship of real-time professionals.
Salesforce certification is one of the most sought-after skills in the market today. With so many companies using this platform, it's essential that employees have the necessary skills to work efficiently. FITA Academy offers Salesforce certification training in Chennai that will help you learn the ins and outs of this popular software. This program will teach you how to use Salesforce to its fullest potential, maximizing your productivity and career opportunities.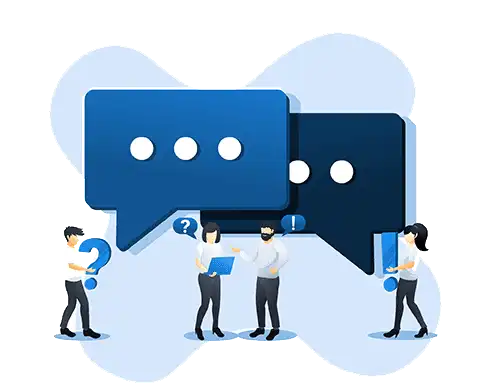 Have Queries? Talk to our Career Counselor
for more Guidance on picking the right Career for you! .
Job Opportunities After Completing Salesforce Training in Chennai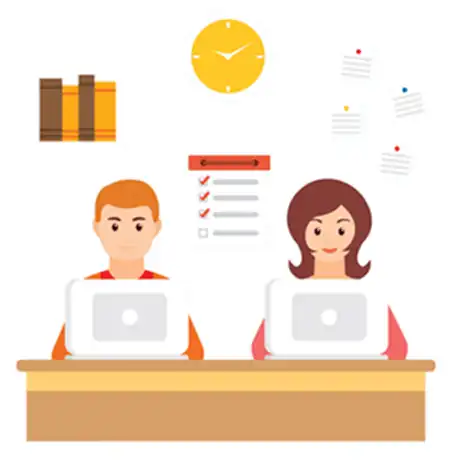 CRM skills have become one of the most lucrative and promising careers for professionals around the world. Companies are currently becoming more customer-centric regardless of the type of business they are in, whether they are tech-based or manufacturing-based. Maintaining cordial relationships with their customers is more important to them for higher customer retention. As a result of these ideas, CRM tools needed to be enhanced and developed within companies. And when we say the best CRM tool, beyond no space for doubt, Salesforce is the world's most popular and leading tool in the CRM market.
The Salesforce Tool enabled organizations to increase ROI by 43%, customer satisfaction by 45%, and sales by 37%. According to a recent Gartner Inc report, there will be 3.3 million Salesforce jobs worldwide by the end of this year. Currently, there are around 4020 Salesforce job openings on Naukri.com and 2080 Salesforce job openings on Glassdoor.com in India alone.
The reason behind the significant growth of Salesforce job opportunities is that the Salesforce CRM tool is used by more than 1,50,000 companies around the world. Some of the major industries that use the Salesforce CRM tool are Automotive, Consumer goods, Business services, Financial Services, Education services, Health and Insurance sector, Government Services, Manufacturing industries, Transportation sector, Retail sector, and Travel and Hospitality. The reputed companies that use the Salesforce software are HCL, DTDC, Godrej, KFC, CEAT, Spotify, Toyota, Amazon Web Services, T-Mobile, Aldo, The NewYork Post, American Express, Canon, Hershey Company, NBC Universal, The American Red Cross,and Edelweiss.
After completing the Salesforce Certification Course, the following job titles are common in the organisation: Salesforce Developer, SalesForce Consultant, Technical Architect, Salesforce Administrator, Salesforce Business Analyst, and Salesforce Project Manager. The average salary for a Salesforce Administrator is around Rs. 3,60,000 to Rs. 4,20,000 per year. It is possible for senior-level candidates to earn up to Rs.7,20,000 to Rs 9,30,000 a year. In the global market, Salesforce Developers earn up to $87,000 a year.
Under the guidance of our Expert mentors, FITA Academy offers Salesforce Training in Chennai that develops the professional skills required for a Salesforce Developer. With our Real-time Salesforce Developer professionals, you'll learn industry-relevant skills and the latest updates in Salesforce Cloud. With the help of our expert you can take the right career path and get the best Salesforce Salary For Freshers to work with Salesforce to automate CRM and ERP tasks, integrate with customer data, track customer interactions and drive revenue.
Our Salesforce training institute in Chennai offers courses designed to develop students' skills and knowledge. Salesforce is a cloud computing company providing software solutions for customer relation management (CRM), enterprise resources planning (ERP), and other business applications. The company was founded in 1999 and had over 100,000 customers worldwide.
After completing the Salesforce course in Chennai, you can apply for the Salesforce Jobs below.
Salesforce Administrator
Salesforce administrator manages all aspects of a salesforce environment. They are responsible for monitoring the performance of systems, troubleshooting problems and ensuring the availability of services within an organisation. Salesforce administrators manage users, security roles, workflows, field history settings on objects, fields, data types, formulas and validation rules.
Salesforce administrators are responsible for keeping the software running smoothly and keeping track of all the data within the platform. The Salesforce course in Chennai will teach you how to get a salesforce administrator role after completing the training.
Salesforce Administrator Roles and responsibilities
Salesforce administrator ensures that records related to sales opportunities, contacts and leads are created and maintained properly.
Salesforce Administrator is responsible for creating and maintaining database tables and fields.
Salesforce Administrators are also involved in creating customizations or updates to existing features.
They are responsible for configuring accounts receivable, accounts payable, and general ledger.
In addition to above mentioned functions they are also required to perform daily operations such as posting transactions and reviewing reports.
Salesforce administrators should be familiar with the integration between multiple areas of business processes using Force.com apps (such as apps like Sales Cloud, Service Cloud, Field Service, Demand Centre etc.)
They must be able to understand how their organisation uses other enterprise solutions and how these work together.
They should be able to plan for future growth and support expansion of data storage and usage requirements.
A good understanding of SQL is essential since this is used to store and query information within databases.
Also Salesforce Administrator should know basic coding languages such as Java, C#, HTML, .Net, JavaScript, XML.
Salesforce Administrator should have experience working with third party application integrations and tools.
Salesforce Administrator should be proficient in using the SOAP API to access data from external sources.
They need to possess excellent analytical skills so that they can make decisions based on facts and figures.
Finally, they should be able to communicate effectively with management and customers
Salesforce Administrator is a highly sought after job position that requires some specific skills and knowledge. After completing our Salesforce training in Chennai, you will be well equipped to manage and administer Salesforce successfully. We provide a comprehensive and engaging training program that covers all the essential aspects of Salesforce administration, allowing you to confidently take on new responsibilities. Our Certified students are highly sought after in the industry, so don't miss out and sign up for our next course today.
Salesforce Developer
Salesforce developer creates new functionality using standard object models and REST web service APIs that enable client applications to access application logic, customisations or third-party integrations. A Salesforce developer must be familiar with Apex programming language, JavaScript, and HTML5.
Salesforce training in Chennai is necessary for all those who want to enter the field of Salesforce development. The demand for Salesforce developers is increasing, which means more people have the right skills. Many companies are looking to hire salesforce developers worldwide as they have access to a larger pool of candidates with these skill sets than they would have if only hiring locally.
The Salesforce Developer training in Chennai at FITA Academy covers all the essential topics required to be a successful salesforce developer. In addition, our experienced trainers provide hands-on coaching and guidance throughout the course so that you can develop correct techniques and approaches for using salesforce.
If you're looking to get into this exciting and growing field, you're probably wondering what kind of salary you can expect to earn. Our Real-time Salesforce professionals will mentor you and help you fast-track your career. And this Salesforce Developer Salary for Freshers is something that you can look forward to when you complete our course. So don't delay, enroll today and start your journey to success.
Salesforce Developer Roles and responsibilities
Salesforce Developer should understand different versions of the Salesforce Platform and various user interface options available in different flavors of Salesforce.
To become a Salesforce Developer you must be well versed in Apex Language and Object model.
You will have knowledge about core concepts and features provided by Salesforce platform and also how it is being used by organizations around the world.
Your Salesforce development experience should include developing components and visual elements as part of your current projects.
As a Salesforce developer, you will be involved in creating components and visual elements by leveraging visual editor tools.
It will be important for an experienced Salesforce developer to learn about many complex topics associated with the technology. These may include things like security, mobile app design and development, content marketing, customer relationship management, workflow, process execution etc.
Finally, it's very important for a Salesforce developer to create quality code which meets technical standards and best practices in order to ensure its reliability.
A good understanding of VisualForce is required as this is used to build dynamic pages with rich text formatting, images and other multimedia.
Additionally, Salesforce Developer has to work closely with multiple teams, including customer support, product manager, business analyst, project managers, QA engineers, etc.
With our certification program, you can be confident that you're qualified for any salesforce developer role. Our Salesforce training in Chennai will help you on your way to success if you are interested in entering the Salesforce development field.
Salesforce Architect
Salesforce architect plans, designs, and develops a large scale complex enterprise application architecture. They also work closely with developers to deliver high-quality code. An architect uses design patterns and best practices to build scalable applications. The Salesforce architect's primary focus is to ensure scalability, maintainability, compatibility, accessibility and extensibility.
Salesforce Architect is a key position in the sales process and is responsible for developing, managing and sustaining sales pipelines within an organization. FITA Academy offers excellent Salesforce training in Chennai that can help you take your career to the next level. Some of the Roles and responsibilities as follows.
Salesforce Architect Roles and responsibilities
Responsible for designing, developing and delivering enterprise applications using advanced Salesforce development and architecture skills.
Plan, build, develop and maintain the platform to meet customer requirements.
Maintain and expand the Salesforce.com platform used by customers in an ongoing manner to create maximum value.
Determine requirements, design approach and functional specifications for new architecture initiatives to ensure that proposed solutions are based upon industry best practices, standards and compliance with other architectures within the organization.
Create, maintain and ensure adherence to a documented framework and methodology for Salesforce development.
Create technical standards that ensure best practices and consistency across the platform.
Provide strategic consulting to customers and partners on architecture, design and development on the Salesforce Platform.
Develop processes and workflows necessary to refine code to meet compliance standards set forth by Salesforce, such as Branding Guide, Style Guide etc.
Design, analyze, develop and maintain programs to enable users to perform their jobs more effectively.
Ensure that the architecture team is focused on meeting customer requirements and external marketplace demands while maintaining quality standards and reliability of applications.
Salesforce is a popular CRM system that is used by businesses to keep track of sales and customer data. After completing a Salesforce course in Chennai, you will be able to use this CRM system to maintain customer relationships, track product sales, and manage the sales process.
Salesforce DBA
Salesforce database administrator maintains databases by adding and removing records, setting up indexes, updating metadata, performing backups etc. A Salesforce admin will also work with different Salesforce components like apps, reports, flows, triggers, dashboards, and email notifications to ensure its functioning smoothly.
Salesforce is also very easy to use and can be used by people who are not familiar with it. Salesforce training Chennai can help you get a better understanding of the software. Here are some roles and responsibilities a follows:
Salesforce DBA Roles and responsibilities
Manages all aspects of the databases. They develop and maintain cloning tool, databases, making changes to the Salesforce object model, writing applications and managing the configuration.
Keeps Salesforce database up to date by creating and maintaining indexes.
Maintain current in an enterprise-wide data model.
Develop application infrastructure by scripting and implementing business logic layer frameworks as well as custom programmed or semi-programmed reports for complex functions that are not provided by a packaged report option in Salesforce
Design and develop custom apps, validations and workflows to automate business processes.
Develop intricate security models and identity management systems.
Keep the Salesforce database up to date by creating and maintaining indexes.
Writes complex queries for custom reports using the report API or custom reporting tools such as those provided by Birst or Cognos .
Develop and maintain programs to enable users to perform their jobs more effectively.
Use industry best practices and compliance standards for backup and recovery of Salesforce data including backup archival, data retention, disaster recovery, data replication techniques and security of backup tape media.
Develops data models that can be extended to the rest of the organisation to enable analytics using packaged tools like Tableau or Cognos Powerplay.
Define how data can be used to provide the business with deeper insight and more accurate information, which can be incorporated in business intelligence reporting tools.
Salesforce is an excellent tool for businesses of all sizes. It offers a lot of features, such as Salesforce Cloud, that can make it difficult to find the right Salesforce DBA job. However, if you take the Salesforce Course in Chennai at FITA Academy, you can get the perfect Salesforce DBA job. The course is comprehensive and teaches you everything you need to know about this powerful sales software.
Salesforce Lead
A lead performs technical tasks to develop or support products or product lines. Leads create project proposals, coordinate and manage resources, develop schedules, collaborate with cross-functional teams, and resolve technical issues. As a Salesforce Lead, you may be tasked with evaluating software vendors, assisting with vendor selection, developing project plans and timelines, negotiating contract terms, preparing quotations, managing projects and budgets, defining scope, establishing objectives, and helping with implementation.
Salesforce Lead Roles and responsibilities
Leads projects from start to finish by developing/reviewing project plans, schedules, coordinating resources and resolving issues as they arise.
Defines scope and sets objectives for project work by analyzing functional specifications and business needs to determine goals, objectives and major deliverables.
Directs project activities for the implementation of complex technical solutions by coordinating with internal teams such as development, testing, training, support etc., and external vendors.
Interprets business requirements and functional specifications to organize, plan, schedule and direct project implementation.
Resolves complex issues by analyzing problems and determining actions to be taken by gathering information from technical personnel and customers .
Leads the implementation of software projects by managing the project's schedule, budget and quality objectives.
Maintains regular communication with management regarding status of projects including problems or issues that may affect progression.
Builds and maintains professional relationships with clients, group leaders, customers and other business stakeholders.
Defines technical standards necessary to develop/maintain a project or product line by creating system specifications for the solution, determining any necessary licensing requirements, creating custom code to satisfy application needs and programming interfaces.
Designs diagrams and reports that describe relationships between systems and user interfaces to enhance the user experience when using Salesforce solutions.
With Salesforce, you can take control of your sales process and improve customer service. FITA Academy is the perfect place to learn about Salesforce and find a lead job after Salesforce Training Chennai. Then join us to improve your Salesforce skills and get the best out of your job in Salesforce.
Salesforce QA
This role is responsible for ensuring that Salesforce product functionalities are available to users as intended. They test, debug and troubleshoot issues related to the platform and customer support service. They make sure that the application is delivering what the user expects, stopping it from crashing or failing in any way.
Salesforce is an important tool for companies because it can help them to track their sales performance, measure their marketing campaigns, and manage their customer relationships. you will learn all about the different features and capabilities of Salesforce, as well as how to use it in your business at Salesforce Training in Chennai which will equip you with the knowledge and skills to start using Salesforce in a company. And give you a complete understanding of the Salesforce platform.
Salesforce QA Roles and responsibilities
Define and implement test plans by evaluating project requirements and functional specifications, identifying testing procedures, preparing test cases and coordinating testing activities.
Execute test cases by validating system functionality of all internal Salesforce applications against functional specifications to ensure the product is fit for delivery.
Identify defects and issues by reviewing the proposed fixes to find any new issues introduced by them , any faults or errors in application code and verify whether or not they've been resolved successfully.
Analyse test results by comparing actual with expected values to determine pass or fail and inform the development team of any issues found.
Write test scripts, maintain test data and document test results by performing manual tests, writing test scripts in unit testing tools like TestNG., JUnit, Selenium to automate testing efforts.
Recommend process improvements by evaluating current defects and issues, identifying root causes, proposing alternative solutions/workarounds and suggesting changes as appropriate .
Review test cases to determine the effectiveness of testing and make recommendations to improve the process.
Extensively use product knowledge to troubleshoot issues & provide feedback to developers.
Maintain a good understanding of development best practices and application code design patterns.
Support developers by providing guidance with regards to quality control tasks and providing technical support during test and development phases .
The Salesforce Course in Chennai provides students with the necessary skills to learn and implement the software, while giving them the opportunity to work alongside top Salesforce experts. On joining the course, students have access to a wealth of solutions that will help them improve their career.
Salesforce Senior Consultant
An experienced consultant leads others with knowledge of the overall context and the process of change. This role requires people who can think creatively and problem solve while building team relationships. These consultants have worked in similar situations before and use their experience to build rapport and inspire trust among those involved. A senior consultant coordinates events and activities across multiple teams, helps identify emerging needs, makes suggestions about improvements, and drives improvement through collaboration.
Salesforce Functional Consultant
A functional consultant manages various organisational processes such as account management, marketing automation, customer relationship management, social selling, etc. They help organisations leverage cloud-based business solutions to improve productivity, efficiency and cost savings. In order to do this, they communicate clearly with internal stakeholders and external experts, analyse data and information, determine what changes are needed and then provide actionable recommendations to address them.
You may be looking for Salesforce employment opportunities if you have recently completed Salesforce training in Chennai? If yes to these questions, you are in luck. Salesforce training can lead to the best Salesforce jobs.
Having seen the career scope for Salesforce it is also important that you should be aware of the Frequently asked Salesforce Interview Question and Answers to perform well in your interview.
1. Name the four types of Salesforce Reports
Summary reports
Matrix reports
Joined reports
Tabular reports
2. List two benefits of Salesforce?
Automation of mundane tasks can be done efficiently with Salesforce software.
Sales opportunities are increased significantly along with customer retention with the deployment of the Salesforce tool.
3. Why and How to use the bucket fields in Salesforce?
The Bucket fields are used in the Salesforce report for grouping the field values. Also, we need not create these fields in the Salesforce platform as it exists by default in the reports.
4. How does Salesforce compare to other tools?
Salesforce has many features that are unique to itself, including:
The ability to store millions of records without running out of space
A rich set of APIs that allow developers to build applications on top of Salesforce
Integration capabilities that connect Salesforce data with external sources, such as CRM
Mobile apps that enable users to access their data while they're away from the office
In-memory processing gives customers immediate insights through charts, graphs, and data tables
Salesforce developer training in chennai is a popular option for those who want to learn about the software. The course will help you design and develop apps using the platform. Salesforce instructors are certified to deliver the training. You can expect to receive high-quality content.
5. How can you tell the difference between a data base, a repository, a schema and an object model?
The database stores data in columns and rows. A repository allows access to the information that is stored in a database. A model of objects defines the classes of objects that are utilised by a system. The schema defines the way these objects will be placed together.
6. Why do we need to use databases for storing our data if it's just text files?
Text files can't easily handle complex queries or relationships. They take up too much disk space. They can't easily scale.
7. What are the different types of storage mechanisms available in Salesforce?
There are three main ways to store information in Salesforce:
Metadata – Information about your organisation, its products, services, contacts, etc. Metadata includes things like fields, record types, permissions, organisations, profiles, etc. To illustrate, when creating a new account type, you add metadata to describe what fields you would like to be able see in that record type. This is done by using the MetadataAPI.
Custom Settings – Custom settings give you control over which fields appear on certain screens, whether those screens display "read-only" fields, where people can find certain reports, etc. You define custom settings in Apex code. You can also write triggers that update custom settings based on changes made elsewhere within Salesforce. These updates occur automatically whenever any user makes a change to the setting.
Attachments – Files uploaded by users who have permission to do so. Users can attach documents (PDFs) or images (JPGS, GIFs, PNGs, BMPs, WMV, MOVs), spreadsheets (.XLS,.CSV), presentations (.PPT), HTML pages (.HTML), or audio/video clips (.AVI).
8. Can we create an object in Salesforce?
Yes! There are two parts to creating an object:
Creating the class definition: Define the structure of your object, assigning properties to fields and methods. The name of the class must begin with the prefix "SF". Example: account.
Defining the actual instance: Create instances of the class. Each instance represents one partof data. In the case of an Account, each instance would represent one particular customer.
9. What is the Salesforce Lightning Experience?
Lightning Experience is a feature of Salesforce1 that allows users to view the same content regardless of device. It works across desktop browsers, mobile devices, tablets, and TVs. It uses real-time synchronisation to ensure that all devices show the latest state of information.
10. How does Salesforce compare to other CRM platforms?
Salesforce is built around the idea of sharing business processes across multiple applications, rather than a single application controlling every aspect of your life. Salesforce Course in Chennai helps to understand the features that enable businesses to work better together. It has powerful tools for quickly building apps and integrating with third-party software. And, because of the way it's designed, it scales without requiring additional IT resources.
11. How can Salesforce help companies be more successful?
The most obvious answer is that with Salesforce, you get everything you need to run your business from a single platform. That means you don't need to buy multiple systems just to track leads, manage orders, send invoices, and more. You can do it all from Salesforce. The ways in which this CRM helps you grow your business. Here are a few ways in which this CRM can help you grow your business to become successful.
You need to find the right customers in order to succeed.
Establish relationships that are more sustainable in the long run.
The Costs of sales should be reduced as much as possible.
It will Enhance the productivity of your employees.
Improve the level of customer service you provide.
Retain more customers by improving customer retention.
12. How do I set up a company page?
A company page is a profile that contains a summary of key information about your company. It shows your logo, provides contact information, links to social media accounts, and lists important dates. If you're trying to add a company page but haven't yet created a company profile, you'll first need to create one before adding a company page. You will gain all practical knowledge from the FITA Academy salesforce training institute in Chennai.
13. Why should I consider Salesforce as my CRM solution?
Salesforce is a powerful tool for managing sales, marketing, service, support, and finance operations. This salesforce developer training in Chennai gives you key insights about Salesforce. It supports complex scenarios such as managing relationships between customers, suppliers, partners, and employees.
14. What is Apex programming language?
Apex is a development language used to build Salesforce.com's online services components. With Apex, you can develop logic-based components to interact with many different types of objects.
15. What are the benefits of using the Salesforce Mobile App?
Salesforce Mobile Apps offer several benefits, including instant access to critical information while away from the office. They allow you to take part in conversations through real-time messaging and group chats. They can be used to view files, search for contacts, check email, and browse maps. These benefits are available for both iOS and Android at no additional cost.
Also Read: Salesforce Interview Questions and Answers
Student Testimonials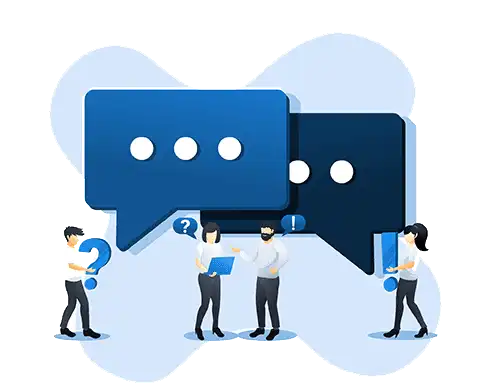 Have Queries? Talk to our Career Counselor
for more Guidance on picking the right Career for you! .
Additional Information
The purpose of a CRM is to maintain and manage a company's relationship with customers. It typically involves Marketing, Sales, and Customer service. Salesforce.com offers services in all of these areas. Salesforce is the most effective, efficient, and cloud-based CRM tool available in the market. With Salesforce, you can boost your Sales, Service and Marketing process by managing and maintaining effective customer relationships. This cloud-based CRM is used in most of the Fortune 500 companies around the world. There is a huge demand for Salesforce Developers and Administrators in Chennai and the rest of the world. Take-up Salesforce Training in Chennai at FITA Academy and get an opportunity to work in the world's popular CRM software – Salesforce.
Professionals and Students with good Salesforce knowledge are on high demand in many leading IT companies. Whether you want to fast-track your career with a high salary or looking for a job abroad, learning Salesforce is an ideal choice. When you undergo Salesforce Training in Chennai at FITA Academy, our trainers will guide you in clearing the Salesforce Certification as well. FITA Academy offers real-time and practical Salesforce CRM Training by certified professionals with 8+ years of experience. Our practical oriented teaching with complete hands-on will assist students to learn this advanced CRM in real-time.
What will you learn in the Salesforce Training in Chennai at FITA Academy?
A complete overview of the Salesforce CRM tool
Get acquainted with Salesforce Objects and learn to modify, create, and rename Objects
Able to create various field types and the validation rules
Know-how to implement, create, deploy workflows
Demonstrable knowledge of VisualForce in Salesforce
A clear understanding of the Apex Programming Language
Capacity to configure, create and handle dashboards
A thorough understanding of how to manage sales and configure the service cloud
Get Familiar with SalesForce CRM Customization
In-depth knowledge of security controls, application life cycle, chatter, schema builder, and visual workflow.
From the above learning outcomes Salesforce Developer Training in Chennai at FITA Academy, you will learn how to leverage Salesforce PaaS (Platform as a Service) for building and growing your business. You will also learn about the benefits of using Sales.
Eligibility Criteria and Prerequisites to learn Salesforce Course
Eligibility Criteria: Any fresher graduates who aspire to begin their careers in the Salesforce platform can opt for this course. However, this Salesforce Course is also suitable for professionals such as, Business Analysts, Software Developers, Programmers, Business Architects, Business Consultants, Administrators, Sales Managers, IT Professionals, Project managers.
Prerequisites: There are no prerequisites to learn the Salesforce Course in Chennai at FITA Academy as the course is devised in the aspect to have a clear understanding of the Salesforce concepts from its fundamentals. However, having prior knowledge of DBMS and having a conceptual understanding on how business works, will be of added advantage for you to learn the Salesforce Course quickly. Salesforce Training in Chennai at FITA Academy provides in-depth training of the Salesforce concepts and its applications clearly to the students under the guidance of our expert mentors.
Reason to Learn SalesForce Course in Chennai
With training delivered by our expert mentors, we offer professional and practical Salesforce Training in Chennai. Our expert trainers train you in such a way that you master the Salesforce platform and the Apex coding to manage all the business customizations required for customers. We also assist you by guiding for the Salesforce certification in Chennai and ensure that you use your learning of Salesforce administration, Salesforce app builder and developer to pass the Certification. Want to know the Salesforce Training Cost in Chennai? Talk to our Student Counsellor at 93450 45466 to know the Salesforce Training Cost in Chennai.
Why Is Salesforce Training Important?
Training is key for the right knowledge which is essential to make a business or career successful. Salesforce has been used by many companies to overcome business challenges and to streamline their Marketing and Sales process. Right Salesforce training at the right Training Institute can equip you with the right knowledge to make a career. That's where FITA Academy comes in place. Helping Professionals & Students to Jumpstart their Career in Salesforce since 2012.
Placement Support
FITA Academy provides 100% Placement assistance to the eligible students after successful completion of the training
We have tie-ups with more than 1500+ companies ranging from small to large scale companies
FITA Academy has an Active Placement Cell that helps the students to land in their dream career
Salesforce Tutorial
Latest update regarding Salesforce
The largest salesforce software company with the native of Finland namely Fluido, was acquired by Infosys which is considered to be a massive step taken by the latter. By this acquisition, Infosys has grabbed a firm hold in the Salesforce industry as a cloud service provider.
Fluido was acquired by a deal worth 65 million, which includes the earn-out, management incentives along with bonuses. By this move, Infosys now has its footprints over the Nordics region, which includes Finland, Sweden, Denmark, Norway, and Slovakia.
Interface of Salesforce
The sale is the common term used for the corporate sales, online sales and retail sales. Online sales or corporate sales can be achieved through Digital Marketing which consists of different techniques to boost the online presence and sales.
The support needed for the retail sales is gained from the software sales force as it requires huge follow ups and information. Salesforce Training in Chennai has good bondage with the students and they train the students with distinctive talents. Sales force is used to enhance the sales through the customization of the interface, build various functionalities; build apps and set up paths for the functions.
There are two types of lighting in the sales force page which are classic and modern to design the interface. The features that are beneficial to the sales and the ultimate users are used in the two types of interfaces.
The top right corner of the sales force page consists of the set up options. By clicking the setup option in the page the setup home page is seen. Under the setup home the configuration option and the customization options are given. Salesforce Training is the best training for the students with interest in sales and technology.
The setup in the sales force requires the information like users, company settings, security, environment, objects and fields, user interface, custom code and analytics. The setup clearly explains the business goals and the business operations for the sales. The details to be furnished under each of the settings are used for adding; removing or managing the business information and do the analysis with the dashboard or the reports.
Management of sales
Sales department is the external department or highly interactive department in any organisation. The contact management of the customers like the contact details, activity history, customer communications, and internal account discussions are managed by the feature called contact management in the salesforce.
Opportunity management helps for the different stages of a sale. Like the identification of the deal, products involved in the deal, data required for the deal, quotation for the deal, and finally closing the deal. For some types of sales this requirement well suits to manage the follow ups and save the required data. Join the Salesforce Course in Chennai and live your dream by procuring a high level job.
Sales collaboration is for finding the experts among the sales team to fix up the issues in the sales and complete the deal within the given short tenure of time. This aids for increasing the number of sales. Sales performance management is to check the goals of the sales and the respective reward to the employees or sales team.
The campaigns across the channels like the website, Facebook or youtube are measured with the lead management. The customers contact the channel through this lead management which aids for increasing the sales. Salesforce Training Institute in Chennai offers course with industrial experts and provides real time training with the required industry knowledge.
Management of services
The different functions of the sales are designed as different applications and all are grouped under one hardware called salesforce. Each function is called as tenant and hence sales force support for the multi tenant cloud. The metadata are scalable and makes it easy for the customization of the concurrent user in the sales force. The ecosystem and the environment of the sales force are very large as the users are large. Join the Salesforce Developer Training in Chennai which offers the training as developer syllabus and admin syllabus to help the students with distinctive knowledge.
Console for service is to help accomplish the business goals. This service helps to prioritise the task and share the personal experience with the customer in different cases. The knowledge base is the service which captures the interactions between the customer and solutions to the issues from the customer. This is very helpful in solving the issues by taking examples from the past.
Social customer service is the option which integrates with the social media page and it becomes easy to interact with the social media customers. Live agent is the service from the sales force for real-time and direct chat with the customers. Mobile platform is also service based cloud which offers the services through mobile app. The service cloud communities use many tools in the service cloud and trouble shoots the various problems. Join the Salesforce Developer Training to pursue a career with the Sales force which pays a leading salary in the industry.
Objects in Salesforce
There are three types of objects in the sales force and they are standard objects, custom objects and external objects. The objects used for the configurations, accounts and settings are the relational data which forms the standard objects.
Standard objects
The standard objects are seen from the settings, setup home, object manager and account. The schema builder in the account table shows the field names and data types of the data. The account information, contact information, case information, user information, asset information and domain information forms the different forms of the standard objects. Salesforce CRM Training in Chennai imparts the knowledge to the students learning to fulfill the job opportunities in the job market.
Custom objects
Custom objects are used for building the page layouts, editing the custom objects, importing the records of the custom object, creating reports for the custom objects, create dashboards for the custom objects, creating a tab for the custom data, tracking the tasks of the custom objects, and displaying the custom objects. To carry over these functions the custom object is used. To set up the custom object click the create option under the object manager, give name to the object and save the object, the custom fields are added and the relationship tab are scrolled down and filled with the information. Join the Salesforce Administrator Training in Chennai to join the top companies as the administrator to the salesforce app.
Relationship records
The relationship among the data and the files are created in the custom objects. The features of the master-detail relationship includes delete the master records, delete all records, master record is essential to create a detailed record, the permission from the master record is needed to open the detail record, the sharing rule for the detail records comes from the master record, and both the types of records are included in the report record types of the sales force.
To set up the relationship type the process is to go to the setup home, find the object name, go to custom fields then to the relationships related list, click the new and choose the relationship between the master and the detail. The ownership of the record, master record details, and the summary fields of the master record are created. After creating the relationship field, create the delivery location. Add the relationship name, field name, and then add the reference field to the page layout. Then add the related list to the layout along with the parent or master record. Salesforce Training in Tambaram offers the training with support to the students to clear the certification.
Lookup relationship is about the value of the field and this is used in shared data between two objects. For the field delivery location the lookup relationship is the delivery schedule. These two fields are interrelated fields and the value of one is known by another field. The schema builder shows the relationship and lookup relationship details in the sales force app.
Schema builder
The Schema is used for viewing the object, modifying the object and creating a new object. The schema builder shows the field values, data types, relationships and directions of the fields. The schema builder has a drag and drop option in the interface of the sales force. Go to the objects and fields in the setup home, then object manager, then schema builder, the left pane of the schema provides the objects details, the element tab shows the fields and relationships and the objects tab shows the standard object and the custom object. Changing objects in the Schema is shown in the right pane, the modification of the custom objects, and the standard objects are not used for the structure change. To create objects using schema builder the process is to go to the element tab, drag the element which is the object, then finally fill in the information of the object. Join the Salesforce Training in Chennai and start your steps towards success.
Control
The setup home, administration and users in the settings help to set up the details of the users in the sales force app. The new profiles are created by cloning the old profiles in the users and profiles settings. There are some objects which are not accessible with the profiles. In such cases the permission sets are created and the sets are attached to the user's profile. Join the Best Salesforce Training in Chennai to gain in-depth knowledge in the sales force. Some objects are accessible on a temporary basis; this is also done through the same process. The access can be through object, field, records and values. So, access type is important to get access to the data in the sales force app. There are four mechanisms in sharing an object to the record : organisation-wide defaults, manual sharing, role hierarchies, and sharing rules. The public read and write, public read only, private and controlled by parent are the four types of sharing models in the sales force app.
Process builder
After the process or function the data goes inside the record or for the analysis purpose. The process builder tool helps for automating the processes of the sales. Select the object, add the criteria to the object, start the process, and finally add action to criteria. To add large records to the salesforce object the CSV files are used in the Sales force. To import data in large size CSV files are used in the sales force. The export of data is processed through the setup home, data, data export and then schedule an export by instructing the frequency of the data to be exported. After the download the hyperlink of the download data is sent to the email of the receiver of the scheduled export. It is our aim to create a huge community of Salesforce software users who are dedicated to learning and participating in the Salesforce software, by offering the best Salesforce training in Chennai.
Visual force
Tag based language are used when creating the visual force pages. The language is similar to the HTML language. The traditional webserver page accepts the URL and this is also similar to that. The visual force language decides the view of the data like the list view or the field view of an object. This language is easily collaborated with the HTML, CSS style and java libraries. The expressions, operators and the literals in the visual force page help for the variables and expressions form of the data.
Get full pledge knowledge about salesforce updates through our Salesforce Training in Chennai.
Force.com API
The developer tools have made life simple for developing applications without coding. This is called the Force.com API. It is used when there is no need for writing code for the application development. The API allows the developers to use the objects of the sales force for their business requirements. The REST API integrates with the objects in the sales force app for making requests and responses. A developer has an option of using PHP, Java, JavaScript or other languages to make the request. The response is received with the help of XML and JSON.
Apex Class
Apex classes help for controlling the logic flow and setting up the validation. These classes help for controlling the fields, conditions, loops and other elements used in the apex programming. It uses the methods and properties defined in the class to perform required actions. Each method in the class is responsible to handle a specific case related to the workflow. These are executed one after another. When any error occurs it returns back to the caller. If there is no error it moves forward till the end of the execution. Apex class syntax is different from the normal class syntax.
Salesforce Mobile Apps
Mobile applications integrate with salesforce technology. There are many applications available on the market which can run under iOS and Android operating systems. The mobile applications allow user access to the information stored in the sales force using the internet connection. These apps store all the necessary information and send them to the server. At the same time they provide offline support for users who do not have internet connectivity. These applications are created with native languages. Thus, they work on tablets and smartphones faster than web applications.
Salesforce training in chennai can help organizations to get a head start on implementing the platform. They can also use it to train their employees and get them up to speed on the new software. It is a popular option for both new and experienced developers. They offer a range of courses that cover the basics of Salesforce, CRM, and marketing automation.
Data Migration
Data Migration is the process of transferring data from one source to another. In the sales force cloud it is easy to transfer data between two systems without losing the data. Using the salesforce data migration tool you can migrate your data across the platforms. It is the easiest way to move your data from one salesforce platform to another. It supports all the types of objects in salesforce including custom objects, standard objects and reports etc.
Data Security
If you're only getting started in Salesforce, You've probably considered the advantages of the different data security methods. This section will explain what each one is and how it affects your business. Data security features can affect all aspects of your business, from Customization to flexibility. You'll also learn about encryption and access controls. But what are the benefits of each one? Let's look at some of them to help you decide which data security solution will best suit your business needs.
Customization
In this salesforce training in Chennai, you will learn about different data security measures where you will learn how to protect your company's data from hackers and other malicious elements.
It's important to remember that data security measures are a key component of data management and must be in place before you implement any cloud application. The software is available in a variety of forms and is designed to be flexible. It can help you create a customized environment to meet your business needs.
Many startups and Fortune 500 companies rely on the CRM platform to manage their customers. This tutorial explains the various features and benefits of this tool. The Salesforce Course in Chennai will also teach you how to build an app on the platform. Previously, employees would manage data manually. They'd jot down notes and store them in files. This created inconsistencies and made it difficult for companies to leverage all available data. By using a cloud-based application, employees can manage data in one place and have it available for all departments.
If you're looking to safeguard your information from hackers, it's vital to be aware of the many methods for protecting your data. The software's security model covers RLS and FLS. It includes over 800 applications that allow companies to manage the organisation's data focused on customer relationships. Learn about these options and make sure that your organisation follows them. Then, you can implement data security measures to protect your data. You'll be glad you did!
In addition to limiting access to your data, you should also limit the types of users who have access to specific data. This way, your Salesforce org and the app will be secure and prevent unauthorised users from accessing it. You can think about the types of data your job requires from our salesforce training institute in Chennai. Once you know which data types are appropriate for your work, you can start developing your model. Once you've decided how to share your data, you can set up rules to prevent them from being misused.
Flexibility
The different data security options can help you get started with this powerful CRM software. The platform itself is very easy to customise and is powered by metadata. There are several different parts to this platform, and it is crucial to understand them to get the most out of it. These parts include: The security model of Salesforce is made up of three different levels: object, field, and record.
Depending on the type of data you have, you can set different security levels for your data. Fortunately, the security model is highly flexible and comprehensive. It lets you set the level of access you want and prevent others from accessing certain information. This allows you to choose which parts of your data you want to be protected and which ones you can open up for public viewing. Our Salesforce Course in Chennai gives you an in-depth look at the security model.
If you need to store sensitive data, you'll want to limit the users who can view certain data. In many cases, recruiting apps use data that needs to be private. You can use the Salesforce platform's layered sharing model to limit access to certain users but make sure everyone has access to the information they need. This way, there's less risk of data being stolen, and you can control who can access the information.
This gives you different data security options, allowing you to set different access levels to different parts of your system. By making your data accessible only to authorized users, you can control how your users can access it. By getting this knowledge through salesforce training in Chennai, you can come to know about different kinds of security features. In addition to this, Salesforce has built-in security mechanisms to make sure that data stays secure. You can also use different page layouts to secure your data. Then you can export your data to external tools.
Record level security is another useful option for limiting access to records. It allows you to control who can view and edit specific records. Using this feature, you can limit access to the entire database or only certain objects. Another option is to encrypt records. Salesforce offers two types of encryption: object-level encryption and record-level encryption. While record-level encryption is more flexible, object-level encryption gives more control over who can view specific data.
Encryption
While data encryption is an important security measure, it is not always feasible to encrypt data in Salesforce. Encryption can be an effective solution if you use deterministic or probabilistic encryption methods from salesforce training in Chennai. Depending on the data being encrypted, these two encryption methods will result in different cipher texts. However, encryption will prevent unauthorised access to your data in both cases. Encryption in Salesforce can also be done on the file system, so you don't need a separate server or application.
For ensuring regulatory compliance, you can use platform-based encryption. These encryption keys are kept in a separate location from the data and can't be accessible to users without the necessary authorization. Encryption can also protect attachments stored in Salesforce. This option is available on some of the custom fields.
To set up encryption in Salesforce, go to Setup – Platform Encryption. Afterward, choose encryption and click the "Encrypt" button.
Platform encryption in Salesforce allows you to protect data with 128-bit master keys. This means that you don't need to worry about compromising your security, as long as your data is kept confidential. However, there are some limitations to using encrypted fields. These include data sharing models involving files, attachments, and standard fields. These are just a few limitations that may limit your use of the platform-based encryption in Salesforce.
Classic encryption in Salesforce can protect user data, including contact details and business data. This encryption technique masks the original data with a strong 128-bit Advanced Encryption Standard. It's also possible to encrypt custom fields and custom objects. For more information about encryption, see the Encryption in Salesforce documentation which will be provided by taking our Salesforce Course in Chennai. There are other important features to take into consideration when using the feature. This way, you'll be better secured from hackers.
While data-in-transit encryption is a good option, data stored in Salesforce must be encrypted before it leaves the application. To implement encryption, you must ensure that your data has the appropriate permissions.
Salesforce offers two types of encryption: classic and shield.
Salesforce Classic is the default encryption that comes with Salesforce and is required for point-in-time recovery.
Salesforce Shield Platform Encryption is the more robust option and comes with extra charges. It's highly recommended that you use it for your data storage in Salesforce. You must also consider the security of your users. From the best salesforce training institute in Chennai, you will get all the training regarding Salesforce Platform Encryption.
Access Control
Based on the kind of access you require, Salesforce may offer many choices for restricting access to users. You can create different integration users for different systems and fine-tune each user's permissions to restrict access to specific records. Learn from our best salesforce training in Chennai to know more about the permission types. Users can also be granted access only to subsets of data that support their specific use case. The Limits and Allocations Quick Reference can help you determine the maximum number of open cursors for each user.
Salesforce security uses three key constructions to store information. These are objects, fields, and records, just like tables in a database. These constructs allow the admin to restrict access to specific features, data, and cases. Users can also have different levels of access, which means that an admin can limit certain objects and permissions for certain employees.
The object-level access model is more flexible and secure than other CRM security models. Once you get trained from our salesforce training institute in Chennai, you will learn the difference between object-level, field-level, and record-level security. Let's say you wish to restrict access to certain objects for John, an executive in sales Executive. Access to these objects will be controlled by profiles, permission sets, and access rights.
Objects and fields are the basic building blocks of the application. Objects are related to table records in relational databases. Custom user-defined records are also considered objects. Salesforce objects correspond to table records. In relational databases, object-level permissions are equivalent to field names. Page layouts are part of object definitions and define the appearance of objects to users. By default, users with role-level access can see records of any user.
Users can also assign permissions to objects. The easiest way to control access to data is to assign permissions for objects. This way, the support team can see records related to an account, while the account team will not see any of that data. This way, our salesforce training in Chennai provides data security by limiting access to this data. In Salesforce, permission sets are divided into roles. Users can be assigned multiple permission sets based on their roles and position in the organisation hierarchy. Admins can ensure that certain users can access specific records by assigning permissions to objects.
Organisation-wide defaults specify the minimum level of access for records. This default level may be too restrictive for some users, so you can create custom permissions and use role hierarchies to give users access to certain parts of the application. You can also create custom permissions for specific users or record types, such as mass sharing for leave requests. However, remember to never grant users access to data that you do not explicitly allow. Default access levels may be restrictive and may not be appropriate for all users.
Locations
FITA Academy provides the best Salesforce Training in Chennai with the help of MNC professionals. Spend your valuable time visiting our branches in Chennai. FITA Academy is located at the main hotspots of Chennai, that is Velachery, Tambaram, Anna Nagar, T Nagar, Porur and OMR. People also search for
Salesforce Training in Velachery
Salesforce Training in Tambaram
Salesforce Training in Anna Nagar
Salesforce Training in T Nagar
Salesforce Training in OMR
Salesforce Training in Adyar
Learn the basic to advanced Salesforce concepts through the Salesforce Tutorial.