Course Highlights and Why Salesforce Training in Chennai at FITA Academy?

FITA Academy provides a comprehensive and up-to-date training in Salesforce.

Our Salesforce courseware will enable you to acquire a deeper understanding of Salesforce's various components.

A combination of theoretical & practical knowledge is imparted so that students get a holistic learning experience.

Multiple batch timing options along with flexibility of weekends, weekdays, and fast track batches are provided to students to suit their convenience.

Placement training provided for students towards the end of the Salesforce Training In Chennai.

Once the course is completed, students are provided with a certificate of completion.

FITA Academy has tie-ups with more than 1,500 companies, and you are guaranteed to get placed in any of these after the completion of the course.

The course fees are structured to be made affordable to all students.
Upcoming Batches
09-12-2023
Weekend
Saturday (Saturday - Sunday)
11-12-2023
Weekdays
Monday (Monday - Friday)
14-12-2023
Weekdays
Thursday (Monday - Friday)
16-12-2023
Weekend
Saturday (Saturday - Sunday)

Classroom Training
Get trained by Industry Experts via Classroom Training at any of the FITA Academy branches near you
Why Wait? Jump Start your Career by taking Salesforce Training in Chennai!
Instructor-Led Live Online Training
Take-up Instructor-led Live Online Training. Get the Recorded Videos of each session.
Travelling is a Constraint? Jump Start your Career by taking the Salesforce Training Online!
Salesforce Course Objectives
Learn about Salesforce fundamentals, encompassing its various modules and the underlying data model.
Configure Salesforce effectively by overseeing company profiles, user interfaces, and activity management.
Learn about managing user profiles and Chatter groups while also troubleshooting login issues.
Learn about establishing data access and security protocols by working with roles, permission sets, and sharing rules.
Learn about customizing objects to specific needs by creating standard and custom fields, picklists, and lookup fields.
Getting to know data management techniques, including data import, data loader utilization, and data backup strategies.
Obtaining expertise in generating reports and dashboards, involving report creation, modification, and advanced filtering.
Explore workflow and process automation using tools such as Process Builder and workflow rules.
Learn to efficiently handle support processes, customize support cases, and automate various support-related tasks.
Develop skills in using Salesforce in a declarative manner and understand the limitations of declarative tools, which may necessitate programmatic solutions.
Salesforce Course Curriculum
Salesforce Admin Essentials (ADM/ADX 201) - Salesforce
Understanding Salesforce
Why to use Salesforce
Various Salesforce Modules
Salesforce Data Model and Navigation methods
Creating a simple HTML Document
Viewing HTML Document with Browsers
Introduction to different Web Browsers – IE, Chrome, Mozilla, Safari, UC Browser
Webpage Vs Website
URLs / Domains
Web Servers and Web Hosting
Configuring Salesforce
Understanding and Managing Company Profile Settings
User Interface – Configuration
Configuring Activities and Calendars
Understanding and Configuring Search Settings
Understanding and Setting Chatter Groups
Accessing Salesforce for Mobile with Salesforce1
Managing Users
Understanding and managing User Profiles
Managing Users in Salesforce
Understanding Chatter Free Users and Invites
Understanding and Troubleshooting Login Issues
Managing Data Access and Security
Understanding Users and Profiles
Understanding Roles and Permission Sets
Understanding Sharing Rules
Controlling User Logins
Understanding Standard Objects and Custom Objects
Controlling Object Access
Understanding Groups and Teams
Managing Field Level Security
Customizing Objects
Standard Fields and Custom Fields
Managing Standard Fields
Creating Custom Fields
Pick lists and Lookup fields
Understanding and Creating Fields with Formulas
Understanding Business Processes
Understanding Record Types
Working with Page Layouts
Ensuring Data Quality
Data Management in Salesforce
Getting data from different sources
Understanding Import Wizards
Working with Data Loader and Data.com
Handling Mass Transfer of Data
Backup and Restoring Data
Generating Reports and using Dashboards
Introduction to Reports and Dashboards
Understanding and using Report Builder
Creating New Reports
Modifying Reports
Using Report Filters
Using Formulas in Reports
Using Visual Summaries
Printing Reports, Exporting Reports and emailing Reports
Building and Managing Dashboards
Workflow and Process Automation
Understanding and using Process Builder
Creating and Managing Workflow Rules
Using Email Templates
Managing Support
Understanding the Support Process
Customizing Support Process
Managing Support Cases and Resolving
Automating the Support Process
Using the Salesforce Console for Service
Platform App Builder: Declarative Development (DEX-402) - Declaratively Building a Data Model
Understanding the Capabilities of Core CRM Objects
Limitations of Declarative Customizations
Understanding when to us Programmatic Customizations
Creating the required Data Model
Defining Relationship Types and Impact on the Record Access
More on Data Model
Changing the Field Types
Understanding and using Schema Builder
Importing and Exporting Data
Handling External Objects
Building User Interface
Understanding the Customization Options
Creating Custom Buttons, Links and Actions
Understanding List Views
Exploring Record Types
Exploring Social Features
Following Best Practices for UI Design
Developing Business Logic
Understanding Formula Fields
Advantages of Formula Fields
Understanding Summary Fields and Types
Creating and managing Validation Rules
Managing Data Security
Restricting Object Access
Restricting Record and Field Access
Extending Access to Object, Record and Field
Providing appropriate Solutions for Sharing Data
Business Process Automation
Understanding Process builder in Salesforce
Working with Lightning Process Builder
Using Workflows for Process Automation
Implementing Approvals in Workflows
Exploring Business Process Auotmation
Managing Field Updates
Understanding and Implementing Recursion
Deploying App
Understanding the Application Life Cycle in Salesforce
Working with Sandboxes
Working with Change Sets
Understanding Managed and Unmanaged Packages
Creating and Implementing a suitable Deployment Plan
Working with Advanced UI Components
Creating Reports using Advanced UI
Understanding Various Report Types
Creating and Managing Dashboards
Incorporating Lightning Components using Declarative Options
Customizing Salesforce1 User Interface using Declarative Options
Limitations of Declarative Option
Understand the Limitation of Declarative Tools
Necessity for Programmatic solutions
Understanding AppExchange
Using Apps from AppExchange
Platform Developer: Programmatic Development using APEX and Visual force (DEX-450) - Working with Objects and Fields
Understanding Objects in Salesforce Platform
Various types of Objects
Understanding Standard Objects
Understanding Custom Objects
Creating and Managing a Custom Object
Creating and Managing Custom Fields
Create Fields with Relationships
More on Custom Objects
Need for Formula Fields
Understanding and Creating Custom Formula Fields
Understanding roll-up Summary
Creating Fields with Roll-up Summary
More on Record types
Understanding the capabilities of Record Types
APEX Programming
Introduction to APEX Platform
Understanding Apex Builder, Apex API and Apex Code
Key Aspects to understand about Apex
How Apex is unlike other Programming Languages like Java, C#
Understanding Apex Development Process
Write and execute a Simple Apex Code
Using Variables and Data Types in Apex
Understanding the sObject Data Type
Understanding Primitive Data Types
Understanding and working with Control Statements in Apex
Understanding Governor and Governor Limits for Apex Transactions
Using Classes in Apex
Understanding Classes and Objects
Using Class Variables and Methods
Understanding Constructors and Access Modifiers
Understanding Interfaces
Understanding and using Keywords and Annotations
The Salesforce Object Query Language (SOQL)
Understanding SOQL
Writing basic Queries using SOQL
Writing Dynamic Queries
Understanding Relationship Queries
Understanding Parent-Child Relationships
Understanding Queries that traverses
Traversing Child to Parent Relationship with Queries
Traversing Parent to Child Relationship with Queries
Exploring Data Manipulation Language (DML)
Understanding What is DML statements
Using DML statements to Insert, Update, Delete, Merge records
Different method to Invoke DML statements using Apex
Writing Apex Code to perform Data Manipulation
Understanding Triggers
Understanding Triggers and its advantages
Understanding Syntax of a Trigger
Understanding Before and After Triggers
Understanding Bulk Triggers
Understanding Trigger Exceptions
Operations that will not Invoke Triggers
Understanding and Using Trigger Context Variables
Strategically Designed Triggers
Understanding List Declarative Mechanisms
Understanding to implement Complex Business Logic using Triggers
Methods to improve Programming Solutions using the Declarative Functionality
Apex Transactions and Triggers
Understanding the Triggers Order of Execution
How Order of Execution Impact on Triggers
Understanding the Lifecycle of an Apex Transaction
Understanding the Lifecycle of Static Variables
Debugging Apex Code
Understanding the Debug Logs
Debugging API Calls
Understanding Exception statements
Exploring built in Exception
Creating Custom Exceptions
Testing Apex Code
Understanding Testing in Apex
Why to Test
Understanding the Apex Test Framework
Understanding Apex Unit Testing
Understanding the Test Class and Test Methods
Understanding Code Coverage percentages
Understanding the Test Data
Creating and Running an Apex Test
Strategies for Testing
Understanding the Best Practices for Writing code to Manage it efficiently
Writing Efficient Codes to work with databases
Working with Visualforce Pages
Understanding a Visualforce Page
Referencing a Standard Controller in a Visualforce Page
Displaying data in a Visualforce Page
Launching Visualforce Page
Controller and View Layers
More on working with Visualforce Pages
Displaying Data
Working with Standard Controller Actions
Understanding Custom Controllers and Extensions
Understanding Controller Extensions
Creating a Custom Controller
Defining Properties for the Custom Controller
Creating Custom Methods
Invoking Custom Methods
Working with SOSL Queries in Visualforce
Understanding the Standard List Controller
Creating a SOSL query
Understanding the need for Custom List Controller
Creating and managing Custom List Controller
More on Visualforce
Exploring possibility of a Declarative Solution for a Problem
Understanding the common Governor Limits
Understanding the Security Limits and Concerns
Testing the Visualforce Controllers
Understanding How Visualforce Controllers interact with Views
Writing test for Controllers, action methods, Getters and Setters, Properties
Salesforce Course Trainer Profile
The trainers at FITA Academy's Salesforce Training In Chennai are skilled Salesforce experts who have worked in various designations in the Salesforce field namely Salesforce Developer, Salesforce Administrator etc.
Trainers have a tremendous amount of teaching experience, having helped numerous students throughout their journey.
Trainers consistently conduct recap sessions of crucial concepts to help students remember concepts.
Trainers conduct doubt clearing sessions, ensuring that students thoroughly understand the subjects taught.
At FITA Academy, Salesforce Trainers give each student individual attention and provide hands-on training with complete hands-on practice.
Students benefit from our Trainers' guidance in building their resume professionally, as well as building their confidence by learning about interview questions and handling mock interviews.
Learn at FITA Academy & Get Your
Dream IT Job in 60 Days
like these Successful Students!

Student Success Story of Salesforce Training in Chennai
Preethi is a B.Sc Graduate hailing from Thanjavur. She was married off immediately after her graduation, but her married life was cut short as she was divorced within 2 years after her marriage.  She tried for various jobs after her divorce, but was struggling to get any because of her career gap. At that time, her cousin suggested that she pursue a course in FITA Academy.
She joined the Salesforce Training in Chennai after a discussion with our coordinators. She diligently attended the classes and got a complete knowledge of Salesforce. She successfully completed the course and obtained a certificate of completion.
Preethi attended the placement training provided by FITA Academy. With that help, she was able to attend interviews more confidently. She was able to get job offers from Eudadigital Pvt Ltd and Valenta. She chose Eudadigital and is now working as a Salesforce Developer with a salary of 4 LPA.
Features of Salesforce Training in Chennai at FITA Academy
Real-Time Experts as Trainers
At FITA Academy, You will Learn from the Experts from industry who are Passionate in sharing their Knowledge with Learners. Get Personally Mentored by the Experts.
LIVE Project
Get an Opportunity to work in Real-time Projects that will give you a Deep Experience. Showcase your Project Experience & Increase your chance of getting Hired!
Certification
Get Certified by FITA Academy. Also, get Equipped to Clear Global Certifications. 72% FITA Academy Students appear for Global Certifications and 100% of them Clear it.
Affordable Fees
At FITA Academy, Course Fee is not only Affordable, but you have the option to pay it in Installments. Quality Training at an Affordable Price is our Motto.
Flexibility
At FITA Academy, you get Ultimate Flexibility. Classroom or Online Training? Early morning or Late evenings? Weekdays or Weekends? Regular Pace or Fast Track? - Pick whatever suits you the Best.
Placement Support
Tie-up & MOU with more than 1500+ Small & Medium Companies to Support you with Opportunities to Kick-Start & Step-up your Career.
Why Learn Salesforce Training in Chennai at FITA Academy?
Live Capstone Projects
Real time Industry Experts as Trainers
Placement Support till you get your Dream Job offer!
Free Interview Clearing Workshops
Free Resume Preparation & Aptitude Workshops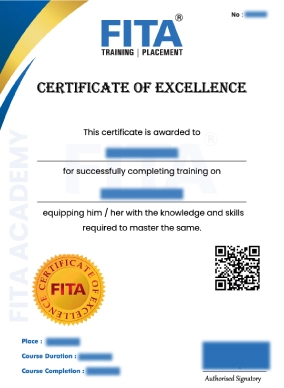 Salesforce Certification Course in Chennai
Students will obtain a certificate of completion at the end of the Salesforce Training in Chennai. This certification states that the candidate has acquired the necessary skills to work as a Salesforce Developer by providing real-time project experience at the end of the course. Including this certificate on your resume improves your chances of getting an interview and opens up a wide range of career options for you.
In addition to the certification provided by FITA Academy, there are several certifications provided for Salesforce. FITA Academy's Salesforce Course in Chennai greatly benefits students in preparing and obtaining those certifications. Some of the them are as follows
Administrator
Salesforce Administrator
Salesforce Advanced Administrator
Salesforce Business Analyst
Salesforce CPQ Specialist
Salesforce Marketing Cloud Administrator
Salesforce Platform App Builder
Architect
Salesforce Application Architect
Salesforce B2B Solutions Architect
Salesforce B2C Solutions Architect
Salesforce B2C Commerce Architect
Salesforce Heroku Architect
Salesforce Systems Architect
Salesforce Technical Architect
Salesforce Identity And Access Management Architect
Salesforce Sharing and Visibility Architect
Salesforce Development Lifecycle and Deployment Architect
Salesforce Integration Architect
Salesforce Data Architect
Developer
Salesforce B2C Commerce Developer
Salesforce Industries CPQ Developer
Salesforce Javascript Developer I
Salesforce Marketing Cloud Developer
Salesforce Omnistudio Developer
Salesforce Platform Developer I
Salesforce Platform Developer II
Sales
Salesforce Sales Representative
Marketer
Salesforce Marketing Cloud Consultant
Salesforce Marketing Cloud Email Specialist
Salesforce Marketing Cloud Account Engagement Consultant
Marketing Cloud Account Engagement Specialist
Consultant
Salesforce Data Cloud Consultant
Salesforce Education Cloud Consultant
Salesforce Experience Cloud Consultant
Salesforce Field Service Consultant
Salesforce Marketing Cloud Account Engagement Consultant
Salesforce Marketing Cloud Consultant
Salesforce Nonprofit Cloud Consultant
Salesforce OmniStudio Consultant
Salesforce Sales Cloud Consultant
Salesforce Service Cloud Consultant
Salesforce Tableau CRM & Einstein Discovery Consultant
Designer
Salesforce User Experience (UX) Designer
Salesforce Strategy Designer
Associate
Salesforce Associate
Salesforce AI Associate
Have Queries? Talk to our Career Counselor for more Guidance on picking the
right Career for you!
Placement Session & Job Opportunities after completing Salesforce Training in Chennai

CRM skills have become one of the most lucrative and promising careers for professionals around the world. Companies are currently becoming more customer-centric regardless of the type of business they are in, whether they are tech-based or manufacturing-based. Maintaining cordial relationships with their customers is more important to them for higher customer retention. As a result of these ideas, CRM tools needed to be enhanced and developed within companies. And when we say the best CRM tool, beyond no space for doubt, Salesforce is the world's most popular and leading tool in the CRM market. That aside, FITA Academy knows the importance of Salesforce CRM in the market and hence is dedicated to provide top quality Salesforce CRM Training In Chennai for aspiring Salesforce professionals. "100% placement training and assistance is provided to students at the end of the course."
The Salesforce Tool enabled organizations to increase ROI by 43%, customer satisfaction by 45%, and sales by 37%. According to a recent Gartner Inc report, there will be 3.3 million Salesforce jobs worldwide by the end of this year.
Currently, there are around 4,020 Salesforce job openings on Naukri.com and 2,080 Salesforce job openings on Glassdoor.com in India alone. The reason behind the significant growth of Salesforce job opportunities is that the Salesforce CRM tool is used by more than 1,50,000 companies around the world. Some of the major industries that use the Salesforce CRM tool are Automotive, Consumer goods, Business services, Financial Services, Education services, Health and Insurance sector, Government Services, Manufacturing industries, Transportation sector, Retail sector, and Travel and Hospitality. The reputed companies that use the Salesforce software are HCL, DTDC, Godrej, KFC, CEAT, Spotify, Toyota, Amazon Web Services, T-Mobile, Aldo, The NewYork Post, American Express, Canon, Hershey Company, NBC Universal, The American Red Cross, and Edelweiss. With that being said, FITA Academy provides a state of the art Salesforce Training and Placement in Chennai helping students get placed in the companies mentioned above.
After completing the Salesforce Certification Course, the following job titles are common in the organization: Salesforce Developer, SalesForce Consultant, Technical Architect, Salesforce Administrator, Salesforce Business Analyst, and Salesforce Project Manager. The average salary for a Salesforce Administrator is around Rs. 3,60,000 to Rs. 4,20,000 per year. It is possible for senior-level candidates to earn up to Rs. 7,20,000 to Rs. 9,30,000 a year. In the global market, Salesforce Developers earn up to $87,000 a year.
Salesforce Administrator
A Salesforce administrator manages all aspects of a Salesforce environment. They are responsible for monitoring the performance of systems, troubleshooting problems and ensuring the availability of services within an organization. Salesforce administrators manage users, security roles, workflows, field history settings on objects, fields, data types, formulas and validation rules.
Salesforce administrators are responsible for keeping the software running smoothly and keeping track of all the data within the platform. The Salesforce Course in Chennai will teach you how to get a Salesforce Administrator role after completing the training.
Salesforce Administrator is a highly sought after job position that requires some specific skills and knowledge. After completing our Salesforce Administrator Training In Chennai, you will be well equipped to manage and administer Salesforce successfully. We provide a comprehensive and engaging training program that covers all the essential aspects of Salesforce Administration, allowing you to confidently take on new responsibilities. Our Certified students are highly sought after in the industry, so don't miss out and sign up for our next course today.
Salesforce Developer
The Salesforce Developer creates new functionality using standard object models and REST web service APIs that enable client applications to access application logic, customisations or third-party integrations. A Salesforce Developer must be familiar with Apex programming language, JavaScript, and HTML5.
The Salesforce Developer Training In Chennai offered by FITA Academy provides a comprehensive training for those who want to enter the field of Salesforce development. The demand for Salesforce developers is increasing, which means more people have the right skills. Many companies are looking to hire salesforce developers worldwide as they have access to a larger pool of candidates with these skill sets than they would have if only hiring locally. Salesforce Developer Salary for Freshers is around 2 – 5 LPA.
Salesforce Architect
Salesforce Architect plans, designs, and develops a large scale complex enterprise application architecture. They also work closely with developers to deliver high-quality code. An architect uses design patterns and best practices to build scalable applications. The Salesforce architect's primary focus is to ensure scalability, maintainability, compatibility, accessibility and extensibility.
Salesforce Architect is a key position in the sales process and is responsible for developing, managing and sustaining sales pipelines within an organization.
Salesforce DBA
Salesforce database administrator maintains databases by adding and removing records, setting up indexes, updating metadata, performing backups etc. A Salesforce admin will also work with different Salesforce components like apps, reports, flows, triggers, dashboards, and email notifications to ensure its functioning smoothly.
Salesforce Lead
A lead performs technical tasks to develop or support products or product lines. Leads create project proposals, coordinate and manage resources, develop schedules, collaborate with cross-functional teams, and resolve technical issues. As a Salesforce Lead, you may be tasked with evaluating software vendors, assisting with vendor selection, developing project plans and timelines, negotiating contract terms, preparing quotations, managing projects and budgets, defining scope, establishing objectives, and helping with implementation.
Salesforce QA
This role is responsible for ensuring that Salesforce product functionalities are available to users as intended. They test, debug and troubleshoot issues related to the platform and customer support service. They make sure that the application is delivering what the user expects, stopping it from crashing or failing in any way.
Salesforce Senior Consultant
An experienced consultant leads others with knowledge of the overall context and the process of change. This role requires people who can think creatively and problem solve while building team relationships. These consultants have worked in similar situations before and use their experience to build rapport and inspire trust among those involved. A senior consultant coordinates events and activities across multiple teams, helps identify emerging needs, makes suggestions about improvements, and drives improvement through collaboration.
Salesforce Functional Consultant
A functional consultant manages various organizational processes such as account management, marketing automation, customer relationship management, social selling, etc. They help organizations leverage cloud-based business solutions to improve productivity, efficiency and cost savings. In order to do this, they communicate clearly with internal stakeholders and external experts, analyze data and information, determine what changes are needed and then provide actionable recommendations to address them.
Success Story of Salesforce Training in Chennai
I got my salesforce developer certification training at FITA Academy. The expert's guidance and the regular assessments helped me to score well in the exams. The entire course experience was excellent and helped me to start my career in the Salesforce platform. Thanks, FITA Academy for your support.
I completed my Salesforce Developer Certification Training at FITA Academy. The entire Salesforce Training session went on well. Also, a special thanks to my trainer who trained me very well with recent trends in the market. I would also like to mention the support team who helped in scheduling the classes to my convenience.
Prior to Salesforce Training in Chennai at FITA Academy. I had no idea about the Salesforce Cloud Platform. But, now I have a clear idea of the CRM and Salesforce cloud platform. Thanks, FITA Academy for helping me to land my career in the Salesforce platform.
The Salesforce Course in Chennai at FITA Academy is the complete package that helps you to have a better understanding towards the Salesforce Platform. Everything about this course was good right from the course modules to my trainer. The right blend of conceptual and practical knowledge helped me understand the Salesforce software quickly. Surely, I will suggest this platform to my friends.
Overall a very good experience. All the coursewares were covered with regular assignment sessions. Which made my pace of learning easier and quicker. Looking forward to do my Salesforce Admin Training Certification Exam over here. To all the Freshers out there in case you are looking for a good platform to start your career in the Salesforce platform, you can begin with FITA Academy. Good work FITA Academy!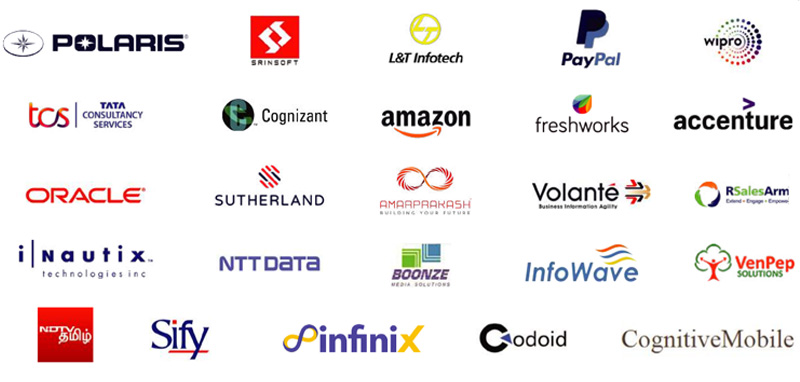 Frequently Asked Question (FAQ) about Salesforce Training in Chennai
General Q & A about Salesforce Training in Chennai
How much does Salesforce course cost?
Cost of Salesforce Courses depend on the institution, the curriculum and the placement opportunities provided. Typically, a salesforce course costs around Rs 10-50 K.
Can I learn Salesforce in 3 months?
Time taken to learn salesforce varies depending on the extent of the content you wish to cover. But in common, 3 months is a bit less for learning salesforce. Typically, it takes 4 months to learn Salesforce Administrator skills, 5 months to learn Salesforce Developer skills and 6 months to learn consultant skills.
Does Salesforce need coding?
No. There is no need for coding experience to work in Salesforce. Salesforce is very beginner friendly and intuitive.
Which skill is required for Salesforce?
The following skills are needed for working in Salesforce


Technical skills


Analytical skills


Communication skills


Problem solving skills


Logical skills


How do I increase my salary in Salesforce?


Specialize


Think beyond the challenge presented


Learn on-demand skills


Build a personal brand


Get Certified


Explore beyond salesforce


What is the salary of Salesforce fresher in Chennai?
Salesforce Salary For Freshers is around Rs 2.2 LPA on average in Chennai. With experience, it can rise up to Rs 8.8 LPA.
What is the salary of HCL Salesforce Developer?
HCL pays Salesforce Developers in the range of Rs 7.8 - 26 LPA with a mean pay of Rs 17.4 LPA which is 20% more than the national average.
What is the salary of Wipro Salesforce Developer?
Wipro typically pays Salesforce Developers in the range of Rs 2 - 10.4 LPA, with a mean pay of Rs 6.5 LPA. The salary range and mean estimates are provided based on 635 salary data provided by employees from Wipro
What is the salary of Salesforce developer at Accenture?
At Accenture, Salesforce Developers typically earn in the range of Rs 6.3 - 24.5 LPA, with a mean pay of Rs 14.9 LPA. The estimates are provided based on the salary data provided by 191 employees from Accenture.
How much Amazon pays for Salesforce Developer?
Amazon pays Salesforce Developers in the range of Rs 8.9 - 29.7 LPA with a mean pay of Rs 17.8 LPA, which is 176% more than national average.
What is the future of Salesforce in India?
Salesforce has a tremendous scope in the future. According to a report by IDC, there will be around 1.3 million job vacancies and $66.4 billion in revenue in Salesforce by 2026.
What are 6 benefits of Salesforce?
Some of the benefits of Salesforce CRM tool is as follows:


Availability of automation tools


Availability of Data Analytics tools


Availability of Omnichannel feature


Ability to track customer activity


Able to provide customer assistance


Able to gather insights


What is the entry level for Salesforce?
Entry level jobs for Salesforce include Junior Salesforce Administrator and Entry Level Salesforce Developer. These jobs help freshers expand their knowledge in Salesforce before venturing into more advanced territory.
Is Salesforce using SQL?
Salesforce uses a special type of SQL called SOQL (Salesforce Object Query Language). It is similar to SQL but much simpler in structure.
Is Python used in Salesforce?
Python is not needed in Salesforce. The common programming language used in Salesforce is Apex. However, Python can be used using Salesforce API. It allows for integration of Salesforce into other applications.
Who is the biggest customers of Salesforce?
Some of the top customers of Salesforce are as follows



The New York Post


U.S. Bank


Walmart


Macy's


T-Mobile


L'Oreal Americas


American Express


How many companies are in Salesforce?
Globally, more than 150,000 companies use Salesforce. 62% of these companies are in the USA, followed by the UK with 16.5% of customers.
Why is Salesforce so popular?
Salesforce enables organizations to operate more efficiently and cost-effectively by reducing the management of hardware infrastructure. It may also be used to simplify services ranging from marketing to customer relations. Salesforce is also well-known for its services such as generating and tracking marketing campaigns, tracking customer concerns based on their escalation and resolution levels, visual dashboards, and rich reporting options.
Which sector uses Salesforce?
Some of the most common job sectors that use Salesforce are as follows


Sales


Customer Support


Marketing


Finance


Which companies are working on Salesforce in India?


Hyperlink InfoSystem.


Cynoteck Technology Solutions Pvt. Ltd.


Clarion Technologies.


Cloud Analogy.


Astrea IT Services.


GetOnCRM Solutions.


Cyntexa.


360 Degree Cloud.