Course Highlights and Why Salesforce Training in Pondicherry at FITA Academy?

The Salesforce Training Course's modules were meticulously crafted to meet to international best practises.

Real-world professionals instruct interactive Salesforce training courses.

Hands-on training with a real-world project to gain a comprehensive understanding of the Salesforce programme.

A comprehensive understanding of SalesForce Editions and Cloud types.

Learn how to create a Salesforce account, its components (Apps, Objects, Tabs, and Fields), and how to create Custom Apps, Console Apps, etc.

Learn about the Salesforce cloud's most important kinds, editions, features, validators, objects, and field types.

A deeper comprehension of Salesforce and customer relationship management.

Gain an understanding of data maintenance and importation.

After completing the training, the Salesforce Training Institute in Pondicherry has connections with over 1500 companies to assure a successful career.

The students might attend classes during the week or on the weekends. And our Online courses offer another convenient way to get a solid education without leaving the house.
Upcoming Batches
11-12-2023
Weekdays
Monday (Monday - Friday)
14-12-2023
Weekdays
Thursday (Monday - Friday)
16-12-2023
Weekend
Saturday (Saturday - Sunday)
23-12-2023
Weekend
Saturday (Saturday - Sunday)

Classroom Training
Get trained by Industry Experts via Classroom Training at any of the FITA Academy branches near you
Why Wait? Jump Start your Career by taking Salesforce Training in Pondicherry!
Instructor-Led Live Online Training
Take-up Instructor-led Live Online Training. Get the Recorded Videos of each session.
Travelling is a Constraint? Jump Start your Career by taking the Salesforce Course Online!
Trainer Profile
Trainers at FITA Academy assist students in achieving their objectives through Salesforce Training in Pondicherry.

The SalesForce instructors at FITA Academy are industry professionals with a minimum of 10+ years of experience in the sector.

FITA Academy's Salesforce Developer Training In Pondicherry is the best way to learn the conceptual and practical parts of Salesforce's tool.

Salesforce Mentors on FITA Academy educates trainees to pass the worldwide certification examinations issued by Salesforce, hence increasing their employment opportunities.

FITA Academy's Salesforce Training Instructors routinely instruct and motivate students. This enhances their opportunities for career progression.

All students will receive personalised mentorship and career support from Salesforce Trainers.

Experts in Salesforce at FITA Academy guide students through the resume-writing process and provide them with vital interview advice
Learn at FITA Academy & Get Your
Dream IT Job in 60 Days
like these Successful Students!

Features of Salesforce Training in Pondicherry at FITA Academy
Real-Time Experts as Trainers
At FITA Academy, You will Learn from the Experts from industry who are Passionate in sharing their Knowledge with Learners. Get Personally Mentored by the Experts.
LIVE Project
Get an Opportunity to work in Real-time Projects that will give you a Deep Experience. Showcase your Project Experience & Increase your chance of getting Hired!
Certification
Get Certified by FITA Academy. Also, get Equipped to Clear Global Certifications. 72% FITA Academy Students appear for Global Certifications and 100% of them Clear it.
Affordable Fees
At FITA Academy, Course Fee is not only Affordable, but you have the option to pay it in Installments. Quality Training at an Affordable Price is our Motto.
Flexibility
At FITA Academy, you get Ultimate Flexibility. Classroom or Online Training? Early morning or Late evenings? Weekdays or Weekends? Regular Pace or Fast Track? - Pick whatever suits you the Best.
Placement Support
Tie-up & MOU with more than 1500+ Small & Medium Companies to Support you with Opportunities to Kick-Start & Step-up your Career.
Why Learn Salesforce Training in Pondicherry at FITA Academy?
Live Capstone Projects
Real time Industry Experts as Trainers
Placement Support till you get your Dream Job offer!
Free Interview Clearing Workshops
Free Resume Preparation & Aptitude Workshops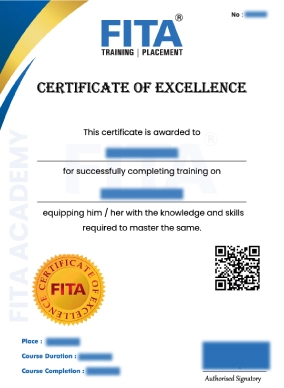 Salesforce Certification Course in Pondicherry
Students who successfully complete the Salesforce Course in Pondicherry at FITA Academy will be certified with a thorough knowledge of the Salesforce platform and the ability to apply their newly acquired abilities in the real world. Participants in the programme would also earn a completion certificate. The recipient of the Salesforce Training Certificate has successfully completed FITA Academy's Salesforce training programme and holds the requisite skills for professional success. This certification will assist you in including pertinent credentials on your CV, should a prospective employer or organization require them. In addition to the Salesforce Training Certification given by FITA Academy, a variety of other international credentials may increase your work prospects.
Salesforce CRM may be your best option if you're searching for a career that offers career advancement and the highest Salesforce Salary. The market for salesforce-experienced professionals and students is large in the IT business. Individuals seeking opportunities abroad and the advantages of gaining cutting-edge technology. FITA Academy's Salesforce training in Pondicherry will teach you all of Salesforce's cutting-edge technologies. Premier instructors from FITA Academy may assist you in obtaining this certification.
Have Queries? Talk to our Career Counselor for more Guidance on picking the
right Career for you!
Placement Session & Job Opportunities after completing Salesforce Training in Pondicherry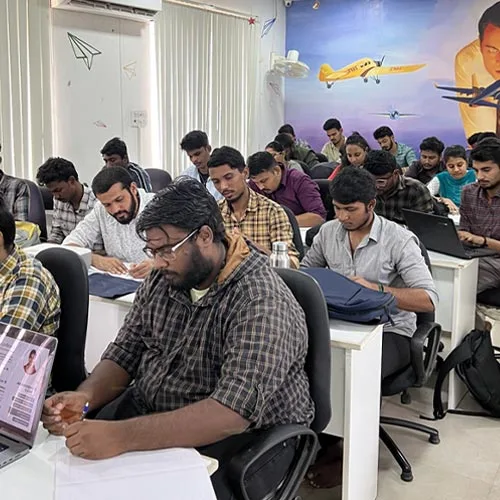 Currently, the business is primarily concerned with consumer needs and happiness. The future business model has switched from acquisition to continual maintenance and upkeep. This has caused businesses to place a larger emphasis on CRM technologies that serve customers most effectively. Customers are the backbone of any business that wishes to survive in the market. The opinion of the consumer is the most important aspect of any firm, regardless of its size. Salesforce is the most effective CRM platform for enterprises, enabling centralised management of customer interactions and business challenges.
Understanding the demands of your customers is one of the most essential abilities for any organisation. Here, Salesforce assists businesses by providing the most efficient platform for managing client interactions and all other company features on one page. 
Salesforce is a platform that delivers more than 800 features and services, including workflow and customer management, as well as analytics monitoring, collaboration, social media and email, IoT Integration, Lead generation, and sales forecasting tools. In addition, one of the benefits of adopting Salesforce is that the software is based on the Cloud platform of Salesforce.
After completing the Salesforce Certification Course, prominent job titles with the best Salesforce Salary for Freshers in a firm include Salesforce Administrator, Salesforce Developer, Salesforce Architect, Salesforce DBA, Salesforce Lead, and Salesforce Quality Assurance Specialist, among others. The median yearly compensation for a Salesforce Administrator is somewhere between Rs. 3,50,000 and Rs. 4,10,000. Senior-level candidates can earn between Rs. 7,10,000 and Rs. 9,20,000 per year. On the global market, Salesforce Developers can earn up to $86,000 annually.
Also Read: Salesforce Interview Questions and Answers
Success Story of Salesforce Training in Pondicherry
After I graduated from college, I joined the Salesforce course in Pondicherry at FITA Academy. I'm glad to say that my trainer gave me a lot more hands-on experience than my college. The instructor inspired me by using simple techniques and telling us about their own lives.With their help, I was able to pass, get the certification and qualify for interviews. I work for a reputable software company right now. Thanks
I completed my salesforce training at Salesforce Institute in Pondicherry with success. According to me, I got an in-depth understanding of the topic. Thanks to my trainer for giving me comprehensive training, with concepts. All this was made possible by the shortcuts and guidance from my trainers. Fita also helped me in my placements and and i got shortlisted for interview
At First I took part in my Salesforce Training in Pondicherry, looking to update the skills which I've been ignoring for a long time. It turned out to be the turning point of my life. My instructors discussed each topic in detail, which made it easy to understand and apply. I am now fully aware of the way in which this industry works and can use it to my advantage in pursuing my career. Thank you to FITA Academy. I was blessed with the opportunity to be employed by an IT firm now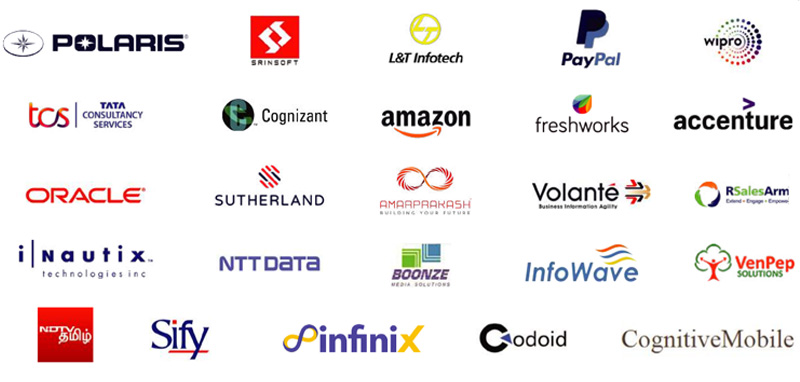 Frequently Asked Question (FAQ) about Salesforce Training in Pondicherry
Additional Information of Salesforce Training in Pondicherry
Salesforce, a cloud-based CRM software, is gaining popularity worldwide because it enables organisations to be more effective, productive, and efficient. Salesforce is without a doubt one of the most outstanding CRM applications due to its success and longevity in the cloud-based CRM industry for over two decades. Salesforce is a well-known CRM solution that can help organisations make more money and reduce the cost of operating their hardware infrastructure. Salesforce offers a multitude of benefits, which is the primary reason why firms choose to deploy Salesforce technology. Salesforce is among the best CRM software, and it can be used to support a variety of business functions, including sales, IT services marketing, application development, and more.
At FITA Academy, skilled instructors guide you through Salesforce Training and instruct you on all Salesforce apps. In addition, they equip you with the industry-specific skills and technical proficiency that extend your professional progression opportunities.
Eligibility Criteria and Prerequisites to learn Salesforce Course In Pondicherry
Eligibility Criteria: This training is available to all recent graduates who aspire to launch their careers on the Salesforce platform. This Salesforce course is also excellent for Software Developers, Business Analysts, Business Architects, Business Consultants, IT experts, Sales Managers, and Project Managers.
Prerequisites: There are no prerequisites for this Salesforce Course in Pondicherry, as it was developed for those who already have a foundational understanding of Salesforce ideas. However, having a prior knowledge of DBMS and a fundamental concept of how businesses run can be advantageous for individuals who seek to comprehend the Salesforce Course fast. Under the guidance of our seasoned instructors, FITA Academy's Salesforce Training in Pondicherry provides students with an in-depth education in Salesforce ideas and their applications.
Reason to Learn SalesForce Course in Pondicherry
Our knowledgeable instructors deliver a comprehensive Salesforce Training in Pondicherry. Our expert instructors will assist students so that they are adept with the Salesforce platform and Apex code in order to manage all of the business customizations that customers require. We also assist you with obtaining Salesforce Certification in Pondicherry, ensuring that you utilize your skills of Salesforce Administration, Salesforce app builder, and Salesforce developer.
Why Is Salesforce Training Important?
The significance of training lies in the acquisition of crucial information for the success of an organisation or a career. Many firms adopt Salesforce to address business difficulties and enhance their Sales and Marketing processes. Salesforce-specific instruction at the appropriate Salesforce Institute In Pondicherry, you can acquire the skills necessary to be a successful professional. This is where FITA Academy comes into play. Since 2012, we have assisted professionals and students in launching their Salesforce careers.
Placement Support
FITA Academy offers 100% placement aid to qualified applicants who have successfully completed training. 

 We have tie ups with over 1500 firms ranging from small to large companies.

The FITA Academy has an active Placement Cell that supports students in entering their desired profession.
Salesforce Tutorial
Learning at the best Salesforce Training Institute In Pondicherry enables you to manage your company's sales, marketing, and customer support processes from a single interface using Salesforce, an immensely effective cloud-based application. This tutorial will demonstrate how to use this technology to increase business.
Why choose Salesforce?
Because Salesforce is a one-stop shop for all of your business needs, you should select it. It allows you to arrange your data and information in a centralized spot. This facilitates the discovery and sharing of knowledge. You can manage your sales, marketing, and customer service processes from a single interface with the proper tools.
The most crucial aspect of Salesforce is its cloud-based nature. This means that all operations are performed on the cloud. It is extremely secure and accessible from any device.
Benefits to choose Salesforce
Salesforce provides numerous advantages. Here are Some reasons why you should require Salesforce.
You may easily design stunning, customizable forms.

You may easily generate unique reports.

It enables the tracking of all leads and sales.

You can send emails to your consumers with ease.

You can quickly organise and follow up on your tasks.
There are a few things to keep in mind before making the transfer to Salesforce. First, you must ensure that you are utilising the same version of Salesforce as the organisation you are collaborating with. Ensure that you are utilising the most recent version of Salesforce DX. If you are still using an older version of Salesforce, you should update your application. Learn from our specialists at the Salesforce Institute in Pondicherry so that you can make the best decision.
Technologies used by the Salesforce
Apex
Apex is a computer language used to create Salesforce code. It is comparable to programming languages like Java and C++.
Visualforce
Visualforce is a method for creating Salesforce-integrated web pages that are customized. Visualforce can be used to create pages for your app.
Compiler
The compiler transforms Apex Code into classes and functions. The compiler can be executed in two ways:
Online Compiler: The online compiler enables you to test your code without deploying it. This is useful for testing a new feature or troubleshooting an issue.
Offline Compiler: The offline compiler transforms Apex Code into classes and functions. This is helpful when deploying code.
Salesforce was a great resource for learning about different sales techniques. Our Salesforce Institute In Pondicherry used technologies to help you  learn more about sales and how to sell products.
Also Read: Salesforce Tutorial