Course Highlights and Why Data Science Course in Coimbatore at FITA Academy?

FITA Academy provides an all-encompassing Data Science Course that integrates theoretical principles with real-world applications.

Learn from expert data science professionals having 10+ years of professional experience, actively possessing roles like Data Scientists, Data Science Engineers, and Data Analysts.

Students will become experts in constructing models using Data Science algorithms, evaluate datasets from real-world scenarios, and develop interactive visualisations as part of their practical learning experience.

Gain proficiency in popular data science tools and programming languages like Python or R.

Students will stay updated with the latest industry tools and technologies in Data Science and Analytics.

Students will obtain a valuable certification in Data Science upon course completion, enabling their profile to be shortlisted for high-paying Data Science careers.

Our Data Science Training in Coimbatore offers flexible class schedules, accommodating students with weekend, weekday, and fast-track session options.

FITA Academy has tie-ups with over 1,500 organisations that strongly demand professionals in roles like Data Scientists, Data Analysts, and related positions in the field.
Upcoming Batches
09-12-2023
Weekend
Saturday (Saturday - Sunday)
11-12-2023
Weekdays
Monday (Monday - Friday)
14-12-2023
Weekdays
Thursday (Monday - Friday)
16-12-2023
Weekend
Saturday (Saturday - Sunday)

Classroom Training
Get trained by Industry Experts via Classroom Training at any of the FITA Academy branches near you
Why Wait? Jump Start your Career by taking Data Science Course in Coimbatore!
Instructor-Led Live Online Training
Take-up Instructor-led Live Online Training. Get the Recorded Videos of each session.
Travelling is a Constraint? Jump Start your Career by taking the Data Science Online Training!
Data Science Course Objectives
Exploring the fundamentals of Data Science, delving into concepts like the Data Science Life Cycle.
To familiarise yourself with Python or R programming, including their versions, through a comprehensive study of these programming languages. You have the flexibility to select any one based on your preference.
To Gain insights into Fundamental Statistics, exploring the uses and advantages of Statistical Analysis while grasping Inferential and Descriptive Statistics concepts.
To learn about the Data Science Models and Algorithms, including Predictive Models, Predictive Analysis, Linear Regression, Polynomial Regression, and more.
Expanding your knowledge of Supervised and Unsupervised Learning Algorithms, delve into Hypothesis Testing, and explore Reinforcement Learning Algorithms.
Data Science Course Trainer Profile
The trainers of Data Science Training in Coimbatore are certified professionals with over a decade of experience in diverse Data Science domains, including Data Analysis, Data Analytics, and Data Engineering.
Our trainers offer immersive, hands-on training and involve students in real-time projects throughout the course.
The Course equips you with the knowledge and skills to leverage cutting-edge algorithms and data science tools.
Regular review sessions are conducted to ensure that students maintain a strong grasp of the materials they're learning.
FITA Academy's trainers provide valuable guidance on interview preparation and resume building, supporting students' journey to a successful career.
Learn at FITA Academy & Get Your
Dream IT Job in 60 Days
like these Successful Students!

Student Success Story of Data Science Course in Coimbatore
Ravinder, a mechanical engineer with 1 year of experience in Coimbatore. He thought that being a non-IT employee, he could earn more. So he decided to switch his career. Data Science is the answer he got when he searched for the most trending course in recent times and it also has a future scope. So, he decided to join the Best Data Science Courses in Coimbatore.
He came to know about the Data Science Course at FITA Academy, marking its presence by placing their students in high-paying IT careers while in discussion with friends. He contacted FITA Academy and enquired about the course details. Our coordinators clearly explained the course features, benefits, and fee structure.
He joined the data science online course and attended all the classes regularly. Though he was from mechanical engineering, his strong interest towards learning data science was exciting. He completed the capstone projects successfully and obtained the course completion certification.
Through our placement training program, he prepared for the Job interviews, attended interviews and got two offers from HCLTech and Barclays. Finally, he chose Barclays for the position of Data Science Engineer with a salary of 3.8 LPA. His journey from Mechanical Engineer to Data Science Engineer was quite exciting and will build confidence among candidates aspiring to switch their careers.
Features of Data Science Course in Coimbatore at FITA Academy
Real-Time Experts as Trainers
At FITA Academy, You will Learn from the Experts from industry who are Passionate in sharing their Knowledge with Learners. Get Personally Mentored by the Experts.
LIVE Project
Get an Opportunity to work in Real-time Projects that will give you a Deep Experience. Showcase your Project Experience & Increase your chance of getting Hired!
Certification
Get Certified by FITA Academy. Also, get Equipped to Clear Global Certifications. 72% FITA Academy Students appear for Global Certifications and 100% of them Clear it.
Affordable Fees
At FITA Academy, Course Fee is not only Affordable, but you have the option to pay it in Installments. Quality Training at an Affordable Price is our Motto.
Flexibility
At FITA Academy, you get Ultimate Flexibility. Classroom or Online Training? Early morning or Late evenings? Weekdays or Weekends? Regular Pace or Fast Track? - Pick whatever suits you the Best.
Placement Support
Tie-up & MOU with more than 1500+ Small & Medium Companies to Support you with Opportunities to Kick-Start & Step-up your Career.
Why Learn Data Science Course in Coimbatore at FITA Academy?
Live Capstone Projects
Real time Industry Experts as Trainers
Placement Support till you get your Dream Job offer!
Free Interview Clearing Workshops
Free Resume Preparation & Aptitude Workshops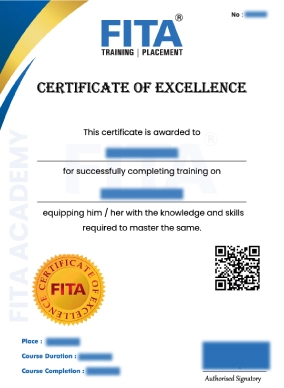 Data Science Certification Training in Coimbatore
After completing the Data Science Course in Coimbatore, students receive a certificate of completion, which attests to their comprehensive understanding of the subject matter and proficiency in utilising essential tools and algorithms commonly employed by Data Science professionals. Possessing this certification significantly enhances a student's job prospects in leading multinational companies, making a positive impression on interviewers and increasing their likelihood of securing a job. The Data Science Certification in Coimbatore equips students with a profound knowledge of the core services within the field of Data Science.
In addition to FITA Academy's certification, there are numerous internationally recognised certifications available in the field of Data Science. FITA Academy's Data Science Course in Coimbatore also prepares students for these renowned certifications. Some of these include:
Google Professional Data Engineer Certification
Microsoft Certified Azure Data Scientist Associate Certification
Dell EMC Data Science Certification
IBM Data Science Professional Certification
SAS Certified Data Scientist
Have Queries? Talk to our Career Counselor for more Guidance on picking the
right Career for you!
Placement Session & Job Opportunities after completing Data Science Course in Coimbatore

FITA Academy in Coimbatore provides cost-effective classes for Data Science Courses. Choose from our top-notch online or classroom-accredited Data Science certification programs to commence your learning journey promptly. We offer multiple batches to accommodate different schedules. Take advantage of our training methods to ensure you. We offer placement training which helps you prepare for the job interview. They support building a professional resume, group discussions and mock interview sessions where students can be aware of Data Science Interview Questions and Answers.
"Students receive complimentary placement training to facilitate their placement in their preferred job position, upon successful completion of the course."
Data Science spans various disciplines and is witnessing a diversification of job roles tailored to meet industry demands. Leading companies are establishing dedicated teams to harness data and derive valuable insights for the strategic development of their organisations. The following are some of the diverse job roles within the field of Data Science:
Data Scientists
Data scientists are in high demand as businesses enlist their expertise to discern patterns within data. Their role extends to constructing models capable of predicting future trends or outcomes. This involves collecting and thoroughly evaluating data, employing statistical methods to develop predictive models for forthcoming trends or events. The primary responsibility of data scientists lies in creating models that forecast customer behaviour, facilitating organisations in making informed decisions.Enrol in the Data Science Course in Coimbatore at FITA Academy to gain comprehensive understanding of how the data will be utilised and which issues it will address.
Data Engineers
Data Engineers are crucial in establishing and maintaining the data storage and analysis infrastructure. Their responsibilities extend to executing the technical aspects of data collection and cleaning, and they may collaborate with fellow engineers in designing and building data systems. Ensuring optimal storage and user-friendly access to data is a key responsibility of a data engineer. Collaboration with database administrators (DBAs), application developers, and information architects (IA) is common, as is working closely with business users to determine data requirements and usage. Enrol in the Data Science Training in Coimbatore to acquire an intensive understanding of databases and database management systems (DBMSs).
Data Analysts
Data Analysts are tasked with collecting, organising, and analysing extensive datasets to discern patterns and trends. Predicting future trends using data analysis is also within the purview of a data analyst. Typically employed by large corporations, data analysts often collaborate with data scientists and software developers. The role involves intensive number crunching, demanding a solid grasp of databases and programming languages.
For beginners in Data Science, the average annual salary ranges from Rs. 6-8 Lakhs. With 4-5 years of experience and a robust skill set, a seasoned Data Scientist can earn over Rs. 15 Lakhs annually.
Consider enrolling in the Data Science Course in Coimbatore and obtain knowledge of statistics and mathematical equations, along with highly developed skills in data manipulation.
What challenges do individuals face in securing a data scientist job despite the high demand for data science roles?
Competency emerges as a crucial factor for securing employment as a data scientist. With the surging demand for data scientists, companies actively seek candidates with exceptional proficiency in data science.
Key attributes for a data scientist include robust analytical skills, technical proficiency in utilizing various tools and techniques, programming acumen, a solid understanding of statistics, and business acumen. In the role of a Data Scientist, one must uncover critical aspects of data using mathematical and statistical skills, establish correlations among different data sets, create models using programming languages such as Python or R, and provide valuable business insights or strategies for the company. Possessing in-depth knowledge of statistics without sufficient programming skills or a comprehensive understanding of the business hinders the path to becoming a successful data scientist.
While many companies recruit freshers from prestigious institutions like IITs, individuals from any university, equipped with the necessary skill sets, can embark on a career as data scientists. The Data Science Course in Coimbatore, offered by FITA Academy, is designed to help individuals acquire the essential skills to pursue a fulfilling career as a Data Scientist.
Individuals aspiring to become data scientists can hone and develop the aforementioned skills by enrolling in Data Science Classes in Coimbatore, provided by FITA Academy. The training is imparted by seasoned professionals with over a decade of experience in the field, enabling candidates to enhance their competency and excel in their careers as data scientists.
What is the hiring process for a data scientist?
The hiring process for data scientists varies among companies. In many startups, it typically involves an aptitude test covering probability, statistics, and logical reasoning. Additionally, programming tests assess skills in Python or R. Successful candidates proceed to a final interview conducted by the HR or technical team.
In larger corporations, the process often begins with an aptitude test, followed by an interview with a senior data scientist or an equivalent position. The interview focuses on evaluating the candidate's technical knowledge. If deemed suitable, there may be a technical test to assess proficiency in advanced tools data scientists use. Some companies also evaluate candidates' problem-solving approaches and thought processes before hiring.
FITA Academy supports students enrolled in the Data Science Course in Coimbatore by familiarising them with the interview process. The academy provides comprehensive 100% placement training after the course. Explore some job roles available after completing the Data Science Course at FITA Academy.
Success Story of Data Science Course in Coimbatore
Initially, I was hesitant to join the Data Science course as it was a tough subject to study and crack. But my aspiration was to learn Data Science and become proficient at it. So I took a Data Science Course in Coimbatore at FITA Academy and it was one of the best decisions I made. Their teaching method was good and relevant. Even though the subject is quite complex, the trainers made it easy to understand. The technical sessions helped a lot to understand Big data and its processing. Overall it was worthwhile to study at FITA and earn your certification from it.
As through a suggestion of a friend, I enrolled for the Data Science Training in Coimbatore at FITA Academy. Learning all the concepts was pretty easy through FITA Academy's trainers. The practical sessions too were enlightening and I am hopeful that training would prove fruitful in my future career endeavors.
I enrolled for the Data Science Training in Coimbatore at FITA Academy. All the concepts were taken in a neat way and particularly Mathematical, Deep Learning and Machine Learning concepts were interesting and comprehensible. It was a good decision to study at FITA Academy for the Data Science Course as I had gained great knowledge about the subject and its concepts.
As a fresher, I can say, FITA Academy provides the best Data Science Training in Coimbatore. It is one of the good knowledgeable programs I have come across in the city. Appreciate FITA's keep up the good work and continue the same of providing quality training in the future.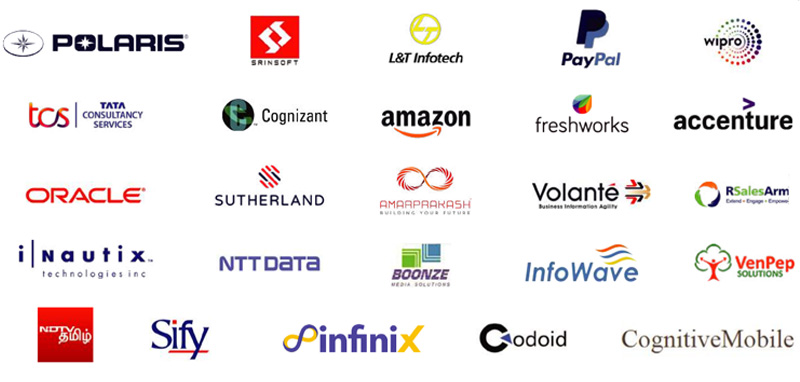 Frequently Asked Question (FAQ) about Data Science Course in Coimbatore
General Q & A about Data Science Course in Coimbatore
How much does it cost to study Data Science Courses in Coimbatore?
The average overall cost of Data Science Course Coimbatore ranges from ₹50,000 to ₹1,00,000. The Course fee may vary depending on the course type and institute we choose.
What is the salary of data science fresher in Coimbatore?
Data Scientist salary in Coimbatore with less than 1 year of experience to 7 years ranges from ₹ 2.7 Lakhs to ₹ 13.2 Lakhs with an average annual salary of ₹ 10.4 Lakhs based on 80 latest salaries.
What is the lowest salary for a data scientist?
A Data Scientist's initial salary is INR 4.96 LPA, with the highest salary ranging between INR 37 LPA and 50 LPA.
Is data science stressful?
Data science presents unique challenges that can be stress-inducing at times. It's important to note that this field demands intense concentration, unlike certain other professions. There are instances where you might spend hours crafting algorithms and analyzing data sets without conversing with others.
What is the eligibility to learn Data Science Course in Coimbatore?
There is no prerequisite to learn Data Science Course.
Does data science involve a significant amount of math?
It is indeed crucial. You may face challenges if you're contemplating a data science career without a math background. However, the encouraging news is that even with limited math experience, the fundamental mathematical concepts in data science can be learned.
Can a fresher become a data scientist?
Achieving the role of a Data Engineer typically requires a computer science degree or a closely related field. As a newcomer to data science, opportunities to commence your career as a Data Engineer can be found in industries such as e-commerce, finance, healthcare, and consulting. On average, Data Engineers in India earn approximately 15-20 lakhs annually.
Can I get Data science jobs in Coimbatore?
Certainly, upon the successful completion of the Data Science Course in Coimbatore, a multitude of opportunities awaits you in the city. Given that Coimbatore stands as one of the key cities in Tamil Nadu, numerous start-ups and esteemed companies present various job openings for professionals in the field of Data Science in Coimbatore.
Is data science a 6 months course?
Achieving the status of a data scientist within a six-month timeframe is entirely feasible. Simply ensure that you begin by mastering the fundamentals of programming, statistical programming, data wrangling, data visualization, and data analysis.
Is data science a safe career?
Data science stands as an exceptional career path with immense potential for future expansion. The field already exhibits high demand, lucrative compensation, and many advantages. Organisations seek data scientists capable of extracting invaluable insights from vast datasets.
Does data science have a future?
The future of data science is believed to witness some of the biggest innovations seen in the last decade, starting from the data explosion to the growth of the Internet of things (IoT) and social media.
Why is data science salary so high?
The high demand for data scientists is a key factor contributing to their substantial salaries. Their role is indispensable for any organization dealing with data, a category that encompasses nearly every company in today's business landscape.
Is there scope for data scientist?
With proper training, data scientists can enhance businesses' decision-making processes, acquire valuable insights into their customer base, and streamline their operations through automation. In essence, the potential of Data Science in India knows no bounds.
Do data scientists work from home?
Tasked with deciphering digital information, data scientists play a pivotal role in assisting companies in analyzing and utilizing data for organizational decision-making. Remote data science positions present excellent opportunities for qualified individuals seeking virtual employment.
Do companies hire fresher data scientist?
For individuals seeking employment opportunities in Data Science entry-level positions, Databricks proves to be an excellent option. It offers a platform for developing and deploying machine learning models, as well as scaling data pipelines, providing a valuable environment for gaining experience and enhancing skills.