Data Science is an interdisciplinary field that involves Statistical methods, Programming skills in Python or R Programme and sound business acumen. A Qualified Data Scientist is expected to possess excellent statistical and Programming skills with an eye for detail. Data science is utilised in a wide range of sectors in the economy and expected to shape the future of the business world.
Netflix, an online streaming entertainment portal, utilises Data Science to aid their Hybrid recommendation systems for an enriched user experience. They capture the viewing pattern data of consumers and helps to optimise search results based on the user's preferences. Various E-commerce companies also utilise Data Science to provide better delivery of services by bringing out the best offers on products that are searched or in wishlist on their platforms.
Data Science is making a huge impact on various businesses in the manufacturing sector by predicting the error-prone zones in the manufacturing processes as well as in marketing strategies. Data Scientist primarily works for various organisations to analyse the companies data and extract useful business insights through various techniques and algorithms. In short, Data Scientists combine their statistical skills and Programming skills to create models using valid datasets and derive business strategies.
The world is moving towards the Fourth Industrial Revolution driven by the fusion of various technologies to blur the boundaries of physical, digital and biological entities. Data Science aids various technologies such as Artificial Intelligence, Big Data, Robotics, Machine Learning, Internet of Things(IoT), Quantum Computing, Biotechnology, Genetic Engineering, autonomous vehicles etc.
A career in Data Science related jobs will bring in a good income to your coffers since the value added by Data Scientists to the organisations has a great impact on the businesses.
Why Data Science?
Candidates interested in Big Data can join Big Data Training in Bangalore or Hadoop Training in Bangalore at FITA.
Benefits of Learning Data Science
Candidates interested in learning Programming languages such as Java or Python can join Java Training in Bangalore or Python Training in Bangalore.
Various Job roles in Data Science
The field of Data Science is multidisciplinary and in the process of diversification of various job roles based on the needs of the industry. Top firms are in the process of establishing separate teams to work on Data and extract useful insights for Business Development Strategies of the organisations. Various Job roles involved in Data Science is listed below.
On average, a fresher in Data Science can earn between Rs. 6-8 Lakhs per annum. With 4-5 years of experience and excellent skill set, a Professional Data scientist earns above Rs. 15 Lakhs per annum.
Data Science is one of the highly paid jobs in recent times and will set to make a huge footprint in the Indian IT Sector.
Top Organisations with most Job Opening in Analytics
Banking, Financial Services and Insurance (BFSI) sector accounts for a majority of job vacancies for Data Science related jobs in India. Data Science has become a necessity for various organisations to keep pace with rapidly evolving cutting edge technologies across the globe. Top employers of Data Science related jobs in India are listed below.
Roles and Responsibility in Data Science Career
Key Skills
Data Science as a profession requires a wide range of skills with expertise in the tools and techniques involved in Data Science. Some of the key skills expected from aspiring Data Scientists are provided below.
Statistical Skills - Statistics is vital for Data Science to process and analyse huge volumes of data and derive useful business insights from the processed Data. Segmentation, Clustering and Classification are a few Statistical techniques of high demand in Data Science field. The convergence of computer science with statistics opens up a popular field of study, Machine Learning; critical in detecting patterns from processed Data.
Programming Skills - Based on various reports it is conclusive that Candidates with excellent programming skills in Python or Java are in great demand. Certain companies also recruit candidates with hands-on experience in R programming.
Cloud Computing Skills - Data Science aspirants are expected to be well versed in AWS or Azure since a majority of top MNC are incorporating cloud-based workflow for better optimisation. Candidates interested in learning AWS or Azure can join AWS Training in Bangalore or Azure Training in Bangalore at FITA.
Data Visualisation Skills - Visual representation of key insights from the analysed data is essential for Data Scientists. Data Scientists utilise a variety of tools such as Matplotlib, Tableau, Microsoft Power BI, and Qlikview. These Business Intelligence tools help to visualise the key insights in various understandable formats in the form of bar-charts, graphs, pie-charts, etc.
Database Skills - Candidates should possess a sound knowledge of various Database Querying languages such as SQL, NoSQL, Oracle and MongoDB. Candidates interested to learn SQL or Oracle can join SQL Training in Bangalore or Oracle Training in Bangalore at FITA.
BIG DATA Skills - Data Science Aspirants are expected to possess strong fundamentals in various Big Data tools such as Hadoop and Spark. These tools are essential for Processing, Mining and Extraction of key insights from huge volumes of Data. Candidates interested in learning advanced Big Data tools such as Hadoop or Spark can join Hadoop Training in Bengaluru or Spark Training in Bangalore.
Machine Learning Skills - Candidates willing to be a part of Data-driven companies such as Facebook, Google, Uber, Amazon, Flipkart, etc. should possess a deep understanding of various Machine Learning methods and its applicability. Knowledge of key ML concepts such as K-Nearest Neighbour, random forests, ensemble methods, support vector machines, etc. is essential to extract vital insights from processed Data. Students enthusiastic to learn advanced concepts such as Machine Learning can join Machine Learning Training in Bangalore at FITA.
Communication Skills - Good communication enhances collaboration and cooperation in Business environments by establishing robust networks across various teams in the organisation. Data Scientist gathers every piece of organisational Data from various departments in the organisation. Effective communication is critical for Data Scientists to perform their tasks by communicating with various teams and essential to present their key insights to the organisation.
Data Science Life Cycle
Data Science prime purpose is to resolve business challenges by providing potential insights from the analysed data. Life Cycle of Data Science begins with the identification of various business challenges. In this stage, the Data Scientist is expected to have the sound domain knowledge to identify the hurdles faced by the organisation. Relevant Data Acquisition happens in the next level, where Data from various sources such as web servers, logs, APIs, Database and online repositories are accumulated and provided as input to the next stage, Data Preparation. Data Preparation involves Data Cleaning to remove inconsistent datatypes & duplicate values; utilise various tools like Talend and Informatica for better data integration and management. Exploratory Data Analysis that follows Data Preparation; helps to define & refine data for the selection of feature variables that will be utilised in model development. Data Modelling ropes in various ML algorithms to identify a suitable model based on business requisites and select the best performing model using R or Python. Data Visualisation utilises various Business Intelligence tools such as Tableau, Power BI and Qlikview to represent the key insights from the analysed data and generate reports. The approved model is tested, deployed and maintained by Data Scientists who generate periodic performance reports.
Google Trends
The below image reflects the increasing career opportunities for Data Science related jobs in India for the past year. Region-specific data reveals that Karnataka tops the number of job opportunities in Data Science field. Bangalore is in sync with global technological changes opening the door of opportunities for IT Professionals and has become a hub for various Tech Startups.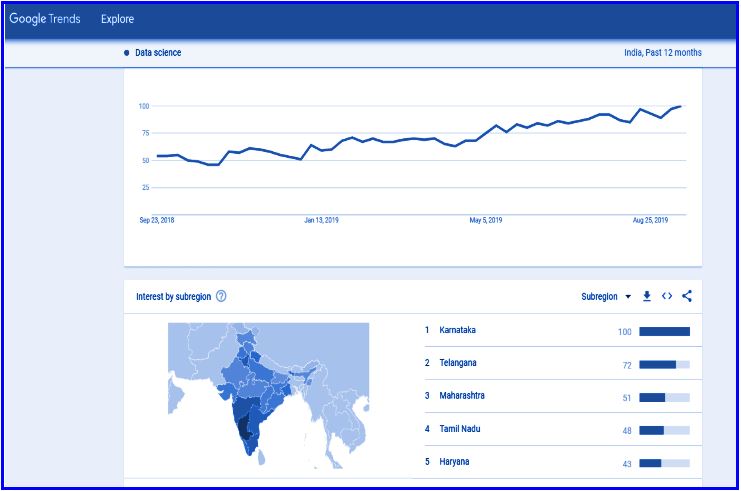 Future and Beyond
The future of Data Science based career is having a positive graph with increasing demand for talented and skilled Data Science Professionals. Metropolitan cities specifically, Bangalore is set to experience an exponential growth of Data Science careers in a wide range of sectors from Agriculture to Aerospace. Top Organisations are setting up separate departments to incorporate the latest technologies such as Machine Learning and Artificial Intelligence into their organisations as pilot projects. Data Science can be utilised in the latest technological advancements such as Artificial Intelligence, Big Data, Genetic Engineering, Autonomous Vehicles, Internet of Things (IoT), Robotic Process Automation, etc.
An important aspect that hinders top organisations from recruiting Skilled Data Scientists is the lack of a skilled workforce in India. The growth of skilled Data Scientists is falling behind the growth rate of Data Science related career opportunities leaving gaps in employment. Though organisations upskill their employees with relevant industrial training on Data Science, it is insufficient for the growing needs of this field. Data Science Course in Bangalore at FITA bridges the skill gaps in the workforce by providing best-in-class training from experienced Data Science Professionals. Students at FITA undergo hands-on training of the Data Science related tools and techniques under the guidance of industry experts. Professional experience of the Tutors exposes the students to the latest industrial practices in Data Science and enabling them to make a successful career in Data Science.
The time is ripe to become a certified Data Scientist through Data Science Course in Bangalore at FITA since latest reports highlight the demand for Talented Data Scientists is increasing while there is a lack of employability skills in the workforce.