Course Highlights and Why UI UX Design Course in Kolkata at FITA Academy?

The UI UX Design Course lays a strong foundation in the principles of User Interface (UI) and User Experience (UX).

The program offers an efficient platform for utilising the latest technology, tools, software, and industry trends.

This course provides a balanced blend of conceptual and theoretical training.

Explore diverse design methodologies to craft user-friendly web interfaces effectively.

Understanding web design concepts while creating innovative solutions throughout the UI UX Designer Course.

The experienced trainers curate the curriculum, integrating real-world projects and globally recognised standards.

Benefit from personalised and flexible learning options, including online classes, weekdays and weekends.

FITA Academy partners with over 1,500 companies, ensuring a placement guarantee to kickstart your career.

The course deals with the intricacies of website design, covering aspects like wireframing, mockups, interaction prototypes, and usability testing.
Upcoming Batches
| | | | |
| --- | --- | --- | --- |
| 09-12-2023 | Weekend | Saturday (Saturday - Sunday) | |
| 11-12-2023 | Weekdays | Monday (Monday - Friday) | |
| 14-12-2023 | Weekdays | Thursday (Monday - Friday) | |
| 16-12-2023 | Weekend | Saturday (Saturday - Sunday) | |

Classroom Training
Get trained by Industry Experts via Classroom Training at any of the FITA Academy branches near you
Why Wait? Jump Start your Career by taking the UI UX Design Course in Kolkata
Instructor-Led Live Online Training
Take-up Instructor-led Live Online Training. Get the Recorded Videos of each session.
Travelling is a Constraint? Jump Start your Career by taking the UI UX Design Course Online!
Trainer Profile
The Trainers of the UI UX Design Course in Kolkata at FITA Academy deliver comprehensive hands-on practical sessions and theoretical instructions.
The expert web developers bring real-world experience to the classroom, ensuring that students gain access to the latest industry insights.
The instructors are dedicated to keeping students updated on the best practices within the field and are available for flexible classes, including weekday, weekend, and online sessions.
FITA Academy maintains small class sizes to prioritise personalised attention, enabling students to receive one-on-one mentorship.
The Trainers offer valuable guidance on interview techniques and career strategies to enhance your professional prospects.
The UI/UX trainers curate engaging assignments, practical case studies, and real-world projects to provide a well-rounded learning experience.
The instructors of the UI UX Course prepare students with hands-on skills, equipping them for a successful UI/UX design career.
Learn at FITA Academy & Get Your
Dream IT Job in 60 Days
like these Successful Students!

Features of UI UX Design Course in Kolkata at FITA Academy
Real-Time Experts as Trainers
At FITA Academy, You will Learn from the Experts from industry who are Passionate in sharing their Knowledge with Learners. Get Personally Mentored by the Experts.
LIVE Project
Get an Opportunity to work in Real-time Projects that will give you a Deep Experience. Showcase your Project Experience & Increase your chance of getting Hired!
Certification
Get Certified by FITA Academy. Also, get Equipped to Clear Global Certifications. 72% FITA Academy Students appear for Global Certifications and 100% of them Clear it.
Affordable Fees
At FITA Academy, Course Fee is not only Affordable, but you have the option to pay it in Installments. Quality Training at an Affordable Price is our Motto.
Flexibility
At FITA Academy, you get Ultimate Flexibility. Classroom or Online Training? Early morning or Late evenings? Weekdays or Weekends? Regular Pace or Fast Track? - Pick whatever suits you the Best.
Placement Support
Tie-up & MOU with more than 1500+ Small & Medium Companies to Support you with Opportunities to Kick-Start & Step-up your Career.
Why Learn UI UX Design Course in Kolkata at FITA Academy?
Live Capstone Projects
Real time Industry Experts as Trainers
Placement Support till you get your Dream Job offer!
Free Interview Clearing Workshops
Free Resume Preparation & Aptitude Workshops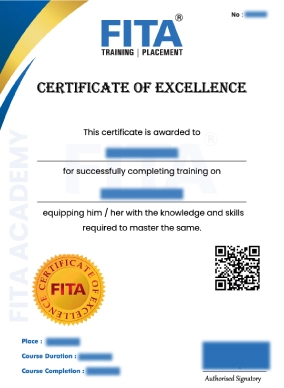 UI UX Certification Course in Kolkata
The significance of certifications in user interface and user experience has grown significantly in recent years. Earning a certification in UX design becomes essential for aspiring designers and holds substantial value for experienced professionals in the field. Accreditation from reputable institutions can significantly enhance a candidate's resume, providing a distinct competitive advantage. The UI UX Course in Kolkata has an elevated level of expertise that can open doors to many career opportunities within the sector.
Whether you're looking to acquire or refine new skills, the certification program ensures that you learn effectively and apply your knowledge in practical, real-world scenarios, leaving all crucial components to be noticed. The advantage of UI UX certification is the rapid acquisition of new skills and knowledge.
The UI UX Course encompasses both User Interface and User Experience aspects. This comprehensive program delves into various concepts, including Visual Design to User Interface, Usability to Information Architecture, Functionality to Content, and Interaction Design. Whether you're a passionate design enthusiast or an emerging professional, this course serves as your portal to the captivating realm of design.
Upon completing the UI UX Designer Course in Kolkata, participants gain the ability to analyse user needs, craft impactful user interfaces, seamlessly integrate these designs into mobile or web applications, and earn a prestigious certification. Our primary objective is to impart high-quality education based on real-world situations, enabling students to grasp the underlying principles. FITA Academy's Certificate Program offers a comprehensive certification experience, equipping students with the knowledge and skills to excel as proficient user interface designers.
Have Queries? Talk to our Career Counselor for more Guidance on picking the
right Career for you!
Placement Session & Job Opportunities after completing UI UX Design Course in Kolkata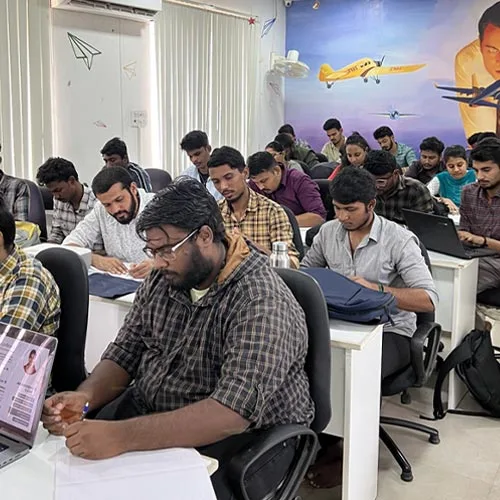 UI and UX fall under web design and web development, primarily focusing on user-centered design. The User Interface and User Experience Design domains encompass three core principles guiding UI and UX designers' work.
Now that we know the UI/UX fields and their operational aspects let's explore the career prospects for individuals who obtain certification in this course. Certified candidates can pursue various job roles, including UI Designer, UX Designer, UX Researcher, Product Designer, Information Architect, Interaction Designer, Visual Designer, UX Writer, and UX Engineer. These professionals find lucrative opportunities in UX Design, Product Design, UI Design, Video Game Design, Multimedia Art and Animation, Web Design, and Exhibit Design. UI/UX Design is a high-demand profession that consistently offers career stability and growth prospects.
UI/UX Developer Salary For Freshers is Rs. 3,01,157 per annum. Mid-level professionals earn around Rs. 7,32,511 per annum. Experienced professionals earn around Rs. 9,18,809 per annum. Similarly, a UX designer earns around Rs. 4,33,249 per year. Mid-level professionals earn around Rs. 5,76,695 per annum. In contrast, experienced professionals earn around Rs. 1,011,249 per annum. Professional UI UX experts with an enlightening and commanding knowledge of both fields design FITA Academy's UI UX Course syllabus.
Success Story of UI UX Design Course in Kolkata
FITA Academy's UI UX Course is led by seasoned designers who curate the curriculum and conduct the classes. Every concept was designed comprehensively. Upon successfully finishing the course, I was awarded a prestigious certification in UI UX Design.
Enrolling in FITA Academy's UI UX Design Course enabled me to attain exceptional design expertise. The highly engaging instructors guided us through hands-on projects, aiding in creating a professional resume. Their valuable support extended to placement assistance as well. I am deeply grateful to FITA Academy for this enriching experience.
Enrolling in FITA Academy's UI UX Design Course empowered me to gain remarkable design skills. Their instructors have a decade of design expertise, and the dedicated placement cell consistently offered support throughout job interviews.
I enrolled in FITA Academy's UI UX Design Course, where I acquired expertise in the field of design. The instructors guided us through hands-on projects, facilitating a practical understanding of the concepts. Moreover, they extended their support upon course completion in securing job placements.
I wanted to switch my career from developing to designing. When I searched for the best UI UX Course, I found FITA Academy, which offers the course by an expert with a decade of experience in design. I joined and benefited from the course. Thank you.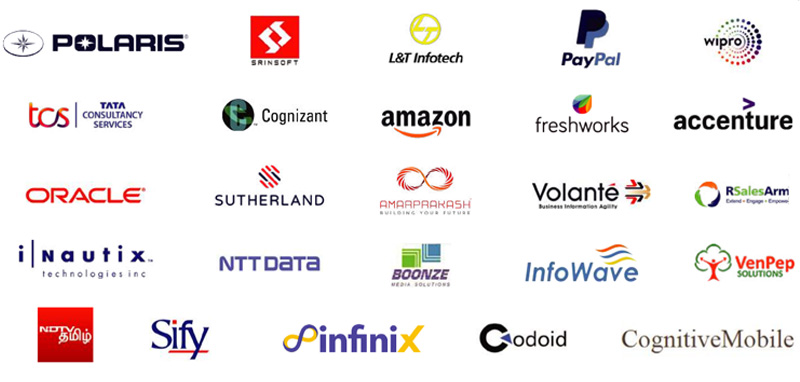 Frequently Asked Question (FAQ) about UI UX Design Course in Kolkata
Additional Information of UI UX Design Course in Kolkata
The UI UX Design Course in Kolkata enables you to learn User Interface(UI) Design and User Experience(UX) Design with expert trainers who provide both theoretical and practical sessions.
User Interface Design
UI design pertains to the tangible interfaces that users interact with. Elements such as buttons, widgets, text, images, sliders, and various interactive components are carefully crafted in the UI design process. UI designers ensure that each visual element, transition, and animation within a product or service contributes to a seamless and enjoyable user experience.
User Experience Design
User experience (UX) encompasses a user's interaction with a product or service. UX design involves the creation of products or services that deliver valuable and meaningful experiences to users, encompassing various aspects of product development, such as branding, usability, functionality, and design.
Agile Approaches
Within the curriculum of the UX Design Course in Kolkata, students can delve into Agile methodologies, which encompass Sprint, Scrum, and the role of the Product Owner. These methodologies are designed to enhance adaptability and mitigate risks associated with the design process.
Sprint is an exceptional five-day methodology meticulously designed for validating concepts and addressing significant challenges. It accomplishes this by creating prototypes and subjecting ideas to rigorous customer testing.
Scrum is a collaborative framework that empowers agile teams to achieve their objectives efficiently. It enables team members to deliver and maintain complex products effectively. This framework fosters a learning culture through hands-on experience, promoting self-organisation when dealing with challenges. Essentially, Scrum offers a systematic approach to delivering value to customers consistently.
The primary responsibility is overseeing and optimising the product backlog to maximise its value. Effective team communication and self-organisation are encouraged within the Agile framework of Scrum.
Within the Scrum team, the Product Owner holds a critical position. Their core responsibilities include defining user stories and shaping the product backlog. Serving as the primary intermediary between the customer and the development team, the Product Owner identifies the product requirements on behalf of the customer.
Differences Between UX and UI Design
UX and UI designers frequently collaborate closely, leading to occasional confusion between the two disciplines despite their distinct roles in designing a product or service. While there is some shared ground between these roles, it's important to acknowledge several significant distinctions. The UI UX Design Course in Kolkata provides a comprehensive understanding of the essential disparities between UI and UX Design.
UX and UI design have interconnected yet distinct roles in product development. UI design concerns itself with the aesthetics of a product, encompassing its visual elements and interactive features that enhance the user experience. Conversely, UX design centres on the holistic essence of the product or service, emphasising the elements that create a meaningful and pertinent user experience.
UX and UI designers may collaborate on the same products but have distinct responsibilities and objectives. UX designers typically develop wireframes and testable prototypes that establish the foundation for a website or service's user journey, while UI designers refine products and designs that enhance user interaction.
Another distinguishing factor between UI and UX designers is the granularity of their work. UI designers fine-tune individual pages, buttons, and interactions to ensure quality and functionality. In contrast, UX designers adopt a broader perspective, overseeing the overall user journey of a website, service, or app, striving for comprehensive and cohesive user experiences.
UX and UI Design Together
While they entail distinct roles, UX and UI collectively constitute the usability design process of a website or application. Together, these disciplines synergise to create a seamless and user-friendly journey. The UX components of a site or application, such as client-facing messaging and the overall user experience, are constructed upon the foundation of its UI design, which includes the technical and aesthetic structure. Enrol in the UI UX Course in Kolkata to harness your creativity in crafting distinctive designs that enhance the overall product or service and leave a lasting impact on users.
UX in Website Design
In website design, user experience encompasses a user's complete journey on the site, from their initial arrival on the landing page to their ultimate destination, such as a product or service order page. The primary goal of website design experts is to ensure this journey is seamless, user-friendly, and pleasurable, which involves enhancements like optimising website speed, among other considerations.
UX in App Design
Designing mobile applications presents a unique challenge due to the constrained screen and phone real estate. Nevertheless, they present users with many inventive interaction possibilities that websites can only partially replicate. Designers are tasked with enhancing the overall user experience of an app, striving to make the user's journey as intuitive and memorable as possible. Every interaction within apps is meticulously crafted and guided by UX designers.
The inception of any app or website design project involves collaborative discussions between clients and the design team to establish design criteria. Learn UX Design Course in Kolkata, formulate a scope of work, and determine a specific design approach to follow.
Why is it important for UI/UX designers to know HTML and CSS?
Although UI/UX designers do not need to become HTML and CSS experts, having a foundational understanding of these languages offers several advantages. Here are some compelling reasons:
Improved Collaboration: A familiarity with HTML and CSS allows UI/UX designers to collaborate more effectively with developers, enhancing communication and synergy.
Streamlined Design: Proficiency in HTML and CSS empowers UI/UX designers to create designs that are more practical and easier for developers to implement.
Enhanced Prototyping: UI/UX designers can use HTML and CSS to create prototypes that closely resemble the final product, resulting in more accurate design validation.
HTML defines the content of a webpage and its structure, while CSS is responsible for formatting and arranging the page's visual presentation. The UI UX Design Course Kolkata utilises web design languages, including HTML, HTML5, CSS, and CSS3, for website development.
Scope for UI/UX Designers
With the rise of design-centric organisations and the growing need for UI/UX support for websites, e-commerce platforms, and product/service landing pages, the UI/UX design field is poised for significant expansion and countless opportunities in the next decade.
This sector will witness a substantial demand for innovation and creativity, making UI/UX designers highly sought-after by leading global companies.
In addition to designing user interfaces, UI/UX designer extend their skills to create captivating banners, email campaigns, video games, and various client-specific mobile applications.
The applications of UI/UX design principles are virtually boundless, offering a wide range of career possibilities.
Companies like Airbnb and Netflix are prime examples of exceptional user experiences, which captivate larger audiences and generate billions in revenue. LearningUX Design Course in Kolkataallows the users to excel in creating designs in demand for websites, e-commerce platforms and product/service landing pages.
Why Choose the UI UX Course in Kolkata at FITA Academy?
Learn from Experienced UI UX Designers
Our training program is designed and delivered by seasoned UI UX Designers, greatly enhancing the course's effectiveness and providing you with valuable insights into the field of Designing.
Hands-on experience with Real-World Projects
The UI UX Course is structured to immerse you in design. We incorporate real-life industry projects to offer practical experience, and our instructors will assist you in translating your creativity into unique designs.
Comprehensive Digital Course Materials
We provide course materials in a digital format for easy reference throughout your training.
Earn a UI UX Course Completion Certificate
Upon successful completion of our UI UX Course, you will receive a prestigious certificate in Designing.
After completing the training, we assist with UI UX Designer Interview Questions and Answers for interview preparations. The experts of the UI UX Design Course in Kolkata are dedicated to guiding you on your path to success in UI UX Design.