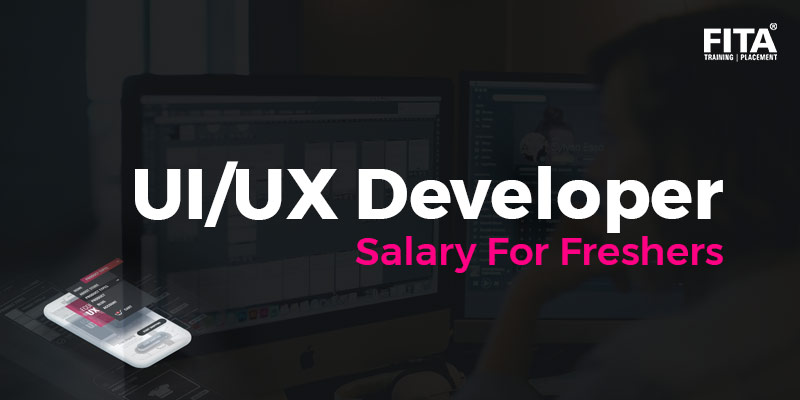 User Interface (UI) and User Experience (UX) both play a crucial role in the development and design of android, web, and computer applications. Since our modern world is growing towards a new technological era, all the lifestyle services and products are being transformed into digital platforms. That is why the demand of UI/UX developers is exponentially increasing with a feasible UI UX Developer Salary for Freshers.
This blog will provide an overview of UI UX Designers, their demand in the current IT job market, and a wider scope of both UI and UX Designer in upcoming decades with their excellent UI UX Developer Salary in India.
UI UX Developer Job Description
The UI Developers are also known as front-end web developers, they are concerned with working on aesthetics of all kinds of web-sites, applications, and making it fully functionable to all the users. Similarly, the UX Developers are concerned with ensuring the ease of user experience with web or mobile applications. Also, they are responsible for successful implementation of best UI UX practices to the digital platforms. Get a better insight to development of mobile applications through enrolling for Mobile App Development Courses in Chennai.
Qualification Criteria for UI UX Developer Job Roles
Freshers seeking to various UI UX Developer roles with feasible UI UX Developer Salary for Freshers must meet the following educational qualification criteria which are as follows 
The candidate must have completed any of the following degrees in computer science, graphics, design or any other relevant field. 

The degree may be BCA, B.Sc, B.E, B.Tech, B.Des, M.Sc, M.Tech, M.E, M.Des from recognized colleges or universities.

No experience is preferred for freshers but any relevant experience in UI or UX is highly appreciated at many IT companies. So an experienced candidate's application is given more preference.

An impactful portfolio for both UI and UX Design works are highly considered. The works may be related to mobile as well as web-based platforms.
Enhance your qualification criteria for UI/UX Job roles through pursuing UI UX Design Course in Chennai. It will enrich your with most emerging designs and graphical skills. 
Additional Skills Considered for UI UX Developer Roles
In addition to the educational qualification criteria, certain additional skills are also considered for the post of UI UX Designer job roles which are as follows 
Good leadership skills to lead a team or organization.

Excellent verbal and communication skills to consult with team mates.

Ability to manage multiple tasks with assured time management.

Ability to prioritize significant tasks.

Basic knowledge or proficiency in Photoshop, Illustrator, User Interface Designing, UX,

Graphic Design

, Visual Design, Web Technologies, JQuery, and

Web Development

, Designing are highly preferred for UI UX Developer roles with a feasible UI UX Developer Salary For Freshers.
As part of additional skills, we urge you to undertake UI UX Design Course Online which will make you expertise in UI and UX graphical designs. 
UI UX Developer's Roles and Responsibilities
Both UI and UX Developers are associated with certain significant key tasks and responsibilities which are as follows 
Reviewing and Suggesting the requirements for user experience design that should meet the standard of digital suites of assets.

Conceptualizing and Developing an effective and comprehensive UI/UX design strategies for the enhancement of brand.

Creating and Delivering high-quality flowcharts, graphic designs, data flow diagrams, storyboards, site maps, and prototypes for better UI/UX Solutions.

Creating user interface elements and tools for our digital assets, such as navigating menus, query boxes, tabs, and widgets.

Testing the modules and pages such as CTAs, advertisements, screen layout, page designs, page patterns, and target hyperlinks for landing pages.

Working with the marketing team, as well as internal and external designers, to facilitate the creation and delivery of customized digital user experiences.

In order to assess and predict user behavior, providing advice and guidance on the implementation of UX research methodology and testing activities.

Following typographic and graphic design style guidelines for better designs and graphical design improvements.
UI UX Developer Salary in India
The UI UX Developer salary for both freshers and experienced professionals varies in India. In addition, the salary packages also vary in accordance to the employer, job roles, skills the applicant possesses, company work location, and the years of experience the applicant possesses. Let's discuss the average salary package for UI UX Designers in the following section.
The range of an UI Developer Salary in India for Freshers usually varies from 1.8 to 4.6 Lakhs Per Annum. 

Similarly, for the freshers the UX Developer Salary in India 3.0 to 5.0 Lakhs Per Annum.
Let's see how the salary package for UI UX Developers vary in accordance to various parameters. 
Salary Based on Company

– The salary of a UI UX Developer in India varies from company to firm across the country. The line below displays our expected UI UX Developer pay.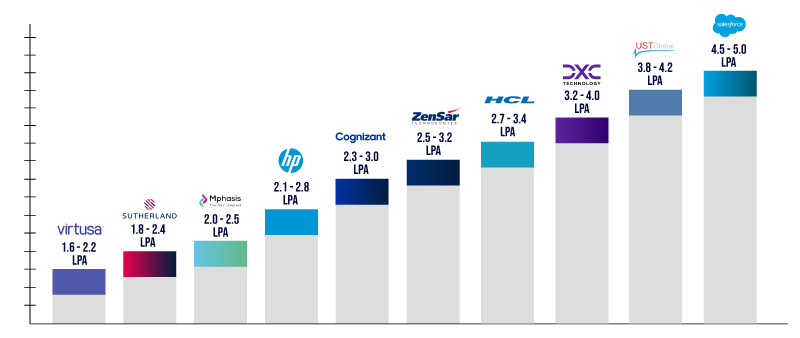 Salary Based on Work Locations

– Like companies, UI/UX Developer Salary in India varies according to the work zones where the company is located. This compensation structure is determined by the cost of living in the particular metropolitan area. However, we have determined an average salary for UI/UX developers in India in the chart below.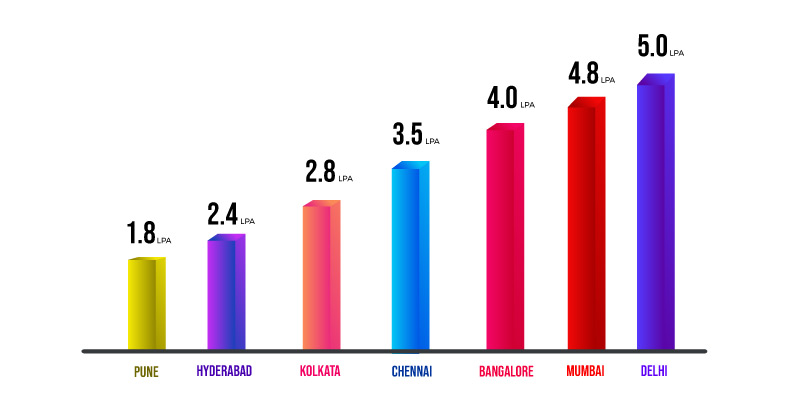 Salary Based on Work Experience

– Despite lack of experience, candidates who have undergone an academic or industrial internship and have relevant experience have a better chance of earning a higher UI UX Developer Salary in India. We calculated the average wage for freshers depending on their years of experience in the graph below. Avail all the international relocation benefits through pursuing

IELTS Coaching in Bangalore

.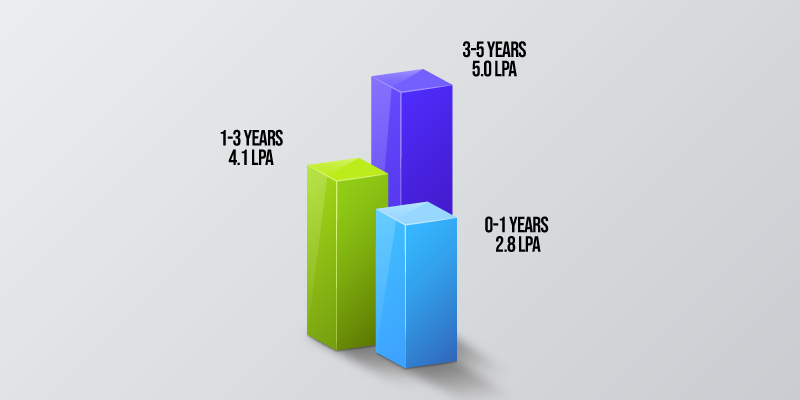 Salary Based on Skills

– The typical salary of a UI/UX Developer in India is influenced by the applicant's skills and all other salary factors. On the other hand, the graph below represents the average salary of UI/UX Developers based on their skills and capabilities.

Until this section, we have discussed the general roles, responsibilities, and their annual UI UX Developer Salary in India. Let's discuss a short overview on UI Designers and UX Designers along with their key responsibilities and tasks. Before moving to discussion, we suggest UX/UX aspirants to pursue Graphic Design Courses in Bangalore to get the top most graphical design approaches and strategies to improve your UI/UX Skills. 
UI Developer Job Description
UI Developers, also known as front-end web developers, are responsible for the supervision and support for all types of user interfaces for websites and applications, as well as ensuring that they are completely functional for all users. Freshers seeking this job role with excellent UI Developer Salary in India are required to possess the following skills: proficiency in Java script, JQuery, CSS, HTML, and knowledge of Adobe Illustrator. As a UI Developer, they are concerned with the following key roles and responsibilities which are as follows
Work with other developers to make sure the website is both functional and attractive to the viewers.

Consult with the client to determine their requirements and expectations for effective user-interface designs.

Preparing and Developing a website layout plan for both internal and external clients.

Determining the compatibility of websites with any android mobiles, laptops, and a variety of devices.

Utilizing the analytical tools to gauge client satisfaction.
UX Designer Job Description
UX Developers are focused on making online or mobile applications as simple as possible for users. They are also in charge of successfully implementing the best UI UX principles across digital platforms. Freshers willing to join as UX Designer with a feasible UX Developer Salary in India need to possess the following skills: expertise in HTML, Javascript, CSS, and UXpin. As a UX Designer, they are concerned with the following key roles and responsibilities 
Create and Develop user-friendly applications and web pages.

Work and Collaborate with designers and engineers to innovate newer application ideas.

Work with data to analyze the new trends and designs.

Develop test models to measure the engagements of users.
Potential Tips to Become a Exceptional UI/UX Developer
Concerning the demand and growth of UI and UX Designers in all sectors, we wish to deliver potential ways to become an excellent UI/UX Developer with a feasible UI/UX Developer Salary in India. In addition, younger generations and freshers are very much interested in graphical designs and are eager to transform digital technologies. Therefore, the potential steps to becoming a notable and demanding UI/UX Developer are as follows
Earn a bachelor's or master's degree in graphic design, computer science, or Design systems.

Apart from academic degree, acquire a

UI UX Certification

to make an impactful application during applying and to get additional credit.

Implement all the acquired skills to various UI or UX Design projects. So that you can test your skill set and potentiality.

Enroll for

UI UX Design Course Online

to effectuate your professional skills and capabilities.

Further, gain additional design experience through completing

Photoshop Classes in Chennai

at FITA Academy. The leading institute is popular for successful placement of IT enthusiasts into various IT Companies. 
Until this section, we have overviewed the potential steps to become an exceptional UI UX Developer with a guide to get hired with excellent UI UX Developer Salary in India. Let's discuss the various benefits of these designs in the upcoming section.
Benefits of UI UX Designs made through UI UX  Developers
There are a tremendous amount of benefits of UI and UX Designs in the current digital job market. Some of the benefits are as follows.
Amazing Accessibility and Usability – It improves consistency, visibility, and user-friendliness through the introduction of features such as colors, fonts, images, videos, buttons, navigation panels, and animations.

Enhanced Brand Awareness and Outreach – It integrates a simple marketing strategy and creates unique and simplest UI/UX Designs.

Reliable, Faster, and Engaging Applications – Maintains a standard and required balance between graphics, styles, and performance. 

User-Friendly Web Pages and Applications to Consumers as well as clients – Despite the addition of images, videos, and animation, the design sustains the application's performance and reliability.

Cost-effective and time optimization through accessible features- enables cost-effective development and modification strategy.

High user interface and sustenance throughout time – It affords the easiest way to save time and get engaged with web or application-based services or products.
Apart from the above listed benefits and advantages, there exists lots of user benefits. Since the development of UI and UX Designs and its web-based interfaces has transformed the user-experiences of online applications and users. 
Finest Interview Preparation Tips 
The increase in demand for UI and UX Developers across various IT Companies has encouraged students and various IT aspirants to look for various UI/UX Developer roles with feasible UI UX Salary for Freshers in India. Therefore, concerning our discussion, we intend to deliver some useful tips and tricks to get prepared for an interview. For freshers sake, we have compiled the most important and guaranteed Top Interview Tips along with Best UI UX Interview Questions and Answers. This guide may help you to clear all the technical interview rounds without any hurdles or barriers. This guide is prepared and reviewed through previous employees and high-level experts across all the IT sectors. We hope that by using these resources, you will feel more prepared to face all kinds of technical  interview processes.
Our study and research on UI/UX Developers Salary in India have provided all the significant steps and procedures to become an exceptional UI UX Developer. Further, this blog has covered the demand for UI UX Developers, applications, and future scope, along with their key roles and responsibilities. In order to become a certified UI UX Designer or Developer, we suggest you to pursue UI UX Training in Bangalore at FITA Academy. Finally, we hope that we have covered all the necessary information and potential pathways for all the youngsters to step into a design career with an excellent UI UX Developer Salary in India.