Course Highlights and Why UI UX Design Course in Trivandrum at FITA Academy?

Discover an expertly designed UI/UX course curriculum tailored to meet global industry standards.

The course materials offer comprehensive insights into key components of Web Designing, including UI/UX Web Development Processes, Wireframes, Strategies, HTML 5, CSS3, and Visual Design Principles.

The Trainers are highly recognised and certified, with over a decade of experience in Designing.

FITA Academy in Trivandrum offers regular wrap-up sessions from previous classes to reinforce your skills.

The classrooms equipped for experiential learning ensure an enriching course experience.

We provide professional UI UX training at an affordable cost, and upon successful completion of the course, you'll receive a certification.

Choose from convenient batch timings at FITA Academy in Trivandrum, including weekend and weekday options.

With our extensive network of 1500+ companies, ranging from small to large-scale enterprises, FITA Academy can help you realise your dream career.

An active Placement Cell is dedicated to assisting students in their journey toward their desired career path.
Upcoming Batches
| | | | |
| --- | --- | --- | --- |
| 09-12-2023 | Weekend | Saturday (Saturday - Sunday) | |
| 11-12-2023 | Weekdays | Monday (Monday - Friday) | |
| 14-12-2023 | Weekdays | Thursday (Monday - Friday) | |
| 16-12-2023 | Weekend | Saturday (Saturday - Sunday) | |

Classroom Training
Get trained by Industry Experts via Classroom Training at any of the FITA Academy branches near you
Why Wait? Jump Start your Career by taking the UI UX Design Course in Trivandrum
Instructor-Led Live Online Training
Take-up Instructor-led Live Online Training. Get the Recorded Videos of each session.
Travelling is a Constraint? Jump Start your Career by taking the UI UX Design Course Online!
Trainer Profile
The Trainers of the UI UX Course in Trivandrum at FITA Academy provide comprehensive hands-on practical sessions and theoretical instructions.
The Trainers are seasoned web developers with real-world experience, ensuring students receive the latest industry insights.
The Instructors are committed to keeping students informed about the best practices in the field.
The Trainers of FITA Academy are available for flexible classes, including weekday, weekend, and online sessions.
To ensure personalised attention, we limit the seats in each batch, allowing students to benefit from one-on-one mentorship.
The trainers also offer valuable guidance on interview techniques and strategies to boost your career prospects.
The trainers design engaging assignments, practical case studies, and real-world projects to provide a holistic learning experience.
The UI UX Course instructors in Trivandrum prepare students with hands-on skills, ensuring their readiness for a UI/UX design career.
Learn at FITA Academy & Get Your
Dream IT Job in 60 Days
like these Successful Students!

Features of UI UX Design Course in Trivandrum at FITA Academy
Real-Time Experts as Trainers
At FITA Academy, You will Learn from the Experts from industry who are Passionate in sharing their Knowledge with Learners. Get Personally Mentored by the Experts.
LIVE Project
Get an Opportunity to work in Real-time Projects that will give you a Deep Experience. Showcase your Project Experience & Increase your chance of getting Hired!
Certification
Get Certified by FITA Academy. Also, get Equipped to Clear Global Certifications. 72% FITA Academy Students appear for Global Certifications and 100% of them Clear it.
Affordable Fees
At FITA Academy, Course Fee is not only Affordable, but you have the option to pay it in Installments. Quality Training at an Affordable Price is our Motto.
Flexibility
At FITA Academy, you get Ultimate Flexibility. Classroom or Online Training? Early morning or Late evenings? Weekdays or Weekends? Regular Pace or Fast Track? - Pick whatever suits you the Best.
Placement Support
Tie-up & MOU with more than 1500+ Small & Medium Companies to Support you with Opportunities to Kick-Start & Step-up your Career.
Why Learn UI UX Design Course in Trivandrum at FITA Academy?
Live Capstone Projects
Real time Industry Experts as Trainers
Placement Support till you get your Dream Job offer!
Free Interview Clearing Workshops
Free Resume Preparation & Aptitude Workshops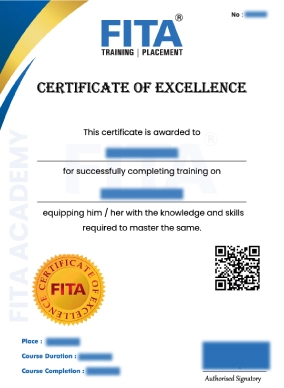 UI UX Certification Course in Trivandrum
In the ever-changing realm of digital technology and user-centric interfaces, a career in UI/UX offers both excitement and promise. FITA Academy offers a comprehensive UI UX Design Certification Course to empower students to thrive in this rapidly evolving field.
At FITA Academy, we firmly believe that passion and commitment are the sole requirements for success in the industry. You don't need prior knowledge or skills to enrol in the UI UX Course in Trivandrum. Our experienced design professionals are dedicated to providing a well-rounded education, covering everything from the fundamentals to advanced and core concepts.
The UI UX Design Course encompasses both User Interface and User Experience aspects. This program encompasses various concepts, from Visual Design and User Interface to Usability and Information Architecture, from Functionality to Content and Interaction Design. Whether you're a design enthusiast or an aspiring professional, this course is your entry point into the design world.
In the current competitive job market, it is imperative to set yourself apart. Our certification program provides you with the knowledge and hands-on skills required to differentiate yourself in the industry.
Seize the chance to embark on a fulfilling design journey. Enrol in the UI UX Design Course at FITA Academy, where innovation converges with opportunity and design shapes the digital landscape.
Have Queries? Talk to our Career Counselor for more Guidance on picking the
right Career for you!
Placement Session & Job Opportunities after completing UI UX Design Course in Trivandrum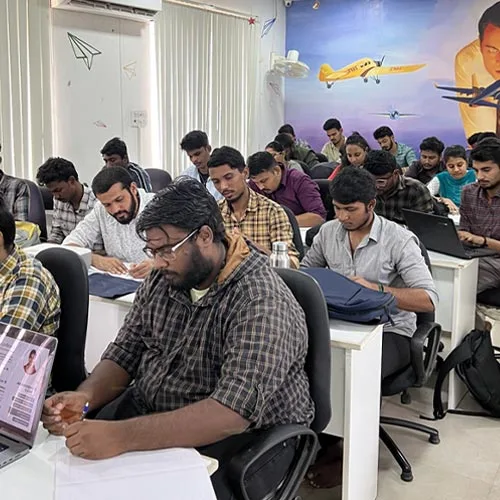 The UI/UX industry consistently experiences high demand, ensuring a stable and enduring career path. As businesses increasingly prioritise user-centric design, the demand for skilled professionals remains robust.
User Interface (UI) and User Experience (UX) have become indispensable elements in designing and developing websites, applications, and digital interfaces. Enrolling in a UI UX Course in Trivandrum equips you with valuable skills. It unlocks doors to various career prospects, including roles such as UI Designer, UX Designer, UX Researcher, Product Designer, Information Architect, Interaction Designer, Visual Designer, UX Writer, and UX Engineer. The UI/UX Developer Salary for Freshers overs around Rs. 3 Lakhs Per Annum, with mid-level practitioners earning approximately Rs. 7 Lakhs Per Annum.
Experienced professionals in this field can command an impressive annual income of around Rs. 9 Lakhs. Similarly, entry-level UX Designers can expect to earn about Rs. 4 Lakhs Per Annum, with mid-level experts securing an annual income of approximately Rs. 5 Lakhs Per Annum. Highly experienced UX Design professionals can achieve a substantial annual salary of around Rs. 10 Lakhs Per Annum.
FITA Academy is the best choice for the finest UI UX Course in Trivandrum. Our course curriculum is meticulously crafted by renowned experts with extensive knowledge and expertise in UI and UX domains.
Completing our course serves as your gateway to a dynamic and gratifying career. Whether you possess a passion for design or aspire to create exceptional user experiences, the skills you acquire will open doors to a wealth of job opportunities. Seize this moment, embark on your UI/UX journey, and unlock the potential for an exciting and fulfilling career. Your dream job awaits!
Success Story of UI UX Design Course in Trivandrum
My experience with the UI/UX Designer Course at FITA Academy was outstanding. The course material, designed by industry experts, incorporated real-time projects. The trainers were highly engaging and provided valuable assistance in crafting our resumes. FITA Academy's placement cell also offers vital support to students.
I enrolled in the UI UX Course in Trivandrum at FITA Academy, which gave me a deep understanding of design principles. The expert trainers conducted interactive sessions and addressed the doubts. They also conducted assessments to track our progress. Overall, joining the design course was quite a good experience.
I completed a UI/UX design certification course at FITA Academy. Before joining, I had yet to gain prior design knowledge. My trainer started with the basics, allowing me to build a solid foundation. This approach helped me grasp advanced concepts with clarity.
I am passionate about designing, so I decided to learn UI UX Designing. When looking for the best UI UX Design Course Trivandrum, I found FITA Academy, which offers the UI UX Courses by expert designers. I gained exceptional design skills after enrolling in the course.
The UI/UX Design Course at FITA Academy is an extensive program that made me proficient in UI/UX Designing. I'm thankful to the trainers who guided us through real-time projects and provided invaluable support during job interviews upon course completion.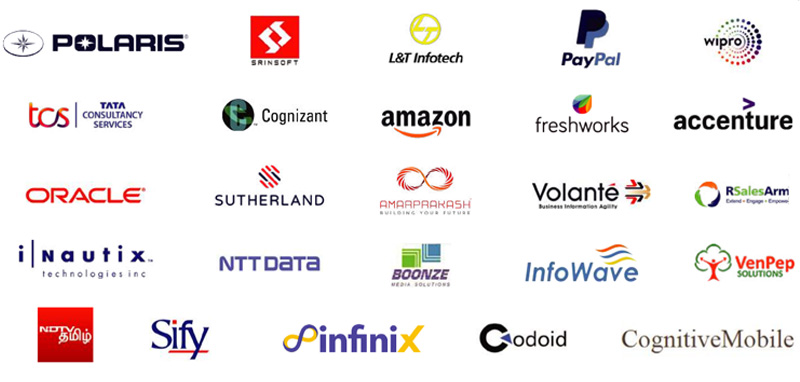 Frequently Asked Question (FAQ) about UI UX Design Course in Trivandrum
Additional Information of UI UX Design Course in Trivandrum
UI Design
A UI (User Interface) is responsible for the visual presentation of an application, encompassing elements such as buttons, screen layouts, animations, transitions, micro-interactions, and more. To learn how UI focuses on the aesthetics and appearance of the user experience, join the UI UX Designer Course in Trivandrum and excel in UI Design.
UI design encompasses various formats, including:
Graphical User Interface (GUI): GUI design pertains to how users interact with the system's visual components and digital control panel. An illustrative example of a GUI is the desktop interface of a computer.
Voice-controlled Interface (VUI): VUI design involves user and system interaction through voice commands. Prominent instances of VUIs include voice-activated smart assistants.
Gesture-based Interface: This interface type finds frequent virtual reality (VR) applications and other scenarios that rely on gestures for user engagement within three-dimensional spaces. As an illustration, we have created a fully functional simulation of the Soft UI Admin Dashboard in VR.
UX Design 
UX design optimises how users engage with a system, encompassing seamless and intuitive navigation elements to create a positive user experience.
Interaction Design concentrates on ensuring that users can effortlessly accomplish their tasks through the interactive elements of a system, including page transitions, animations, buttons, and similar components.
User Research involves comprehensive research, feedback gathering, and idea collection from potential or current users. It revolves around graspinend-users'he needs and making design choices based on these insights.
Information Architecture entails structuring information and content essential for user tasks, which demands that a UX designer comprehend the connections between various content sets and present them in the most understandable manner possible.
Good UX Design
When aiming for robust UX design, it's essential to adhere to these principles:
The product should offer easy use, logical functionality, and self-explanatory features.
The product should address users' needs and problems effectively.
The product should be accessible and functional for a broad user base.
The product should deliver a positive user experience, enabling seamless task completion without causing frustration. Gain insights into UX design and learn about good UX design by joining the UX Design Course in Trivandrum.
Difference Between UI and UX
Creating a product that captures user enthusiasm demands a harmonious blend of effective UI and UX. Consider, for instance, a messaging application like WhatsApp, which boasts an appealing visual design and user-friendly menu navigation (UI). Nonetheless, if the app suffers from slow loading times or forces users to navigate through an excessive number of screens to send a message (UX), its aesthetic appeal becomes inconsequential. Chances are, you won't be inclined to use it.
On the contrary, a website may be brimming with unique, valuable content, thoughtfullorganiseded in a logical and user-friendly manner. Yet, if its appearance feels outdated or users need help smoothly transitioning between screens or navigating through available options, they will likely abandon the site. UI UX Design Course in Trivandrum devised its curriculum with modules defining the tools, prototypes, wireframes, and UI and UX Design components.
Scope for UI/UX Designers
With the rise of design-centric organisations and the growing need for UI/UX support for websites, e-commerce platforms, and product/service landing pages, the UI/UX design field is poised for significant expansion and countless opportunities in the next decade.
This sector will witness a substantial demand for innovation and creativity, making UI/UX designers highly sought-after by leading global companies.
In addition to designing user interfaces, UI/UX designer extend their skills to create captivating banners, email campaigns, video games, and various client-specific mobile applications.
The applications of UI/UX design principles are virtually boundless, offering a wide range of career possibilities.
Companies like Airbnb and Netflix are prime examples of exceptional user experiences, which captivate larger audiences and generate billions in revenue. Learning UX Design Course in Trivandrum allows the users to excel in creating designs in demand for websites, e-commerce platforms and product/service landing pages.
UX in Website Design
In website design, user experience encompasses a user's complete journey on the site, from their initial arrival on the landing page to their ultimate destination, such as a product or service order page. The primary goal of website design experts is to ensure this journey is seamless, user-friendly, and pleasurable, which involves enhancements like optimising website speed, among other considerations.
UX in App Design
Designing mobile applications presents a unique challenge due to the constrained screen and phone real estate. Nevertheless, they present users with many inventive interaction possibilities that websites can never replicate. Designers are tasked with enhancing the overall user experience of an app, striving to make the user's journey as intuitive and memorable as possible. Every interaction within apps is meticulously crafted and guided by UX designers.
The inception of any app or website design project involves collaborative discussions between clients and the design team to establish design criteria. Learn UX Design Course in Trivandrum, formulate a scope of work, and determine a specific design approach to follow.
Prototyping
A prototype is an essential representation or a simulated version of a concept, idea, product, or service. Its purpose is to assess or confirm the design assumptions efficiently and at a lower cost, creating a fully developed product or service. Additionally, the prototype provides insights into potential refinements or adjustments needed to approach the final product or service offering.
Crafting UI Designs with Photoshop
While prototyping software is commonly used in web platforms and app design, if you aim to enhance the visual allure of your user interface designs, Photoshop can prove to be a potent resource. Photoshop's UI design functionalities provide many impressive features for creating unique and intricate designs. To explore the full potential of Photoshop, consider enrolling in the UI UX Design Course in Trivandrum at FITA Academy.
Usability
The designer uses various design strategies to lead users through distinct stages of their interaction with the app or website, which involves enhancing the speed of the app or website and guaranteeing the absence of broken links between the initial and final phases, often involving making purchases. Crafting these micro-interactions within the app to be as user-friendly as conceivable, i.e. pivot in encouraging recurrent visits and prolonging user engagement.
Wireframing
At this phase, designers establish the ultimate structure of the app platform. Once the user's path is delineated, they construct the wireframe, which involves arranging all the various design components within the app or website coherently and hierarchically. After establishing the initial wireframe, designers develop low-fidelity product prototypes, further refining user flow.
Agile Methodologies
In the UX Design Course in Trivandrum, students can learn about Agile methodologies, including Sprint, Scrum, and Product Owner, to enhance adaptability and mitigate design-related risks.
Sprint is an exceptional five-day methodology for validating concepts and addressing significant challenges. It achieves this by creating prototypes and subjecting ideas to customer testing.
Scrum is a collaborative framework that empowers agile teams to accomplish their goals efficiently. It enables team members to deliver and maintain complex products effectively. This framework nurtures a learning culture through hands-on experience and encourages self-organisation while tackling challenges. Essentially, Scrum provides a systematic approach to consistently delivering value to customers.
The role of the Product Owner is pivotal in project success. Their primary responsibility involves overseeing and optimising the product backlog to maximise its value. Effective team communication and self-organisation are promoted within the Agile framework of Scrum.
Within the Scrum team, the Product Owner holds a critical position. Their core responsibilities encompass defining user stories and shaping the product backlog. Acting as the primary intermediary between the customer and the development team, the Product Owner identifies the product requirements on behalf of the customer.
Why Choose the UI UX Course in Trivandrum at FITA Academy?
Learn from Experienced UI UX Designers
Our training program is designed and delivered by seasoned UI UX Designers, greatly enhancing the course's effectiveness and providing you with valuable insights into the field of Designing.
Hands-on experience with Real-World Projects
The UI UX Course is structured to immerse you in design. We incorporate real-life industry projects to offer practical experience, and our instructors will assist you in translating your creativity into unique designs.
Comprehensive Digital Course Materials
We provide course materials in a digital format for easy reference throughout your training.
Earn a UI UX Course Completion Certificate
Upon successful completion of our UI UX Course, you will receive a prestigious certificate in Designing.
After completing the training, FITA Academy provides UI UX Designer Interview Questions and Answers for interview preparations. The experts of the UI UX Design Course in Trivandrum are dedicated to guiding you on your path to success in UI UX Design.