Course Highlights and Why UI UX Design Course in Mumbai at FITA Academy?

FITA Academy offers in-depth training in UI UX design with its complete and up-to-date curriculum.

Students have the option of opting for either online or offline training at their convenience at the UI UX Course in Mumbai.

Students are taught concepts both theoretically and practically.

Enhanced classrooms help students apply and practice whatever they have learned.

Flexible batch timings are available to eliminate timing constraints for students.

Fast track option is available for students who can't afford to spend the duration of regular classes.

Courseware developed by industry experts with details of everything related to the course such as CSS, HTML, Photoshop, Visual Design etc.

Placement training is given to students towards the end of the course.
Upcoming Batches
| | | | |
| --- | --- | --- | --- |
| 09-12-2023 | Weekend | Saturday (Saturday - Sunday) | |
| 11-12-2023 | Weekdays | Monday (Monday - Friday) | |
| 14-12-2023 | Weekdays | Thursday (Monday - Friday) | |
| 16-12-2023 | Weekend | Saturday (Saturday - Sunday) | |

Classroom Training
Get trained by Industry Experts via Classroom Training at any of the FITA Academy branches near you
Why Wait? Jump Start your Career by taking the UI UX Design Course in Mumbai
Instructor-Led Live Online Training
Take-up Instructor-led Live Online Training. Get the Recorded Videos of each session.
Travelling is a Constraint? Jump Start your Career by taking the UI UX Design Course Online!
Trainer Profile
FITA Academy's training staff are certified experts in the field of UI UX design and web development.
Trainers have experience in guiding and teaching several students in their careers.
Trainers are experienced UI UX developers, having worked in reputed companies for several years.
Trainers implement blended learning to impart both theoretical and practical knowledge to students.
Trainers conduct doubt-clearing sessions to ensure students fully grasp the concepts.
Trainers regularly revise the concepts to help students keep track of what they have learnt.
Trainers help students with placements by discussing interview questions.
Learn at FITA Academy & Get Your
Dream IT Job in 60 Days
like these Successful Students!

Features of UI UX Design Course in Mumbai at FITA Academy
Real-Time Experts as Trainers
At FITA Academy, You will Learn from the Experts from industry who are Passionate in sharing their Knowledge with Learners. Get Personally Mentored by the Experts.
LIVE Project
Get an Opportunity to work in Real-time Projects that will give you a Deep Experience. Showcase your Project Experience & Increase your chance of getting Hired!
Certification
Get Certified by FITA Academy. Also, get Equipped to Clear Global Certifications. 72% FITA Academy Students appear for Global Certifications and 100% of them Clear it.
Affordable Fees
At FITA Academy, Course Fee is not only Affordable, but you have the option to pay it in Installments. Quality Training at an Affordable Price is our Motto.
Flexibility
At FITA Academy, you get Ultimate Flexibility. Classroom or Online Training? Early morning or Late evenings? Weekdays or Weekends? Regular Pace or Fast Track? - Pick whatever suits you the Best.
Placement Support
Tie-up & MOU with more than 1500+ Small & Medium Companies to Support you with Opportunities to Kick-Start & Step-up your Career.
Why Learn UI UX Design Course in Mumbai at FITA Academy?
Live Capstone Projects
Real time Industry Experts as Trainers
Placement Support till you get your Dream Job offer!
Free Interview Clearing Workshops
Free Resume Preparation & Aptitude Workshops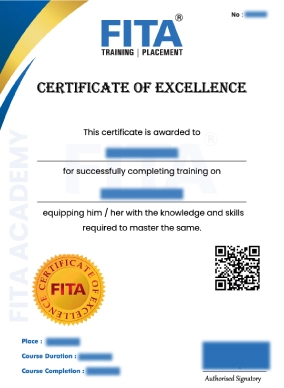 UI UX Certification Course in Mumbai
Students receive a valuable course completion certificate after successfully completing the UI UX Design Course in Mumbai at FITA Academy. Employers highly value candidates who hold this FITA Academy certificate. What sets this certificate apart is its recognition and the practical experience it represents. The hands-on experience is a testament to your acquired skills, showcasing that you are fully equipped to excel as a UI UX Developer.
The significance of this UI/UX Course Certificate becomes even more evident when you step into the job market. When you include this certificate in your resume, it instantly elevates your profile during interviews. It's like having a key to unlock many career opportunities. The FITA Academy UI UX certification on your resume makes you stand out during interviews. Employers recognise it as an authentic credential that speaks volumes about your knowledge and skills in web design.
The digital landscape is vast, and the opportunities are abundant. Pursuing the UI UX Course In Mumbai at FITA Academy opens doors to a world of possibilities. This certification is your stepping stone to a dynamic career in a field that's in high demand.
The skills acquired in this course are not limited to a particular industry. UI UX Design is universal. It's the bridge between users and technology. The skills you acquire in this course are not limited to just one industry. UI UX Design is universal. It's the bridge between users and technology. Every company, irrespective of the domain, needs professionals who can create seamless digital experiences. With your FITA Academy certification, you can explore various industries and find your niche.
Have Queries? Talk to our Career Counselor for more Guidance on picking the
right Career for you!
Placement Session & Job Opportunities after completing UI UX Design Course in Mumbai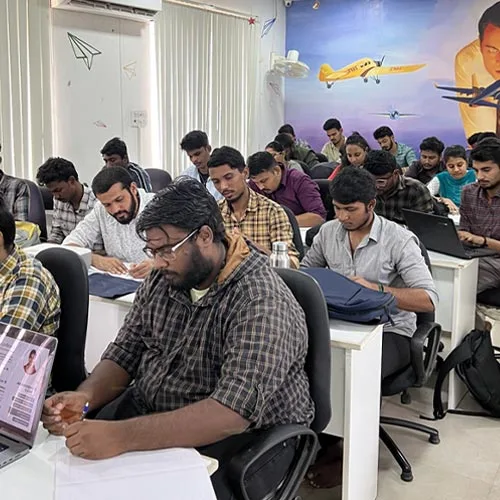 The internet, technology, and social media have rapidly evolved, empowering consumers with more purchasing power and higher expectations for their interactions with digital products. Companies are committed to ensuring positive mobile and web user experiences in response to these shifts. This is precisely where UX designers play a pivotal role.
With businesses continually expanding their digital presence, the need for UI/UX designers has grown considerably. Today, companies actively seek designers who can craft meaningful and engaging user experiences, enhancing the success of their digital products and services.
According to Forrester, a good UI can increase conversion rates by 200%, while a seamless UX can elevate them by 300-400%. In 2021, LinkedIn recognised UI designers as one of the top 15 most sought-after professions. This trend is expected to persist as our reliance on digital products and services for daily work and interactions grows.
FITA Academy has considered all of these factors and is dedicated to providing the Best UI UX Design Course With Placement In Mumbai. FITA Academy has an efficient placement training system thanks to a dedicated placement cell that aids students in the placement process.
There are several job roles available and in demand in the field of UI UX design. Some of them are as follows
UX Designer
UX designers are the architects behind making products, services, and technology user-friendly and pleasurable for people. While the term "user experience" often relates to digital design for websites and apps, the core design phases remain consistent, even though the specific approach may vary from one company or project to another. Typically, UX designers operate as integral parts of broader product teams, acting as bridges between users, development teams, and key business stakeholders.
UX designers are versatile professionals who champion user needs from the project's inception. This means delving into user research at the outset, defining the project's scope regarding features and content, establishing navigation and information hierarchy, crafting wireframes and prototypes, and rigorously testing designs to evaluate their performance. While UX designers can engage at any phase of the design process, in larger organizations where specialized UX researchers exist, UX designers may not bear sole responsibility for every aspect of the design process.
Through UI UX Training in Mumbai, FITA Academy has created several UX designers over the past decade. By providing adequate knowledge, hands-on experience and placement training, FITA Academy has made several aspirants land jobs as UX designers.
UI Designer
A UI designer's primary responsibility is crafting the graphical user interface for apps, websites, or devices. This ensures a seamless interaction between users and the digital platform. UI designers are the architects behind creating and optimising the interactive elements that empower your actions, including buttons, menus, breadcrumbs, progress bars, and accordions.
It's crucial to understand that User Interface Design is integral to User Experience (UX) design. UI and UX share a common objective: delivering a positive user experience. However, UI design stands as a distinct segment within this journey.
In essence, UI represents the tools and elements you employ to engage with a product, while UX concerns how this interaction is perceived and experienced. The harmony of these two disciplines ensures users have a satisfying and productive encounter with a digital platform.
As part of FITA Academy's mission to provide the Best UI UX Design Course in Mumbai, efficient placement training is provided to students for various job roles in the industry, including UI designing. Our alumni consists of several UI designers working in prestigious companies in several locations nationwide.
UX Manager
A User Experience Manager or UX Manager, holds a leadership role, often regarded as a subject matter expert and occasionally overseeing the UX team. Most UX managers transition into this mid- to senior-level position after accumulating at least five years of experience in UX design, with a profound understanding of the field.
UX managers are committed to uplifting team members, particularly those in junior and mid-level positions. Their objective is to establish and execute a comprehensive team strategy that effectively addresses the UX needs of the broader business context. Their direct UX experience at the individual contributor level sets exceptional UX managers and directors apart. They've often spent up to a decade as practitioners, gaining a profound understanding of the discipline's research and design aspects.
These leaders comprehend the intricacies of integrating customer feedback into product development processes, having earned their expertise through hands-on experience. Their capacity to effectively communicate and collaborate across various company layers makes them exceptionally valuable. It's no surprise that they are compensated accordingly.
The UI UX Designer Course in Mumbai offered by FITA Academy is not just for freshers just entering the world of UI UX. It also trains experienced UI UX designers who want to upskill themselves and obtain a promotion. Several UI UX designers have enrolled in our course and have got promotions as UX managers.
UI/UX developer
A UI/UX developer is a specialized software developer, focusing on crafting user interfaces and experiences, primarily for websites and mobile apps. Their role brings together elements of graphic design, psychology, and engineering to ensure the end product is not just visually appealing but also effortlessly user-friendly.
These developers are responsible for transforming the designs into functional interfaces. They closely collaborate with UI and UX designers to bring the visual and experiential aspects to life. This involves a fusion of design aesthetics and technical implementation.
Though not as well paid as designers, UI developers are still well paid for industry standards. On average, the UI/UX Developer Salary For Freshers is around Rs 1.5 LPA.
Success Story of UI UX Design Course in Mumbai
Choosing FITA Academy was one of the best decisions I've made. The course structure is well-organized, and the practical approach they follow truly enhances your skills. Their placement training was efficient as well. Thank you FITA Academy
I can't express how grateful I am for taking the UI/UX course at FITA Academy. The instructors are experienced professionals who made even complex concepts easy to understand. I've gained hands-on experience, and the skills I learned were very helpful in securing a job. Highly recommended!
FITA Academy's UI/UX course was a game-changer for me. The projects I worked on were real-world. The course not only honed my design skills but also taught me how to think user-centric. I've gained invaluable knowledge and am now working as a UI/UX designer.
The UI/UX course at FITA Academy is top-notch. The curriculum covers everything you need to know. The trainers are supportive, and the collaborative environment among students is fantastic. I feel well-prepared to attend interviews and get a job soon.
I had a fantastic experience at FITA Academy. The instructors bring their industry insights into the classroom, which is fantastic. They encouraged us to explore our creativity.The guidance to getting a job was great as well.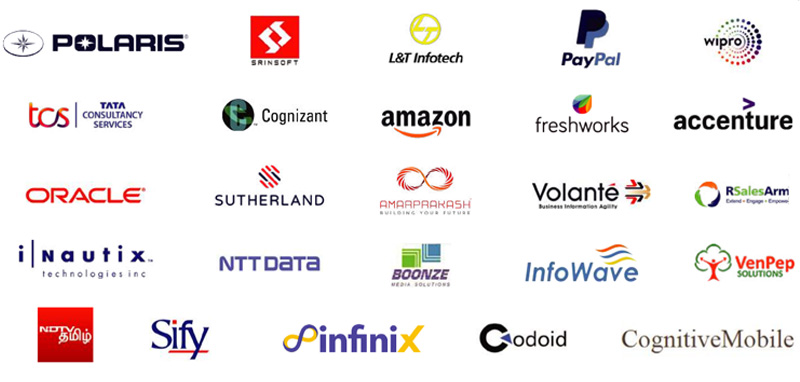 Frequently Asked Question (FAQ) about UI UX Design Course in Mumbai
Additional Information of UI UX Design Course in Mumbai
UI/UX design's core objective is to craft a positive user experience that fosters brand or product loyalty. The UX Designer's role centers on determining how the user interface functions, while the UI designer focuses on determining how it appears.
Organizations must pivot from a product-centric approach to a customer-centric mindset in the contemporary marketplace. They must leverage data and UI/UX design principles to comprehend consumer preferences rather than relying on assumptions about user desires.
Companies have a surging demand for UX designers alongside graphic designers and creative directors.
Candidates boasting UI/UX design qualifications on their resumes find themselves in an advantageous position across a broad spectrum of industries during the job search. User experience and user interface designers apply design thinking to empathize with users, identify their challenges, and devise inventive solutions that are testable through prototyping. Designers engage in user research within the UI/UX design process and construct wireframes, prototypes, and mockups. They also orchestrate user testing sessions to assess how users interact with the design solutions.
The UI UX Design Course In Mumbai offered by FITA Academy offers complete training in UI UX design. The course is ideal for both fresher aspirants beginning to learn UI UX design and experienced personnel wanting to upskill.
UX
UX, or User Experience, centers on how users feel and whether their needs are met when interacting with software, devices, or any designed product. In simpler terms, it gauges whether users can effectively utilize a product as intended by the developer.
UX digs deep into understanding users' desires, preferences, abilities, and limitations. It also factors in the business objectives of the project management team. The essence of UX best practices lies in increasing the quality of a user's interaction with a product and their overall perception, including related services.
User experience (UX) design is the systematic approach design teams use to shape products that offer users meaningful and pertinent experiences. This design process encompasses the entire journey of acquiring and integrating a product, involving elements such as branding, design, usability, and functionality.
UI
UI, or User Interface, is the vital connection between humans and computers, encompassing all elements users interact with. This encompasses screens, auditory components, overall aesthetics, and responsiveness, all of which must be meticulously considered in UI.
User Interface (UI) design is the practice designers employ to craft interfaces within software or computerized devices, primarily focusing on appearance and style. The ultimate goal is to forge interfaces that users find intuitive and enjoyable to navigate.
In lay terms, a User Interface (UI) comprises a series of pages, screens, buttons, forms, and various visual elements facilitating interactions with a device. Essentially, every app and website boasts a user interface. User Interface (UI) Design involves the creation of graphics, illustrations, photographic artwork, and typography to enhance the presentation and layout of digital products across different device views.
The components of an interface encompass input controls like buttons and data fields, as well as navigational elements, making UI a cornerstone of human-computer interaction.
In the UI UX Course In Mumbai offered by FITA Academy, the basics of UI and UX form a big part of the course, enabling students to learn from scratch.
UI UX Tools
Adobe Photoshop 
Adobe Photoshop is a versatile software renowned for its prowess in raster image editing, graphic design, and digital art. It leverages layering to bestow depth and flexibility upon the design and editing processes, offering a potent array of editing tools that, when harnessed collectively, render it capable of addressing a vast spectrum of creative needs.
Notably, Adobe Photoshop enjoys immense popularity among professional photographers and designers for its robust features and functionality.
With Photoshop at your disposal, your creative horizons expand significantly. It caters to a broad spectrum of image editing tasks, ranging from subtle enhancements of photographs to the generation of high-quality graphics that command attention.
Adobe Photoshop forms a significant part of the curriculum of the UI UX Design Course In Mumbai offered by FITA Academy. To learn more about Adobe Photoshop and its features, enroll in FITA Academy.
Figma
Figma, a dynamic design platform, is tailored for creating web application interfaces and boasts offline capabilities. This browser-based tool facilitates collaborative user interface design, enabling teams to craft vibrant and interactive prototypes jointly. Since its inception in 2016, Figma has garnered widespread acclaim within the web design sphere and among online communities. It provides a thriving ecosystem where users can collaborate seamlessly, sharing templates, designs, and widgets with a global user base.
One standout feature of Figma is its remarkable versatility, as it harmoniously functions on any operating system equipped with a web browser. Whether you're on a Mac, Windows PC, Linux machine, or even a Chromebook, Figma extends its reach, adapting to your specific environment. It is the sole design tool to offer such compatibility, ensuring that in workplaces equipped with diverse operating systems, individuals can still seamlessly collaborate, access, and modify Figma files. This inclusivity and adaptability contribute to Figma's reputation as a powerful and universally accessible design platform.
The UI UX Course In Mumbai at FITA Academy provides a detailed tutorial on Figma, its components, constraints, effects, grid systems, etc.
HTML
HTML stands for HyperText Markup Language. It is the fundamental framework for crafting documents intended for web browser display. It functions as the standard markup language, primarily responsible for defining the structure and significance of web content. HTML often collaborates with complementary technologies like Cascading Style Sheets (CSS) and scripting languages like JavaScript to enhance its capabilities.
In the grand scheme of web dynamics, web servers or local storage repositories dispatch HTML documents to web browsers. The browsers, in turn, translate these documents into multimedia web pages. HTML plays a dual role, not only outlining the structural elements of a web page but also initially providing stylistic cues.
FITA Academy offers HTML training to students as part of the UI UX Course In Mumbai. Students will get to learn the language by theory as well as hands-on practice.