Course Highlights and Why UI UX Designer Course in Madurai at FITA Academy?

Learn the fundamentals of the User Interface (UI) as well as user Experience (UX) through the UI UX Design Course in Madurai.

Learn about the different aspects of creating websites including wireframing and mockups interaction prototypes as well as usability tests.

Explore the various design concepts to design an efficient web interface for users.

We provide the most efficient platform to use the most recent technologies, tools, software, and trends in the marketplace.

Learn how to design creative solutions during the UI UX Designer course in Madurai to learn about the various concepts of web design.

Learn about different kinds of UIs and its applications on mobile devices, desktop, the web, and more.

To ensure that we meet the global standards, our syllabus for our courses is developed by experienced trainers through the integration of real-time projects as well as modules.

Our classes are customizable and flexible. We offer weekday as well as weekend classes, and online classes that you can take in at the convenience of your own home.

Get hands-on instruction in the UI UX course in Madurai and develop both conceptual and theoretical skills.

FITA Academy has partnered with over 1,500 organizations and provides the opportunity to 100% place you in order to help you kickstart your career in the field.
Upcoming Batches
| | | | |
| --- | --- | --- | --- |
| 09-12-2023 | Weekend | Saturday (Saturday - Sunday) | |
| 11-12-2023 | Weekdays | Monday (Monday - Friday) | |
| 14-12-2023 | Weekdays | Thursday (Monday - Friday) | |
| 16-12-2023 | Weekend | Saturday (Saturday - Sunday) | |

Classroom Training
Get trained by Industry Experts via Classroom Training at any of the FITA Academy branches near you
Why Wait? Jump Start your Career by taking the UI UX Designer Course in Madurai
Instructor-Led Live Online Training
Take-up Instructor-led Live Online Training. Get the Recorded Videos of each session.
Travelling is a Constraint? Jump Start your Career by taking the UI UX Design Course Online!
Trainer Profile
Our instructor has extensive experience and know-how that assists students in understanding the basics and improving their expertise in UI technology for design.

FITA Academy provides extensive assistance and guidance through the assignment of professionals in the faculty who help you stay motivated through the entire learning process.

Each session is taught in an easy language that ensures even people who do not have a technical background will effortlessly grasp the subject.

The instructors ensure that they provide high-quality material so that they can assist you to learn and also keep the information for later study.

Practical and theoretical training modules are included in the curriculum. Its syllabus is enriched by the expertise of instructors.

In addition to offering top training, FITA Academy is renowned for its top instructors, affordable fees and also for being among the most trusted institutions within India.

The most appealing features of FITA Academy is the fact that we have students-friendly amenities like Wi-Fi-equipped classrooms, a cozy study environment and knowledgeable instructors.
Learn at FITA Academy & Get Your
Dream IT Job in 60 Days
like these Successful Students!

Features of UI UX Designer Course in Madurai at FITA Academy
Real-Time Experts as Trainers
At FITA Academy, You will Learn from the Experts from industry who are Passionate in sharing their Knowledge with Learners. Get Personally Mentored by the Experts.
LIVE Project
Get an Opportunity to work in Real-time Projects that will give you a Deep Experience. Showcase your Project Experience & Increase your chance of getting Hired!
Certification
Get Certified by FITA Academy. Also, get Equipped to Clear Global Certifications. 72% FITA Academy Students appear for Global Certifications and 100% of them Clear it.
Affordable Fees
At FITA Academy, Course Fee is not only Affordable, but you have the option to pay it in Installments. Quality Training at an Affordable Price is our Motto.
Flexibility
At FITA Academy, you get Ultimate Flexibility. Classroom or Online Training? Early morning or Late evenings? Weekdays or Weekends? Regular Pace or Fast Track? - Pick whatever suits you the Best.
Placement Support
Tie-up & MOU with more than 1500+ Small & Medium Companies to Support you with Opportunities to Kick-Start & Step-up your Career.
Why Learn UI UX Designer Course in Madurai at FITA Academy?
Live Capstone Projects
Real time Industry Experts as Trainers
Placement Support till you get your Dream Job offer!
Free Interview Clearing Workshops
Free Resume Preparation & Aptitude Workshops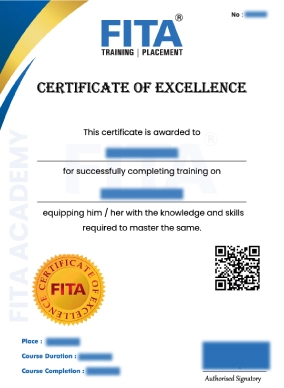 UI UX Certification Course in Madurai
A UX Design certification is an excellent beginning point for budding designers and can be very beneficial to professional designers too. Nowadays the need for a certification regarding user interfaces or user experience has become increasingly essential. Accreditations from respected institutions can boost an applicant's resume and give them an edge over the competition. Attaining this level of proficiency could open the door to many possibilities for work opportunities in the industry and also help to increase the chances of a person's career. If you're seeking to acquire new abilities or boost your existing potential, the certificate you earn from our UX Design course in Madurai at FITA Academy is a significant investment.
You'll have the opportunity to put your knowledge into practice in a secure and controlled setting through our certification program. The program also ensures that you build a solid base, use the information in real-world scenarios and make sure you don't miss all important aspects. The importance of the UI UX certification can't be overemphasized. This certification allows you to gain the knowledge and abilities in a short time.
After completing the UI UX designer course in Madurai Participants are able to determine requirements of the user, develop efficient user interfaces, and integrate these designs into mobile or web applications, and become certified. Our primary goal is to offer high-quality instruction using real-world experiences that helps students grasp the fundamentals. The FITA Academy's Certificate Program is a complete Certification program that gives the basic abilities needed to be successful as user interface designers.
Have Queries? Talk to our Career Counselor for more Guidance on picking the
right Career for you!
Placement Session & Job Opportunities after completing UI UX Designer Course in Madurai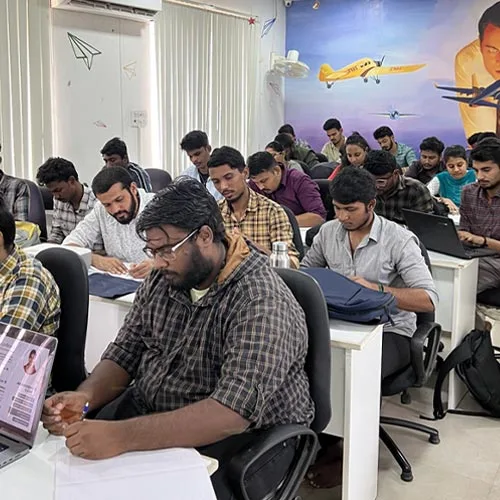 You can have a fantastic career as a UIUX Designer at an established IT company located in Madurai. The pay offered ranges from Rs. 16,000 to 22,000 per month according to the profile of the applicant and their experience. We offer the best of industry training that includes course materials such as Photoshop, Illustrator, core web technologies (HTML and CSS), JavaScript etc.
Professionals who are skilled and new in the field of user experience design are highly sought-after as the business grows and the demand from consumers for goods and services grows. As an UI UX designer there are many possibilities and opportunities in this field with a well UI/UX Developer Salary For Freshers .
It's a known fact that users spend a lot of their time using smartphones. This is enough to demonstrate the excellence of a UX designer's work. We need more UX designers to create an unbeatable user experience and increase the level of engagement with customers.
Anyone interested in gaining an understanding of UX design principles is able to benefit by enrolling in this course. There are a lot of professionals involved in projects that range from marketing to business to education. Students looking to understand how to create mobile apps can find this class beneficial. This course is perfect for those looking to improve their understanding of the design field and explore the world of UX. A few of the numerous companies who are actively hiring UX/UI designers are TCS, Cognizant, Microsoft, Accenture, IBM and Deloitte.
There are numerous jobs available to UI as well as UX designers, as well as related roles on various job sites. Some of these jobs are UI Designers, UX Designer, UX Manager, UX Researcher, Product Manager Information Architect, and numerous others. The average wage of UX/UI designers ranges from 5 lakhs. six Lakhs for India. In addition you can earn up to $102k while doing the same amount globally. The range of income can be different according to experience, location, and organization. If you take the help of our UI UX Course in Madurai you will be sure of a lucrative career.
Success Story of UI UX Designer Course in Madurai
Each topic was explained clearly and friendly to me. I have learned design principles by relating them to simple concepts so I can understand them clearly. I also received individual attention and care, which helped me sort out the important concepts which made things easier to learn. Thanks FITA Academy
My learning experience at FITA Academy is amazing, with great support from them for my design doubts and ideas. As my trainer is highly skilled, he shared his experience with me as it was very useful for my career growth, and the contents of daily classes were also very helpful and helpful. Thanks to my trainer explain things many times as required till i understand.
I have found a lot of useful information here, and in fact this place has changed the way I think about designing. I used to think that UI/UX design relied only on my own creativity, but after learning at FITA Academy I realized that designing is based primarily on the needs of the users.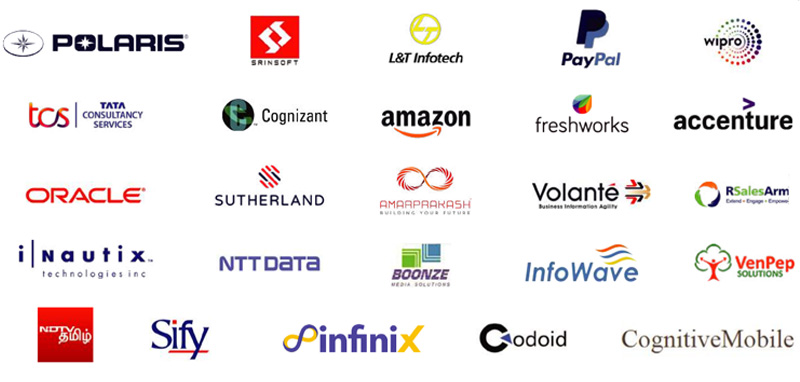 Frequently Asked Question (FAQ) about UI UX Designer Course in Madurai
Additional Information of UI UX Designer Course in Madurai
User interface also referred to as UI is the element of the software people are able to interact with. It's the way that you navigate and control your device or computer. It encompasses every element you see on your screen, like buttons and lists, text fields, and so on. The most important thing about this notion is that it must be simple and simple to comprehend. Most users don't have any training in technology. They aren't aware of the way things work. If you wish to help them learn the basics, you need to ensure that the information is simple and clear. In the absence of clarity, you will see confusion and discontent when using your program.
The most effective examples of great UIs is Apple's iOS operating system as well as Google's Android OS. Both are user-friendly and have amazing capabilities. They appear sleek and clean that help users feel at ease with these programs. The UI UX Designer course in Madurai at FITA Academy was designed to assist developers of web and mobile apps create the most enjoyable user experience using their applications.
Users Experience (UX) is a way to create goods and services which are designed to meet the desires and needs of consumers. This area covers everything related to the way people view your product's appearance as well as its content and interactions. This is more than aesthetics. A well-designed product can boost efficiency, enhance satisfaction and reduce the chance of mistakes. If you know the characteristics of your target audience and what they want, you can concentrate on improving this particular aspect of the user experience.
What is the main difference between UI Designers and UX Designers?
There are two types of designer: the ones who are responsible for visual elements, such as color and graphics and those who specialize in interaction, navigation, and the overall user experience.
The majority of the time, UI design professionals are accountable to make the visual elements of websites, apps and websites appealing and smooth. They have to design icons and typography, logos, color palettes, and more. However, UX designers are responsible to ensure their final products are user-friendly and efficient. They make sure that layouts are organized efficiently and that every bit of information is accessible at the appropriate moment. Their aim is to create an enjoyable experience for the user.
Evaluation, observation and understanding of the needs of users are essential to the User experience (UX). While UI is similarly focused on users however, its main emphasis is on interaction and visual design. In contrast, UX is more focused on solving problems, UI unquestionably leans more towards the arts. UX is a broad term that covers every kind of human interaction and experiences, like going to a library to study a text, making reservations for flights via mobile apps as well as a website. Or going to the dentist. Because user interfaces are the primary interface between humans as well as computers, UI style is only relevant to digital products and services.
To fully understand the differences of UI and UX To better understand the differences between UI and UX, enroll in for the UI UX Design course in Madurai to gain a comprehensive training experience.
UI UX Design Course In Madurai at FITA Academy – Prerequisites
There aren't any specific requirements to enroll in this program. But, participants should be aware of the best practices in terms of the user experience. When they finish the Best UI UX Design course in Madurai at FITA Academy, students will have had enough practical experience to create mobile apps that provide the best user experience.
Who All Can Join This Course
Designers of all levels, from beginners to those who are at an intermediate level can take this course to improve their design basics. Anyone looking to start the career path of UX design should enroll for this course. The UI design course at Madurai FITA Academy can help anyone looking to create a brand new app that is their own. Anyone with a keen interest in design may benefit from this course to boost their abilities to a new level.
Why should you choose FITA Academy to take UI UX Course in Madurai?
We've designed the UX/UI courses in an extensive method that facilitates deep interactions between faculty members and students. The course offers a balanced mixture of courseware that is theoretical and practical instruction. Faculty members are knowledgeable and committed to bringing the most effective results from students. Participants have the chance to develop a portfolio with expert guidance when they sign up in the UI UX Design Course in Madurai FITA Academy.
UI UX Interview Questions and Answers
As a designer, user experience (UX) is an important part of your job. The way people interact with your product should be as intuitive and natural as possible.
This provides you with a list of UI UX interview questions and answers that will help you improve your skills and give you a head start on the job.
What is User Experience?
User experience (UX) is a design discipline that aims to create an excellent user experience. It focuses on the overall experience of a product or service, including how it looks, feels and works.
What are the different types of User Interface design?
There are many types of user interface design. Here are some examples:
Mobile design: Mobile interfaces are becoming increasingly popular. A mobile interface is designed for a small screen size and includes features like touchscreens, icons, buttons, and lists.

Web design: In simple terms, web design refers to the process of designing a website.

Graphic design:The art of creating a visual representation of ideas or information is known as graphic design.
How do you define User Experience?
The user experience (UX) is defined as the way a product or service meets the needs of its users. It also refers to the entire interaction between a product or service and its end user.
What are the factors that go into defining a good user experience? 
Factors that go into defining a good user experience include:
Usability: This is the ease of use. Does the user have any problems with using the system?

Reliability: Is there any chance of error or malfunction?

Ease of learning: Can the user learn to use the system easily?

Consistency: Is the design consistent across all applications?
How would you describe the three main components of a good UI?
The three main components of a good user interface include:
Navigation: Navigational elements include buttons, links, dropdowns, etc.

Visual appeal: This includes colors, fonts, and other visual elements.

Functionality: This includes how well the interface works and whether it has any features that can help the user.
What is the difference between visual design and graphic design?
Visual design includes the overall look and feel of an application or website. Graphic design includes the individual elements of the application or website including buttons, logos, etc.
How are web design and web development different?
Web design is the process of creating a web page. Web development includes coding the HTML, CSS, and Javascript for the web page.
Is responsive web design different from mobile-first web design?
Responsive web design is the process of designing a website to be viewed on multiple devices. Mobile first design is the process of designing a website first for mobile devices and then designing a desktop version.