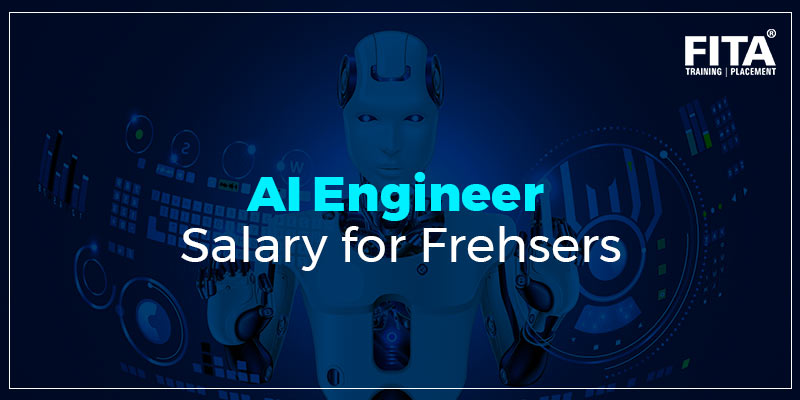 Artificial Intelligence has become popular in the last decade. It has been integrating modern IT technologies like Machine Learning and Data Science. Also, it remains the significant factor behind the high AI Engineer Salary for Freshers.
Artificial Intelligence is one of the emerging and fastest-growing technology. It utilizes machine-learning algorithms to achieve speed and accuracy in task processing. By 2025, the gross market value of AI will be worth 190 Billion. According to a survey, the AI market in the United States does have 14K vacancies, with 3000+ job positions in India. Besides, the job vacancies will increase to millions in the AI field. Thus, it is important to know about AI Engineers along with the AI Engineer Salary across the World.
In this blog, let's discuss why AI Engineers are in high demand in the current IT job market. Besides, we will describe the job roles and responsibilities and the skills to you. Before moving to the discussion on AI Engineer Salary, we want to explain the role and market demand in the following section.
Who is an Artificial Intelligence Engineer?
Artificial Intelligence Engineer works with Machine Learning and Data Science algorithms. They play an important role in developing neural networks, and natural language processing tools. They also create AI-based software and systems for real-life applications. AI is found everywhere from smartphone cameras to advanced software applications. In the AI job market, a candidate with excellent AI skills is in high demand. So, we intend to deliver end-to-end information on AI Engineer roles and their salaries.
Who can become an AI Engineer?
Computer science students with a certification in artificial intelligence emerge as AI Engineers. Nonetheless, these qualifications are not required; anyone with expertise and AI skills is preferable. The present internet world has a lot of online resources and Artificial Intelligence Books. So, AI aspirants can refer to these resources to become an AI Engineer. Let's briefly discuss the additional technical and non-technical skills required for AI Engineers.
What are the technical skills required to become an AI Engineer in India?
Before moving to the discussion on qualification criteria, let's discuss the technical skills required for future AI Engineers like you. Some of the skills are as follows
Computing Skills –

 To become an AI Engineer, the candidate should have advanced knowledge in languages such as

Python

, Java,

C++

, and

R Programming

.

Statistics and Algebra Skills – We recommend AI Engineer aspirants have a good understanding of linear algebra, calculus, and statistics. Besides, fundamentals in vectors, derivation, matrix multiplication, and integration are a significant part of these subjects. Further, a broader knowledge of Gaussian distributions, Hidden Markov Model, Naive Bayes, and Statistical Models is appreciated.
Applied Mathematics and Algorithm Skills –

 Apart from broader mathematical skills, the candidates need to acquire skills in algorithm theory. Some of the subjects include gradient, summations, and quadratic programming.

Signal Processing Skills –

 As an AI Engineer, you need to perform frequency-time analysis and advanced algorithms in signal processing.

Natural Language Processing Skills –

 One of the broad areas to work with AI is processing Audio, Video, and Text. In such a case, the candidate needs to acquire skills in language processing.
What are the Non-Technical Skills Required for AI Engineers?
Apart from technical skills, the candidate needs to acquire some additional non-technical skills to become an AI Engineer. The skills include
Excellent verbal and communication skills

Analytical skills to assess various analytics data

Team leading capabilities

Logical and Critical thinking skills

Numerical and problem-solving skills
These skills are important for an AI Engineer as they need to work collaboratively with international clients. Here, collaboration requires an effective way of communication. Thus, to increase your proficiency in communication, we suggest you join Spoken English Classes in Chennai. This course will enrich you with skills such as listening, speaking, reading, and writing.  Besides, topics such as parts of speech, body language, and positive thinking are covered in this course. 
What Qualification Criteria is required for AI Engineer Jobs?
Freshers who want to become great Artificial Intelligence (AI) Engineers must possess specific qualification criteria. Some of the essential qualifications are as follows.
The applicant must have obtained a degree in computer science with relevant expertise in machine learning and data science.

The degree must be BCA, B.Sc, B.Tech, MCA, M.Sc, or M.Tech acquired from recognized universities and colleges.

Perhaps, no experience in artificial intelligence is required, but relevant experience in AI is appreciable. The candidate's application is considered with high priority.

Further, an impactful resume with certifications in Artificial Intelligence, Machine Learning, and Data Science is greatly appreciated.
Due to an increase in competitors, selecting great talented personals and unique aspirants has become a complex task. So, in order to be an exceptional applicant against all competitors, we suggest joining an Artificial Intelligence Course in Bangalore. This course will teach you AI, Deep Learning, Machine Learning, Data Science, and Analytics.
AI Engineer Salary
India's average Artificial Intelligence Salary in India for Freshers ranges from 3.0 to 5.0 Lakhs Per Annum. But, it varies for experienced professionals, ranging from 5.0 to 10.0 Lakhs Per Annum. Like Machine Learning Engineer, the AI Engineer job is the highest paying job among all the IT sectors. Further, the salary range will increase through the next decades. In addition, the salary package is affected by factors such as job location, work experience, companies, and acquired skills. Let's discuss in detail the average AI Engineer Salary 
Salary Based on Company

– Different IT companies provide different salary packages for fresh AI Engineers. But, based on the salary detail research, we have approximated an average salary of an AI Engineer in India (in the graph below).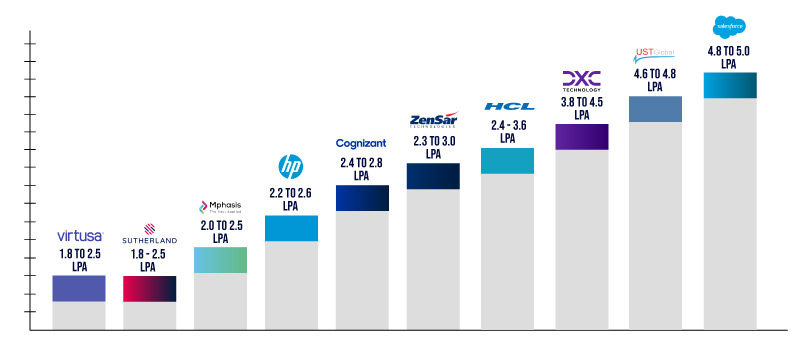 Salary Based on Work Location

– The work locations across India also determine the average salary of an AI Engineer. The living cost and living area constitute the salary package at different work locations. Our estimated salary range is shown below.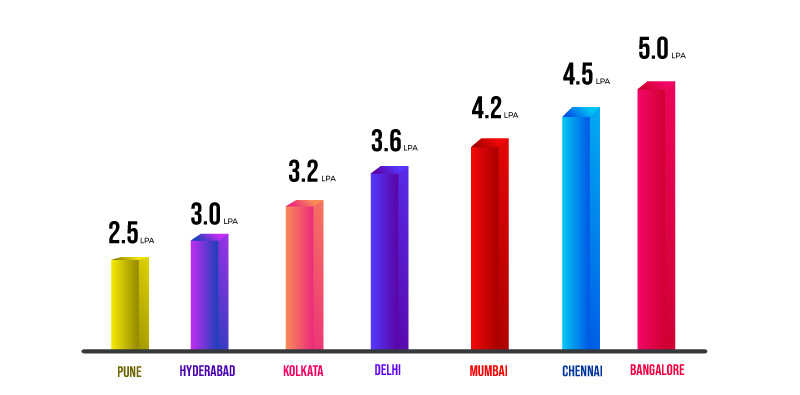 Salary Based on Work Experience

– Usually, no experience is preferred. Still, prior work experience through either industrial or academic internships have better options for earning a high salary package in India. The chart below shows the average salary package of freshers.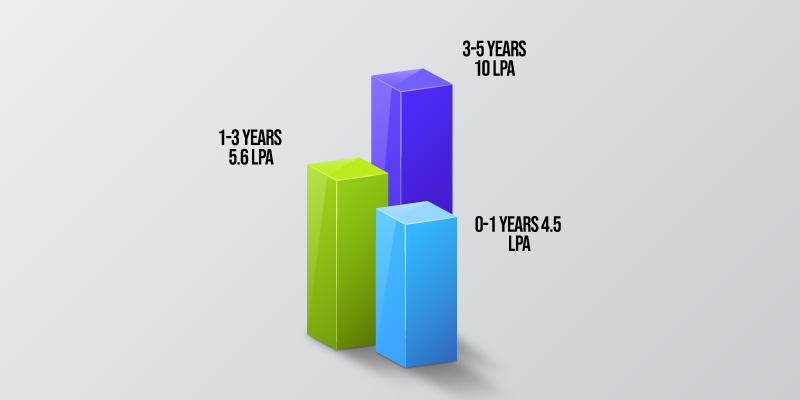 Salary Based on Acquired Skills

– We know that data science and machine learning are some add-on skills that influence freshers' average salary packages. The chart below depicts the approximated AI Engineer Salary.

Salary Based on Job Roles

– Finally, the salary package of freshers also varies based on the type of job roles. An average salary package of an AI Engineer is shown in the below chart.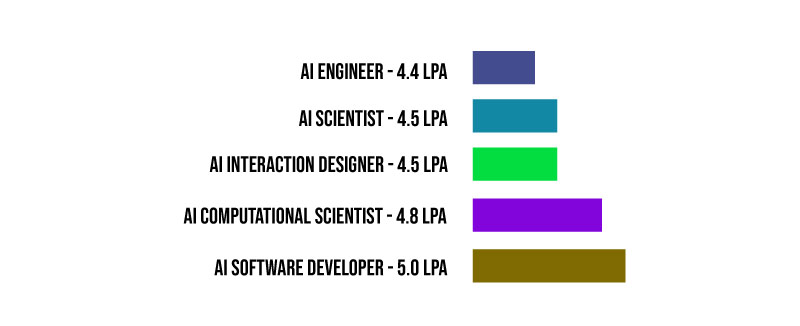 Are you not fulfilled with your current salary package? Want to increase it? Then, join the Machine Learning Course in Bangalore at FITA Academy. This course will teach you ML Regularization and ML-Clustering.
Types of Job Positions and their Fundamental Skills, and Responsibilities
AI Engineer
As discussed earlier, Artificial Engineers work with machine learning and data science. Such works include neural networks and natural language processing. Candidates seeking this job role with a feasible AI Engineer Fresher Salary are required to acquire fundamental skills such as 
Data Analytics and Data Management Skills.

Data Model and Data Preparation Skills.

Artificial Intelligence Programming Skills.

Skills to Design Algorithms.
Apart from the technical and non-technical skills discussed previously, these core skills are very important for the post of AI Engineer. Further, an AI Engineer is associated with diverse job roles and responsibilities; let's have a look into some significant duties, which are
Evaluate and Develop Machine Learning algorithms for creating programs.

Test and Validate the Machine Learning Experiments.

Analyze and Prepare the Datasets.

Integrate AI Modules in collaboration with data management and information security teams.

Find data patterns and extract the matching data.
Do you want to become a superior AI Engineer with excellent skills in Machine Learning? Then, obtain certification in ML through a Machine Learning Course in Chennai. This course will teach and cover topics such as Clustering Spectral clustering, Markov models, Hidden Markov models (HMMs), Bayesian networks, Learning Bayesian networks, Probabilistic inference, Guest lecture on collaborative filtering, Current problems in machine learning, and wrap up.
AI Scientists
AI scientists use companies' data to discover and predict business growth models. They collaborate with data scientists and implement the theoretical model to produce live data for visualizing business growth. Freshers who really want to head a scientific career, you need to acquire skills such as 
Excellent Programming Skills in Java, R, Python, and C++

Knowledge of Linear Algebra, Calculus, and Statistics.

Skills in Developing Distributions and Standard Deviation Models.

Fundamental Understanding of Applied Mathematics and Algorithm Theory

Signal Processing Skills, and

Natural Language Processing Skills.
The skills mentioned above remain a key tool for AI Scientists. Due to their unique role, their average AI salary in India is approximately 4.5 to 8.0 LPA. Further, AI Scientists are associated with job responsibilities; some of them are
To monitor human behavior, AI scientists develop AI-Driven Models and Solutions.

Develop Algorithms to integrate Artificial Intelligence and Machine Learning.

Test and Validate the performance of AI (Artificial Intelligence) and ML (Machine Learning) Domains.

Analyze AI Principles to predict effective models.

Analyze and Find methods for image reconstruction services.

Implement AI and ML solutions during the concerned problem or issues.
Are you confused about how to start an AI career to aim for becoming an AI Scientist? No worries! Begin your initial step by joining Artificial Intelligence Course in Chennai. This course will teach you from the basic level to the advanced to acquire knowledge in AI gradually.
AI Interaction Designer
Artificial Intelligence Interaction Designer uses technical and customer service skills for product design. They mainly focus on customer interaction with the product. Freshers looking to join for this role must acquire some basic skills such as 
Excellent Communication and Interaction Skills.

Good Mathematical and Analytical Skills.

Relevant Experience in Interaction Design.

Problem-solving and good interpersonal skills.

Computer and Artistic Skills.
As an AI Interaction Designers, they are confined to specific job roles and responsibilities to drive customers; some of them are as follows
Identify the ways to reach products and design plans for the customers.

Ensure customer satisfaction with effective services.

Collaborate with engineers to finalize the design plan.

Collaborate with marketing teams to promote the company's product.

Detect and Resolve issues concerned with clients and products.

Improve the way of interaction between the products and consumers.
Before moving into AI Interaction Design, learn the fundamentals of designs and the approach to attract customers through joining Graphic Design Courses in Bangalore. 
AI Computational Scientist
AI Computational Scientists play a crucial role in developing and creating new technologies using Machine Learning and Artificial Intelligence algorithms. With a good Artificial Intelligence Salary in India, Freshers who want to work as an AI Computational Scientist, need to acquire skills in technical domains such as
Expertise in computer programming languages.

Skills in computer algorithms and codes.

System analyzing and design skills.

Good Numerical and Analytical Skills.

Knowledge in Data Structures and Applied Math.

Knowledge of Software Security and Operating Systems.
In general, an AI Computational Scientist performs certain job tasks and duties. Some of the significant responsibilities are as follows 
Simplify and Develop new computational algorithms.

Develop new AI-based computing languages.

Develop new methods for interacting with computers.

Create AI and ML-based mathematical models to resolve the problems.

Improve the efficiency of computer hardware and software.
AI Software Developer
There is no difference between software developers and AI Software developers. Both roles are associated with the development and modification of software applications, but AI Software Developers employ Artificial Intelligence and Machine Learning algorithms to design automated software. Before applying for this role, the candidate needs to acquire fundamental skills such as 
Knowledge of computer systems and cutting-edge technologies.

Good problem-solving and analytical skills.

Good verbal and communication skills.

Knowledge of commercial and business awareness.

Critical thinking and project management skills.

Collaboration and Teamwork capabilities.
Like software developers, AI Software developers are concerned with the following job roles and responsibilities, which are
Design and Implement AI-modded software applications.

Test and validate developed software programs and applications.

Write and Implement efficient computational codes.

Ensure operational and quality standards of applications.

Deploy Artificial Intelligence modded software tools and metrics.

Collaborate with UI UX Designers, business, and system analysts.
As an AI Software Developer, it is significant to know more about Artificial Intelligence. So, instead of joining offline classes, we suggest another option to learn AI through Artificial Intelligence Online Course. This course provides an interactive online platform to learn and test your potential. 
Best Tips to Become an AI Engineer
The growing demand for Artificial Intelligence from Google to other IT companies has seeded interest in younger minds to begin a bright career in AI. Similarly, the AI Engineer Salary for Freshers is hiking through the years. Therefore, we are interested in providing effective tips to become an AI Engineer. The following tips are as follows 
Get a Bachelor or Master degree in computer science or any other IT field.

Learn Artificial Intelligence Online to obtain additional certification in AI.

In order to enhance your expertise, we suggest you gain additional certification in Machine Learning through

Machine Learning Online Course

.

Further, We know that Data Science and Machine Learning are the ultimate part of Artificial Intelligence, so obtain a data science certification by joining a

Data Science Online Course

.

Furthermore, to understand your capability and knowledge, we suggest taking part in online mock tests and AI-ML projects.
Benefits of a AI Engineer
Due to increasing demand, future AI Engineers have wider scopes and benefits. Based on our study, we enlist the following benefits of an AI Engineers, which are
Top-rated job position with excellent AI Engineer Salary

Ever-demanding job with a wider scope and career options.

High-level reputation among all the IT Job positions.

Board scope and demand across all IT companies worldwide.

Opportunity to learn and explore cutting-edge technologies.
Top Interview Tips for AI Engineers
Nowadays, skilled and qualified candidates face difficulties in performing their job interviews. Due to the significance of the AI Engineer role and the younger aspiration to begin an AI career, we have a collection of resources for effective preparation. In order to get prepared for an interview, we suggest walking through the Top Interview Tips to gain interview guidelines and protocols. Besides, to provide an overview of AI Important Interview Questions and Answers, we have solved questions and answers verified by the experts and senior employees. Delivering these valuable resources, we hope that these materials will make you better prepared for a wide range of interview selection processes.
Furthermore, if you are searching for top-rated books for learning artificial intelligence, then explore the Best Artificial Intelligence Books for both beginners and advanced professionals. 
Supplementary Resources
In this section, we would like to provide additional resources associated with Machine Learning and Data Science. 
We know that data science and machine learning are integral parts of artificial intelligence, so candidates who are looking to participate in the interview selection process for Data Science. We suggest referring to Data Science Interview Questions and Answers. Moreover, to know more about data scientists' roles and salary details, read out Data Scientists Salary in India.
In addition, for Machine Learning aspirants willing to join various Machine Learning roles through different IT sectors, we have compiled the best Machine Learning Interview Questions and Answers for you. To know more about the salary details, job vacancies, and job demand, check out the Machine Learning Engineer Salary in India. 
Unlike other information technology fields, the future of Artificial Intelligence is far more advanced than what we see today. It is emerging at a higher speed, and AI aspirants must develop relevant skills to meet current market demands. Besides, the aspirant should keep upgrading with new technologies apart from learning. But, not to be discouraged, like in other fields, making our initial step is tricky. Therefore completing an AI Certificate Course is a significant step to start. Further, you have already become a member of the leading Artificial Intelligence community through reading this blog. We strongly recommend you begin your professional AI career right away by following our helpful instructions.