Course Highlights and Why Artificial Intelligence Course in Coimbatore at FITA Academy?

A detailed overview of the topic of Artificial Intelligence with its various sub-topics in simple language.

Learn the basic concepts of Artificial Intelligence, including Machine Learning and Deep Learning.

Understand the concept of neural networks and artificial intelligence algorithms.

Get an insight into the history of AI from ancient times to the present day.

Gain a thorough understanding of modern applications such as image recognition, speech recognition, natural language processing, autonomous driving, etc.

Build up your practical knowledge by working on real projects using the software tools provided during the course.

Develop your soft skills through group discussions and presentations.

Complete the certification process to get certified by us after completing the entire program.

Get trained by experts and gain job opportunities.

Learn how to solve problems using various techniques like Machine Learning, Deep Learning, Neural Networks, Reinforcement learning etc.

Learn how to write programs and code in different languages like
Java
, C++,
Python
, R, Matlab, etc.

Get trained with the latest tools and technologies used in AI applications.
Upcoming Batches
09-12-2023
Weekend
Saturday (Saturday - Sunday)
11-12-2023
Weekdays
Monday (Monday - Friday)
14-12-2023
Weekdays
Thursday (Monday - Friday)
16-12-2023
Weekend
Saturday (Saturday - Sunday)

Classroom Training
Get trained by Industry Experts via Classroom Training at any of the FITA Academy branches near you
Why Wait? Jump Start your Career by taking the Artificial Intelligence Training in Coimbatore!
Instructor-Led Live Online Training
Take-up Instructor-led Live Online Training. Get the Recorded Videos of each session.
Travelling is a Constraint? Jump Start your Career by taking the Artificial Intelligence Online Course!
Trainer Profile
Experience in teaching AI-related subjects (Machine Learning, Deep Learning, Natural Language Processing, Image Recognition, Speech Recognition, Autonomous Driving).
Over 10+ years of experience in training people from all walks of life.
Expertise in teaching programming languages (Java, C++, Python).
Knowledge of machine learning, deep learning, and NLP algorithms.
Knowledge about AI frameworks (Tensorflow, Pytorch, Keras, TensorflowJS, MXNet, Caffe, OpenCV).
Experience in developing AI-based products/applications.
Experience in handling large-scale data sets.
Hands-on experience in designing and building web applications.
Ability to identify business requirements and translate them into functional specifications.
Proactive approach towards problem-solving.
Learn at FITA Academy & Get Your
Dream IT Job in 60 Days
like these Successful Students!

Features of Artificial Intelligence Course in Coimbatore at FITA Academy
Real-Time Experts as Trainers
At FITA Academy, You will Learn from the Experts from industry who are Passionate in sharing their Knowledge with Learners. Get Personally Mentored by the Experts.
LIVE Project
Get an Opportunity to work in Real-time Projects that will give you a Deep Experience. Showcase your Project Experience & Increase your chance of getting Hired!
Certification
Get Certified by FITA Academy. Also, get Equipped to Clear Global Certifications. 72% FITA Academy Students appear for Global Certifications and 100% of them Clear it.
Affordable Fees
At FITA Academy, Course Fee is not only Affordable, but you have the option to pay it in Installments. Quality Training at an Affordable Price is our Motto.
Flexibility
At FITA Academy, you get Ultimate Flexibility. Classroom or Online Training? Early morning or Late evenings? Weekdays or Weekends? Regular Pace or Fast Track? - Pick whatever suits you the Best.
Placement Support
Tie-up & MOU with more than 1500+ Small & Medium Companies to Support you with Opportunities to Kick-Start & Step-up your Career.
Why Learn Artificial Intelligence Course in Coimbatore at FITA Academy?
Live Capstone Projects
Real time Industry Experts as Trainers
Placement Support till you get your Dream Job offer!
Free Interview Clearing Workshops
Free Resume Preparation & Aptitude Workshops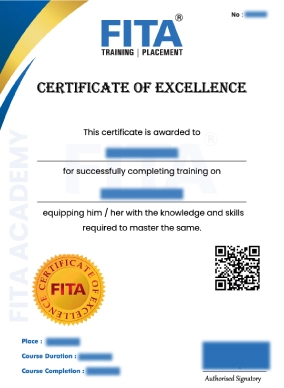 Artificial Intelligence Certification Training in Coimbatore
FITA Academy is one of the leading AI certification training institutes in Coimbatore. The institute offers a wide range of AI courses that are perfect for those who want to learn about this cutting-edge technology. The institute has been offering certification courses for a decade and has seen great success in terms of enrolment and satisfaction levels among its students. The courses offered by FITA Academy cover topics such as artificial intelligence, machine learning, natural language processing, big data analytics, and more. The institute's experienced trainers provide comprehensive Artificial Intelligence Training in Coimbatore that covers all the essential aspects of this technology. They also make sure that students have ample opportunity to ask questions and seek clarification on any topic they may be unsure about.
If you are looking to upskill yourself in the field of Artificial Intelligence (AI), then FITA Academy is the perfect place for you. Our AI certification training in Coimbatore will equip you with all the skills and knowledge required to work in this rapidly growing field. Our courses cover a wide range of topics, from basic AI concepts to more advanced applications. Whether you are new to AI or have some experience, our courses will help you develop your skills and knowledge further. Our experienced trainers will guide you through each module, providing feedback and support along the way. You can be sure that our courses provide everything that you need to start working as an AI professional today.
Have Queries? Talk to our Career Counselor for more Guidance on picking the
right Career for you!
Placement Session & Job Opportunities after completing Artificial Intelligence Course in Coimbatore

If you are looking for a job after completing an Artificial Intelligence Course in Coimbatore at FITA Academy, here are some of the most promising opportunities. Artificial intelligence is the next big thing, and with the right skills, you can be in a good position to take advantage of this field. There are many different jobs that fall under the umbrella of artificial intelligence, so there is sure to be a position that is perfect for you. Some of the popular job roles that you can pursue after completing your AI Courses Coimbatore at FITA Academy include:
Machine Learning Engineer: As a machine learning engineer, you will be responsible for developing and implementing algorithms that enable machines to learn from data. You will also be involved in tuning machine learning models to improve their accuracy and performance.
This role is an important one in the design, implementation and maintenance of accurate predictive models used in a wide range of businesses. Machine learning engineers need to be able to understand how artificial intelligence works, as well as how to implement it into businesses. In addition, they need to be familiar with different machine learning algorithms and tools. They also need to have strong problem-solving skills and the ability to work independently. Completing your Artificial Intelligence Course in Coimbatore at FITA Academy will give you the skills and knowledge to work as a machine learning engineer. 
Machine Learning Engineer job roles and responsibilities
Builds high-performing and scalable Machine Learning solutions using various AI techniques by interpreting the provided raw data and transforming it into a usable format.

Designs algorithms which can recognize patterns within the given set of data.

Analyzes data sets and detects problems & anomalies with the help of tools like R-Studio or Python for better understanding.

Develops efficient ways for analyzing and visualizing

big data

sets which may have millions of rows.

Researches on new technologies, processes, and methods to solve existing issues as well as build new features.

Integrates existing systems/tools to give an overall solution to automate any business process.

Evaluates existing applications based on current trends and future requirements. Creates an effective strategy to create a better experience for customers.

Work closely with Product Managers and other team members to plan projects, code, test, deploy and maintain features designed.

Ensure compliance with all internal policies and regulations.

Communicates effectively with stakeholders, including Product Owners, Marketing, Sales & Support teams.

Maintains effective working relationships with clients and colleagues.

Continuously learns skills required by the industry and technology.

Demonstrates strong technical communication skills and communicates clearly in writing, presentation or during meetings.

Follows standard coding practices.
There is no doubt that artificial intelligence (AI) is one of the most talked-about and important fields in today's world. With the rapid development and adoption of AI, it has become an essential field for those who want to take their careers to the next level. One of the most important skills that a person can have in this field is knowledge of machine learning.
Data Scientist: As a data scientist, you will be responsible for analyzing large amounts of data and extracting insights from it. You will also be involved in building predictive models and deploying them into production environments. 
Data Science is one of the most important and rapidly growing job roles in the world today. Data Scientists are responsible for turning raw data into insights that help businesses make better decisions. Data Science roles can vary depending on the company, but most jobs involve developing models, analyzing data, and creating insights. In order to be successful in this field, it is important to have a strong understanding of artificial intelligence (AI) and machine learning.
 Data Scientist job roles and responsibilities
Understands data analytics concepts such as regression analysis, correlation modelling, classification and clustering.

Works with unstructured data sources such as text documents, audio files etc., and works with structured datasets such as databases and social media platforms.

Leverages several programming languages (Java, Python) to develop custom software solutions.

Writes tests that cover key data operations. Uses statistics and probability theory to analyze relationships between groups of variables.

Explores different statistical approaches to understand the implications of results

Executes complex queries through SQL and joins across source tables.

Conducts exploratory analyses to identify potential problem areas in the system. Identifies outliers, missing values and erroneous observations.

Interfaces with business analysts to obtain information necessary for creating reports and providing presentations.

Generates insightful metrics and recommendations based on user feedback.

Provides end-users with meaningful data about how their actions affect the enterprise's bottom line.

Supports decision-making by developing actionable forecasts.
While there are many different roles and responsibilities associated with being a data scientist, these are just a few of the essential skills and traits required for success. If you want to be in high demand in this field, learning artificial intelligence is a good place to start. The Artificial Intelligence Course in Coimbatore can provide you with the foundational skills needed to succeed in this rapidly growing field.
AI Engineer: As an AI engineer, you are expected to build intelligent products by using machine learning principles like Neural networks and Deep Learning. You should be knowledgeable in Natural Language Processing and use this to train your models. Your work is focused on gathering data from multiple sources, processing it, training a model to make inferences and finally delivering predictions.
After completing your Artificial Intelligence Course in Coimbatore at FITA Academy, you will be well-equipped to take up an AI Engineer job role. AI Engineer jobs require a higher level of skills and knowledge than most other jobs, so it is important that you have the necessary qualifications. Some of the main responsibilities of an AI Engineer include developing and managing software programmes that carry out automated tasks or decision-making.
AI Engineer job roles and responsibilities
Develop deep learning models using neural network architectures. Use reinforcement learning principles to design intelligent agents.

Learn to apply transfer learning techniques to build knowledge bases.

Understand the importance of designing robust evaluation protocols for evaluating and testing prediction accuracy.

Implement efficient algorithms to extract relevant information from massive data sets.

Use natural language processing tools to create useful outputs for human consumption.

Support developers by resolving issues related to the implementation and deployment of ML systems.

Create effective documentation and support materials so that colleagues can easily implement these methods.

Work collaboratively with product managers to ensure best-in-class features are built.

Evaluate the effectiveness of existing machine learning pipelines and provide suggestions for improvements.

Help improve the performance of existing services by improving their algorithm and architecture. Designing machines that think is a big challenge. This requires understanding the complexities involved with neural networks and artificial intelligence. 
If you want to get started as an AI Engineer, it is important to have a strong foundation in computer science and programming. However, a course at FITA Academy can give you the skills you need. Our curriculum is designed to equip students with the necessary tools to successfully pursue an AI Engineer career.
Success Story of Artificial Intelligence Course in Coimbatore
I am very happy with the way my AI course has been conducted by FITA Academy, I was able to learn a lot of things and also got good exposure for future. I would recommend this institute for those who want to get started in Artificial Intelligence. Thanks
My experience with FITA Academy is quite awesome. They have provided me all basic knowledge about AI along with practical implementation through their live projects. The best feature of FITA Academy is they are not just focusing on theory but have provided real-time project development. Great job!
In my opinion, all the faculty members of the AI Course is well qualified as they possess vast experience in the field of AI and they can guide me in every aspect of AI course and make me more responsible towards AI field."
Frequently Asked Question (FAQ) about Artificial Intelligence Course in Coimbatore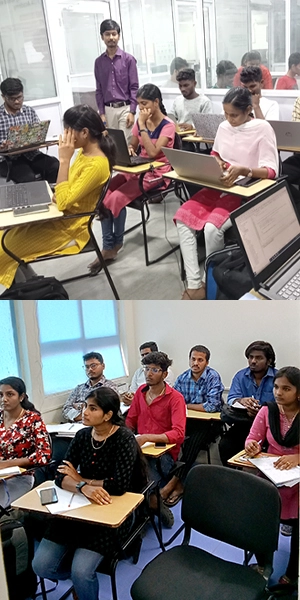 Artificial intelligence (AI) is a rapidly-growing, multidisciplinary field of study that uses computer programs to simulate or interpret human behaviour. AI can be used in a variety of fields, including business, healthcare, and education.
At FITA Academy, we offer an artificial intelligence course that will teach you the basics of this exciting field. Our course is designed for students who want to learn more about AI and how it can be applied in their everyday lives. In our AI courses Coimbatore, you will learn about the history of AI, its various applications, and the challenges that still need to be addressed. We also provide ample opportunity to practice what you have learned by participating in interactive exercises and projects. If you are interested in learning more about the Artificial Intelligence Course in Coimbatore, kindly contact us.