Course Highlights and Why Learn Artificial Intelligence Course in Pondicherry at FITA Academy?
Our Artificial Intelligence training modules have been meticulously crafted to meet the standards of the worldwide business sector.
This expert-curated courseware will help you comprehend Artificial Intelligence and how it may be used under industry specialists' guidance.
You can get excellent training from a professional trainer in the field of artificial intelligence who has been working in the industry for over ten years.
A comprehensive AI training in Pondicherry that introduces the fundamentals of Artificial Neural Networks, TensorFlow, and Deep Learning.
FITA Academy in Pondicherry offers interactive instructor-led Artificial Intelligence training sessions.
Recap sessions of previous classes are set up regularly to help you improve your skills.
AI is taught using a student-centred approach, including Blended Learning, in the FITA Academy's Smart classrooms.
Professional AI training at an affordable price, leading to certification upon successful completion of the course.
The FITA Academy offers a variety of batch timings in Pondicherry, including weekdays, weekends, and fast track AI courses.
Following the successful completion of the training course, we will provide you with job assistance in finding the next step in your professional career.
FITA Academy has an active placement cell that assists students in finding their dream careers and achieving their objectives.
Upcoming Batches
| | | | |
| --- | --- | --- | --- |
| 01-06-2023 | Weekdays | Thursday (Monday - Friday) | |
| 03-06-2023 | Weekend | Saturday (Saturday - Sunday) | |
| 05-06-2023 | Weekdays | Monday (Monday - Friday) | |
| 10-06-2023 | Weekend | Saturday (Saturday - Sunday) | |

Classroom Training
Get trained by Industry Experts via Classroom Training at any of the FITA Academy branches near you
Why Wait? Jump Start your Career by taking Artificial Intelligence Training in Pondicherry!
Instructor-Led Live Online Training
Take-up Instructor-led Live Online Training. Get the Recorded Videos of each session.
Travelling is a Constraint? Jump Start your Career by taking the Artificial Intelligence Online Course!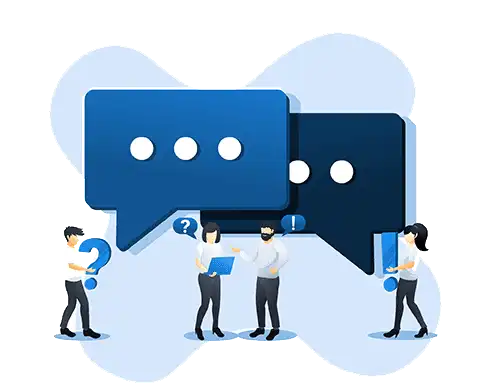 Have Queries? Talk to our Career Counselor
for more Guidance on picking the right Career for you!
Trainer Profile
Trainers at FITA Academy give students with the optimal blend of Artificial Intelligence knowledge and experience.

Instructors in AI courses in Pondicherry are expected to take up on useful professional skills to their trainees.

The AI Trainers have extensive knowledge and skill in the field of Artificial Intelligence.

Students are provided with hands-on training in Artificial Intelligence approaches by specialists who are also trainers.

Our instructors at FITA Academy instruct our students in the most up-to-date industry techniques so they can become competent experts.

To give students the finest learning experience, FITA Academy's AI trainers provide intensive instruction and hands-on training.

AI Trainers assist students with writing professional resumes and gaining confidence through mock interviews.
Features
Real-Time Experts as Trainers
At FITA Academy, You will Learn from the Experts from industry who are Passionate in sharing their Knowledge with Learners. Get Personally Mentored by the Experts.
LIVE Project
Get an Opportunity to work in Real-time Projects that will give you a Deep Experience. Showcase your Project Experience & Increase your chance of getting Hired!
Certification
Get Certified by FITA Academy. Also, get Equipped to Clear Global Certifications. 72% FITA Academy Students appear for Global Certifications and 100% of them Clear it.
Affordable Fees
At FITA Academy, Course Fee is not only Affordable, but you have the option to pay it in Installments. Quality Training at an Affordable Price is our Motto.
Flexibility
At FITA Academy, you get Ultimate Flexibility. Classroom or Online Training? Early morning or Late evenings? Weekdays or Weekends? Regular Pace or Fast Track? - Pick whatever suits you the Best.
Placement Support
Tie-up & MOU with more than 1500+ Small & Medium Companies to Support you with Opportunities to Kick-Start & Step-up your Career.
Artificial Intelligence Certification Training in Pondicherry
About Artificial Intelligence Certification Training in Pondicherry at FITA Academy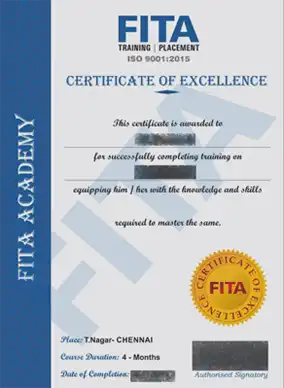 Artificial Intelligence Certification Training in Pondicherry
The certification in Artificial Intelligence is the most prestigious credential in AI. This shows that the candidate knows the basics of artificial intelligence and how it can be used in everyday life. The certification is based on real-world experience that was achieved by learning with an AI Developer. With this certification, you'll be able to present your resume and show off the skills you've learned. It also gives you the chance to look into possible job opportunities.
Our Artificial Intelligence Course in Pondicherry will help you learn all the skills you need to be an expert in AI development. The course is taught by AI experts who have worked in the field for many years. FITA Academy has been teaching people how to use AI for more than 10 years. With the help of our AI trainer, you'll learn about what's new in the field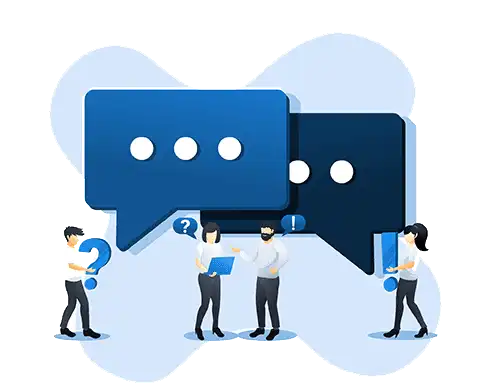 Have Queries? Talk to our Career Counselor
for more Guidance on picking the right Career for you!
Job Opportunities After Completing Artificial Intelligence Course in Pondicherry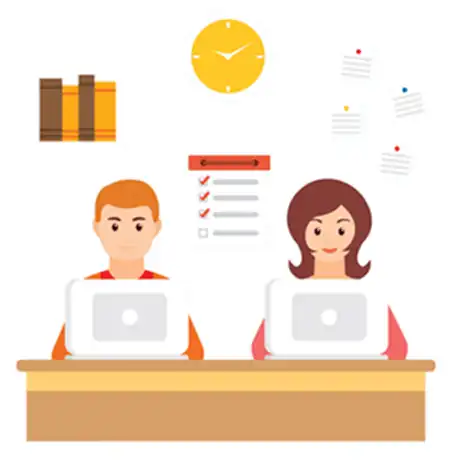 In recent years, the number of jobs in artificial intelligence has grown. Employers are all looking for AI engineers who can meet their technical needs. After taking the artificial intelligence course at Pondicherry, our students can compete for the best AI jobs, like big data engineering. Students will be able to set up an environment that makes it easy to use different business systems and handle sensitive information. You could also try to get a job as a business intelligence developer, which is another important job. They have to look at it from both a business and an AI point of view. They can figure out different business trends by looking at large sets of data.
Thanks to AI, you can also become a data scientist, which is a career option in Data Science. They help get the right information from different places so that conclusions can be drawn.
In the field of artificial intelligence, machine learning is also a job that people want very much. They are in charge of making and maintaining software that can run itself and run machine learning programmes.
IT uses artificial intelligence for more than just automating tasks. It is becoming more and more important in many fields, such as science, medicine, cyber security, process cars, gaming and entertainment, education, and cyber security. These are the most common jobs for people who have finished AI courses in Pondicherry.
Data Architect

Data Scientist

Machine Learning Engineer
In addition to the jobs listed above, students will also learn about jobs like researcher, scientist, AI products manager, data analyst, AI engineer, robot scientist, and so on.
Some of the most well-known companies with AI experts  are Amazon, TCS, Accenture, Intel, IBM, Oracle, Infosys, and Microsoft. AI Engineer Salary For Freshers is between Rs. 60,0000 and Rs. 800,000. An AI Engineer could make between Rs. 10,00,000 and Rs. 18,00,000 per year after years of training and work. Around the world, an Artificial Engineer could make about $165,000 per year. The following is a compilation of the wage data provided by PayScale.com. They might go up depending on the level of demand and the amount of experience gained.
Also Read: Artificial Intelligence Interview Questions and Answers
Student Testimonials
The Artificial Intelligence course I took in Pondicherry helped me a lot with my career. All of the trainers were experts in their fields, so I was able to learn a lot from them. We had regular homework and projects that really helped me get a better grasp of the ideas. I could not have asked for a better way to spend my time during the month than on this training.
I've always been interested in robotics and artificial intelligence, but I've never known where to start. I was able to work with many professionals on real-world projects thanks to the AI Courses in Pondicherry I took at FITA Academy. I'm very thankful to my trainers and the rest of the staff at FITA Academy for their constant help and support, which helped me move forward.
I took a course in artificial intelligence in Pondicherry and finished it. At FITA Academy, I was able to try out and learn how to use many of the tools and methods used in modern AI. Since I didn't know anything about AI before, the trainers told me everything in simple terms and were always there if I needed help. And Thanks for placement support which helped me get job.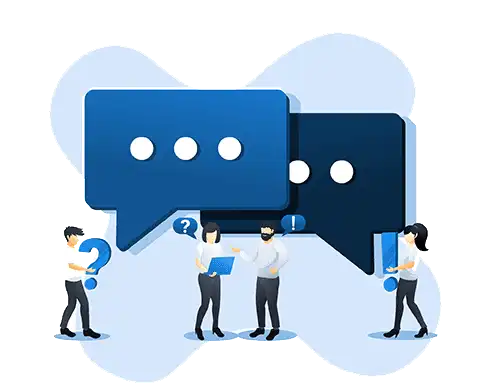 Have Queries? Talk to our Career Counselor
for more Guidance on picking the right Career for you!
Additional Information
Globally, Artificial Intelligence has been expanding rapidly. The Artificial Intelligence Course at FITA Academy will educate you on the fundamentals of the subject and demonstrate how it may be applied to your field. There are several more. There are other additional applications. AI is continuously improving and expanding its capabilities. This will enable us to increase our human capabilities beyond our wildest imaginings.
There are numerous RPA tools accessible, such as BluePrism and Automation Anywhere. UiPath dominates intelligent automation. UiPath is user-friendly, yet its cognitive capabilities offer it an advantage over competing RPA systems. This course will teach students the fundamentals of artificial intelligence and how to apply it to develop intelligent computing models.
How is Artificial Intelligence defined?
Using intelligent software, artificial intelligence (AI) is the creation of computers that mimic human intelligence. This is accomplished through analysing the brain's behaviour when solving problems. In the future, this research can aid in the development of intelligent systems and software.
A range of disciplines, including biology, psychology, computer science, and engineering, can serve as the foundation for artificial intelligence.
Where can AI be used?
AI is currently used in a variety of applications, including strategic games like chess and poker. This computer is capable of predicting outcomes using heuristic data. It has applications in natural language processing. Computers must be able to comprehend the natural language spoken by humans. AI is employed to build expert systems. These systems mix software, hardware, and data with the ability to think. Vision systems equipped with AI are able to understand and grasp visual inputs from computers. Artificial intelligence is used to identify speech sounds and their meanings, as well as to detect them when spoken by humans. Numerous further applications are being developed to make AI more accessible to people.
Learning outcome of Artificial Intelligence training in Pondicherry at FITA Academy
In-depth knowledge of machine learning systems.

The execution pipeline, TensorFlow Operations and Functions, and the framework.

Explore Artificial Neural Networks further.

A comprehensive comprehension of the distinctions between unsupervised and supervised learning.

Learn how neural networks are utilised for data analysis and application.

Learn about Deep Learning's applications in the disciplines of image recognition and natural language processing.

Machine learning requires a deep understanding of both how things work in theory and how they work in practise.

Learn how to apply AI problem-solving techniques and how to overcome their limits.
Eligibility Criteria and Prerequisites to learn Artificial Intelligence Course in Pondicherry
Eligibility Criteria: This programme is open to recent graduates who wish to begin a career in Artificial Intelligence. These AI Courses in Pondicherry are best suited for professionals such as Data Scientists Analysts, Search Engineers professionals, E-commerce specialists, and Software Developers who seek to switch careers to AI.
Prerequisites: To enrol in an Artificial Intelligence course, no prior expertise or experience is required. If you have some programming expertise or prior knowledge, you will be able to master the course quickly. FITA Academy provides Artificial Intelligence training in Pondicherry, in which this programme will equip you with a thorough comprehension of Artificial Intelligence ideas. It is taught by credentialed professionals in the field.
Functioning of Artificial Intelligence
AI operates by merging vast quantities of data with complex algorithms and an iterative process. This enables the software to recognise patterns or characteristics within the data. This expansive field of research incorporates the following subfields' theories, methodologies, and technologies:
Machine Learning: Machine Learning enables the automation of analysis modelling. Machine Learning utilises approaches from statistics, physics, operations research, and neural networks to automatically reveal the hidden meanings of data.
Deep Learning: Deep Learning employs enormous neural networks with several processing units. It utilises the benefits of increases in processing power and improved training techniques to train the brain to comprehend speech or visuals.
Neural network:  This type of Machine Learning consists of interconnected units that convey information to all units and route it to external inputs via reciprocation. This approach involves multiple passes and data to determine the connections necessary to infer meaning from undefined data.
The Skills Required to Become an AI Professional
Programming is the most crucial ability required to become an expert in artificial intelligence. To become an AI specialist, you must be able to build and implement models using computer-related languages such as Python, R, C++, and Java.
If you understand how machine learning algorithms function, you will be able to use them more successfully. You should also be familiar with deep learning techniques and be able to utilise frameworks that permit the creation of AI models from massive amounts of data. A professional in artificial intelligence must be conversant with TensorFlow, PyTorch, Theano, and TensorFlow.
AI developers utilise vast quantities of real-time data. To comprehend this data, AI engineers must be knowledgeable with Spark and other technologies for big data. In addition to Apache Spark and Hadoop, you should also be familiar with Cassandra, MongoDB, and Hadoop.
A professional in artificial intelligence must comprehend mathematics and statistics in order to perform assignments and deliver appropriate outcomes. To develop a foundation in Artificial Intelligence, it is necessary to have a firm grasp of mathematics, probability, and statistics.
Business intelligence is required for employment in the AI business. Effective AI programmes can handle a variety of management concerns inside a business. Company intelligence can assist you in converting your technological concepts into lucrative business endeavours. Regardless of the industry you are in, business intelligence can assist you understand how firms operate and compete.
Innovative AI models and solutions may offer several solutions to a particular challenge. It is essential to derive sound inferences from the available information immediately. Enrolling the AI Training in Pondicherry will allow you to acquire and hone these skills. Additionally, you might seek out additional learning oppurtunity and experiences.