Course Highlights and Why Learn Artificial Intelligence Course in Chennai at FITA Academy?
Expertly designed Artificial Intelligence course modules to meet with the global industry requirements
Courseware that is curated by Industry Experts to have a clear understanding of Artificial Intelligence and its implementations
Proficient Artificial Intelligence Trainers with more than a decade of experience in the Artificial Intelligence field
Comprehensive Artificial Intelligence Training to make you equipped with essential concepts namely Artificial Neural networks, TensorFlow, and Deep Learning

Interactive Instructor-led Artificial Intelligence Training session in Chennai at FITA Academy
Regular Recap sessions of the previous classes are provided to strengthen your skills
Smart Classrooms with Blended learning of Artificial Intelligence Course in Chennai at FITA Academy
Professional Artificial Intelligence Training at an affordable cost with certification upon successful completion of the course.
Flexible batch timings - Weekend, Weekdays & Fast track Artificial Intelligence Course in Chennai at FITA Academy
FITA Academy provides 100% Placement assistance to the eligible students after successful completion of the training
We have tie-ups with more than 1500+ companies ranging from small to large scale companies
FITA Academy has an Active Placement Cell that helps the students to land in their dream career
Upcoming Batches
| | | | |
| --- | --- | --- | --- |
| 18-08-2022 | Weekdays | Thursday (Monday - Friday) | |
| 20-08-2022 | Weekend | Saturday (Saturday - Sunday) | |
| 22-08-2022 | Weekdays | Monday (Monday - Friday) | |
| 27-08-2022 | Weekend | Saturday (Saturday - Sunday) | |

Classroom Training
Get trained by Industry Experts via Classroom Training at any of the FITA Academy branches near you
Why Wait? Jump Start your Career by taking Artificial Intelligence Course in Chennai!
Instructor-Led Live Online Training
Take-up Instructor-led Live Online Training. Get the Recorded Videos of each session.
Travelling is a Constraint? Jump Start your Career by taking the Artificial Intelligence Online Course!
Syllabus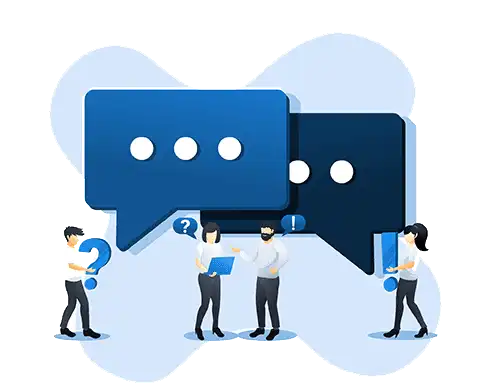 Have Queries? Talk to our Career Counselor
for more Guidance on picking the right Career for you!
Trainer Profile
FITA Academy fervently believes in the blended method of learning and we provide the right blend of theoretical and practical knowledge of the Artificial Intelligence concepts to the students
Artificial Intelligence Instructors at FITA Academy trains the students with Industry-relevant skills
Artificial Intelligence Trainers at FITA Academy are Expertise from the Artificial Intelligence domain
Artificial Intelligence Trainers at FITA Academy are Real-time professionals, and they provide hands-on training on the Artificial Intelligence techniques to the students
Trainers at FITA Academy Upskills the knowledge of the students by providing them an in-depth training on the latest industry-relevant practices
Artificial Intelligence Trainers at FITA Academy gives the required individual attention to each student and provides in-depth training with complete hands-on practices
Our AI Trainers assist the students in building their resume professionally and also boost their confidence by providing valuable insights to them about Interview questions and Handling interviews with mock interview sessions
Features
Real-Time Experts as Trainers
At FITA Academy, You will Learn from the Experts from industry who are Passionate in sharing their Knowledge with Learners. Get Personally Mentored by the Experts.
LIVE Project
Get an Opportunity to work in Real-time Projects that will give you a Deep Experience. Showcase your Project Experience & Increase your chance of getting Hired!
Certification
Get Certified by FITA Academy. Also, get Equipped to Clear Global Certifications. 72% FITA Academy Students appear for Global Certifications and 100% of them Clear it.
Affordable Fees
At FITA Academy, Course Fee is not only Affordable, but you have the option to pay it in Installments. Quality Training at an Affordable Price is our Motto.
Flexibility
At FITA Academy, you get Ultimate Flexibility. Classroom or Online Training? Early morning or Late evenings? Weekdays or Weekends? Regular Pace or Fast Track? - Pick whatever suits you the Best.
Placement Support
Tie-up & MOU with more than 1500+ Small & Medium Companies to Support you with Opportunities to Kick-Start & Step-up your Career.
Artificial Intelligence Certification Training in Chennai
About Artificial Intelligence Certification Course in Chennai at FITA Academy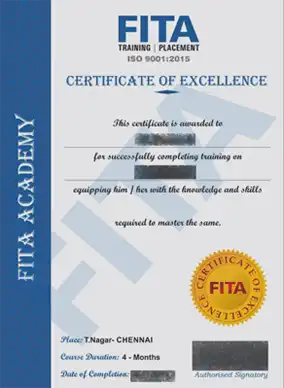 Artificial Intelligence Certification Course in Chennai
Artificial Intelligence Course Certification is one of the professional credentials which demonstrate that the candidate has gained in-depth knowledge of the Artificial Intelligence concepts and its application. With a real-time project experience provided at the end of the course, this certification states that the candidate has acquired the necessary skills to work as an Artificial Intelligence Developer. Having this certificate along with your resume helps in prioritizing your profile at the time of the interview, and also it opens the door for a wide range of career opportunities.
Artificial Intelligence Certification Course in Chennai at FITA Academy hones the necessary skill sets that are required for a professional AI Developer under the guidance of our Real-time professionals. Artificial Intelligence Training in Chennai at FITA Academy is provided by professionals who have 10+ years of experience in the Artificial Intelligence platform. Our AI Trainer upskills your knowledge with the recent updates in the industry.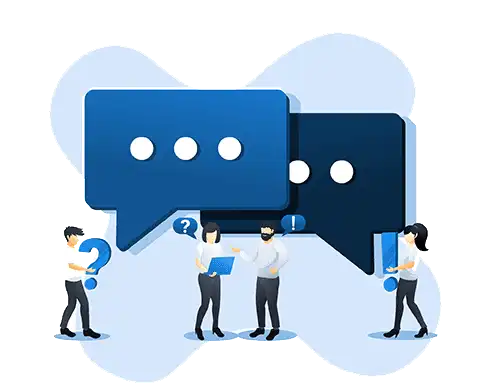 Have Queries? Talk to our Career Counselor
for more Guidance on picking the right Career for you!
Job Opportunities After Completing Artificial Intelligence Course in Chennai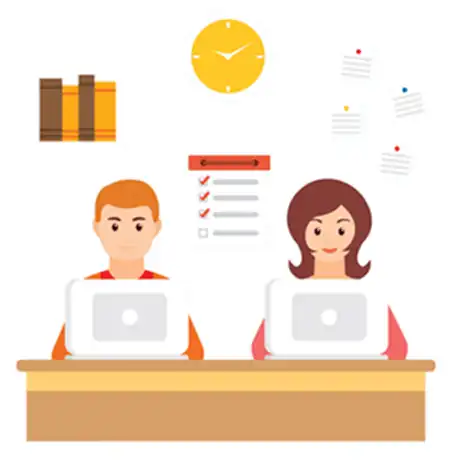 Artificial Intelligence is one of the fastly emerging fields that would have a worldwide impact on the global labor market in the coming years. To supplement the above-statement, based on the reports submitted by Gartner Inc, it is anticipated that in the Artificial Intelligence field there would be around 2.3 million job opportunities by the end of 2020. According to the survey reports submitted by the IDC, it is stated that the global value of the AI in the enterprise market share is expected to sky-rocket with a total of 36.26 CAGR which is 190 billion USD by the end of 2025.
Furthermore, according to the report submitted by Indeed.com, one of the popular job portal sites, it is stated that the total number of job vacancies in the realm of AI has almost grown two-fold times than usual in the past three years. Also, it is anticipated the growth of careers in this field is going to be lucrative in the upcoming years and that it would not stagnate. The reason is because of the rapidly growing automation domain, due to this predominant of the redundant jobs are set to be replaced by machines to gain accuracy and speed of delivery.
Also, the Artificial Intelligence application is not only pertained to the automation field in the IT industry. Rather it has shed its significance among a wide range of streams such as Science, Agriculture, Cyber Security, Process Automobiles, Gaming and Entertainment, Education, and Medicine, and much more. The common job titles that are offered in these industries upon the completion of the AI course are Artificial Intelligence Engineer, Artificial Intelligence Developer, Data Scientists, Business Intelligence Developer, Big Data Engineer, Research Scientist, and Machine Learning Engineer.
The reputed companies that hire the AI professionals are IBM, Amazon, NVIDIA, Microsoft, Accenture, Samsung, Intel, Facebook, Lenovo, Adobe, Apple, Oracle, Uber, MoTek Technologies, Wells Fargo, Rakuten Marketing, PCO Innovation, HCL, Flipkart Cognizant, Google, Infosys, and TCS. The median salary offered for a fresher Artificial Intelligence Engineer is Rs. 6,00,000 to Rs.8,00,000 per annum. With years of knowledge and experience, the AI Engineer may earn around Rs.10,00,000 to 13,00,0000 per annum. Globally, an Artificial Engineer may earn around $ 165,000 yearly. These were the salary reports submitted by PayScale.com. 
The average salary may differ according to the organization's norm. If you are seeking a career with a broader scope and that which is futuristic then, Artificial Intelligence is one among those fields that you can opt for. Artificial Intelligence Course in Chennai at FITA Academy supports the students to land their careers in the AI domain successfully by imparting them with the required professional skill sets under the guidance of industry experts. Our AI Trainers at FITA Academy guide you and upskills your knowledge with the industry-relevant skill sets.
Student Testimonials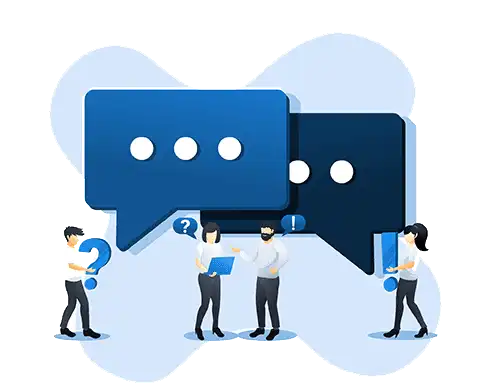 Have Queries? Talk to our Career Counselor
for more Guidance on picking the right Career for you!
Additional Information
Artificial Intelligence is an actively growing subject in the world today. The Artificial Intelligence Course in Chennai at FITA Academy comprises the basics of the subject as well as representative applications of the subject such as Machine Learning, Deep Learning, Analytics, Artificial Neural Networks, etc., among others. The numerous applications and the huge possibilities of AI are always exciting and will help to expand human capabilities beyond our imagination. This course is designed for the students to get a grip on the fundamentals and also apply AI to build intelligent computing systems and models.
What Is Artificial Intelligence?
AI can be defined as the science of creating machines that work in a manner that humans do with the help of intelligent programs. This is accomplished by studying to find out as to how human brains think and act while trying to solve a problem. The outcome of this study is used as the basis to develop intelligent software and systems.
AI is based on many subjects such as computer science, biology, mathematics, linguistics, engineering, and psychology among others.
Where Is AI Applied?
AI is currently used in applications such as in programs of strategic games such as chess and poker. The machine here can think of any possible outcomes on the basis of heuristic knowledge. It is applied in natural language processing when a computer should understand naturally spoken language by humans. Experts systems that use applications integrating hardware, software, and other special information that will impart reasoning capabilities rely on AI. Vision systems using AI are able to understand, interpret visual input on a computer. Speech recognition systems use AI to listen to speech and comprehend their different meanings when spoken by humans. There are many more applications being developed that would use AI to make lives easy for human beings.
What are the reasons to learn Artificial Intelligence Course in Chennai at FITA Academy?
We have designed this course in a manner to teach you to build AI and other AI related computing applications. The other highlights of the course are:
Course concepts are explained in an easy-to-understand manner
The student is given lifetime access to recorded sessions of AI experts
The student gets to work on real-life scenarios and projects
The approach of the course is a practical-oriented one
We have trainers that are experts and they are certified
Our team of experts will provide the required guidance and support to understand the course in the right manner
The key aspects of the subject are taught using expert lectures, discussions and exercises
AT FITA Academy Chennai we have expert AI instructors that have close to a decade's experience in building AI systems for multinational organizations
The learning material that we provide at FITA Academy Chennai is copious and prolific
We offer cutting edge AI training modules
We offer industry-based projects suited for portfolio preparation of the students
At FITA Academy Chennai we also offer a job-oriented career support
What will you learn in the Artificial Intelligence Course in Chennai at FITA Academy?
A thorough understanding of the Machine learning implementation
Demonstrable knowledge on the framework such as TensorFlow, Operations, Functions, and Execution pipeline
Get acquainted with Artificial Neural Networks
A clear understanding of Supervised and Unsupervised learning
Understand how the Neural networks are used to analyze and use that data
Become familiar with the Applications of Deep learning in the NLP and Image recognition
In-depth knowledge of the practical and theoretical aspects of the Machine Learning
Understand implementing AI techniques for problem-solving and handling its limitations.
Eligibility Criteria and Prerequisites to learn Artificial Intelligence Course in Chennai
Eligibility Criteria: Any fresher graduates who desire to begin their career in the Artificial Intelligence field can choose this course. However, the Artificial Intelligence Course in Chennai at FITA Academy is more suitable for professionals such as Data Scientists, Analytics professionals, Search Engineer professionals, E-commerce professionals, and the Software Developer who wants to switch their career towards the Artificial Intelligence platform.
Prerequisites: There are no prerequisites to learn Artificial Intelligence Course. However, having prior knowledge of any of the programming languages will be of added advantage for you to learn the course quickly. Artificial Intelligence Training in Chennai at FITA Academy provides a holistic training of the Artificial Intelligence concepts under the mentorship of real-time professionals with certification.
Benefits of implementing the AI in Businesses
Well, on implementing the Artificial Intelligence techniques the computer programs were able to think and learn independently. And this resulted in some of the significant outcomes in the businesses. Now, let us see the major benefits that the businesses were able to see on implementing AI techniques.
Reduced Errors in Processes:  It is a very well known thing that humans tend to make mistakes. It is due to their tiredness or negligence. But, on implementing the AI techniques the businesses were able to reduce the errors and also the chances of committing the errors significantly. It is because the bots or the computers are pre-designed or loaded with numerous algorithms and data. With the AI techniques, the machines were able to take accurate decisions with the previously collected pieces of information and data. Also, businesses can not deny the fact that upon implementing the Artificial Intelligence techniques they were able to produce results with accuracy at ease and also reach a great degree of precision.
Digital Assistance: In some of the highly advanced organizations they use Digital assistance to interact with their customers. Mostly you can find this Digital Assistance on the Websites. For example, the Chatbots which answers all the queries that you put forth on their sites. Even in some of the Toll-free numbers the Voice bots that answers to all our queries are made possible only because of Artificial Intelligence techniques. This Digital Assistance not only supported the customers but the businesses as well. When a query is raised by the customer the machines are prompted to answer it then and there. And now these queries are stored in the database as well. Now, when the employee steps in he could start the work from where it was left. This in a way increased the productivity of the organizations tremendously.
Daily Applications: In the present generation Smart Phones have managed to enter into one of the basic necessities along with dress, food, shelter, and water. Most of the smartphone users are unaware that they are using AI techniques without even knowing it. For example, Google Maps for directions, Siri in iPhone, Alexa, Cortana in Windows all these are possible only because of the implementation of Artificial Intelligence. But, for businesses AI functions completely at a higher level such as setting up fraud detection devices in the banking and financial sector. Punch ins and Punch outs in the IT premises with face recognition or handprints are possible only because of AI techniques.
Availability 24/7: One of the major benefits of using a machine to perform a task is that it can function all around the clock. It is because unlike humans the machines don't require recess or refreshments. It can be programmed flexibly for longer hours with any interventions or distractions. Also, upon implementing the Artificial Intelligence techniques the machines can increase the productivity level significantly and complete their assigned projects or tasks on time.
Rapid Decisions: When it comes to decision making the machines can make much faster decisions than us. It is because the machines can rapidly analyze the huge data that were collected previously. Moreover, while taking decisions humans at some point in time may exhibit the element of emotional attachments but the machines can make much more practical decisions than us. And also it is capable of producing the desired results as well. For instance, Online Chess Game, it is almost tedious to defeat the machine in it because the AI techniques are implemented so well that it is very difficult for us to defeat it.
Aids in Repetitive jobs: Generally, any organization would have a mammoth of repetitive tasks in their day-to-day functions. These tasks include verification of documents, sending greetings to the employees on their birthdays or special events, or sending a thank you mail to the customers and clients, handling of errors, and recording of new details. These tasks are not only time consuming but at some times the employees get to feel mundane to perform it. This could be easily tackled when organizations implement Artificial Intelligence techniques. Almost all the mundane tasks can be automated at ease with the implementation of the AI techniques and also it can get it done with complete accuracy and robustness when compared to humans.
Artificial Intelligence Course in Chennai at FITA Academy provides comprehensive training of the Artificial Intelligence concepts and its applications to the students under the mentorship of real-time professionals with certification.
Functioning of Artificial Intelligence
Generally, AI functions by merging huge amounts of data with intelligent algorithms and iterative processing that permits the software to understand the features or patterns in data automatically. It is a wide field of study that consists of methods, theories, and technologies in the subfields that are mentioned below:
Machine Learning: It allows you to automate analytical model building. It utilizes the methods right from statistics, physics, operations research, and neural networks for finding out the hidden insights of data without being programmed explicitly.
Deep Learning: It uses huge Neural Networks with different layers of processing units and taking the benefit of advances in computing power and enhanced training techniques for understanding speech and image recognition.
Neural network: It is the kind of Machine Learning that is developed using interconnected units which channel the information by reciprocating to all the external inputs and relays to the information that is provided between all the units. Usually, the process needs different passes and the data to identify the connections for deriving meaning right from the undefined data.
Computer Vision: It mainly depends on deep learning techniques and pattern recognition for recognizing what is there in a video or picture. When the machine analyzes, processes, and comprehends the images, it can capture all the videos and images in real-time and decipher their surroundings.
Natural Language Processing: It is the built-in ability where computers understand, analyze, and builds human languages inclusive of speech. The next step of NLP is Natural Language interaction that permits humans for communicating with computers using usual and day-to-day language for performing tasks.
Other technologies that are supported by AI are:
IoT: It helps in generating a huge amount of data right from the connected devices, and most of them are unanalyzed. You can automate all these models with AI permits you to use them or modify them.
Graphical Processing Units: It is the key for AI as they offer heavy compute and power that is needed for iterative processing. It is the training that is needed for neural networks, and it needs big data and additional computing power.
Applications Programming Interfaces or API: It is a portable set of code that permits you to add AI functionality for software packages and products that exists presently. It can add more image recognition abilities for home security Q&A abilities and systems that mention data, headlines, and create captions for creating interesting patterns for insight into the data.
Advanced Algorithms: It is developed and mixed in numerous ways for analyzing the data faster at different levels. It is an intelligent processing key for anticipating unique events, complex systems, and unexpected scenarios.
On the whole, AI aims to offer software that can understand the input properly and give the required output. The AI is capable of giving human-like interactions along with software for providing support for certain tasks. The Artificial Intelligence Course in Chennai at FITA Academy helps the students to become familiar with AI concepts, techniques, and thus supports them with required placement guidance.
Future Of AI In India
According to recent statistics, India is the third country after the USA and China that is implementing AI-based systems at a fast pace. A number of private organizations, government departments, including the defence department and start-ups have ventured into building AI systems for a variety of purposes including mining, roadways, infrastructure and defence, IT, telecommunications, etc., among others.
Are you thinking of going for an artificial intelligence interview?
If so, it can be a bit intimidating. There are many steps to follow and tips you can use to make sure you ace the interview. The following are just a few of them. But the first one should be the most important. The final tip is to keep in mind that preparing for an AI interview is a whole lot easier than you think.
As you can see, there are a lot of ways to prepare for an artificial intelligence interview. There are a few basic steps you can take to ensure you get the job. Firstly, you need to practice, and you should make sure you can answer all the questions correctly. The best way to do this is to research the topic thoroughly and practice a lot from an Artificial Intelligence Course in Chennai. Once you have the knowledge and skill to tackle the question, you should start applying for the job.
Second, prepare yourself for the questions. You can practice on the mirror before the interview. The purpose of practising your AI skills before the interview is to learn the language. You need to be able to speak English well, as it is the language of the job. And finally, practice speaking confidently. The AI interviews will be recorded, and your resume will not be visible. If you have real-life experience or knowledge of artificial intelligence, it will help you get a job.
Next, professionally prepare your answers. Try to avoid displaying nervousness or panic. When you do have to answer questions about your background, try to be confident and polite. If you can't speak English, you can make an effort to improve your grammar. When you have learned to use the right vocabulary, you will have a better landing the job. You can also practice your speaking skills on a computer.
The first tip for preparing for an artificial intelligence interview is to keep calm. It would help if you were confident and relaxed. Maintain a confident tone throughout the interview. Moreover, you should be aware of the different questions that might be asked. Aside from this, it would be best if you tried to understand how to apply the questions asked. To impress the AI interviewer, you should be able to show your knowledge about the topic.
It would be best to prepare from AI Training in Chennai for an artificial intelligence interview by learning about the company's culture and its employees. It is important to be comfortable with the company's culture and work ethic. When you are hired, you should be comfortable and confident. If you are not comfortable with your work environment, be sure you are comfortable with your environment. If you have to interact with people from other countries, you can prepare for an interview by talking to them.
Your goal is to make the interviewer as comfortable as possible. It would help if you were confident in your skills and expertise. Your employer will want to know that you have the right expertise and experience. You should have the right skills and work experience to impress the hiring manager. It would help if you also were well prepared to answer questions about the job. Your answers should be direct and precise. Moreover, you should be honest and have the right attitude.
Top 10 tips to prepare for an artificial intelligence interview?
Artificial intelligence has become the most important subject for many technology companies. The main reason is that it's used across all industries, from finance to healthcare to law enforcement.
To be acknowledged as an expert in this field, you need to pass a challenging interview with your potential employer by showing extensive knowledge of AI programming frameworks and algorithms. Also, if you have worked on more than 2 projects previously, you should mention them during the interview process to prove your achievements with facts and figures. We suggest reading Hackernoon's post on how to talk about work history during an interview. And remember, no straight answers such as "I love my job" or "I'm a hard worker" will work here – we would expect a proper response for this type of question.
Another piece of advice is to find an expert in the field from the Artificial Intelligence Course in Chennai who can explain some aspects of your work. If you cannot get hold of an expert, there are plenty of tutorials available online that should help you gain enough experience before attending the interview. Here are other key points that will help you prepare for an AI job interview :
Define problems and design solutions that use AI.
Understand cutting edge AI algorithms and concepts: NLP (natural language processing), computer vision, neural networks and deep learning.
Be prepared to answer how you would approach a new AI project without any guidance or resources and how you would gather information on what industry needs from such a product.
Know which data structures can be used to store what kind of information (text, numbers, images, video).
Understand the complexity and scalability issues associated with AI solutions for businesses.
Develop an efficient data collection method that provides all necessary information for your application without interrupting the user experience. You will need to consider searchability, data mapping, storage optimization/abstraction and retrieval methods.
Dispel the myth that AI can do everything better than humans. And remember: forget how many years you've spent in education – what really matters is how well you perform during the interview process.
Work on a set of tasks with a 5‑7‑5 rule: define the problem, produce an algorithm to solve a particular business case, run it on a test dataset and improve the original solution if necessary.
Is Artificial Intelligence a business intelligence tool?
Artificial Intelligence (AI), most commonly known as machine learning, is defined as the ability of a computer program to learn from data and make prognoses or decisions without being programmed explicitly by a human. Artificial intelligence has been around for nearly 60 years now, with its roots in ideas articulated by John McCarthy, who coined the term "artificial intelligence" in 1956. Today, artificial intelligence applications can be found everywhere – self-driving cars, virtual assistants like Siri or Cortana, advanced robotics, etc.
However, AI's development is still at its early stage, and it is quite promising that it might evolve into an intelligent business tool capable of making operational decisions. If you are like me, wondering why use AI if Business Intelligence (BI) tools already exist, read on.
First of all, BI is a tool used for business data analysis that provides visualizations and business metrics. On the other hand, AI is an artificial construct that can learn from past experiences to make future decisions based on data it gathers so-called machine learning capabilities. Let me give you an example of how Artificial Intelligence could be utilized in various industries – take online marketing, for instance. The process of running a PPC or SEO campaign requires lots of effort and setup or tweaking processes to get better results over time. AI courses in Chennai with AI-powered tools, marketers will automate their tasks by implementing predictive algorithms allowing them to get faster results with less human intervention required making maintenance easier while increasing efficiency at the same time. However, unlike BI tools which are more of reporting tools, AI is more for decision-making.
How AI will impact the world in 5 years?
AI is the new buzzword in technology today. Everyone wants to know about it, how it works, and what can they do to prepare for its future impacts. Five years ago, nobody talked about AI so much, so everyone thought it would take long before computers become smart enough to replace humans. However, this wait may be over. Many AI experts are saying that computers will match human intelligence by 2020 or even earlier than that.
AI is a computer system that allows data usage to "think" as humans think and act like them. Although many people might say that current AI systems are just glorified calculators, there is more to these systems than meets the eye. In fact, these systems have been trained through Machine Learning to do more than just calculations by an Artificial Intelligence Course in Chennai. For example, AI can now play chess better than a human and is learning how to drive cars and beat us in video games.
The most important thing about AI right now is that they are not independent systems. They need humans for different purposes, such as getting data sets, interpreting big data sets and even proper interfaces through which people interact with these machines. However, experts predict that this might change very soon as companies like Google and Apple already have plans to make their own operating systems that work like apps used by humans but use AI to interface with people instead of human touch screens or keyboards.
Experts also say that we will see the end of traditional programming models where machine code must be written and compiled into executable binaries. In the future, programming will be done by showing input examples to AI systems which then learn from these examples and create their programs based on what they have learned.
The future impacts of AI are anyone's guess at this point as it is still evolving, but most experts agree that there will be two major aspects of impact – economic and social. Microsoft CEO Satya Nadella predicts that soon human labour will be replaced by machines in all industries across the world, which might result in a loss of jobs for many people. With jobless humans out on the streets, governments may no longer collect taxes and provide basic amenities for everyone resulting in chaos everywhere. However, suppose AI can produce goods more efficiently than human beings. In that case, it might bring down the cost of goods, resulting in people having more money to spend on needs rather than luxuries, therefore bringing an end to poverty.
On the social front, experts predict that governments could use AI systems to control all human activities through surveillance, which has fuelled fears among many people who are not convinced about proper controls for AI systems. Governments may also try to use these machines for military purposes. Still, there is very little information about this because AI developers don't want military use of AI systems publicized at this point. On the other hand, many governments have already announced that they are doing research into creating their own artificial general intelligence, which can learn everything that humans do so that they can replace them with low high-skill human jobs.
In conclusion, it is true that AI is still evolving, and we have a long way to go until these machines match the intelligence level of humans. Still, everyone agrees that this will happen soon by taking up AI Training in Chennai, you can become an AI expert. We may even see the first general artificial intelligence as early as next year if research by Google succeeds. Everyone needs to prepare for changes in our lifestyles because one day, it may be difficult for us to tell whether a person is a real human being or an intelligent machine built by someone else using AI technology. The future cannot be predicted with certainty, but planning for disruptions caused by AI systems should be a priority now before it's too late.
With a view to making aspiring students proficient in AI, we have launched the Best Artificial Intelligence Training in Chennai at FITA Academy. For more information, please visit any of our branches or call @ 93450 45466!
Related Blog
Difference between Machine Learning and AI, Scope and Career Opportunities for Artificial Intelligence, Real-Time Applications of Artificial Intelligence, Top 5 Latest Artificial Intelligence Technologies, Advantages of Artificial Intelligence, The Importance Of Artificial Intelligence In Everyday Life, Trending News In Artificial Intelligence