Course Highlights and Why Software Testing Course in Madurai at FITA Academy?

Introduction to Software Testing, Quality Testing, Principles of Software Testing, Manual and Automation Testing, Principles of Software Testing, Importance of testing, and tools used for testing.

Learning Software Development LifeCycle (SDLC ) and SDLC Phases, Requirements and Analysis, Design, Development, Testing, Deployment, Operation, and Maintenance.

Understanding SDLC Models such as Waterfall Model, V model, Spiral Model, Iterative Model, and Agile Model.

Comprehending Development Architectures such as One-tier Architecture, Two-tier Architecture, Three-tier Architecture, and N-tier Architecture.

Apprehending Software Testing Life Cycle, Entry and Exit Criteria, STLC Phases, Requirement Analysis, Test Planning, Test Design, and Test Execution.

Knowledge of Test Scenario Preparation, Test Case Preparation, Test Environment, Test Data Preparation, and Requirement Traceability matrix.

Getting familiarized with levels of Testing such as the Whitebox Testing technique, Blackbox Testing Technique, Unit Testing, Integration Testing, System Testing, Functional Testing, Non-functional Testing, and User-acceptance testing.

Get acquainted with types of Testing such as Positive Testing, Negative Testing, Beta Testing, Live Environment Testing, Regression Testing, Formal Testing, and Informal Testing.

Insights on Software metrics such as Testcase Productive preparation, Test Execution Summary, Test Case Coverage, Defect Coverage, Test efficiency Effort Variance, and Scheduled Variance.

Mastering Requirements Traceability Matrix, Forward Traceability, Backward Traceability, Bi-Directional Traceability, and Test Coverage.
Upcoming Batches
| | | | |
| --- | --- | --- | --- |
| 04-12-2023 | Weekdays | Monday (Monday - Friday) | |
| 07-12-2023 | Weekdays | Thursday (Monday - Friday) | |
| 09-12-2023 | Weekend | Saturday (Saturday - Sunday) | |
| 16-12-2023 | Weekend | Saturday (Saturday - Sunday) | |

Classroom Training
Get trained by Industry Experts via Classroom Training at any of the FITA Academy branches near you
Why Wait? Jump Start your Career by taking the Software Testing Classroom Training in Madurai!
Instructor-Led Live Online Training
Take-up Instructor-led Live Online Training. Get the Recorded Videos of each session.
Travelling is a Constraint? Jump Start your Career by taking the Software Testing Online Course!
Trainer Profile
The Software Testing Trainers of FITA Academy are qualified working professionals who have a sound knowledge of Software Testing technology.
Their hands-on experience in the field is more than 8 years who are well-equipped with the knowledge of both Manual and Automated Testing processes.
They have led and guided many teams to successfully complete both national and international projects.
They are from eminent MNCs and SMBs who have contributed much to their organizations.
They possess exceptional teaching capabilities and can handle a large number of students in batches.
Learn at FITA Academy & Get Your
Dream IT Job in 60 Days
like these Successful Students!

Features of Software Testing Course in Madurai at FITA Academy
Real-Time Experts as Trainers
At FITA Academy, You will Learn from the Experts from industry who are Passionate in sharing their Knowledge with Learners. Get Personally Mentored by the Experts.
LIVE Project
Get an Opportunity to work in Real-time Projects that will give you a Deep Experience. Showcase your Project Experience & Increase your chance of getting Hired!
Certification
Get Certified by FITA Academy. Also, get Equipped to Clear Global Certifications. 72% FITA Academy Students appear for Global Certifications and 100% of them Clear it.
Affordable Fees
At FITA Academy, Course Fee is not only Affordable, but you have the option to pay it in Installments. Quality Training at an Affordable Price is our Motto.
Flexibility
At FITA Academy, you get Ultimate Flexibility. Classroom or Online Training? Early morning or Late evenings? Weekdays or Weekends? Regular Pace or Fast Track? - Pick whatever suits you the Best.
Placement Support
Tie-up & MOU with more than 1500+ Small & Medium Companies to Support you with Opportunities to Kick-Start & Step-up your Career.
Why Learn Software Testing Course in Madurai at FITA Academy?
Live Capstone Projects
Real time Industry Experts as Trainers
Placement Support till you get your Dream Job offer!
Free Interview Clearing Workshops
Free Resume Preparation & Aptitude Workshops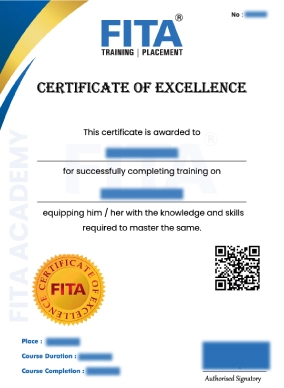 Software Testing Certification Training in Madurai
FITA Academy's Software Testing Certification course is majorly conducted to impart the quintessential knowledge of Software Testing technology to students. The training program is handled by the real-time Testing professionals of FITA Academy who practically teach the concepts so that students can gain first-hand knowledge of the Testing concepts. The certification program can be attended by anyone aspiring to learn Software Testing technology in depth. There are no prerequisites necessary to attend this certification course, so basic knowledge of websites and web applications will be sufficient to understand the technology better. There are many reasons candidates should learn through a professional certification program. The first and foremost reason is that certified candidates will know all the latest and advanced concepts and be up to date about the current practices followed in the testing domain. This will increase the chances of getting hired by the companies faster and sooner. Second, you can be very productive for the company as you can single-handedly perform tasks without any help. Third, significant projects will be handed over to you because of your skills and competency. There are many other perks like promotion, salary increment, and such. The Software Testing market is also expected to reach around $19.27 billion by 2023 which ensures an upsurge in Software Testing jobs. It has also been proved that Software Testing has reduced 30% of working time for Testing Engineers and professionals who work with testing tools. Enroll in our Software Testing Training in Madurai to achieve a high level of expertise in Manual as well as Automation Testing.
Have Queries? Talk to our Career Counselor for more Guidance on picking the
right Career for you!
Placement Session & Job Opportunities after completing Software Testing Course in Madurai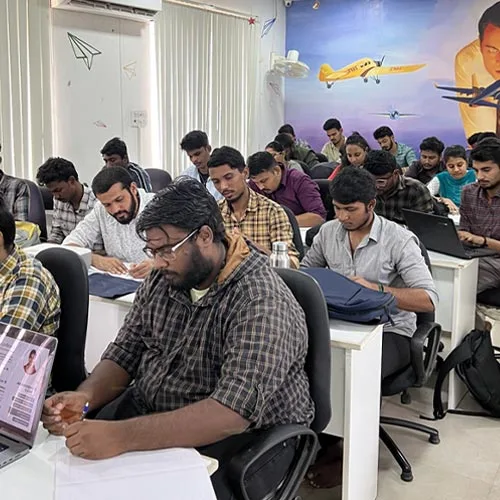 Software Testing, also known as Quality Assurance, is a field in Information Technology, that is devised to find and eliminate all the potential errors and faults in a Software Product or Service. The Software testing method was very helpful for companies to make sure their Software products match the expectations and requirements of their clients and also they release only credible and valuable applications in the Technology market. There are many types of Testing that have been developed in recent years like CI/CD Testing, Scriptless Test Automation tools, Visual Testing, BlockChain Testing, Artificial Intelligence, Machine Learning testing, IoT Testing, etc. All these different testing methods work towards one goal which is making the particular Software Product/Service error-free. Testing is typically classified into three types are Functional testing, Non-functional Testing, and Maintenance Testing. These three testing strategies cover the important testing practices that are followed in the Testing domain. These Software Testing tools or practices provide many advantages for companies such as cost-cutting, security, quality, and user satisfaction.
To efficiently handle these Software Testing tools, professionals must possess some imperative skills related to the field. The most expected skills are DevOps and Agile Methodology, Automation, Web and Mobile Applications Knowledge, Software Development Lifecycle, Rational Analysis, Logical Thinking, and finally knowledge of Testing Tools and Techniques. Some of the job roles that can be acquired after completing the Software testing certification are Quality Analyst, Manual Testing Engineer, Automation Testing Engineer, Performance Testing Engineer, and Business Analyst. Some of the higher positions in the field are Senior Quality Analyst, Quality Analyst Team Coordinator, Test Manager, and Senior Test Manager. Let us now discuss the salaries of these professionals in India. An entry-level Software Testing Engineer earns around rs. 3,28,309 per annum. Mid-level professionals earn around Rs. 6,58,336 per annum. Experienced Professionals earn around Rs. 9,76,020 per annum. FITA Academy provides the best Software Testing Course in Madurai for students as we hold the best set of trainers to teach the technology through effective sessions.
Success Story of Software Testing Course in Madurai
I am a fresher graduate who recently passed out from college. Testing is my favorite field in It and I want to become a Testing Engineer with fine skills. Got to know about FITA Academy through one of my classmates and I am glad that I joined here to do my Software Testing Course. My trainer did a wonderful job of teaching the concepts very precisely. Her teaching is very commendable as she had sound knowledge of Software Testing in general. All the concepts were taken practically thus it was easy to understand a particular testing practice. Thanks to my trainer for this wonderful training program.
I am doing my final year of Engineering in Computer Science. Though programming is my passion, I love to perform Testing in my applications. So decided to take a professional course in Software Testing and Found FITA Academy online. They had good reviews for the course which was the deciding factor for me to choose FITA Academy. Their training program was really beneficial in gaining the core knowledge of the Software testing technology. I am impressed by the way my trainer taught the topics. She practically explained every important topic which was easy for us to understand. I am thankful to my trainer for all the efforts that she put in for our easy understanding.
I am an Application Developer who has one year of work experience. Though I have self-learned Testing by myself, I want to do a professional testing course. Got to know FITA Academy through one of my friends since he did the same course and got selected as a Software Tester. To talk about the training, it was a really unique training program as every important topic was practically taken. Thus it was easy to understand the concepts and gain practical knowledge of the same. We were also given assignments and projects which helped us to understand more about the Software Testing processes.
I have completed my Bachelor of Computer Applications. But I wanted to additionally learn about Software Testing. When I was searching for a good institute to learn about Software Testing I found FITA Academy online and they had good reviews for the course. My trainer focused much on teaching the concepts through practical classes. She took real-time industry projects as examples and taught us precisely about them and also the industry testing practices followed in the Software Testing domain. After each session, we had brainstorming sessions which were helpful to gain some insights into the Software Testing process. Thanks to my trainer for the valuable training session and all her insights.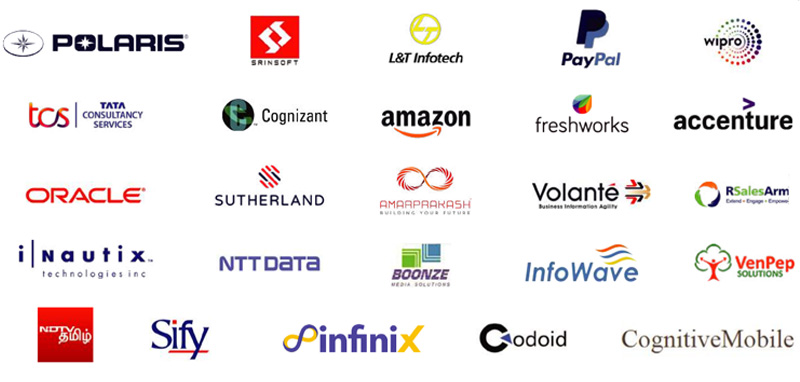 Frequently Asked Question (FAQ) about Software Testing Course in Madurai
Additional Information of Software Testing Course in Madurai
What is Software Testing?
Software Testing is the procedure undertaken to evaluate the functionality of a software package. The intent is to determine whether the package meets the specified requirements, to spot defects and thereafter correct them in order to create a high-quality end product.
Whether you have just started out on software testing or you already have some experience in the field, the Software Testing Course in Madurai at FITA Academy will be of value to you. During the course, we will expose you to a number of testing practices that are prevalent in the industry. Our tutors have sufficient experience with all aspects of the software process and we use real-life scenarios to illustrate every principle that is taught. The Software Testing Classes in Madurai at FITA Academy are designed to cover every different type of testing that is performed at different phases of the software lifecycle. We will also familiarize you with the different issues that will crop up during these tests and how to overcome them.
The Software Testing Course in Madurai at FITA Academy contain the following modules:
Selenium training
QTP training
LoadRunner training
Mobile Testing training
Manual testing training
JMeter training
In the software classes, we train you on the basic concepts and terminology of software testing, expose you to the best software testing practices, and familiarize you with the different testing levels that are required.
Selenium Training
Selenium is a tool that is an automated testing framework for web applications. The Selenium framework allows the testers to write scripts in any of these languages: PHP, Java, Perl or C#. However, Java is the most popular one that is used along with Selenium. At FITA Academy, we offer comprehensive training in automated testing using Selenium.
QTP Training
QTP expands to Quick Test Professional and refers to the package that facilitates automated regression testing for software packages. This type of testing helps to identify errors and defects. Students attending this Software Testing Training in Madurai at FITA Academy are expected to have only a basic understanding of the software development life cycle.
Loadrunner Training
Loadrunner is a very widely used testing tool. This tool is used to determine whether the performance of an application or a site meets the required needs under loaded conditions, specifically for the users. Load testing is the performance test that is done during normal and peak usage of the product. It is checked for consistency of the response with respect to the user request within a tolerance band. This is checked for different user loads. The other types of performance testing are stress, volume, capacity, reliability and scalability testing.
Mobile Testing Training
The mobile testing course helps you to be able to test application software packages for handheld mobile devices. These application packages are tested for their functionality, consistency and usability. Mobile testing can either be manual or automated.
Manual Testing Training
Manual testing is a procedure where the software package is manually checked to find out if there are defects. Testers, in this case, are expected to have the perspective of the end users. This will make it easy for them to determine if all the features of the software package are working as mentioned in the software requirement sheet/manual. The testers check the test cases manually and also generate the reports manually without the aid of any automation tool.
JMeter Training
Using the JMeter you will be able to both analyze and measure a variety of different services with special emphasis on web applications. You can design robust test cases to monitor the performance of the web applications with differing load parameters.
Enroll in FITA Academy's Software Testing Training in Madurai to broadly learn about the Software Testing process and to gain industry skills that help you become a skilled testing professional.