Course Highlights and Why CCNA Course in Bangalore at FITA Academy?

The CCNA Course Modules at FITA Academy are tailored by Expert CCNA Professionals to adhere to the standards that are set by Cisco systems.

The CCNA Courseware entails the learners to have a holistic understanding of the Network and Security fundamentals.

Extensive training on the essential topics such as Broadcast, Switching Collision, and Domains CAM Table.

Capable of identifying the faults and errors in the Network to manage and resolve the important IT incidents in Network.

Know-how to support, implement, and troubleshoot LAN/WAN networks.

Hands-on Exposure is given to the aspirants on TCP/IP Internet Operations of the Systems.

Demonstrable knowledge of Cisco Routers and Switches.

The CCNA Course in Bangalore at FITA Academy is rendered by Networking Expertise and they impart all the in-demand skills.

The CCNA Mentors at FITA Academy assist and guide you with necessary tips on how to pass the CCNA Exam.

The CCNA Course at FITA Academy provides the required Career Mentorship to all the students who have completed the CCNA Training successfully.
Upcoming Batches
09-12-2023
Weekend
Saturday (Saturday - Sunday)
11-12-2023
Weekdays
Monday (Monday - Friday)
14-12-2023
Weekdays
Thursday (Monday - Friday)
16-12-2023
Weekend
Saturday (Saturday - Sunday)

Classroom Training
Get trained by Industry Experts via Classroom Training at any of the FITA Academy branches near you
Why Wait? Jump Start your Career by taking the CCNA Course in Bangalore!
Instructor-Led Live Online Training
Take-up Instructor-led Live Online Training. Get the Recorded Videos of each session.
Travelling is a Constraint? Jump Start your Career by taking the CCNA Online Course!
Trainer Profile
The CCNA Tutors at FITA Academy enhances the knowledge of Networking and its Security system with equal weightage on the conceptual and practical aspects.
The CCNA Trainers at FITA Academy upgrade the Networking knowledge of the students with the necessary skill sets and boost them troubleshoot the errors in the network efficiently.
The CCNA Instructors at FITA Academy are Real-time Networking professionals who possess 10+ years of experience in the Networking domain.
The CCNA Mentors at FITA Academy makes the learning session an interactive one by conducting numerous case studies, complex topic discussion, and seminars.
The CCNA Tutors at FITA Academy provides maximum practical exposure to the industry practices and explains elaborately the intricacies in the Network management and handling.
CCNA Trainers in Bangalore at FITA Academy supports and guides you to clear the Cisco Certification exams successfully.
The CCNA Mentors at FITA Academy support all the learners with equal individual focus and career assistance.
Learn at FITA Academy & Get Your
Dream IT Job in 60 Days
like these Successful Students!

Features of CCNA Course in Bangalore at FITA Academy
Real-Time Experts as Trainers
At FITA Academy, You will Learn from the Experts from industry who are Passionate in sharing their Knowledge with Learners. Get Personally Mentored by the Experts.
LIVE Project
Get an Opportunity to work in Real-time Projects that will give you a Deep Experience. Showcase your Project Experience & Increase your chance of getting Hired!
Certification
Get Certified by FITA Academy. Also, get Equipped to Clear Global Certifications. 72% FITA Academy Students appear for Global Certifications and 100% of them Clear it.
Affordable Fees
At FITA Academy, Course Fee is not only Affordable, but you have the option to pay it in Installments. Quality Training at an Affordable Price is our Motto.
Flexibility
At FITA Academy, you get Ultimate Flexibility. Classroom or Online Training? Early morning or Late evenings? Weekdays or Weekends? Regular Pace or Fast Track? - Pick whatever suits you the Best.
Placement Support
Tie-up & MOU with more than 1500+ Small & Medium Companies to Support you with Opportunities to Kick-Start & Step-up your Career.
Why Learn CCNA Course in Bangalore at FITA Academy?
Live Capstone Projects
Real time Industry Experts as Trainers
Placement Support till you get your Dream Job offer!
Free Interview Clearing Workshops
Free Resume Preparation & Aptitude Workshops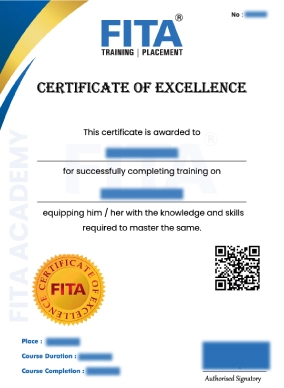 CCNA Certification Training in Bangalore
The participants of the CCNA Course in FITA Academy are rewarded with a certification on the successful completion of the CCNA Training in Bangalore at FITA Academy. This certificate acts as testimony in validating the skills you have gained in Networking. By the end of the CCNA Course in Bangalore at FITA Academy you will have an extensive idea and understanding of the Cisco routers and networking. Affixing this certificate with your resume at the time of the interview aids in boosting your profile. The CCNA Mentors at FITA Academy are Certified professionals who support and guide you in passing the global certification exam such as CCNA VoIP, CCIE, and CCNP.
Benefits of CCNA Certification Training in Bangalore at FITA Academy
Attaining the CCNA is a dream come true for students across the world. You can now work anywhere in the world after completing the CCNA training in Bangalore and gain confidence in yourself, which improves career prospects.
Validity: The certificate is for life and can be used to validate your knowledge and expertise at any point of time. For example, your certifications can prove that you passed the basic level courses or even advanced level courses such as Switching, Routing, Security, etc. You may also use it to get into a job quickly. This CCNA course in Bangalore is a new certification with many benefits. It helps people in your career path to gain a lot of knowledge and skills.
Recognition: An additional benefit of having the certification is recognition to employers. Once certified by a company, they recognize your skillset, increasing your chances of getting hired and increasing your salary. The CCNA course in Bangalore is a course that helps you to understand the basics of networking and its application in the field of IT. The objective of this course is to help you know about the fundamentals and concepts behind networking so that one can apply them effectively in their daily life.
Job Opportunities: Having the proper credentials means more job opportunities open up for you. With more jobs opening up in the industry, most companies are looking for qualified employees. Hence, if you possess these qualifications, you can earn more than others. Employers now look at certifications as an added bonus. This allows them to filter out candidates with relevant certifications while only hiring candidates whose skills meet their requirements.
Improved Communication Skills: As communication between computers and devices become faster through technology, it has revolutionized how we do business today. A person who knows about the Cisco routers and protocols well can communicate better without wasting time. Customers and clients are therefore made more comfortable by this interaction. Discussing any issue during interaction increases efficiency and helps to reduce stress.
Knowledge Growth: Your knowledge grows after the CCNA training in Bangalore sessions. The learning done during the training session helps you understand the subject much more. Furthermore, when you learn something new, you tend to remember it much better than before than someone who was not trained. FITA Academy is an accredited institute for CCNA certification. The best CCNA institute in Bangalore offers a full-time, in-house training program that focuses on hands-on labs and practical exercises.
More Competitive Salary: Another great advantage to possessing a certification is that it gives you better chances of earning high salaries. Companies hire individuals based upon the individual's experience and the amount of education acquired from certification. These certificates make us stand out amongst other applicants and increase our chances of landing a good-paying job. Having the right certification opens up many doors for you. Most employers prefer to hire certified professionals since they are sure of the quality of work. Thus they expect higher wages for having this certification.
Additional Credentials: It will allow you to add on other certifications like VoIP, Wireless Technology, Network Infrastructure, Internet Telephony, etc. This will also boost your credibility and ability to land more lucrative jobs. The courses offered by FITA Academy are highly focused on the topics required for the CCNA exam and are generally taught by certified instructors with years of experience. This CCNA institute in Bangalore helps you to gain insight into how to approach different topics and how you can be better prepared for the exam.
Time Saved – By acquiring Cisco CCNA Certification, you have already saved so much time. Why? Because your preparation for an exam takes less time because you know the topics well. Moreover, you no longer need to spend ages searching online for information, which wastes precious time. This premier CCNA training institute in Bangalore provides courses designed for the IT industry, and training is provided in the language of the field. The course topics are broad-ranging so that all levels of IT professionals can benefit from these courses.
Flexibility: As mentioned earlier, this type of certification allows candidates to acquire different types of certifications using the same certification. So if the candidate wants to pursue further study regarding more areas of networking, such as Security Certification or Wireless Technology, they could go ahead and do so at a later stage.
Have Queries? Talk to our Career Counselor for more Guidance on picking the
right Career for you!
Placement Session & Job Opportunities after completing CCNA Course in Bangalore

Currently, Cisco provides various certification exams for professionals to assess the skills and knowledge of them in different levels of expertise. The most well-known certification exam is the Cisco Certified Network Associate (CCNA) Certification. This certificate is specifically curated for entry-level professionals who want to begin their careers in the IT and Networking domain. The different certification exam focuses on numerous areas of scope. Though these Certifications serve different requirements and purposes they are devised for the apprentices who seek to get specialized in the specific area of the IT domain. Some of the popular CCNA Certifications include CCNA Switching, CCNA Cloud, CCNA Routing, CCNA Security, CCNA Service Provider, and CCNA Wireless. On completing any of these certification exams, you will be one of the in-demand professionals in the networking industry. The popular companies that recruit the CCNA Certified professionals are Cisco, Vodafone, Wipro, HCL, Accenture, Airtel, Tech Mahindra, TCS, AT& T, IBM, Cognizant, and Ericsson.
The general job profiles that are offered in these companies are System Administrator, System Engineer, Network Engineer, Network Technician, Network Associate, Network Analysts, and Network Support Engineer. The average package offered for an entry-level professional who has cleared the CCNA Certification exam is Rs.3,70,000 to Rs 4,50,000 annually.
The CCNA Course in Bangalore at FITA Academy supports the learners to get acquainted with the in-demand networking skills and techniques that are sought immensely in the industry and assists the learners in clearing the CCNA Certification exam successfully. The CCNA Trainers at FITA Academy impart the required professional skills sets and knowledge in the learners to excel in their networking career.
After successfully completing the CCNA course in Bangalore, you will receive a certificate from FITA Academy. This certificate will prove that you possess the skills required to enter the field of network engineering. The knowledge and understanding gained through this course can help you get employed as a network engineer or perform related work.
There are many job openings available in every industry. You need not be worried about your career prospects because there is still a sufficient number of openings even for people with the qualification of CCNA certification. As these qualifications are very popular among employers, it has never been so easy to come across a great opportunity. You may also do an internship before starting a job hunt. But when you have already completed the CCNA training in Bangalore, you can easily find a suitable job. Here's an overview of some interesting jobs for certified candidates.
Network Engineer Job Description
A network engineer is responsible for designing, installing, configuring, testing, troubleshooting, maintaining, upgrading and supporting computers, networks, and other systems connected by the Internet. They are usually involved in setting up new networks, troubleshooting existing ones, and performing configuration changes on servers and routers. A sound network engineer must have excellent communication skills and technical expertise. Some companies require them to undergo specialized ccna training in bangalore.
Some network engineers spend their time monitoring systems and making sure they run smoothly. They might create reports that detail problems detected in a system and suggest ways to resolve them. They might diagnose software issues and fix them. Other times, they might install software or configure devices.
Besides, network engineers work closely with business owners, information technology managers, and others to develop the right solutions for specific needs. In addition, they plan, design, configure, test, maintain, upgrade, and support all aspects of computer networks. Most importantly, they understand the importance of security and integrity.
Network Management Jobs
As the name suggests, network managers handle the day-to-day operations of the company's network infrastructure. Besides managing the network, these professionals make decisions regarding capacity planning and network hardware and software availability. Additionally, they ensure that resources are used efficiently and that the network doesn't overload when demand is high.
Network management experts often participate in meetings, conferences, workshops, and seminars. They keep abreast of networking trends and develop plans based on current methods and practices. When a situation requires immediate action, these professionals act fast to solve the issue and prevent problems from escalating into more significant conflicts. They analyze data gathered from various sources such as customer service requests, usage logs, etc., to identify potential threats or weaknesses. These individuals must constantly learn more about networking technologies like IP routing, VPNs, wireless LANs, IP telephony, voice over IP, mobile computing, virtual private networks, VoIP phones, load balancing techniques, etc. The CCNA course in Bangalore provides a popular certification for IT professionals. It's a very convenient and affordable way to gain certification in IT.
The list above sums up what a network engineer does and how he contributes to businesses. There are several types of positions open for network professionals in different industries; however, they often perform many of the same tasks. According to CCNA career, there are four main functions performed by network technicians:
Network Providers
You will typically be assigned to one area (such as voice) within your organization in this position. You'll provide information and services to internal users and external customers in that area.
Network Consultants
Networking consultants help an organization use technology effectively. For example, if you're part of a team that manages network communications, you may help advise clients during implementation projects.
Network Admins
You can also become a network administrator if you prefer more hands-on duties. An admin works directly under a manager who coordinates activities among staff members. Typically, an admin installs hardware such as routers, switches, and servers.
Network Engineers
This is probably the best field to start your career. Networking engineers are responsible for designing and installing company networks. They oversee the installation process and manage the entire project, including the budgeting, deployment, testing, and maintenance.
Also Read: Networking Interview Questions and Answers
Success Story of CCNA Course in Bangalore
I did my CCNA Training at FITA Academy! The complete training program was interesting. The coursewares were aligned in the manner that it matches the industry standards. Also, the training rendered by the CCNA Tutors was excellent!. Thanks, FITA Academy!
I enrolled @ FITA Academy at my colleague's suggestion! He previously took the training for CCNA (200-101) Exams here. And my training experience at FITA Academy was good. I obtained a thorough understanding of Networking fundamentals. Thanks to my CCNA Tutor!
CCNA Course in Bangalore Course in Bangalore at FITA Academy was an intensive training program that equipped us well in important topics such as routers, switches, TCP/IP, modems, WAN, and LAN. Also, the complete CCNA course at FITA Academy was a hands-on program that taught us all the topics with real-time examples. Also, a special note for the Support Team who rescheduled the classes flexibly!
I attended the CCNA Training in Bangalore @ FITA Academy! A good training approach was practiced here. The CCNA Trainers at FITA Academy are skilled professionals who have more than 10+ years of experience in the Networking domain. They gave us numerous insights and the intricacies that are in the Networking domain. In case you are a newbie to the networking domain then I suggest this platform.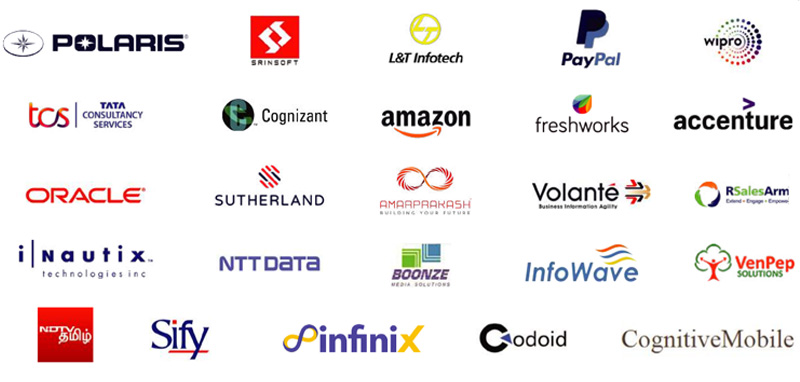 Frequently Asked Question (FAQ) about CCNA Course in Bangalore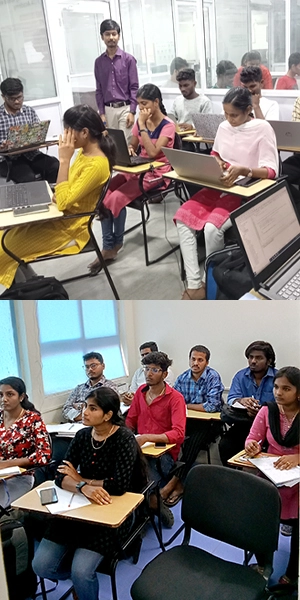 Today, the scope of CCNA is tremendous in India. All the sectors now have soaring demand for a skilled Network Engineer who can look after the networking infrastructure of the organizations. The CCNA Certification occupies a major role by aiding the apprentices with the required basic knowledge and skills of networking. To clear the CCNA certification on the first attempt, you can also enrol in the CCNA Course in Marathahalli and gain expertise in core concepts of Computer Networking and Security with expert trainers of FITA Academy.
Cisco deals with different services and product offerings to their clients in every single aspect they could support them. Apart from the product and services, Cisco also lends a helping hand in domains such as Data Center, Routing & Switching, Security, Collaboration, Service Provider, Cloud, Wireless & Industrial, and Cyber Ops. These certificates are further classified into four different levels and they are the Entry, Associate, Professional and Expert level. The Architect is the highest level of the certificate provided by Cisco. Let us now see a brief outlook of these certifications.
Entry Level – The Entry Level consists of two certifications namely the CCT – Cisco Certified Technician and CCENT – Certified Entry Level Technician. Either of these above Certifications is a mandatory requirement, to begin with, the Associate level certification.
Associate Level –  The Associate Level Certificate consists of the Cisco Certified Network Associate (CCNA) and the Cisco Certified Design Associate (CCDA) certifications. This level of certificate aids the candidates in installing, handling, and troubleshooting the fundamental enterprise networks. The CCNA is the base that paves the way for the next level of certifications. The Associate Level of Certificate occurs in the place of Service Provider, Routing & Switching, Collaboration, Data Center, Security, Cyber Ops, Cloud & Industrial domains, and Wireless.
Professional Level – The Professional Level comprises the CCNP – Cisco Certified Network Professional and the CCDP – Cisco Certified Design Professional. The Professional Level certification is an advanced level of certification that offers expertise in networking skills. All the certification in this level consists of different technology that runs on the Data Center, Switching, Service Provider, Wireless and Cloud, and Security
Expert Level – The Expert Level consists of the CCDE Cisco Certified Design Expert Certificate and CCIE Cisco Certified Internetwork Expert certifications. The Expert Level Certification is accepted globally and this is considered to be one of the esteemed levels of certification. The CCDE and CCIE community have established themselves as the leading ones in the field with the required professional knowledge and skills. The certification that is included in this level is Service Provider, Routing & Switching, Collaboration, Security & Wireless, and Data Center.
Architect Level – The CCAr – Cisco Certified Architect is the highest level of certification that is offered by Cisco that permits the Network Architects to bring out the methodological specifications of businesses for supporting their objectives.
Completing any of the above-level certificate exam results rewards the learners with reaping benefits and they can have a flourishing career experience in the networking domain.The CCNA Training in Bangalore at FITA Academy is a hands-on training program that assists the aspirants to obtain a holistic understanding of the Networking concepts and supports them in clearing the global certification exam.