Course Highlights and Why Digital Marketing Course in Coimbatore at FITA Academy?

The Digital Marketing Course provides a comprehensive grasp of the foundational elements of Digital Marketing, including SEO, SEM, SMO, SMM.

Proficiently designed Digital Marketing course modules to meet the demands of the global industry.

The Course is designed and delivered by expert trainers with over a decade of experience in Digital Marketing.

We offer review sessions for past Digital Marketing classes to reinforce and enhance your skills.

We provide flexible batch schedules, including options for weekends, weekdays, and fast-track sessions.

FITA Academy offers placement support after completing a Digital Marketing Course in Coimbatore.

We have established partnerships with over 1,500 companies, from small businesses to large-scale enterprises.

FITA Academy operates a proactive placement cell committed to helping students land their dream jobs.
Upcoming Batches
11-12-2023
Weekdays
Monday (Monday - Friday)
14-12-2023
Weekdays
Thursday (Monday - Friday)
16-12-2023
Weekend
Saturday (Saturday - Sunday)
23-12-2023
Weekend
Saturday (Saturday - Sunday)

Classroom Training
Get trained by Industry Experts via Classroom Training at any of the FITA Academy branches near you
Why Wait? Jump Start your Career by taking Digital Marketing Course in Coimbatore!
Instructor-Led Live Online Training
Take-up Instructor-led Live Online Training. Get the Recorded Videos of each session.
Travelling is a Constraint? Jump Start your Career by taking the Digital Marketing Online Training!
Digital Marketing Course Objectives
To acquire a solid foundation in Digital Marketing, its essential components and its significance in the modern business landscape.
Understanding the goals and objectives of digital marketing campaigns, including how to set clear and measurable campaign objectives for different business scenarios.
To identify and differentiate between vital digital marketing channels, gaining insights into their strengths, strategies, and applications.
To create a Digital Marketing Plan, including strategic planning, target audience identification, and campaign execution to achieve specific marketing goals.
Exploring the fundamental concepts of Search Engine Optimization (SEO), including on-page and off-page optimisation techniques.
To gain a deep understanding of search engines, their functioning, and the importance of crawling and indexing in digital marketing.
Familiarise yourself with various search engines, focusing on Google search engine, as well as how SEO and paid advertising differ.
Exploring the world of SEO, covering white hat, black hat, and grey hat techniques, keyword analysis, and tools like Google Keyword Planner.
To Learn about on-page optimisation, including HTML basics, title tags, H1 tags, meta descriptions, keyword density, content quality, and image optimisation.
Gaining insights into technical SEO aspects, such as URL structure, page speed analysis, schema.org, 301 redirects, sitemaps, and the importance of internal linking.
Digital Marketing Course Trainer Profile
The instructors of the Digital Marketing Course in Coimbatore at FITA Academy are professionals with more than 10 years of experience in digital marketing.
Our trainers possess various roles in the digital marketing industry, including positions such as Digital Marketing Manager, Technical SEO Specialist, SEM Executive, SEO Content Analyst, and more.
The trainers have extensive experience and have successfully mentored numerous students, transforming them into proficient digital marketing experts.
Dedicated doubt-clearing sessions are arranged to ensure that students gain a deep understanding of Digital Marketing concepts.
As part of our comprehensive support, our trainers also assist students in preparing for interviews by discussing potential questions that may arise during the interview process.
Learn at FITA Academy & Get Your
Dream IT Job in 60 Days
like these Successful Students!

Student Success Story of Digital Marketing Course in Coimbatore
Deepika is a final-year student pursuing B.com. When she was about to complete her degree, she started searching for jobs. So, she decided to take a course to equip her skills accordingly. She had chosen the Digital Marketing Course.
Looking for the Best Digital Marketing Course in Coimbatore, she learned about FITA Academy through one of her relatives. She contacted FITA Academy and enquired about the course details. Our co-ordinator clearly explained the course features, benefits, and Fee structure. She was more impressed with the flexibility and affordable fee provided by our academy. Finally, she enrolled in the Digital Marketing Course.
Since she was pursuing her degree, she opted for weekend classes. She attended the classes regularly. She gained practical experience from our expert trainers and benefited from the doubt-clearing sessions. At the end of the course, she completed two capstone projects with our trainers' assistance.
After completing the course, she received a valuable certification from FITA Academy. Then, she underwent placement training provided by our placement cell, where she was trained to clear the job interviews confidently through mock interview sessions and group discussions. She was ready for the job interview at Amazon and successfully placed in the company as an SEO Analyst.
Features of Digital Marketing Course in Coimbatore at FITA Academy
Real-Time Experts as Trainers
At FITA Academy, You will Learn from the Experts from industry who are Passionate in sharing their Knowledge with Learners. Get Personally Mentored by the Experts.
LIVE Project
Get an Opportunity to work in Real-time Projects that will give you a Deep Experience. Showcase your Project Experience & Increase your chance of getting Hired!
Certification
Get Certified by FITA Academy. Also, get Equipped to Clear Global Certifications. 72% FITA Academy Students appear for Global Certifications and 100% of them Clear it.
Affordable Fees
At FITA Academy, Course Fee is not only Affordable, but you have the option to pay it in Installments. Quality Training at an Affordable Price is our Motto.
Flexibility
At FITA Academy, you get Ultimate Flexibility. Classroom or Online Training? Early morning or Late evenings? Weekdays or Weekends? Regular Pace or Fast Track? - Pick whatever suits you the Best.
Placement Support
Tie-up & MOU with more than 1500+ Small & Medium Companies to Support you with Opportunities to Kick-Start & Step-up your Career.
Why Learn Digital Marketing Course in Coimbatore at FITA Academy?
Live Capstone Projects
Real time Industry Experts as Trainers
Placement Support till you get your Dream Job offer!
Free Interview Clearing Workshops
Free Resume Preparation & Aptitude Workshops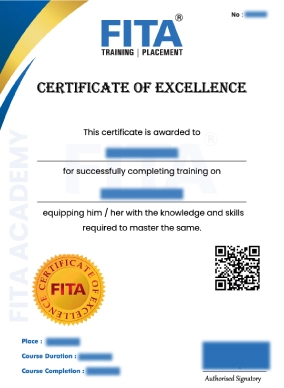 Digital Marketing Certification Training in Coimbatore
The Digital Marketing Training in Coimbatore provides students a certificate upon completing the course. This certificate validates the candidate's comprehensive understanding of the Digital Marketing landscape and its techniques. Adding this certificate enhances their profile during job interviews and unlocks diverse career prospects.
In addition to FITA Academy's certification, there are numerous other certifications available from various organisations. The Digital Marketing Classes in Coimbatore at FITA Academy effectively prepare students for the examinations required to obtain these certifications, which can significantly advance their careers. Some of these certifications comprise:
Meta Certified Digital Marketing Associate
Meta, previously known as Facebook, issues the Meta Certification for Digital Marketing Associate. This certification examination has a duration of 90 minutes. It covers a range of topics, including Meta technologies, establishing an online business presence, fundamental principles of advertising, the creation and management of ads, as well as reporting.
Google Analytics Certification
The Google Analytics Certification is granted to individuals who possess a comprehensive understanding of the Google Analytics tool. To earn this certification, candidates should have in-depth knowledge of Google Analytics functionality, including property organisation and setup, and proficiency in using various reporting tools and features. The certification is awarded upon successfully passing a 75-minute exam comprising 50 questions, with a requirement to score 80% or higher for certification.
Google Ads Search Certification
The Google Ads Search Certification recognises individuals who excel in creating and optimising Google Ad Search campaigns. Candidates are required to have knowledge of Google Ad Auction, AI-Powered Search Ads, and related topics. Similar to the Google Analytics Certification, this certification also entails an exam with similar requirements.
Professionals holding the Google Ads Search Certification will showcase their ability to leverage automated tools like Smart Bidding to enhance campaign performance for specific marketing objectives.
Google Ads Video Certification
The Google Ads Video Certification is a testament to an individual's expertise in achieving results through Google Video Advertising Solutions and YouTube. To earn this certification, candidates should know various aspects, including creating video campaigns, defining marketing objectives for video campaigns, utilising action video formats, and optimising video action campaigns, among other relevant topics.
Google Ads Apps Certification
The Google Ads Video Certification is tailored for professionals with expertise in-app campaigns. Certified individuals will demonstrate their understanding of fundamental campaign development principles and advanced optimisation strategies. The certification examination assesses candidates' knowledge across various topics, such as Google App Campaigns, App Campaign Goals, and App Experience Optimization, among others.
Google Ads Measurement certification
This certification program equips candidates with the knowledge needed to optimise the performance of digital ads using Google's measurement solutions. They will learn to translate marketing objectives into measurable actions, configure tracking mechanisms for effective sales measurement, and select appropriate business attribution models.
The surge in demand for digital marketing experts is a direct result of businesses' growing imperative to maintain competitiveness and relevance in the ever-evolving digital marketing field. If you are exploring career opportunities in the rapidly expanding field of digital marketing, you need not look any further than FITA Academy's Digital Marketing Training in Coimbatore. Recent studies show that India ranks second globally in the number of internet users, and according to Global Data, the Indian e-commerce market is expected to grow by 7 trillion by the end of this year.
Have Queries? Talk to our Career Counselor for more Guidance on picking the
right Career for you!
Placement Session & Job Opportunities after completing Digital Marketing Course in Coimbatore

Recognising the significant demand for digital marketing expertise, FITA Academy is dedicated to offering the Best Digital Marketing Course in Coimbatore. Our primary focus is not only to impart knowledge and skills but also to prepare our students for the job market, ensuring they are job-ready.
"Students will receive 100% placement assistance and training upon course completion, enabling them to land their dream jobs quickly."
According to a Goldman Sachs survey, an astonishing 44% of companies, regardless of their size, are actively in search of skilled marketing professionals to aid them in promoting their businesses through online channels. The survey further projects a remarkable growth in the Indian Internet industry, estimating its total value to reach $160 billion in the coming years. This projection indicates a threefold increase compared to the current value, driven primarily by the expanding number of Internet users and the consequent substantial growth in the digital marketing sector.
As per findings from employment information websites, Digital Marketing Salary For Freshers ranges from Rs. 3,00,000 to Rs. 4,00,000 per year. The median income and compensation package, however, can vary based on an individual's experience and expertise.
FITA Academy has a mission to deliver the Best Digital Marketing Training in Coimbatore, explicitly focusing on refining the essential skills necessary to excel as a Digital Marketing professional and secure well-paying positions within esteemed organisations. Here are some of the commonly sought-after job titles in the field of Digital Marketing:
Search Engine Optimization Executive 
The role of an SEO executive encompasses the management of various Search Engine Optimization (SEO) tasks, including activities such as keyword research, link building, site analysis, and content creation for web pages. SEO executives also collaborate closely with departments such as web development, social media marketing, and affiliate marketing, which are integral to executing diverse digital marketing campaigns. In this context, it's worth noting that FITA Academy's Digital Marketing Institute in Coimbatore provides comprehensive placement training for various job positions within the digital marketing field, including the role of a Search Engine Optimization Executive.
Digital Marketing Executive 
A Digital Marketing Executive is an individual equipped with the expertise and practical experience to oversee and direct the complete spectrum of an organisation's marketing operations. Their role encompasses managing all digital marketing activities, involving creating actionable content that can be transformed into online marketing strategies and the ongoing assessment and supervision of the effectiveness of digital marketing campaigns.
In the domain of Digital Marketing, the position of a Digital Marketing Executive is highly coveted, and many graduates of FITA Academy's Digital Marketing Classes in Coimbatore have successfully secured roles as Digital Marketing Executives.
Social Media Marketing Executive 
Social Media Marketing Executives are tasked with the responsibility of managing social media marketing initiatives on behalf of a brand. Their primary goal is to ensure that all facets of this marketing approach align with the broader business strategy. This involves creating a space for potential and existing customers and, through skilful campaign execution, drawing in new clients.
With this in mind, FITA Academy's Digital Marketing Classes in Coimbatore are meticulously structured to equip students with the versatility and readiness required for various positions within the dynamic field of Digital Marketing, including roles in social media marketing.
Search Engine Marketing Executive
The SEM executive's role is to facilitate the discoverability of your website or products on search engines such as Google, Yahoo, and Bing when users input keywords related to your offerings. To excel in this role, an SEM executive must grasp the user's intent, how they seek information online, and the factors that influence their decision to click on specific websites. Furthermore, they should be well-versed in the techniques employed by SEO and SEM professionals to drive traffic to their websites.
Notably, Search Engine Marketing is a pivotal component of FITA Academy's Digital Marketing Classes in Coimbatore, and it is integrated into the curriculum to ensure students are well-prepared in this essential aspect of the field.
Click Here: To explore more about the frequently asked Digital Marketing Interview Questions and Answers for both Freshers and Experienced.
Success Story of Digital Marketing Course in Coimbatore
I have done my Digital Marketing Certification at FITA Academy. It has given me the best knowledge about digital marketing. Also, I have got an offer from a company to join as a digital marketer. Thanks to FITA Academy for the support and the guidance it has provided for my career growth.
The Digital Marketing Classes in Coimbatore have helped me to understand a lot about digital marketing. Being a fresher I had no prior knowledge about the subject but after the completion of the course, I have gained enough confidence to put my skills to good use. Thanking the trainers and the Academy for their effort and assistance.
The Digital Marketing Course in Coimbatore at FITA Academy was good. I now have an offer in my hand to join as a digital marketer in an MNC. I thank my trainers for their guidance, encouragement, and support. I appreciate FITA academy for recruiting such dedicated trainers for the good career prospects of the students.
The Digital Marketing Course by FITA Academy is a precise syllabus suitable for freshers. After the completion of the course, they guided me well on the placement and they shared all the job openings promptly. It was due to their training and good guidance I got placed in a good company. Thanks to my trainers for their effective coaching and guidance.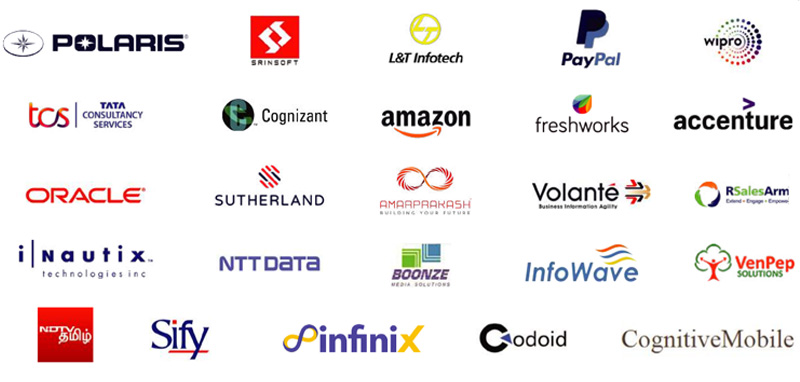 Frequently Asked Question (FAQ) about Digital Marketing Course in Coimbatore
General Q & A about Digital Marketing Course in Coimbatore
What is the cost of a Digital Marketing Course in Coimbatore?
The Course fee for the Digital Marketing Course ranges from Rs. 10,000 to Rs. 50,000. The fee structure may vary depending on the type of course and the institute we choose.
Can I learn Digital Marketing in 3 months?
Acquiring proficiency in digital marketing generally requires one to three months of learning, with mastering the skills potentially taking six months to a year. Digital marketing leverages online channels and tools to promote products and services, offering an exact and measurable approach.
What is the duration of Digital Marketing Course in Coimbatore?
The introductory program spans three months, while the more advanced courses may extend for six months. Specific courses cater to individuals aspiring to become digital marketing specialists, with durations ranging from 8 to 12 months.
Is digital marketing a promising career?
Working in digital marketing has many advantages, such as versatile jobs, lucrative salaries, and flexibility. There are also some drawbacks which may make this industry wrong for some. If you're creative and enjoy technology and marketing, you may thrive in a digital marketing role.
What is the eligibility for Digital Marketing?
Most digital marketing courses require a bachelor's degree in any field, though some may accept diploma holders or those with work experience. Some digital marketing programs may have specific prerequisites, such as prior coursework in marketing, statistics, or technology.
What is the salary for Digital Marketing in India?
The typical monthly salary for Digital Marketing professionals in India amounts to ₹58,535. Furthermore, the average supplementary cash compensation for Digital Marketing roles in India stands at ₹36,000, spanning from ₹5,000 to ₹66,208.

What is the salary for Digital Marketing Executive in Coimbatore?
The annual salary for Digital Marketing Executives in Coimbatore typically varies between ₹1.2 Lakhs and ₹4.2 Lakhs, with an average of ₹3.1 Lakhs. These salary estimates are derived from 367 recent salary reports submitted by Digital Marketing Executives.
Is Digital Marketing an IT job?
IT positions commonly encompass designing, deploying, and upkeeping computer systems, software, and information networks. Nevertheless, digital marketing does entail specific technical proficiencies, including familiarity with digital analytics tools, search engine optimisation (SEO), coding languages, and data analysis.
Is Digital Marketing a stressful job?
A career in Digital Marketing may come with its fair share of challenges and stressors, but it's comparable in stress levels to various other professions. Like any job, it has its difficulties and potential stress factors, but it also offers numerous rewards and advantages.
What is the salary of Amazon digital marketing freshers?
On average, the salary for Digital Marketing positions at Amazon is around ₹3,00,000. However, salaries for Digital Marketing roles at Amazon can vary, with a range typically spanning from ₹2,08,269 to ₹6,42,262 per year.
Can a fresher learn Digital Marketing?
Building a thriving digital marketing career often involves leveraging internships and unpaid roles as crucial entry points, especially for those entering the digital marketing field without a formal degree. In such instances, the entry requirements are minimal, providing an accessible way to acquire hands-on experience and understand the inner workings of the digital marketing field.
Can anyone go for Digital Marketing?
Entering the field of digital marketing is open to individuals who have yet to gain prior experience, provided they have a deep understanding of the industry and its workings, along with the essential skills required for digital marketing professionals.
Which Digital Marketing should I learn first?
The initial skill to master in digital marketing is SEO, which is search engine optimization. SEO involves optimising a website or webpage to enhance its visibility on Google search results and attract increased web traffic.
What are types of Digital Marketing?
Digital marketing can be divided into eight main categories including: affiliate marketing, content marketing, email marketing, marketing analytics, mobile marketing, pay-per-click, search engine optimisation and social media marketing.
What are the pillars of Digital Marketing?


Search Engine Optimisation (SEO)


Search Engine Marketing (SEM)


Content Marketing


Social Media Marketing (SEM)


Can I earn from home by Digital Marketing?
Blogging and Vlogging stand out as two key avenues for generating income through digital marketing. They have evolved into highly profitable methods of earning money, given the soaring demand for content. The hunger for content of superior quality is only expected to rise in the coming times.